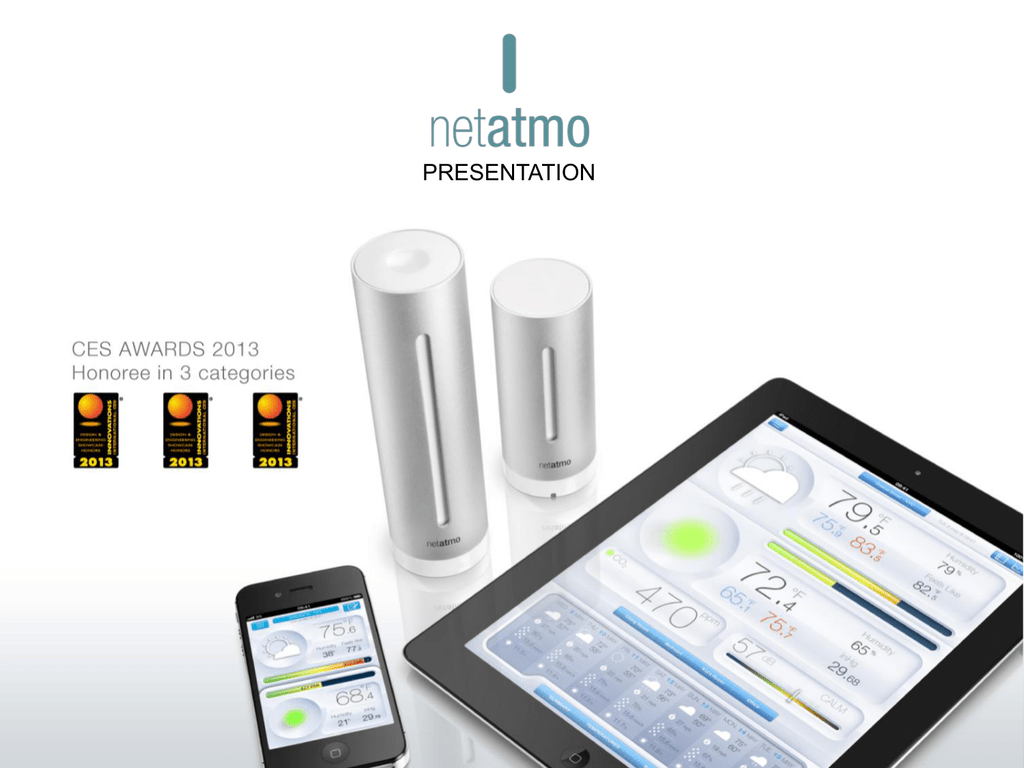 PRESENTATION
WHAT IS IT ?
The First Personal Weather Station with Air quality sensors
Indoor
Air Quality
Outdoor
Air Quality
Weather
Monitoring
WHAT DOES IT DO ?
It tracks Weather & Air Quality indoors and outdoors.
You can monitor your indoor and outdoor living environment
on your iPhone, iPad or Android
DOES IT WORK WITH MY DEVICE?
The Netatmo Weather Station is iPhone, iPad, iPod touch
and Android* compatible.
*Requires Android 4.0
CAN I ACCESS MY DATA FROM A COMPUTER?
A Web App to access your station from any computer
Why is CO2 important to monitor ?
We spend 80% of our time indoors
High level of CO2 causes :
Headaches
Loss of concentration
Sleepiness
Improve your wellness at home
Ventilate your home at the right moment!
Receive Air Quality real-time
alerts
Very Good
Medium
Ventilate
OUTDOOR
Chose the best moments for your activities!
The Netatmo Station helps
Receive real-time alerts,
you
chose
the best
prevent
unhealthy,
moments
stagnant airfor
byyour
ventilating
outdoor
activities:
at the right moment.
Sports
Monitor indoor
Outings
temperature,
Drive
versushumidity
commute to
and noise pollution too!
work
All Instances where air
quality is important!
MONITOR REMOTELY!
Access your Station's measurements,
anywhere and anytime
Monitor your home, even when you are
away
CAN I MONITOR 2 HOMES?
Install a station at each location you want to monitor, and access their
data on your smartphone
Simultaneously monitor your home, office, vacation house and yard…
all from a distance.
CAN I SHARE MY STATION?
You can share your station with your friends, family or
online networks
You Can:
Send out invitations and watch
your guests lists grow.
Accept invitation from friends
and access their stations from
the Netatmo App.
CAN I MONITOR SEVERAL ROOMS?
With our Additional Module, you can :
• Monitor the Air Quality (CO2), temperature
and humidity in various rooms of your house
such as the bedrooms, the kitchen or the
living room.
• View all your Weather Station data and
Additional Module data accessible from the
Netatmo App on your smartphone, tablet or
PC.
• Receive real-time alerts and define your
parameters for each room you have
installed a module.
• Add up to 3 modules to your Weather
Station.
TECHNICAL SCPECIFICATIONS
WIRELESS SPECIFICATIONS
SENSORS AND MEASUREMENTS
•
•
•
•
Temperature (indoor):
• Ranges from:
• Accuracy:
0°C to 50°C
+- 0.3°C
Temperature (outdoor):
• Ranges from:
• Accuracy:
-40°C to 65°C
+- 0.3°C
Humidity (indoor and outdoor):
• Ranges from:
• Accuracy:
0 to 100%
+- 3%
Barometer:
• Ranges from:
• Accuracy:
260 to 1260 mbar
+- 1 mbar
CO2 meter (indoor):
• Ranges from:
• Accuracy:
0 à 5000 ppm
+- 50 ppm or +-5%
Sound meter:
• Ranges from:
35 dB to 120 dB
Wi-Fi 802.11 b/g/n compatible (2.4GHz).
Supported security: Open/WEP/WPA/WPA2-personal (TKIP and AES).
Wireless connection between modules:
915 MHz or 868 MHz long range 100 m.
IN THE PACK
•
One indoor module.
•
One outdoor module.
•
•
•
•
USB cable for wall adapter or desktop set up: 1,5m.
USB wall adapter
Wall-mount kit for outdoor module.
4 AAA batteries.
SIZE
• Indoor module:
• Outdoor module:
45x45x155 mm
45x45x105 mm
MARKET POSITIONING
TARGETED DEMOGRAPHIC
Family caring:
Family & kids
health & wellness.
Home monitoring
devices,
Interior design.
Weather hobbyist:
not satisfied with
the market offer.
Looking for
connectivity and
App functions
Tech fans:
Early adopter.
Looking for new
Appcessories.
PRODUCT POSITIONING
Netatmo: A new business opportunity
Traditional
weather station:
No innovation.
No connectivity or
App functions.
Home Automation
systems:
Expensive and
complex solutions.
Does not measure
Air quality.
Wellness /
Health:
No product offer
for consumers to
measure their
home air quality.
Weather Apps:
Cheap but
inaccurate.
Does not provide
home Air quality.
AWARDS & PR
CES 2013: THREE AWARDS!
CES AWARDS 2013, LAS VEGAS.
HONOREE IN 3 CATEGORIES
HOME APPLIANCES
TECH FOR A BETTER WORLD
HEALTH & FITNESS
A WORLDWIDE PRESS COVERAGE
POS
POS DISPLAY
A display Unit + a Mock-up.
A QR Code to show the video.
Display Unit cost: 70 €
LEAFLETS
Leaflets and Acrylic leaflet holder.
The Leaflet : An easy way for your customers to
obtain must-have information about the Netatmo
Weather Station, the app, and its benefits.
Format : Accordion-folded leaflets, 4 pages
Dimension of the leaflet:
180 x 90 mm (closed).
180 x 360 mm (opened).
The Leaflet holder can hold up to 40 leaflets.
HAND BOOK TUTORIAL STORE TRAINING
This document provides each store with the main
information about the Netatmo Weather Station.
Store sales team will find the answers to the most
asked questions by consumers.
Size of the doc (closed): 210 x 90 mm.
12 pages.
THANK YOU FOR YOUR ATTENTION!

* Your assessment is very important for improving the work of artificial intelligence, which forms the content of this project