No category
Focusrite Scarlett 10 channel setup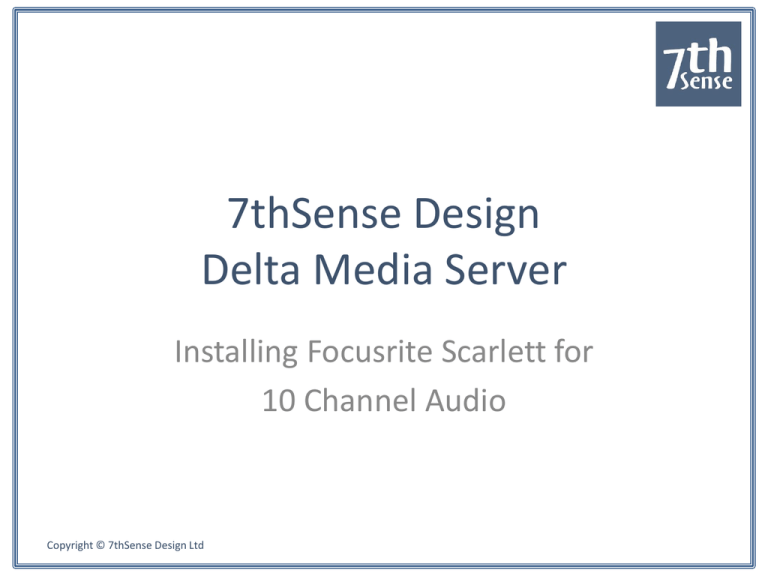 7thSense Design
Delta Media Server
Installing Focusrite Scarlett for
10 Channel Audio
Copyright © 7thSense Design Ltd
Focusrite Scarlett Audio
This guide demonstrates how to set up your
Delta Media Server for 10 Channel Audio Output using Focusrite Scarlett technology.
Delta Media Server: v2.2.38
Focusrite Scarlett: scarlett-mixcontrol-1.8.exe
2
Getting Started
•
Connect the Focusrite unit to the USB 2.0 port of the Delta Media Server (add warning sticker on the
Focusrite unit!)
•
Connect the mains cable
•
Switch on the unit and the server
•
Ensure that the server is in SERVICE MODE
•
Close any open Delta applications including GUI, Server and Audio (bottom-right taskbar)
3
Close ALL running Delta Applications:
•
Delta GUI
•
Delta Server
•
Delta Audio (as seen in the bottom-right task bar)
4
Open scarlett-mixcontrol-1.8.exe
From your server, open:
C:\ Guides & Software\Software & Drivers\Audio\Focusrite Scarlett 18i20
Audio Unit
5
Run the MixControl Setup Wizard…
6
Click to accept the agreement then click Next >…
7
Check default destination:
C:\Program Files\Focusrite\Scarlett MixControl
(Browse if required)
8
Create a desktop icon
9
Click Install
Scarlett MixControl (software) will be installed and the wizard will automatically move on to the driver setup wizard…
10
Click Next to begin…
11
Check destination
Check that the destination folder is correct (as above) or Browse to find, then click Next >…
12
Click Install to continue
13
Close Applications Prompt
If you have any Delta Applications still running this prompt will appear (else this step is skipped):
•
Select Automatically close the applications
•
Click Next >…
14
The Progress Bar will show installation
Click Finish on the Device Driver Installation Wizard prompt
Click Finish to complete the Driver Setup
15
Tick to Launch Scarlett MixControl Application
Click Finish to complete the MixControl Setup
16
MixControl Default settings
The MixControl desk will open with standard default settings. Note that there are only 8
Audio Channels selected
17
Click File and Open to begin configuring Audio for Delta
Select a Scarlett 18i20 Snapshot file to load…
C:\Guides & Software\Software & Drivers\Audio\Focusrite Scarlett 18i20 Audio Unit
Delta.18i20
18
MixControl changes to 10 Audio Output configuration
19
Check/change Sample Rate to 48KHz
20
Right-click Volume Control
Click Playback Devices to confirm setup…
21
Right-click Line Out and select Properties
Important note:
When Delta is using a custom audio device, (i.e. Focusrite, Dante,
Xonar, Audioscience, Cobranet or Motu) you should ensure that the default audio device is set to Realtek Digital Output.
22
Select 2 Channel, 16 bit, 48000 Hz (DVD Quality)
Click OK and OK again to close the sound properties windows
23
Important!! Click File > Save As…
You must save your settings to ensure that they do not revert to default
Scarlett configuration when the software is closed and re-opened.
24
Save to the same location and filename as previous:
When prompted to replace the file, click Yes
25
Click File > Save to Hardware
This saves the settings to the hardware - note that there is no visual prompt that this has been done. (The menu simply disappears from the screen.)
26
Lock down the Hardware control (1)
•
Click the HW Control button (which turns blue)
•
Using the physical or on-screen volume control, turn volume up to full
27
Lock down the Hardware control (2)
•
With volume on full, click the HW Control button again (turns grey)
The volume knob on the Focusrite Scarlett unit will now be disabled – if you turn it, there will be no change to the volume
28
Test Configuration
Open Delta Server and Delta GUI
Take Playback Window out of full screen (or minimise as it is not required right now)
29
In Delta GUI, click Configure > Preferences
Select Audio
30
In the Audio window:
• Select ASIO
• Select ASIO Audio Driver 2 – ASIO Audio Driver 2 – Focusrite USB
2.0 Audio Driver
• Select Force 10 channels
• Click OK to keep the changes
31
Click OK when prompted to save the configuration in Delta
32
Test audio in GUI
•
Select an audio file of type Mono or [10] channels to suit your setup
Note: if the file is stereo, it will only play out of 2 channels regardless of the configuration
•
Click and drag the file onto the timeline to test
33
Re-open Scarlett MixControl
34
Play the Timeline (Audio track)
The audio bars for each of the 10 channels should now move according to the output and if you bring up the Playback Window, you will see a green stripe in the bottom-left for each channel
35
Test Audio Output
Plug headphones into each of your 10 channel sockets at a time to check that the audio is coming through for each
36
* Your assessment is very important for improving the work of artificial intelligence, which forms the content of this project