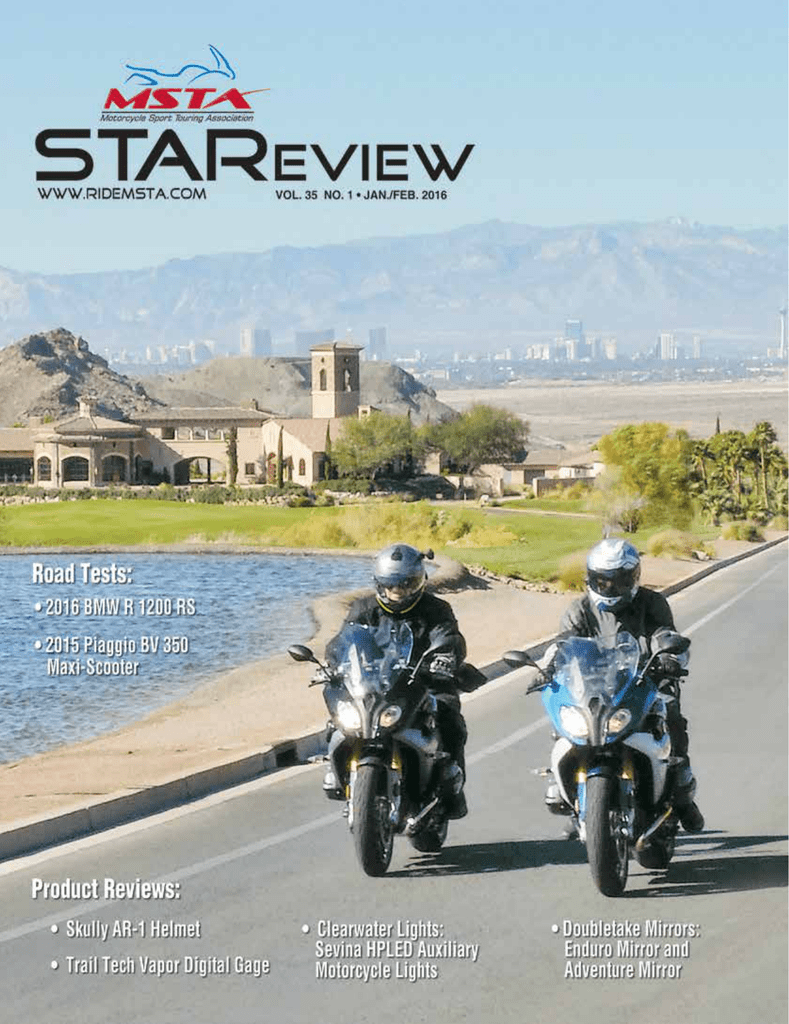 A year in the life of Felix,
a 2014 Yamaha FJR 1300 ES
By Norm Kern
In January, 2014, I took delivery of a 2014 Yamaha FJR 1300
ES motorcycle, which I named Felix. I wrote a review for the
Sweet Rides column last year. Jim Randall asked recently how
Felix is working out over the longer term, so here's an update.
Felix finished his first full year of 2014 with 21,000
trouble-free miles on the clock. Nothing broke, came loose or
leaked. All of my modifications worked out great and it was a
perfect year of riding. 2015 was a bit more complicated.
April got the riding season off to a great start- Jeff Dolence, Rob Bowling and I went to the Moonshine Lunch Run
in Moonshine, Illinois, and enjoyed the just-for-fun MSTA
get-together at Helen, Georgia, later in the month.
in the case of a tipover. Unfortunately, this was not a simple
tipover- the woman backed her car into Felix, forcefully
knocking him over. The momentum caused a rollover that
smashed the right-hand rear view mirror and broke a subframe
inside the fairing. The right saddlebag lid was scratched. Did
the canyon cages and frame sliders fail to do their job? No.
Had they not been there, the fairing and saddlebag would have
been broken in pieces. I still had a perfectly rideable bike, just
with an unusable right mirror.
This was a very unnerving experience, but the woman was
honest and had good insurance. I was still able to ride routes for
the next two days and make it home without further incident.
more FELIX on 4 ➲
Moonshine Lunch Run on April 11 was a great way to start
the year- a 500 mile one-day ride to eat a hamburger with a
couple thousand other people.
On April thirtieth, I rode to Virginia for Galen Diehl's
Staunton Spring Romp. Had a beautiful day to ride over and
was checking into the Stonewall Jackson Hotel when a woman
came in the lobby to tell me she just hit my bike and knocked
it over. I rushed outside to pick Felix up.
When Felix was new, I had installed front and rear canyon
cages, along with custom frame sliders to prevent damage
ON THE COVER
IN THIS ISSUE
Nick Zarras and Gary
Kozlowski on 2016 BMW
R 1200 RS motorcycles
leaving Lake Las Vegas,
Nevada. Jeremie Elliot,
Photographer.
A year in the life of Felix, a 2014
Yamaha FJR 1300 ES . . . . . . . . . 3
View From The Top . . . . . . . . . . . . . . 5
VP Views . . . . . . . . . . . . . . . . . . . . . . 5
Entry-Apex-Exit Points . . . . . . . . . . . 6
Around the MSTA . . . . . . . . . . . . . . . 7
Event Preview . . . . . . . . . . . . . . . . . 10
Just for Fun Gatherings . . . . . . . . . . 10
National Events . . . . . . . . . . . . . . . . 11
Riding New England – Stratton Inn 12
'Glens, Lochs and Black Puddin', Riding
through the Northern UK . . . . . . 16
Road Test: 2016 BMW R 1200 RS . 23
Las Vegas Patriot Tour Ceremony . 26
SweetRides: 1991 Honda ST1100 . 27
Product Reviews:
Clearwater Lights: Sevina HPLED
Auxiliary motorcycle lights . . . . 28
Doubletake Mirrors: Enduro Mirror
and Adventure Mirror . . . . . . . . 30
Skully AR-1 Helmet . . . . . . . . . . 31
Trail Tech Vapor Digital Gage . . 32
Safety Strategies . . . . . . . . . . . . . . . 33
Member Profile: Syd Mayes . . . . . . . 34
Road Test Quick Look:
2015 Piaggio
BV 350 Maxi-Scooter . . . . . . . . 35
TirStar Event . . . . . . . . . . . . . . . . . . 37
MSTA Membership
Registration Form . . . . . . . . . . . 38
MSTA Membership Benefits . . . . . . 39
Great Riders. Great Roads. Join Us! | 3
➲ FELIX from 3
The next week, I took Felix to get an estimate- $3700! Clinton County Motorsports, who did the estimate, is much better
at spotting scratches and other damage than me. The woman's
insurance company settled without a hassle. I bought a replacement mirror assembly right away so I could keep riding,
as I had two more rallies to attend in May. The plan was to get
Felix fully repaired in early June in the weeks before STAR
when I would not be traveling.
On Memorial Day weekend I attended TriSTAR, in Sparta,
North Carolina.
ings just to be safe. Due to an error at the shop, the parts to do
the tipover repairs did not get ordered on time. The repairs had
to wait until after STAR (which was fun and no problems), but
the shop did a good job and only had Felix for two days.
In early June, a Harley rider friend bought me a "guardian
bell" for Felix. This little bell is supposed to drive demons
crazy and keep them away from the bike. Do they really
work? We'll see.
Burkes Garden General Store, where a very nice Amish lady
bakes fresh bread and sells sandwiches, fried pies and lots of
other treats. With Don Moe and Jeff Dolence.
On the ride to Burke's Garden, Virginia, another disaster
struck again while I was leading our group. It was a bright sunny
day and I was wearing my polarized sunglasses. There was a
very black fresh asphalt patch on the road. I didn't see a loose
chunk of asphalt sitting on it. The chunk was about 4" in diameter and 2" thick and I hit it going about 40mph. Felix jumped
and the front wheel lurched at least a foot to the right. The impact shot the chunk of asphalt to the side so it missed the fairing
& rear wheel. I didn't crash, but the damage was done. The front
tire still held air, but there was a nice cut on the sidewall.
The good news was that the sidewall cord, though visible,
was not damaged and there was no effect on handling. I could
still ride the rest of the rally and get home. The bad news was
that the wheel rim was bent, so it and the tire, which only had
about 500 miles on it, had to be replaced.
I replaced the tire and wheel myself, using new wheel bear-
4 | www.RideMSTA.com
In September, after three more fun MSTA events, I rode
Felix to the Bull Shoals Rally in Missouri. On the way there
I felt a small vibration in the front end. At first, I thought it
was due to the texture of the local roads, but while riding with
Mickey Tyler, we got on a freshly paved smooth road and I
could hear noise and feel the vibration from a failing front
wheel bearing. We headed to the Springfield, Missouri, Yamaha dealer, about eighty miles away.
It was ironic that the failed bearing had less than 8000
miles on it, while the ones in the bent wheel (with over 32,000
miles) were still like new. If I hadn't had to replace the front
wheel, there would never have been a problem. The dealer got
me back on the road with new front wheel bearings in about
four hours, plus the repair was eventually covered under the
Yamaha YES warranty.
The bearing problem occurred in spite of Felix having a
guardian bell. Does it only prevent accidents and crashes and
not protect against problems with materials and workmanship? My Harley rider friend's faith was unshaken. He replied
that I could have broken down in the middle of nowhere or
been sitting for days waiting for bearings to arrive at some
incompetent dealer in the sticks, so perhaps the bell did its job
after all. The rest of the riding season was without incident, so
maybe guardian bells do work.
Felix just completed his winter maintenance and is running
perfectly at 41,000 miles. I am still 100% satisfied, and a bit
of adversity has made Felix a battle-hardened veteran. Can't
wait for new adventures in 2016.•
view from the top
Let me be the first to wish our members a 'Happy New Year' and make 2016
a safe, enjoyable riding experience.
STAR '16 dates are June 26 - June 30,
2016. Registration is now open, so please
make your plans to attend. Our host
lodge is the Black Bear Lodge, Stratton
Mountain Resort, VT.
In addition, don't forget to click the
link to purchase your raffle bike tickets.
They are $8 each until April 15, 2016.
Please support your club.
The STAR '16 Raffle bike is:
2016 BMW F800GT
We have some very exciting activities
scheduled for STAR '16, take a look:
MotoVermont Dual Sport Rides
Enjoy them on Sunday (26th) and
Monday (27th), led by Eric Milano of
MotoVermont. The rides will depart at
10 am, will include lunch, and will last
4-5 hours. Cost is a very reasonable $25.
If you are riding your Goldwing or Harley to STAR, no problem! You may also
reserve a KLR 650 or CRF250L for the
ride at a cost of $65.00 for the tour (paid
on site). Slots and rentals are very limited
(10 riders per day). Eric tells us that big
adventure bikes should not have a problem on the tour.
If you can't ride to the rally, Moto
Vermont also rents bikes such as the new
BMW R1200RT, GS, Africa Twin and
more! Fly to Burlington International
Airport, rent a bike, and ride a gorgeous
100-mile route to the rally grounds. For
more about MotoVermont Motorcycle
Adventure Tours & Rentals visit motovermont.com or call 802-860-6686.
Stayin' Safe returns to STAR
What's the best way to enjoy the twisting mountain roads of Vermont? Sign up
for real-world, real-time advanced skills
coaching from America's premier onroad advanced rider training program.
On Saturday, June 25, the pros from
Stayin' Safe will conduct exclusive halfday versions of their signature on-street
advanced rider-training tours. Using the
area's challenging roads as a classroom,
expert coaches will help even the most
experienced riders maximize the fun—
and safety—of riding mountain roads.
Using radio commentary, instructors
provide constructive input in real-time
and lead roadside "chalk talk" discussions. Even the most experienced riders
expand their ability to read the road, select optimum corner entry speed and lane
position and, most important, eliminate
those dreaded "uh oh!" moments. With
no other formal riding scheduled for the
day, this is a fantastic way to kick off
STAR '16 and get the most from the fabulous routes MSTA has planned for the
event. The cost is $250 per rider for four
hours of training. As an added incentive,
$200 of the mini-session entry fee can be
applied toward a future full-length two or
three-day Stayin' Safe training tour. To
sign up for this highly effective and fun
way to take your riding to a higher level,
reserve your spot early at stayinsafe.com
or call Stayin' Safe at 724-771-2269.
Rangers. Always
working, he's a regular on NPR's Wait
Wait Don't Tell Me
and is constantly touring comedy clubs
Dennis
across the country.
Villarose
Before he told his first
joke, he was a gear head. MSTA President
A lifelong love of bikes from his first, a
Honda 400/4 bought in 1980, to his current
stable including BMW K1600, BMW GS
Adventure, Ducati 1098, Triumph Rocket 3
and a Grom he's always been riding. Commuting to track days to touring, Alonzo has
tried it all. He describes LA riding as a lifesize game of Frogger and 2015 marked his
first time riding across the country. Also a
car nut, Alonzo's had everything from a
Mazda RX-7 to a Porsche 911, to a Honda
Civic and a couple of Mini Coopers. His
current ride is a Cadillac CTS-V packing
over 500 hp.
Catch him in the brilliant riding documentary Why We Ride where he explains, "If you see me dragging an elbow
that's just the first part of the crash."
This year's lunch ride will be on Tuesday and we're heading to Lookout Tavern
in Killington, VT.
Special Guest Speaker
For our banquet night, we have scheduled a very special guest speaker —
Alonzo Bodden!
Comedian Alonzo Bodden was the
winner of NBC's Last Comic Standing 3.
A regular on the Tonight Show with fellow bike nut Jay Leno, Alonzo has done
everything from the movie Bringing
Down the House with Steve Martin, to
the voice of Thunderon on the Power
Make it a great year
Our 2016 AMA Sanctioned Event and
Just for Fun rides schedules are complete.
If you plan to attend any of these events,
I'm sure the event coordinators could use
some volunteers.
Please be safe and let's make 2016 a
banner year for our great organization.
Any questions or concerns call me at
561-329-3257 or email me at
ipnman2002@yahoo.com.•
Great Riders. Great Roads. Join Us!
Ride Safe, Ride Home
when things from all angles begin to volley for prime space on your calendar.
Let me know what kind of time
or calendar space you can allocate to
MSTA volunteerism. As a 100% volunteer organization, we're always in need
of volunteers in small to large capacities
and I will get you set up with something
you like.
The MSTA is all
about—and grateful for—your volunteerism. Call me
today about chipping
in at 248-375-2146
(Michigan).•
See you on the
road—Ann
vP Views
2016 is off to a fresh start and we have
a great year of planning coming together.
I highly recommend looking over our
Events page and putting the events you'd
like to attend on your calendar NOW.
This allows other events of life to fill in
around your bike events instead of viceversa. Sure, it's no guarantee you'll get to
each of your bike events, but it sure helps
Ann Redner
MSTA Vice
President
Great Riders. Great Roads. Join Us! | 5
entry-apex-exit points
I attended an Emergency Preparedness briefing hosted by NVEnergy and
briefed by Las Vegas Metropolitan Police Department in Las Vegas, Nevada.
They talked about how to setup your
Emergency Survival plan and what supplies to have in case of a three day to
two-week citywide emergency. Afterwards a local television station asked me
several questions and they featured part
of the interview on TV. It was hosted in
the MOB Museum in Las Vegas. They
took the old post office and constructed
a three-floor museum of the Mob during
the early 1900s in America. It is very
well done. They even have a part of the
Valentine's Day Massacre wall there,
along with a movie documentary.
That briefing mirrored my philosophy on preparedness. When I ride, I
carry what I call a plan B kit. I carry
food, water, EMT kit w/oxygen tanks,
and sometimes-extra fuel. In Nevada,
some of the roads are out of the way and
out of cell phone coverage. Many times,
I ride alone, and if I went down, I would
want to have medical and food supplies available until I could get help. My
Plan C is I always carry some medical
supplies in my pockets for cuts, burns,
colds, eyewash along with water and
snacks. This is if I cannot get to my bike
supplies. So, what is my plan A? I call
for a tow truck and emergency vehicle.
When I ride most of the riders do not
carry emergency supplies. Frequently
I open up the Givi top case to hand out
water and snacks. Luckily, no one has
gone down on the rides I have been on,
especially fortunate for the roads to
Death Valley can be desolate in many
spots. A SPOT or similar satellite emergency communication device is also
desirable. Even with that, emergency
responders will take a long time to get
there. With a severe accident, critical
care within the few few minutes could
be the difference between living or
dying. I always say "In an emergency
what you have on you determines if
you will survive or not." Don't depend
on the other rider to carry supplies you
should be carrying. As we say in the
Boy Scouts, "be prepared."
Another item is vehicle passing laws.
Many accidents and deaths in Nevada
6 | www.RideMSTA.com
Nick Zarras | Managing Editor
have happened during passing situations. I have attached a link for passing
laws in the USA. Passing Lane Laws - A
State by State Guide (http://www.mit.
edu/~jfc/right.html).
This month's Member Profile introduces us to Syd Mayes, Virginia.
This month's Sweet Rides features our
Wisconsin's Mike Baxter's 1991 Honda
ST1100. This month's Road Test is a
dual motorcycle 2016 BMW R 1200
RS test. This is BMW's top of the line
sport touring bike, featuring an upgraded boxer engine and suspension in
a lighter weight platform. The Road Test
- Quick Look features the Piaggio BV
350 Maxi-Scooter. A great commuter
with Mediterranean styling, and good
power and handling at normal highway
speeds. Doug Westly educates us in the
considerations on driving in the winter
in Winter Crashes.
Feature articles. STAR2016 is only six
months away. Check out our STAR2016
facts and signup procedures in Previews
and STAR2016 Highlights. The Vermont
countryside is a beautiful place to ride.
For those wanting to expand their vacation to and from STAR2016, Doug Weir,
from Indiana gives us some nice travel
tips on riding in the New England countryside in his article Riding New England – Stratton Inn.
The Las Vegas City Council (Nevada)
went all out for the 2015 Las Vegas Patriot Tour Ceremony, and became the
country's largest contributor to that date.
This organization is run by Bill Sherer.
The Nations of Patriots gives its fundraising to wounded warriors. The next
article is from Ann Redner, our Vice
President, who give us a "Bloody Good
tour" in "Glens, Lochs and Black Puddin Riding through the northern UK"
(United Kingdom). Norm Kern provides
a tire kick'n story book on "A Year in
the life of Felix, a 2014 Yamaha FJR
1300 ES."
Product reviews: I had the opportunity to try the new AR-1 Skully Helmet
that provides an upgradable Heads Up
display to increase your situational
awareness on the road. Our new Nevada
member, Kurt Asplindh, writes us a
product test on the 7500 lumen Clearwater Sevina HPLED auxiliary lights. I
provide a road test of
the very rugged and
stylish Doubletake
Enduro Mirror and
Adventure Mirror on
a BMW R 1200 GS.
Some special notes: Big news:
STAReview will be printed and web
developed in full color from now on.
STAReview will be published six times
a year to more closely align to assigned
calendar months. Issue 3501 being JanFeb, issue 3502 being Mar-Apr, and so
forth. This has been a request from the
membership for easier reference to when
published event articles are shown. In
addition, the new membership signup
is $39 dollars and it includes a printed
copy of STAReview. The Membership
Value article shows that you receive
$128.85 dollars in benefits for a $39
membership fee. And a final note: update your blue book personal data by
February 20, 2016 with membership@
ridemsta.com.
The positions of Feature Editor and
ATM Editor are open. The procedures
have been fine-tuned over the last three
years and are easy to do. A great opportunity to amp up your resume and link
to our great membership.
STAReview is not only news but also
35 years of cherished memories. Check
out Jim Park's photo archives of great
rides at www.ridemsta.com. Members
can submit product tests and showcase
their stories and events in STAReview.
Send me your article as a word document, and high-resolution photos as
attachments to an e-mail, addressed
to editor@ridemsta.com. I consider all
action photos in high quality portrait
mode for cover photos. If you want your
favorite ride to be showcased submit an
article and photos for our Sweet Rides
feature. I will provide you full editorial
support. The digital STAReview articles
have hyperlinks to link you to web sites
for travel planning information, motorcycle, and accessories to lust over. I
want YOU to be the star in STAReview!
So kick back with a cool one and enjoy
this issue of STAReview… •
Ride Safe my friend.
Clear skies, clear roads…
around the msta
Nick Zarras | Managing Editor
Editor's note: Many of our members up north are experiencing PMS (parked motorcycle syndrome) until the motorcycle
manufacturers come out with a commercial caterpillar tread
upgrade. So their bikes are parked in hibernation. Many of our
riders use this time to put more goodies on their bikes.
South East Region
Alabama Florida Georgia Mississippi
North Carolina South Carolina Tennessee Virginia
Florida
High Rockies Adventure Ride
By Don Moe
[Maps and photos by Don Moe unless otherwise noted.]
This article covers the two-day "High Rockies Adventure"
(HRA) tour on July 13 & 14, 2015. These two days of additional adventure riding followed completion of the Intro
to Adventure course that I and several others attended at the
RawHyde Adventure Camp near Hartsel, Colorado. There is a
separate article with the title "Adventure Motorcycle Training
at RawHyde's Colorado Camp" that I published in the August
2015 issue of this newsletter and is available in PDF format at
that link or from my website.
Since some of the HRA routes took us over several high
passes that were former railway routes that no longer have
any tracks, the grades were generally quite shallow. However,
some routes were more challenging. All riders were on GStype bikes.
Day #1
On the first day, Monday, July 13th, our ride leader, Michael, guided us over unpaved Boreas Pass, paved Hoosier
Pass, and unpaved Weston Pass. These passes are located
north of Hartsel. Although the weather was overcast or mostly
cloudy, we all enjoyed our rides over these passes in remarkably dry road conditions and even under partly blue skies with
some sunshine.
Prior to departing from the RawHyde camp for the first
group ride, Michael explained the rules and other important
Our route for the first day.
details about our
Read the entire blog post and
excursion to our entire group of nearly
see ALL the photos at
15 riders.
http://donmoe.com/blog/
As I managed to
other-trips/high-rockiesoccupy the #2 posiadventure-ride/
tion directly behind
Michael, my photos
taken during the ride show only him in the lead. Additionally
I took several photos of the other riders over my shoulder and
at stops.
Our first stop was for fuel at the sole convenience store/gas
station in Hartsel at 9:40 AM MDT.
Upon leaving Hartsel, we rode eastward a short distance
more ATM on 8 ➲
The view along CR-53 as we headed north towards Hartsel at 9 AM MDT.
Great Riders. Great Roads. Join Us! | 7
➲ ATM from 7
along US-24 to CR-15. At 10:18 we all stopped alongside the
road for nearly 20 minutes to allow the photographers in the
group to take some photos of the scenic view to the north.
Upon reaching US-285, we turned left for 0.4 miles and
continued north along CR-33 into the Pike National Forest,
also called Boreas Pass Road. This took us through the small
community of Como. As we passed by one of the few businesses, I took this next photo of the Mountain Man Gallery,
which also houses the Como Post Office.
Just six minutes later we came to a fork in the road and
paused to allow stragglers in our group to catch up and not
miss the turn.
Thirty minutes later we arrived at the Boreas Pass summit
and stopped to take photos, eat our lunches and to chat about
the ride thus far.
After our half-hour break, we continued towards Breckenridge, which we reached by 12:30. We did not stop there, but
continued south along CO-9 towards Alma and Fairplay.
While we were discussing the situation, two other riders approached from the opposite direction and paused to answer
our questions.
In turn we each rode down the steep road covered by many
loose rocks. After we had all successfully traversed that
somewhat challenging section, we arrived at the junction with
US-24 and turned south towards Buena Vista. After a brief
stop at a convenience store there, we continued back through
Hartsel to RawHyde's camp.
Over several beers and dinner, we discussed the day's adventure. We were all quite pleased with the experience and
eagerly looked forward to another excursion the next day.
The view over my shoulder of riders just leaving Hoosier Pass.
At Fairplay we followed US-285 south for five miles to the
turn-off onto CR-5 towards the southwest. We stopped alongside the South Fork South Platte River in the valley leading
to Weston Pass. The telescopic photo shows the approach to
Weston Pass in the distance.
Upon reaching Weston Pass, some of us posed for a group
photo in front of the sign.
Just over three miles from the pass, we stopped along the
road for a few minutes so that we could each evaluate the
rocky road conditions on a steep downhill segment just ahead.
8 | www.RideMSTA.com
Our route for day 2.
Day #2
This day's route traversed the unpaved Marshall Pass and
Old Monarch Pass, located to the southwest of Hartsel. Initially the weather was nice, partly cloudy and dry.
The map below shows our route for this excursion.
We started out at 8:38 AM MDT and, just as on the day
before, rode along CR-53 to CO-9 and through Hartsel. However, since we had refueled the day before in Buena Vista,
there was no need to do so again so soon.
The highway passes through the San Isabel National Forest
with very nice scenery under the sunny skies.
When we reached the junction with US-285 on the southern
side of Buena Vista, we turned south towards Poncha Springs.
At 10 AM and nearly halfway to Poncha Springs,
Coming into Poncha Springs a few minutes later, we
stopped at a convenience store/gas station for nearly 20 minutes. After continuing south on US-285 for just over five
miles, we turned off onto CR-200, a very twisty, unpaved road
leading up to Marshall Pass.
At 11:15 AM MDT, we arrived at the summit of the pass
and stopped for photos and a short break.
Following our five-minute stop there, we continued along
the same county road, now keeping an eye on the darkening
clouds ahead of us.
Just around noon we arrived at US-50 and we stopped for
nearly 35 minutes at the Tomichi Creek Trading Post & Café
for our lunch break. Several riders also put on their rain gear.
After resuming our ride, we headed north a very short distance along US-50 before turning off onto the CR-888, which
follows Tomichi Creek. When we reached NF-237, we turned
eastward to traverse Old Monarch Pass. Due to the increasing threat of rain, I kept my camera inside my jacket until we
reached the summit of the pass at 1:13 PM.
Another rider took this photo of me at Old Monarch Pass.
Following our break, we continued down the eastern grade
of the pass until we rejoined US-50. Since it was starting to
drizzle lightly, I again secured the camera inside my jacket for
a while.
After we headed north along US-285 from Poncha Springs,
the weather cleared enough for this final photo.
As we reached Hartsel at 3 PM MDT, the clouds did more
than just threaten rain. We stopped at the convenience store
for a half hour in the hope that the rain would let up, which
it eventually did. As we later discovered back at RawHyde's
camp, a rain cell had been nearly stationary over the area and
had rained intensively for quite a while. We found very muddy
road conditions along CR-53 and especially slick conditions
on the side road leading into the camp's location. Obviously
we were about to get our first really serious test at riding in
slick, muddy conditions!
When the rider in front of me suddenly slowed down, I
was unable to maintain and then regain my momentum and
became the only rider to fall over into the mud on that final
stretch. If my bike had had proper 50/50 knobby tires instead
of the 90/10 Anakee-3s, I probably would not have had this
tip-over.
Thankfully I had plenty of help from the trainers in picking
up my motorcycle again. Even so, I felt exhausted, which was
aggravated by the high elevation at 9,500 ft. The bike was undamaged and the mud was easily cleaned off at a car wash in
Buena Vista the next day.
We had a nice evening and another good dinner back at
camp. Several of us gathered around the big-screen TV to
watch a slideshow of my photos taken over the entire weekend
of RawHyde training and excursions.
Conclusion
That was the final day of our High Rockies Adventure rides.
The next day we all departed to our various destinations. I look
forward to returning to the West and riding other challenging
routes as part of the Backcountry Discovery Routes, after I
take RawHyde's advanced rider course, called the Next Step.
My summer tour continued and included riding from Washington through British Columbia and Yukon Territory into
Alaska. Although I had decided not to venture all the way to
Prudhoe Bay, I did ride up the Dalton Highway, along with
three guys from Calgary, as far as the Arctic Circle. Cloudy,
dry weather made the trip quite pleasant.
My training in the RawHyde course proved very useful
in coping with the various unpaved roads on the way there,
around Alaska, and coming back. Before leaving the US, I
remembered my muddy lesson and mounted better tires. In
this case it was a new set of Heidenau K60 Scout 50/50 tires
that had just come on the market in the correct sizes for my
2015 BMW R1200GSA. By the time I returned to Washington
nearly 6,000 miles later, I had nearly worn out the rear tire.
Adventure-riding can be both fun and challenging. Due to
the potential hazards or possible mechanical issues, I prefer to
be prudent on such adventures and to ride only in a group.
South Florida
The South lunch ride to Capt'n Con's Fish House was a
banging success!! We had seven Eastsiders make the trip
across the state, joining 12 others from around the state for a
wonderful time at a new destination! My odometer read 370
miles for the day!! And I wasn't alone only two riders were
under 100 miles one way! The restaurant did a great job accommodating our ever growing crowd, and served up great
grub in decent time! Lots of smiles and full bellies
West Region
Alaska Alberta Arizona British Columbia California Hawaii Idaho Montana
Nevada Northwest Territories Oregon Utah Washington Yukon
Nevada
Christmas season means the Christmas light show is on
at the Las Vegas Motor Speedway. A combined MSTA and
MARS group rode through the light show presentation. It is
a multimillion dollar production with businesses from the
greater Las Vegas Valley donating their displays.
Freedom Motorcycles had a 2016 Triumph Motorcycle
model lineup event. Participants had a nice briefing and
touchy feely introduction to the Bonneville, Bonneville T100,
and Thruxton models for 2016. In
addition, you did not go hungry as a
large spread of culinary delights was
abounding.
CES hit town. Jeremie Elliot was
our CES explorer extraordinaire. More
inputs from CES in future issues. Nick
Zarras was able to test out the Skully
helmet system. Check out his review in
this issue on page 31.•
Great Riders. Great Roads. Join Us! | 9
Event Preview
MSTA Events are sanctioned by the AMA. You MUST be (or join onsite) a MSTA member to attend.
STAR '16
June 26 – 30 in Stratton, Vermont.
Stratton Mountain Resort
30 Middle Ridge Rd,
Stratton Mountain, VT 05155
Register for STAR '16 event BEFORE
making hotel reservations. Online registration is open at http://www.planetreg.
com/STAR2016. Instructions will be provided
on your event confirmation on how to reserve
your room at the Stratton Mountain lodge.
Note: You will be making your OWN hotel
booking, so if you cancel you must cancel your
OWN hotel reservation.
You will be directed to call the lodge and
book your room via phone. Rates vary from
77.20 to 94.80 (all include free breakfast maximum 2 per room). Rates include taxes
and depend on bedding and lodge type.
There are several room types and two different lodging options - if you want to check it
out in advance: http://www.stratton.com/planyour-trip/lodging/lodging-landing.aspx.
Pricing in the main lodge (Black Bear) varies
from 79.20 through 94.80 (taxes included).
Pricing in the Lift Line Lodge is 77.20 (taxes
included) for a room with 2 beds. There is a
$50.00 pet fee for the Black Bear lodge, no fee
for the Lift Line Lodge. Additionally, the resort
is offering some condos (Long Trail Condos)
that are a short distance from the lodge. If you
are interested in a Condo - do not try to book
them yet - send Harry Hemstreet an email and
he will let you know when they are ready to
book. Please note that the hotel will charge
you one-night stay as a deposit. The hotel has
a cancellation policy of $50.00 if you cancel
up to 3 days before your arrival. Cancelling
within 3 days or less of arrival will
just for fun gatherings
Just for Fun Gatherings
are not MSTA/AMA sanctioned "events"
These are informal gatherings
with no registration, no agenda,
no scheduled meetings, no provided meals, and no published
routes — just like-minded friends
gathering to ride. MSTA membership is not required. Contact the
listed coordinator with questions.
Big Bend of Texas
February 22 – 28, 2016
Dual Sport / Adventure Riding in
Big Bend National Park, Big
Bend Ranch State Park and
other local areas.
Free camping spots for dry RV
or tents.
Roger Hazelwood's property
150 Goat Track Trail
Terlingua, TX
Coordinator: Max Hendrix –
motomax409@gmail.com
Fool's Run Dual Sport
March 31 – April 3, 2016
Dillard, GA. We return to the
mountains of GA and NC this
year for early dual sport riding.
Lodging: The Gateway Inn (formerly The Holiday Inn Express)
Request MSTA room rate.
10 | www.RideMSTA.com
http://gatewayinndillard.com/
index.htm
(706) 746-3585
Routemeister: Doug Pippin
Coordinator: Galen Diehl –
gediehl4@comcast.net
North Georgia Classic
April 15 – 17, 2016
Helen, GA – Excellent street
riding in the north Georgia
mountains
NGC Website: http://msta-se.
com/helen/
Lodging: Quality Inn – Helen
Request the MSTA room
706-878-2268
Coordinator: Andrey Hubble
Moab Mob
April 17 – 23, 2016
Dual sport / Adventure riding in
Canyonlands and Arches
National Parks plus other
local trails.
Moab Rim Camp Park, Moab, UT
RV, tent sites and cabins –
888-599-6622 or
435-259-5002.
Hotels available in
downtown Moab
Coordinator: Max Hendrix –
motomax409@gmail.com
cause your whole stay cost to be assessed as a cancellation fee. The full cost
of your stay will be charged at the 3-day point
(assuming you have not cancelled before).
The cutoff date for our block is May 19,
2016 - just make sure your registration is
done by that date.
If you would like to camp or park your RV,
the resort charges 20.00 per day per person
for a camping platform or RV space (no hook
ups available). This fee includes access to
showers at the sports center. Please be mindful of dates:
Friday is 6/24, Saturday is 6/25, Sunday is
6/26 (Normal check in date), Monday is 6/27,
Tuesday is 6/28, Wednesday is 6/29, Thursday
is 6/30 (Normal check out date).
Contact Dennis Villarose, president@
ridemsta.com, 561-329-3257 with event
questions.
http://ridemsta.com/srblog/just-for-fun-gatherings-2016/
Staunton Spring Romp
April 28 – May 1, 2016
Street riding and Dual Sport /
Adventure riding in the
Washington and Jefferson
National Forests and around
Staunton, VA
Stonewall Jackson Hotel
24 South Market Street
Staunton, VA 24401
844-206-1320
Ask for MSTA rate
Details at http://ridemsta.com/
mstaforums/event-planning/
staunton-spring-romp/
msg7707/#msg7707
Coordinator: Galen Diehl –
gediehl4@comcast.net
Third Annual Northeast JFF
July 7 – 11, 2016
Myer Country Motel
Milford, PA
Details at http://ridemsta.com/
mstaforums/just-for-funevents/third-annual-northeastjust-for-fun-event-1368/
Eldoncade Silverton Dual
Sport – July 24 – 31, 2016
Dual sport riding and rustic
camping at its best. Single
track, jeep roads and mountain
vistas. Hotels and RV hookups
available in Silverton, CO.
Some will arrive as early as
July 20.
Coordinator: Eldon Rix
918-864-2208
Rick's Ride In –
Middlesboro, KY
Sept 16-18, 2016
Twisty and scenic riding around
the Cumberland Gap (KY, TN,
VA).
Holiday Inn Express
Middlesboro, Kentucky
606 248-6860 – Request the
MSTA rate
Coordinator: Rick Giddish
Tellico Plains, TN
October 21 – 23, 2016
Street and dual sport riding
around Tellico Plains and in the
Cherokee National Forest
Rustic or RV camping and cabins
available at Cherohala Mountain Trails Campground
32 Reliance Rd
Tellico Plains TN 37385
423-253-6061
Coordinator: Bill Wilson –
vfrcauv@yahoo.com
MSTA events are sanctioned by the AMA. You MUST be (or join onsite)
a MSTA member to attend these events.
For up-to-the-minute updates on MSTA sanctioned events,
check out our web page at http://ridemsta.com/srblog/Events/
2016 MSTA National Events Schedule
Date
Event
Location
Contact
Web Address/E-mail
May 13-15
T-28
Marble Falls, AR
The Hub Motorcycle Resort
#1 Dogpatch Drive
Marble Falls, AR 72648
870-743-4062
Becky Wing
479-824-5738
bwing@pgtc.com
http://www.hubinfo.com
MAY 27-30
TRI-STAR
Sparta, NC
Alleghany Inn
341 N. Main Street
Sparta, NC 28675
888-372-2501
Geoffrey Greene
865-922-9887
hawkgtrider@aol.com
http://www.alleghanyinn.com
JUNE 26-30
STAR '16
Stratton, VT
Stratton Mountain Resort
30 Middle Ridge Rd
Stratton Mountain, VT 05155
802-297-4000
Dennis Villarose
561-329-3257
http://www.planetreg.com/STAR2016
president@ridemsta.com
JULY 22-24
BIG LYNN LODGE RIDE
Little Switzerland, NC
Big Lynn Lodge
Highway 226A
Little Switzerland, NC 28749
800-654-5232
David Brickner
828-448-5429
brick@ncwireless.net
JULY 29-31
RIVER CITY RIDE
Corydon, IN
Holiday Inn Express
2449 Federal Drive
Corydon, IN 47112
812-738-1623
Don Payne
317-696-2381
don.payne10@gmail.com
AUG. 26-28
MAIL POUCH FLY-BY
Marietta, OH
Jon Campbell
513-465-4755
ohiomsta@cinci.rr.com
SEPT. 9-11
OZARKS BS RALLY
Theodosia, MO
Best Western Marietta
701 Pike Street
Marietta, OH 45750
740-374-9660
Theodosia Marina & Resort
Highway 160
Theodosia , MO 65761
417-273-4444
Quality Inn
540 N. Jefferson St.
Lewisburg, WV 24901
304-645-7722
Ed & Linda Young
417-926-3075
www.ozarksbsrally.com
Syd Mays
804-721-3399
touringman5@gmail.com
Judi Rowe
469-879-2066
msta.thc@sbcglobal.com
yoranchhotel@yoranchhotel.com
SEPT. 30-Oct. 2
AUTUMN COLORS RIDE
Lewisburg, WV
OCT. 28-30
TEXAS HILL COUNTRY
Kerrville, TX
YO Ranch Resort
2033 Sidney Baker
Kerrville, TX 78028
830-257-4440
info@biglynnlodge.com
http://www.biglynnlodge.com
magna@centurytel.net
Great Riders. Great Roads. Join Us! | 11
Riding New England – Stratton Inn
By Doug Weir, Hayden, Indiana
Since STAR '16 will be in Vermont, I thought I would share
some of my riding knowledge of the area. You may think it
strange that someone who lives near the Canadian border in
Idaho should pen such an article. However, I am from that
area, and moreover, have a bike stashed at my brother's house
in Connecticut. I ride New England almost every year.
The focus of this piece will be the roads, and to a lesser extent, the scenery. If you are interested in the history or cultural
aspects of New England, there are much better sources than me.
Getting There
Most MSTA members will come from the south and west of
Vermont. I will therefore briefly cover the States on the way.
Pennsylvania
Yup, I lived there also. The quickest way out of PA would
be to drone on I-80 and I-81 to Binghamton, NY. However,
there are many good back roads in PA. My favorites would be
PA 44 and 144 north of Bellefonte. There is also good riding
where I-81 crosses the Appalachian Trail near Pine Grove, PA.
New York
Yup, I lived there too. The quickest way out of NY would
be to continue from Binghamton on I-88 to I-87 to NY 7
which becomes VT 9, near Bennington, to VT 100 to Jamaica,
Vermont. The best riding in Southern NY, although it can be
crowded, is in the Catskill Mountains. NY 28 is the main road,
but there are lots of side roads off it. New York 97, which follows the Delaware River south of Hancock, is very twisty. It
12 | www.RideMSTA.com
has been used in many car commercials. If you like high speed
sweepers, the Northern Adirondacks have some good roads.
Again, NY 28, plus NY 30, are the main roads. You can visit
the Winter Olympic site at Lake Placid, and/or ride to the top of
nearby Whiteface Mountain. If you go this way, you can take
the 4-times-per-day Port Kent, NY, ferry across Lake Champlain to Burlington, and ride South on VT 100 to Jamaica, VT.
Whatever way you choose, do not take the George Washington Bridge (I-95) to cross the Hudson River into NYC.
You could be stuck for hours! Go north, at least to Nyack,
NY, or further north. Once on the east side of the River, you
could pick up the Taconic State Parkway, which is a little like
the Blue Ridge Parkway except it is 4 lanes all the way. This
would be a good lead into western Massachusetts.
Connecticut and New Jersey
Although there are some good roads in the NW parts of these
States, there are just too many folks that live there. However,
one of the nicest covered bridges is in Cornwall, CT, off US 7.
Massachusetts
Although the eastern part of MA is flat and crowded, the
west has some surprisingly good riding. MA 112 (Exit 2 off
I-90), 116 (Exit 25 off I-91), and 8 are all very good and lead
to the prime Vermont road, VT 100. If you want a spectacular
view of the area you can climb the road up to the 3491-foothigh summit of Mt. Greylock from Lanesborough, MA ($6 fee
for parking). If tourist stores are your thing, one of the biggest
anywhere is "Yankee Candle" near South Deerfield on US 5 /
MA 116.
Vermont
Northern New England (Vermont, New Hampshire, and
Maine) has good riding for any type of motorcycle rider. Unfortunately, in the 40 years or so that I have been riding in the area,
I have seen the quality of the pavement degrade significantly.
Also, since the number of dirt roads is infinite, if you have a
choice in mounts, an "Adventure Bike" may be the best bet.
Before you leave home, I would get a copy of the Official
Road Map of Vermont to plan your riding (other New England
States have similar offerings). It is available from Vermont Attractions Assoc. by calling 1-800-Vermont or visit their website
at VermontVacations.com. If you don't get one in advance,
every Vermont store and gas station has them, and they are free.
STAR '16
HIGHLIGHTS
• GREAT ROADS
• Raffle Bike: In cooperation
with Max's BMW, the
largest BMW Dealership
in the country — the
raffle bike will be a 2016
BMW F 800 GT! Buy your
discount tickets now at:
http://www.planetReg.com/MSTAraffle2016
• The celebrity Guest Speaker — Alonzo Boden
• Numerous Seminars this year
•Vendors
• Ice Cream Social after Monday night Member's Meeting
• Lunch ride to Look Out Tavern - Killington, VT
• T-Shirts: Top quality, highly breathable, moisture
wicking T-shirts available in both men's and women's
cuts. Purchase on the registration page.
I will start with the best. Vermont 100 is THE road in Vermont. It snakes its way all the way from North Adams, MA,
to the Canadian border, and usually has limited car traffic.
It goes through and along side of the entire Green Mountain
National Forest. Stratton is just off VT 100 near the town of
Jamaica. If you again are looking forward to visiting another
tourist store, VT 100 passes right by "The Vermont Country
Store" in Weston. Further north it passes by the biggest ski
area in the East, Killington. It then enters Granville Gulch.
Look closely for the sign for Moss Glen Falls on the west
side. After it crosses I-89 (about 30 miles east of Burlington),
it passes by probably the most famous tourist trap in VT,
Ben and Jerry's Ice Cream Factory. From B & J's, you have a
• Super hats. You're going to love the feel & wear-ability
of this year's hat — breathable, foldable, Tri-fold
motorcycle hat. Washable & fits great. Be sure to order
yours on the registration page
• MotoVermont Adventure Bike Tours and Bike Rentals
available
• Day ride to Mount Washington in New Hampshire
• Stayin' Safe Advanced Rider Training - 4 hours
8am-Noon – Saturday
Nearby Areas of Interest
• Mount Equinox. A 45-minute ride from the hotel.
Nice private road with great views - http://www.
equinoxmountain.com/index.php Small fee to enter.
• Kancamagus Highway, NH
• Francnia Notch, NH
• Ben & Jerry's Factory and Ice Cream, tour and tasting,
Waterbury, VT
• Kuerig/ Green Mountain Coffee headquarters and
campus, Waterbury, VT
• Stowe Mountain Resort, Stowe, VT
• Mount Greylock, Adams, MA.
choice. VT 108 passes through the twisty Smugglers' Notch.
However, unless you get there early in the day, it will be polluted with cars. Whether you take VT 108, 118, or stay on 100,
you will be given a scenic ride through ever flattening farm
country all the way to Canada. If you want to have a road essentially all to yourself, continue on to VT 105, which follows
along the Canadian border.
more NEW ENGLAND on 14 ➲
Great Riders. Great Roads. Join Us! | 13
➲ NEW ENGLAND from 13
In Southern Vermont just about any road that crosses the
Green Mountain N.F. will be fun. The best would be VT 11
and 30. VT 9 is also nice, but sees a lot of car traffic. US 4
makes a nice climb out of Rutland to the Killington Ski Area,
but is overly improved. East of Killington, US 4 passes over
Quechee Gorge. For those who have been to the canyons of
the West, it is no big deal, but this is about as good as it gets in
the East.
Just about any road that crosses VT 100 North of Killington
will be good or very good riding. My paved favorites are VT
73, 125, 17, and the Camp Brook Road connecting Rochester
to Bethel. If you don't mind a very steep dirt road, you should
try the Lincoln Gap Road. It starts or ends just south of Warren. The east side is paved, but it turns
to dirt at the top. It is doable by any
street bike unless it has been raining.
You can zig zag back and forth on all
these roads between VT 100 and US 7.
There are many other attractive roads
in VT. However, I would avoid US 7A,
unless you like lots of traffic and tourist
stores. One of my other favorite roads is
the short VT 66 from Randolph.
Covered bridges are all over Vermont.
They are shown on the Official Map,
but some of the highest concentrations
are on VT 14 and 110. The longest U.S.
covered bridge crosses the Connecticut
River from U.S.5 at Windsor. If you
would like to know more about these
bridges, there are numerous books available on their history and construction.
As I mentioned before, there are an
infinite number of dirt roads in Vermont. Most, but not all, are shown on
the Official Map. One of the favorite
games my brother and I like to play
goes as follows: From wherever you are,
find a small town on the map, like West
Corinth (SE of Barre), and tell your GPS
to take you there via the most direct
14 | www.RideMSTA.com
route. Most GPSs know the small, semi-abandoned roads that
don't appear on most maps. Whether you can actually follow
the GPS depends on how much rain there has been recently.
They don't call the spring in Vermont "The Mud Season" for
nothing.
In summary, you can't go wrong riding just about anywhere
in Vermont. One warning: For those who come early or stay
after, there are surprising few reasonably priced accommodations in Vermont. Clusters are located in Rutland, White River
Junction, Barre-Montpelier, Burlington and Brattleboro.
Further Afield
If you have come this far, why stop at Vermont?
Quebec
Montreal, Quebec, is only about 200 miles from Stratton.
However, Quebec City, which some say is more French than
France, would be my first choice, and is only a little more than
350 miles away. Why stop there? The end of the scenic road
around the Gaspe Peninsular is only another 400 miles further
east. Don't forget your Passport, and be aware that Canada is
not firearms friendly. But then again, neither are Vermont's
neighboring states.
New Hampshire
Southern New Hampshire is flat and crowded. Northern
New Hampshire is more rugged than Vermont, especially
north of Plymouth. My choices for the best M/C roads are
NH 118, 116, and 112 (also called the Kancamagus Highway).
You can ride the Mt. Washington Toll Road ($16 for M/Cs)
to the 6288-foot summit. In addition, any road around the
White Mountains will be pretty good. NH 26 is pretty neat,
and it goes through the little town of Dixville Notch, which is
famous for voting for President at 12:01 AM on Election Day.
For a tame adventure ride you can take US 3 North to follow
the headwaters of the Connecticut River. You should be aware
that the Laconia Bike Week (Sturgis East) is June 11-19.
Maine
The White Mountains of New Hampshire extend into
Maine. When visiting the Whites, I like to stay in the little
town of Bethel, ME. The best roads in NW Maine are 113 and
17. However, the main attraction here is the seacoast, which
is some 200 miles east. This culminates at the spectacular
Arcadia National Park. For the truly adventurous, the logging
roads north of Millinocket might look inviting on the map.
However, motorcycles, even street bikes, are not allowed on
these private roads or in Baxter State Park. Contact: Northmainewoods.com for info.
New Brunswick and Nova Scotia
New Brunswick is like an extension of Maine. The primary
attraction there is the huge tides of the Bay of Fundy. The best
place to witness these is at Hopewell Rocks. New Brunswick
also has a lot of covered bridges. The longest covered bridge
in North America crosses the St. John River near Hartland.
Nova Scotia, especially the Cabot Trail on Cape Breton
Island, is world famous for M/C riding. The combination of
sea coast and mountains is very similar to California Route 1.
To shorten the riding getting there (it is about 800 miles from
Boston to Cape North, NS) you might be able to take the ferry
from Portland, ME, to Yarmouth, NS. Operation of this ferry
is year to year, so know before you go. The 2015 operator is
called "Nova Star Cruises." But remember, the further north
and east you go, the colder and wetter it gets.
Summary
There are many reasons come to the Northeast. Hope to see
you at STAR.•
Great Riders. Great Roads. Join Us! | 15
'Glens, Lochs and Black Puddin'
Riding through
the Northern UK
By Ann Redner, MSTA Vice President
Photos by Ann Redner, unless otherwise noted
It's black because sheep's blood mixed with barley and oats
turns black when it's boiled. And there it was on my plate: the
infamous black pudding. Accompanied with eggs, haggis, sautéed tomatoes, mushrooms, sausage, baked beans and toast, it
makes a proper northern UK brekky (breakfast)—one that I'd
enjoy more than once while on this land.
A proper northern UK brekky. Photo by Mike Taylor.
16 | www.RideMSTA.com
Scanning the crowd in England's Manchester airport, I
spotted the subtle smirk from English pal and founder of UK
Adventure Riders, Chris Jones. We traded updates as he drove
me to his family's Lancashire home in the north of England,
close to the Irish Sea and Scottish border. The Jones household would be the start and end point of Chris' fantastic route
through Scotland and England's famed Lake District.
We would traverse emerald green valleys dotted with sheep,
cross mountain passes on remote single-lane roads, and pass
ancient stone bridges and generational farms. We'd explore
mysterious castle ruins, pick our way through herds of wild
deer, and roll onto overnight ferries. Highlighting the ride
would be visits to the homes of three Scotland-based riders
with whom I'd been communicating for months.
First order of business was the arrival of Paul Hughes
at Chris' home. Paul owns Bournemouth Motorcycle Hire,
and he personally delivered the BMW F800GS I'd arranged
to ride for the next 9 days. The pristine white bike sported
a brand-spanking-new rear tire and nearly new front, plus
BMW's hard plastic panniers and expandable top box.
It pays to research! After inquiring to nearly every motorcycle rental agency in England, Bournemouth Motorcycle
Hire quickly rose to the top. They offered an attractive price
for the best-looking package, which included unlimited mileage, breakdown coverage, insurance valid in all of Europe
(uncommon), and not least: personable communication. For an
additional, reasonable fee, Paul was able to both deliver and
retrieve the bike at Chris' home, a convenience that saved me
considerable time.
In a nutshell, Paul and Bournemouth Motorcycle Hire were
ace. They'd be my first choice again for bike rental in the UK,
so save yourself some time and call him first when you make
plans to ride through England, Scotland or Isle of Man (resources to follow).
The adventure began the moment we rolled out of Chris'
driveway on the wrong, er… left side of the road. At first,
intersections and traffic circles (which rotate clockwise) were
uneasy experiences that made me glad to be following Chris'
taillight.
With time, I got the hang of clockwise traffic circles and
even the art of blinker management while on them (required
by law), but I never fully rid myself of an instinctive "flinch"
that came each time I was leaned over to the left and an oncoming car passed to my right. A natural sensation from a
lifetime in the "right" lane kept trying to tell me I was in the
wrong place.
I reverted only twice to my right-lane Yankee habits, both
being uneventful slow-speed maneuvers that were worth
Chris' belly laugh.
In no time, we were in Scotland and began a clockwise
circuit around the country on double- and single-lane roads.
At least one of the routes along a tumbling icy stream is held
close to Chris' chest, and promising on my Girl Scout's honor
to not reveal the location of said routes was enough to keep us
rolling forward through jaw-dropping beauty.
We visited the popular summer destination of Loch Lomond and curved through the epic, peak-flanked Glencoe valley. We stopped near a pathway and walked to the quiet shore
of Loch Ness. I couldn't help gazing across the foggy water in
search of something undulating and scaly and my blossoming
imagination nearly created a sighting.
We eventually pitched camp in Fort William beside Scotland's tallest mountain, Ben Nevis.
Here, I inhaled a hot dinner, my first taste of savory haggis
mash. Topped with roast chicken, it was delicious.
Around midnight, an ethereal vision unfolded: tiny, distant headlamps flickered in the blackness like a long string
of fireflies as dozens of climbers slowly ascended Ben Nevis
in hopes of reaching the summit for sunrise. With twinkling
stars behind the mountain and above the sleeping campground, it was a magical sight to behold. It delightedly reminded me I was far, far from home.
Moving on the next day, we rolled up and over hills of
heathered pasture, regularly slowing to avoid sheep wandering
the road. This became a source of guttural laughter, since the
dilemma of who or what would yield first was always settled
by the well fed creatures suddenly alighting into a full-bore
run for the heather … their oblong, woolen bodies jiggling
unashamedly like huge vats of Jello®.
"Getting away from it all" and outrunning the steady expansion of cookie-cutter commercialization and attentionsucking electronic devices is tougher and tougher to achieve.
Riding the back roads of Scotland offers precisely this—a
broad intake of fresh, crisp air, a visual feast of green glens
more UK on 18 ➲
Majestic scenery abounds in Glencoe.
Ann at the base of Bealach Na Ba. Photo by Chris Jones.
Paul Hughes and the pristine BMW F800GS from Bournemouth Motorcycle Hire.
Great Riders. Great Roads. Join Us! | 17
➲ UK from 17
and magnificent castles, and a hardy, warm culture … all
while you connect with a machine that strums your soul and
invokes reflection upon the real things –cherished people and
quiet nuances– that make life so meaningful.
Leaning around switchbacks and up and over the high pass
of Bealach Na Ba on a rainy, foggy day took us to the tiny
west Highlands village of Applecross, the friendly Applecross Camp Site and a welcomed pub dinner within walking
distance. How many campgrounds do you know of that serve
fabulous fresh smoked Scottish salmon, cream cheese and
fluffy bagels for breakfast? Well, now I know of one.
Fresh smoked Scottish salmon for breakfast at Applecross
Camp Site.
It rains a lot in Scotland. Our lucky timing put us smackdab in the midst of rain and flooding intense enough to make
international news. On the flip side, this is what maintains
Scotland's vivid green landscape and rich black peat. And
frankly, no one's too bothered by the wet.
For the moto-traveler, the mantra is simple and familiar: be
prepared!
The Klim Latitude® jacket and pants with Goretex® kept me
dry and comfortable. With a lifetime waterproof guarantee and
broad layering versatility, I'm sold on this gear from the Rigby,
Idaho based company. Ditto for the waterproof leather Sidi
Canyon® Goretex® boots, still keeping my feet completely dry
after 5 years of, shall I say, interesting two-wheeled weather.
The "waterproof/breathable" glove covers from Roadcrafter®, however, completely lost their waterproof characteristic after only the third wearing. This allowed both pair of
riding gloves to become soaked, so I wore the glove covers as
a windbreak on cooler days.
Outfitting my Arai® helmet with a new Pinlock® thermal
face shield was a brilliant move. No surprise that I learned
about this product through Chris Jones, for whom riding in
the wet is about as commonplace as the rest of us posting on
Facebook. I treated the inside of the shield with Anti-Fog by
RainX™ and it was glorious to be free of face shield fogging
in Scotland's damp weather and varying temperatures. Major
kudos for the Pinlock thermal face shield!
As we continued north through the Scottish Highlands,
we passed fewer and fewer vehicles. Stopping to see the 13th
18 | www.RideMSTA.com
century Eilean Donan castle (the world's most photographed
castle) and then many miles later, climbing around the more
mysterious and remote ruin of Ardvreck castle, sent the imagination reeling. What was it like to live in a castle? Did all that
cold-looking stone really afford a luxurious existence? What
was it like to be cast into the dungeon?! Admittedly, after
climbing into the dungeon at Ardvreck castle, I decided it was
okay to live life without a real dungeon experience … despite
this particular dungeon's amazing view.
Ann at the ruin of Ardvreck Castle.
The surprisingly nice view from the dungeon at Ardvreck Castle.
Scotland's narrow, single-lane roads provide Pass- Resources
ing Places that allow extra
• Chris Jones, Northern
space for the occasional
UK moto-guide services:
oncoming vehicle to pass.
chrisjones350@yahoo.
The best practice here is
co.uk
to look ahead and pull into
• Paul Hughes, Bourthe first Passing Place upon
nemouth Motorcycle Hire:
seeing an oncoming vemotorcycle-hire.co.uk
hicle. Sometimes, both ap• Klim motorcycle gear:
proaching vehicles pull over
klim.com
and it becomes a contest of
• Pinlock product informawho insists on politeness
tion: pinlock.nl
by staying put, requiring
• Great roads in Scotthe other driver to pull out
land: wildaboutscotland.
and pass. In my history of
com/2014/05/15/top-10assertive Detroit-area drivscenic-roads-in-scotland/
ing, this was bewildering
and then refreshing! With
miles between vehicles and much further between villages, I
couldn't help but wonder where they were going.
Heavy rains came and we pressed further northwest into
the remote Highlands. After not seeing another vehicle for
many miles of throttle happiness on velvety and wondrously
curvy road, we suddenly came up behind a long line of
stopped cars. Motoring up to the front of the line revealed a
busted riverbank that was diverting fast-moving water across
a bridge. Yes, now the water was so high that it was flowing
over a bridge.
A tour bus was stranded on the bridge in the midst of the
torrent and crews of emergency workers were trying—with
little success—to make progress. We milled around and chatted with locals and constables, myself struggling to understand their soft-spoken yet thick northwestern accent.
Chris said we mustn't ride in the dark: The northwesterly and
remote Rooftop of Great Britain.
In the twilight, I discovered why. Deer. Dozens upon dozens of red deer. They were running wild across the hills and
the road of Scotland's most northwestern no-man's land.
Darkness fell along with the rain and our route was reduced
to the constant spook of reflecting deer eyes and moving legs
captured in the only light to be seen in any direction: our tiny
rain-dimmed headlights. At one point I could make out the
faint image of a handful of bulls running alongside us on top of
a 10' berm at the edge of the road. If just one of them decided
to dart down the berm and into the road, there would be a different kind of story to tell … complicated by many miles until
receiving cell service, let alone emergency response. I felt so
small and inconsequential in this place. We were two specks in
the darkness surrounded by wild deer; chilled by spooky hills
to the right and an ominous black Atlantic to our left. Even so,
in the way that only nature can orchestrate, it was a daunting,
very adult kind of beauty that night.
We conjured up additional threads of energy and kept the
high-alert ride focused and safe. Chris had the smart idea to
stop midway across a long causeway to look down over the
railing for a notable whirlpool in the blackness. We didn't
see the whirlpool, but it was a well-deserved stress break that
helped lighten the mood. I think I even did a dance.
Finally, in the wee hours, the north coast glow of civilizamore UK on 20 ➲
Flooding blocked our route and stranded a tour bus on a bridge.
A detour for Chris and I would mean backtracking 90 miles
on this (our highest mileage) day. Soon, it became clear that
the gushing water from the recent onslaught of rain was not
going to subside on this day.
So backtrack we did, not once, but twice when 'Plan B'
was also diverted due to flooding. 120 detour miles later, the
day was fading and we had yet to traverse the one region that
Partially excavated ruins of the Neolithic village called Skara
Brae on the isle of Orkney.
Great Riders. Great Roads. Join Us! | 19
➲ UK from 19
tion (the town of Thurso) came into view. At last, we were in
the far north of Scotland where we would temporarily swap
tarmac for sea legs.
After a stop on the mainland at Land's End (a.k.a. John
O'Groats, where Charley Boorman and Ewan McGregor
began Long Way Down), a short ferry ride took us to the
nearby isle of Orkney. Here, we rode to historic sites like the
Stones of Stenness (think Stonehenge) and the ancient, Neolithic village of Skara Brae before planting our bums in an
American-style diner … where my head nearly knocked down
from the wall a bicentennial car license plate from my home
state of Michigan. Really now, what were the chances?
The northern British Isles includes the notable Shetland archipelago. This is home of the Shetland pony, fair-isle sweater,
Scottish Fold cat and award-winning Scottish salmon. And it
was our next stop!
From Orkney, we boarded a large, overnight ferry to
Shetland—but not before eerie interaction with an odd, selfproclaimed "homeless" bicyclist who was riding around the
UK on a vintage bicycle. I quickly got a bad vibe that couldn't
be pinpointed from this "homeless" dude. He was decked out
from head to toe in new North Face gear and had managed
to buy expensive passage on the Northlink ferry. Turned out,
Chris too got a dodgy vibe from this guy so we cut our friendliness short.
Only once in the night did I awake on the ferry to feel my
head tipping below my feet and then rising above my feet
again (over and over) as I lay in the bunk. We were in heavy
seas and I simply would NOT allow myself to visualize the
video that one of my Scottish correspondents (John!) had so
kindly sent me of this very ferry nearly capsizing in suspensethriller rolling seas not uncommon to this stretch of the north
Atlantic. I felt my face flush hot while the other women in
my (women-only) cabin slept and I realized this moment
was mine to make or break. So consciously and very sternly,
I talked myself down from panic (and worse) until sleep –
SOMEHOW– took me again.
The morning came, I gathered my overnight things and
escaped the cabin to meet Chris below deck and ready our
bikes. We had arrived in Shetland! I was super excited to meet
my virtual correspondents and Shetland residents: John and
his lovely wife, Annabel.
Riding off the ferry, I spotted John patiently waiting beside his parked BMW GS650 to greet us. Giddiness pushed
squeals out of my helmet. I couldn't believe I was actually,
finally on this small isle. Milling around next to John was the
dodgy bicyclist with his odd, parasitic friendliness.
We made proper hellos but as soon as the bicyclist departed, John exclaimed, "I don't like that guy!" making three
individual bad vibes. Nothing negative ever happened as a result of the bicyclist, but perhaps it was due to our keen awareness. Especially when traveling internationally, always listen
to your gut feeling.
On Shetland, John and Annabel redefined warmth. Being
able to share Annabel's homemade, proper Scottish breakfast
followed by a private accordion performance topped my heart.
After seeing John's moto-garage, he led us on a tour around
20 | www.RideMSTA.com
Chris and Ann with John's wife Annabel (center) at their home
on Shetland.
John in his bike garage, on Shetland.
the 373-square mile island. We visited the Sail Loft where he
and Annabel first met and had a tasty lunch of fresh fish 'n
chips.
Sadly, our visit on Shetland would be only one day. Due to
the Northlink ferry's sailing schedule, we needed to return to
the ferry that evening to reach the mainland by morning …
but not before first sampling Annabel's warm spice bread.
Shetland is a place I had previously not known anything
about. From connecting with John through an online ride
group to learning about John's livelihood as a salmon fisherman on this distant isle to visiting in the flesh made for an
experience even better than expected.
This time, John accompanied Chris and I onto the overnight ferry, in order to ride with us and accomplish some
necessities on the mainland. We sailed south, this time disembarking at the port of Aberdeen on Scotland's east coast. From
here, the three of us enjoyed blissful riding through winding
roads and rolling hills of ski country.
After skirting Edinburgh, we headed for one of the oldest
and most prestigious golf clubs in the world: St. Andrew's
Old Course. I hoped to pick up a souvenir for my 82-year old
Mom, a member of two golf leagues. The hi-brow Pro Shop
was uncomfortably silent as I browsed shocking price tags on
the small selection of women's golf attire. I knew Mom would
be surprised with an authentic souvenir. Figuring I'd never
come this way again, I walked out with a stylish women's golf
shirt, visor and ball marker. Sometimes, a simple pleasure
trumps sticker shock.
As I left the Pro Shop and walked to our parked bikes, I
discovered Chris happy to have gotten some shut-eye while
I shopped, having stretched out on the pavement beside our
bikes in the posh parking lot.
We rolled east through small villages of scenic Lothian,
toward Scotland's southeastern shore and a harbor side lunch
at Ebbcarr's Cafe. The outdoor tables displayed signs warning
against seagulls' cunning thievery of chips and sandwiches. It
was duly noted, as the birds perched strategically in hopes of
someone losing attention over their lunch. We rolled out in the
awe of a little boy who stood frozen in place, mesmerized by
our big bikes and the girl rider who spoke funny.
Chris Neil, Chris Jones, Ann and Zak the wonder collie at Chris
Neil's farm in southeast Scotland. Photo by John Ingram Smith.
Dinner was in town and I got to meet a few riders of the
tightly knit Winton Massif boys, who specialize in most
things Scottish including adventure riding, chiding and imbibing – though not necessarily in that order. More good cheer
was followed by a deep night's sleep in the old farmhouse.
Rolling out the next morning from Chris Neil's farm didn't
happen without first learning how to drive his computerized,
climate controlled JCB farm tractor with an extendable boom.
Surprised at the offer, I quickly realized that Chris Jones had
kibitzed in advance with Chris Neil about my fascination with
farm tractors.
I learned how to maneuver this machine in each of its three
drive modes, including the crab walk, which had a particularly
high "kewl" factor. He tested me with commands, like raising
the boom and then creeping forward to almost touch the high
wall of one of the old stone buildings. I thought he must be nuts
to trust me, since it appeared that one screw-up might topple the
old building. But Chris Neil was an excellent teacher, the mamore UK on 22 ➲
Ebbcarr's Café at a harbor on Scotland's southeast coast.
We ramped it up through sweet curves along cliffs of the
North Sea. Once again, giddiness set in as we rolled up the
gravel drive of Chris Neil's farm in Dunbar. His immaculate courtyard is flanked with a centuries-old farmhouse and
golden, stone out buildings that looked more to me like old
Italy than Scotland. Stunning views stretched beyond his fields,
out across the North Sea to distant squalls taunting the icy blue.
Again through an online ride board, I had connected with
Chris Neil and began learning about his collection of BMW
bling plus his work as a Brussels sprouts and barley farmer.
I was delighted to meet him in person, along with wife Anne
and Zak the wonder collie.
Chris Neil teaching Ann to drive his computerized tractor.
Photo by Chris Jones.
Great Riders. Great Roads. Join Us! | 21
➲ UK from 21
chine had exacting control, and I passed the test with a big grin.
Reluctant to leave, we eventually did so, aiming for the
Scottish Borders. A stop in Melrose to visit Melrose Abbey
unveiled centuries of life and death within her stone arches
and walls that rest in solemn yet stately ruin, following multiple wars. The intense history here was both daunting and
meaningful, and I recalled the portion of my former church in
Michigan that was architecturally modeled after this particular abbey.
Amber with her refurbished 80cc bike.
We clean up pretty well when needed. L to R: John, Ann, Anne
and Chris Neil, and Chris Jones. Photo by The Bartender.
Melrose Abbey in the Scottish Borders.
Nearby was the last of our personal stops, this time at the
home of traveler Iain, his teen daughters Claudia and Amber,
and their Granny. No sooner had we stepped inside their
house than did the girls begin cheerfully scurrying about the
kitchen to cook up a hearty Italian lunch. I heard about Iain's
sport (car) driving, learned about Claudia's zeal for mountain
biking, and saw Amber's drawing skills plus her refurb project
of an old 80 cc bike. The visit was a complete delight and a
rare time that I wished for having daughters.
It should be said that meeting people is perhaps the biggest
joy of travel. While Americans tend to be reserved toward
meeting international travelers, I attest that great gifts await!
Now is always a good time to begin planting potential friendships and making yourself available to return the warm hospitality that is so easily handed to us.
Back on the road, Chris Jones deftly led the way through
22 | www.RideMSTA.com
curves and steep ascents of the gorgeous Lake District. It
wouldn't be complete without stopping for a bite in the biker's
haven of Hawes as we continued toward Chris' Lancashire,
England home. Sure enough, there were lots of riders at
Hawes and a variety of bikes lined the street.
It'd been a fantastic 9 days of riding, even with the rain
and flooding. The BMW F800GS was a refreshing travel
partner that performed consistently, responsively and seemingly effortlessly on the roads, ferries and through the extreme
weather we experienced. The ergonomics fit my 5'8" frame
well and I was even heard to say it was "the most comfortable
bike I've ever traveled on."
Once back at Chris' house, I set out to clean up the worst of
the messy bike when Paul Hughes of Bournemouth Motorcycle
Hire appeared to retrieve it. Expectedly, it was kind of sad saying goodbye to the bike, but more so to Chris and his family.
A priceless experience like this simply fuels inspiration …
the inspiration to chase the next great adventure within the
world of two-wheeled friendships and a life fully lived.
Big thanks to Chris Jones and his family for friendship and
much generosity; to John and Annabel, Chris and Anne Neil,
and Iain and family for so much kind hospitality. To all whom
I met, Cheers for your ongoing friendship. [Editor's note: John
unexpectedly passed away right before this went to press; a further
testament to cherish those around you and make a point to ride with
your favorite riders at every opportunity. Sincere condolences to
the family of John Ingram Smith.]•
ROAD TEST
2016 BMW R 1200 RS
A Tale of Two RSs
By Nick Zarras Managing Editor
I have an older bike in my garage. It is sort of a sport and
sport touring machine. It is old tech but seems to fit my riding
style. But as riders we always want to fit into a similar category
machine but with upgraded electronics, engine, and suspension
systems. Gary Kozlowski has a BMW R 1200 RT. It is a good
long distance machine but he was looking for a more sport
touring focused motorcycle. He rode the BMW R 1200 RS
and was sold on it. It has the familiarity of the RT engine, but
upgraded performance
characteristics. The RS
also is a lighter platform, making it more
playful in the curves.
The new styling sold
him on the RS and as
they say the rest is history. When one was
available for my road
test, I recommended
we do a dual ride.
The RS is more
focused in the Sport
Touring mode. But this motorcycle is also a BMW geared for
the long touring rides that our MSTA members are famous
for. 400 miles for a burger, no problem. It also has the latest
"rider forgiving" electronic programs that provides the rider of
any age a safety edge. The ergonomics are not sport bike, and
not touring bike, but a comfortable in-between.
more ROAD TEST on 24 ➲
Great Riders. Great Roads. Join Us! | 23
➲ ROAD TEST from 23
Style: I first got a taste of this conversion style in the BMW
R 1200 R. The RS is a faired R, but that extra protection
greatly increases the utility and enjoyment of a ride. The front
fairing is large with a manual adjusted large windscreen. You
just grab it and pull. The half fairing features the symmetrical headlamps from the previous generation S 1000 RR. The
2016 color choices are Lupin Blue/Light Grey Metallic and
Granite Grey Metallic Matte. In this test both color choices
are featured.
Basics: The new air/liquid cooled flat twin engine 4-stroke
double overhead camshaft produces 125 HP at 7,750 rpms.
The maximum torque is 92 ft-lbs at 6,500 rpms. The RS engine is optimized for more lower end torque, than previous
boxer platforms. Premium fuel consumption is improved to
a published 57 mpg at 55 mph. Fuel capacity is 4.7 gallons
(1-gallon reserve). The R 1200 RS total wet weight is 520.3
lbs. Its payload is 471.8 pounds
The left switch array includes the following: Cruise control,
trip/info, ABS/ESA, hazard switches, turn signals, headlights,
and horn. Press the Trip button and the rider toggles between
total miles, range remaining, Trip 1, Trip 2, average MPG,
and average MPH, tire pressure, date. Ambient temperature,
water temperature. The current time displays continuously.
The data select thumbwheel that is used to select screen options on the RT/GT series is used on the R 1200 RS used to
control the BMW Motorrad Navigator V GPS. On the right
switch array are the the two position heated grips and engine
mode selector, plus the start button. The engine mode switch
selects Rain, Road, or Dynamic engine performance modules.
The selected mode is displayed on the lower right of the console instrument LED. The new instrument panel has a much
clearer display. There is a bar graph for RPMS and a digital
rpm on the right of the bar graph. Engine start is via an FOB.
You place it in your jacket, then press the start button in where
the key used to be. You wait for the speedometer to cycle, then
hit the start toggle.
Tires: The front tire size is 120/70 ZR17 and the rear tire
size is 180/55 ZR17.
Ride modes: Automatic Stability Control (ASC) is stan-
L-R: Nick, Gary, Jeremie
24 | www.RideMSTA.com
dard. My test vehicle has Dynamic, Rain and Road riding
modes.
How is it to ride? I put on 179 miles on the RS. The ride
was in two parts. The first section was with Gary Kozlowski
and Jeremie Elliot for the dual bike shoot.
The R 1200 RS performs in a familiar water boxer manner.
It feels very light and stable, for a more compact feel. The seat
at 32.3 inches felt good for my 32-inch inseam. For the taller
rider a 33.1-inch seat is available. For the shorter rider a 29.9inch seat is available. Seat comfort was very good. The engine
sound was mellow. It did not seem as pronounced as other
models. Engine vibration was standard BMW boxer engine,
quite smooth. On the road, the leg and arm ergonomics were
very good. The handle grips put you a bit forward vs an RT,
but I just shifted against the tank and it fit me spot on.
The second part was a solo ride to Red Rock National Conservation Area then out to Jean, Nevada to check out the low
speed handling, and then handling in the higher wind areas
around Jean.
Running through the gears with rapid acceleration is a simple task. The new HP Shift Assistant Pro enables the rider to
shift up or down without using the clutch through the 6-speed
gearbox. This vastly reduces shift time. This also provides
better directional stability. The up and down shifts are crisp,
and no throttle changes are needed or desired, during the
gearshift process. If you chose to be a traditionalist and shift
the clutch, it feels very light with great friction control.
The engine power curve is linear and the rider can tailor
engine performance to be moderate or aggressive. With the
engine being reengineered for increased low end torque, you
have real world usable power at any speed, with great midrange, and a very strong top end. First gear, as in most boxer
platforms is a smooth controlled pull, second gear is more
aggressive with fast acceleration to speeds well past the
double nickel. User blogs state the top end of the RS is in the
150 mph range. The 2016 R 1200 RS ride-by-wire throttle
control provided excellent throttle control. This greatly added
to smoothness during corner runs.
The Dynamic ESA suspension (two position), is a semiactive suspension that adds a whole new feel to the road. I kept
it in Dynamic for most of the session. The rider selects three
preload options, for a single, or dual rider, and with baggage.
Then the rider selects either the Road or Dynamic setting on
the D-ESA. Road is more relaxed, Dynamic more aggressive.
The suspension is very well composed. It responds to the rider
inputs with a high degree of precision. The R 1200 RS is very
comfortable at speed, allowing you a ZEN experience on your
favorite twisties.
Braking is also upgraded to another level. The rear brake
is a single 276 mm Brembo 4-piston caliper w/ ABS (partintegral-switchable/can be switched off). The front brakes
are dual floating disc brakes, 4-piston fixed caliper on a 320
mm disc. Only light pressure was needed to provide very controlled braking at any speed.
The manually adjustable windshield provides good wind
protection. I liked it in the up position. The wind blast hit
me mid helmet, with no buffeting. I tested the cruise control
and it worked as per BMW standards. The heated grips are
standard BMW – excellent performers. In 60-degree weather
leave it on level 1, and it was toasty. The R 1200 RS electrical
system puts out 508 watts which will power additional lights
and heated gear. The center stand is easy to use. Saddlebag
mounts easily mounted my 58-liter rear bag with camera gear,
med kit, and fluids. I saw 41 mpg average on the test run. I
had some time at night with the RS, and found the lights to be
strong, with good coverage.
The 2016 R 1200 RS with a base MSRP of $14,995 (which
includes ABS) is a great value. The motorcycle I rode had the
Premium Package which includes: Dynamic ESA, Keyless
ride, Gear Shift Assist Pro, Ride Modes Pro, GPS Preparation,
chrome exhaust, heated grips, Tire Pressure Monitor, cruise
control, center stand, luggage grid, and saddle bag mounts for
more ROAD TEST on 26 ➲
Great Riders. Great Roads. Join Us! | 25
Las Vegas Patriot Tour Ceremony
By Nick Zarras Managing Editor
The Patriot Tour is a national event which
consists of passing one American Flag around
the entire country. The Patriot Tour starts in
Madison, WI and travels through all 48 contiguous states, traveling over 14,000 miles over 100
days until it returns right back to Madison, WI.
The Nation of Patriots is an all-volunteer 501(C)3
nonprofit organization that was formed to bring
financial support to wounded veterans with
families that are struggling to make ends meet.
They seek out wounded veterans that need assistance through the VA system and other credible
veteran and military organizations.
On July 20, 2015 a 2015 Patriot Tour ceremony was held at Las Vegas City Hall, 495 S.
Main St., Las Vegas, Nevada. City Councilman
Stavros S. Anthony led approximately 50 motorcyclists west on Clark Avenue under a huge
American flag that hung above the street between two Las Vegas Fire & Rescue fire engines.
During this ceremony they raised their ceremonial flag at City Hall. Councilman Anthony was
joined by Mayor Carolyn G. Goodman, and City
Councilmen Bob Beers, and Steven D. Ross. In
addition, the Las Vegas Fire Department and the
Las Vegas Metropolitan Police Department came
out to support this great organization. Las Vegas
has been the most generous of all cities visited.
I donated an EPIC-id, which is a wristband
that has four medical screens to provide first responders a USB friendly download of the user's
medical data. In the top photo I was also joined
by Larry Kusler (to my immediate right). He is a
Regional Commander for The Nation of Patriots
and one of the main event coordinators for the
several legs of The Patriot Tour from Kingman,
AZ through Las Vegas and into Lancaster, CA.
The Las Vegas City Council put on a first class
ceremony to support our soldiers. You can learn
more about the Nation of Patriots by contacting
Bill Sherer, Nation of Patriots, Executive Director/Founder at www.nationofpatriots.org.
Ride Safe my friend. Clear skies, clear roads…
➲ ROAD TEST from 25
$18,295. The BWM Motorrad Navigator V is $799, touring
case is $1,043, top case is $587, and tank bag is $315. The option list has many more choices to make.
I would like to thank Gary Kozlowski for this dual RS
ride. I would also like to thank Jeremie Elliot for taking the
action shots. The BMW R 1200 RS is engineered to excel in
the sport/sport touring area, providing very high sport per26 | www.RideMSTA.com
formance with easy day-to-day touring livability. My thanks
to Steve Avalos, Director of Marketing (e-mail: savalos@
bmwoflasvegas.com) for the use of the 2016 BMW R 1200 RS
for this road test. The BMW Motorcycles of Las Vegas contact
information is: phone: 702-454-6269, web: www.bmwoflasvegas.com, and address: 6675 S. Tenaya Way, Las Vegas, NV
89113. Stop by and demo a BMW. They also have a full rental
facility on site.•
Ride Safe my friend…Clear skies, clear roads….
Sweetrides
By Mike Baxter, Wisconsin
When I read the road test on the new
1991 Honda ST1100 in the July 1990
issue of Cycle Magazine I was smitten. I felt Honda had really nailed the
balance of sport and touring with this
clean sheet design. I had ridden my
uncle's Honda V65 Sabre and loved the
V4 engine.
Two of my riding buddies purchased
new '91 ST's so I got to check them out
first hand. One of them was silver and
the other was black. I told my buddy
who owned the silver ST that if he ever
wanted to sell it to give me a call. To
the best of my knowledge, 1991 was the
only year Honda produced silver ST's.
He called in December of 1996 and I
have owned it ever since. It had 5000
miles on the odometer.
The first thing I did to personalize the bike was to purchase a Corbin
rumble seat with flip up backrest and
matching grey piping. Honda offered a
backrest but you could not mount a top
box with it. The Corbin catalog showed
a top box mounted with the rumble seat
but they did not sell it. They told me it
was manufactured by Krauser in Germany. I was able to locate an importer
for Krauser in New Jersey and had one
shipped over. It is 46 liter capacity, had
matching grey trim and was easy to
install and remove.
I was accustomed to riding motorcycles that had a pleasant exhaust note.
I found the ST to be too quiet for my
1991 Honda ST1100
tastes as all I could hear was the intake
and valve train. I learned about the mufflers offered for the ST by Two Brothers Racing. A rider in my area had just
purchased a pair and I learned through
my dealer that he wanted to sell them
because he thought they were too loud. I
picked them up essentially new for half
price and they are still on the bike.
Shortly after that I added Heli Bars
to optimize the riding position and a
tinted Clearview windscreen with Sang
edging to optimize the view and reduce
wind buffeting. Later I replaced the
rear shock with a Progressive Suspension unit that lowered the riding position a bit and highway blades for an
alternate riding position. A few other
additions include two lockable license
plate mounted helmet locks, cruise
lock, knee pads, sponge grips and an
inconspicuous deer whistle under the
headlight. I also added a rally pack for
additional luggage capacity that also
serves as a backrest when touring solo.
I primarily use the bike to take two
or three road trips every summer and
have toured most of the US. It currently has 45,000 miles so I guess I
have 200,000 to go. The bike has been
bulletproof and does not show its age –
Sweet ride.
I attended my first STAR this year
and experienced sensory overload when
observing the variety of machines and
aftermarket accessories exhibited. So
you begin to think, if I didn't ride the
ST, what would be my next bike? I've
got a couple in mind, but on the way
home I felt the same sentiment I always
do – this bike is perfect for me.•
Great Riders. Great Roads. Join Us! | 27
Product Reviews
Clearwater Lights: Sevina HPLED
Auxiliary motorcycle lights
By Kurt Asplindh, Nevada
Stock motorcycle headlights historically provide less than
adequate light coverage. Even newer motorcycles with their
HID or LED units, although better, still fall short of "amazing."
This is where Clearwater Lights come to the rescue. Clearwater Lights are designed by a motorcycle rider, for motorcycles. These are not "truck lights" that you have to cut, splice
and adapt to make fit on a motorcycle; Clearwater Lights are
engineered from the ground up FOR motorcycles. In fact, they
have mounting brackets for over 600 different bike applications
and they are always adding more as new models are released.
The Clearwater factory is located in Rancho Cordova,
California. This is where the lights are designed, engineered
and manufactured; and you can also have them installed there
as well.
I'm no stranger to the brand as I have had Clearwater Lights
on my BMW R1200 GS for about six years now. I have a set
of Erica's and Darla's on my bike already. When I heard they
released a new "extreme" high power LED light (HPLED)
I had to go see what all the fuss was about. So a road trip to
"Rancho" was planned. Arriving at Clearwater Lights I was
greeted by Jolin (the really nice woman on the phone) and
Glenn (the owner). Glenn introduced me to the new HPLED
called Sevina (all Clearwater Lights have women's names).
She is one impressive lady. With 7 - 10 watt HPLED's in custom tooled optics and a slightly rubenesque figure that measures 4.7 inches in diameter and 2.9 inches in depth. She's also
very bright, with an incredible 7,500 lumens at full power.
Glenn gave me a tour and educated me on how the lights are
made. What surprised me is the attention to detail and that
they are produced one at a time. Every light is quality checked
for fit and finish, light output and thermal feedback control
28 | www.RideMSTA.com
(each light sits in a
holder and gets its
temperature taken
every 10 minutes
for 30 minutes at
full power) and
leakage (they sit in
a foot and a half of
water at full power
for 30 minutes).
Once the lights
have been dried off
and inspected again, they get packaged and shipped all over
the world to dealers and customers.
Now given the fact that I already have the 6,000 lumen
Erica lights on my bike, I was curious to know what I was getting with Sevina. The custom designed optics on Sevina throw
about 80 percent of the light down the road in an 8-degree
pencil beam and the other 20 percent feathers off to about 15
degrees. My existing Erica lights put 75 percent of her light
down the road in a 15-degree beam and the remaining light
feathers back to around 45 degrees. Total Coverage! I can't
wait for night, but first things first, I need to get the lights
installed. I pushed my bike into the install bay and let Glenn
and Billie do their magic. They even tidied up the wiring from
the Erica install I did. (Thanks guys) Within a couple of hours
my GS was ready to roll. I said my goodbyes and hit the road,
never being more excited for darkness.
I had a few hours to ride before it got dark but I would flick
the high beam switch every once in a while when the road was
clear of traffic and light up all the reflective road signs as far
as I could see. This was going to be good! It was finally dark
near Hinkley on highway 58 and up ahead was a side road.
BMW stock Headlight Only coverage
Sevina and High Beam coverage on the road
Blinker on, check my mirrors and one right turn later, I was
on a clear road with no cars and no street lamps. Flipping the
high beam switch for the first time at night was truly unbelievable. It was as if my bike was the source of all light itself.
Now to turn on the Erica's… Good Lord, I would never be at
a loss for perfect illumination at night again. I flipped the high
beam switch off and used the lights "volume knob" to adjust
the brightness down to a non-blinding 15% then adjusting it
up to 55%, then back to 100% with my horn this time. With
all Clearwater Lights, you can adjust the brightness from 15%
to 55%, then when you flip the high beam switch or honk your
horn, the lights go to full power no matter where you have the
adjustment set. Note: On BMW motorcycles with the "Wonder Wheel" brightness adjustments are made using it instead
of the volume knob supplied by Clearwater for motorcycles
not equipped with the BMW wonder wheel. The Clearwater
brightness settings from 10% to 100% and the high beam and
horn feature work the same using both controllers.
The ride back to Las Vegas was uneventful, but riding
through Mountain Pass, I was blessed with a vehicle free road
in front of me. It was time to let Sevina shine. I flipped on the
high beam and realized at 75 miles per hour I was not even
close to out running these lights and I never will. Glenn told
me that he designed these lights at the request of Iron Butt riders and I can see why they love them so much. When you're
riding as long and far as Iron Butt riders do, safety is the main
concern and these lights not only provide conspicuity during
the day, but the ability to see far down the road at night, with
no eye strain, as the color temperature of the LED's mimic
daylight.
My overall impression of the Clearwater Sevina lights are
that they have the build quality, light quality and light output
adjustments that outshines any other lights on the market.
One additional purchase I made from Clearwater Lights
was their Andie II flashlight. A beautify machined light with
1000 lumens of darkness eliminating brightness on the high
setting and 50 lumens on the low setting, a scalloped front
bezel and a positive click on/off button. Andie II toggles between her high/low setting with just an easy press of the on/
off button, has the most useful beam pattern of any other
flashlight I have ever owned and is used by law enforcement
officers. To learn more about the incredible lights from Clearwater, visit them on the web at https://www.clearwaterlights.
com/. To purchase Clearwater Lights, see your local dealer or
call them directly at 916-852-7029.•
Great Riders. Great Roads. Join Us! | 29
Product Reviews
Doubletake Mirrors: Enduro Mirror
and Adventure Mirror
clamps can custom fit the mirrors to a
variety of motorcycles.
These two models use SAE spec
glass for maximum visibility and clarity. The mirror housing structure is
made in the USA in Colorado Springs
from a super tough nylon that carries
a lifetime warrantee on the housing.
The glass, if broken, can be replaced
for $10.
During the test I linked up with
Kurt Asplindh who has the Adventure
mirrors on his BMW R 1200 GS. I
left his Adventure mirror on the left
side, and installed the Enduro Mirror
on the right side to show the comparison between the two. You will note
the different RAM arm sizes. The lonBMW R 1200 GS with Adventure mirror on left, and Enduro Mirror on the right.
ger on the Adventure and the shorter
one on the Enduro.
By Nick Zarras Managing Editor
On the road, both mirrors give you great rearward view
OEM mirrors are a function of design,
with excellent clarity. There is no difference between models
style, and marketing. Aftermarket mirrors
for utility on the road. Each is a very solid, practically indeare a function of form follows function of
structible construction. Kurt said he has tested that theory
necessity. Doubletake mirrors started when
many times off the road on his GS and the mirror have held
the owner dropped his bike and destroyed
up to the punishment. The ball design at the base allows you a
two master cylinders. How is that relevant?
large amount of flexibility in mirror placement. Most factory
Doubletake designed their mirrors for
mirrors can only be adjusted a little mostly in the horizontal
excellent rear visibility, and near indestrucposition. The doubletake mirrors can swivel through many
tibility. This provides protection to other
angles.
components nearby. When not needed they fold away. Two
So which one do you chose? If the mirror is extended most
designs exist, the Adventure and the Enduro.
of the time for on-road use buy the Adventure. It is more staThe Adventure is a rectangular design (MSRP $30 each).
ble at highway speeds. If you plan to spend most of the time in
It measures 5.25 inches by 3.5 inches, with stock RAM arm
rough terrain and have the mirror folded, buy the Enduro, as
it measures 7 inches long. The Adventure Kit comes with two
it will tuck behind the headlights. Both are a great buy – you
mirrors (2 x $30), two 6-inch XL RAM ARM (2 x $20), two
can't go wrong with either one.
Ball Stud Base (2 x $10 each) and one Base Extension ($5).
For more information check out the Doubletake website at
The full package MSRP price is $125.
www.doubletakemirror.com. Their mirrors fit Beta, Honda,
The Enduro mirror is of a 4 inch circular design and with
Husqvarna, Kawasaki, KTM, Suzuki, Triumph, Yamaha and
stock RAM arm has an over length of 8.5 inches. The Enduro
can be adapted to nearly any bike. They can be contacted at
Mirror package comes with two Enduro mirrors (2 x $25),
Adventure Mirror, LLC PO Box 224, Colorado Springs, CO
two Long Ram Arm 3 inch (2 x $13), two Ball Stud Base (2
80901, and phone: 888.501.0599. My thanks to Ned Suesse
x$10) and one Base extension ($5) for a package MSRP price
from Adventure Mirror for the use of his fine product for
of $101.00.
this test.
Different optional RAM Arms from 2, 3, or 6 inches
Ride Safe my friend. Clear skies, clear roads….
long can tailor the mirror extension to your liking. Different
30 | www.RideMSTA.com
Skully AR-1 Helmet
By Nick Zarras Managing Editor
Technology is a wonderful thing. It can provide increased
safety by increasing situational awareness. One such technological enhancement to a major part of our "All The Gear All
The Time" mantra is the carbon fiber inlay DOT/ECE certified Skully AR-1 helmet.
The helmet has an aerodynamic shape with a carbon fiber
reinforced shell. The AR-1 technological package links advanced optics with a network of intelligent camera, sensor
and microprocessors. A key component of the safety issue
is awareness of vehicle threats behind you. The AR-1 has a
180-degree blind spot camera that streams wide angle rear
view images to the integrated heads up display (HUD). This
allows the rider to view vehicles in what would have been a
blind spot without taking their focus off the road in front of
them. The system has infinity focus which adjusts to your eye
allowing focus on an object in front of you, then to the HUD
without refocusing. Another safety aspect is the Photochromic
visor. Current helmets either are locked into a clear or tinted
visor, or have the option of having a clear, and manually drop
down tinted visor. The AR-1 visor detects outside light conditions and transitions from clear to tint to clear to optimize
environmental lighting. Riding in heavy traffic and unfamiliar
areas can lead to
increased stress.
The AR-1 has
GPS with audio
and visual turnby-turn directions.
The AR-1 also can
stream music via
its Bluetooth audio.
The GPS, music
and communications have voice
control links. The
system also connects to the internet
for downloadable software updates.
I was able to test out the AR-1 at a demo at Las Vegas Harley-Davison (519 Las Vegas Blvd, Las Vegas, Nevada, http://
www.lasvegasharleydavidson.com/www.lasvegas1). I normally
wear a XXL but the XL helmet fit me. It is very form fitting.
The Outlast® Technical Liner, which is an offshoot of our
NASA program space gloves, helps regulate interior helmet
temperature. I found the fit very comfortable. The helmet
opening provided a wide field of vision. The helmet feels
lighter than many of its competitors. The HUD was in the
lower right side of the helmet and easy to provide a glance to
gather posted information.
Most motorcycle technology in the past dealt with survival
of an accident
after the fact. The
AR-1 provides
excellent technology to increase
situational awareness to prevent
the accident in
the first place.
My thanks to
Bobby Penn, Executive Director
of Sales at Skully
(www.skully.
com) for an excellent briefing
and demo. I had a great time talking with him and his technical staff about the AR-1 and its development process, regulatory requirements, production schedules, and future possible
upgrades. The helmet comes in two colors, Anthracite-matte
(black) or Artic White-Gloss, available sizes are S-XXL.
Ride Safe my friend. Clear skies, clear roads….
Great Riders. Great Roads. Join Us! | 31
Product Reviews
Trail Tech Vapor Digital Gage
By Nick Zarras Managing Editor
Proper instrumentation must be highly
visible and provide key feedback to the operation of your motorcycle. However, many
older bikes or rebuilds require expensive
instrumentation pods. Some riders complain
their instrumentation is incomplete, or the
display is hard to see. Trail Tech has come up
with a low cost
solution. They have a full line with models like the Voyager,
Vapor, Striker, Endurance II, and TTO (non-tach gages). They
also feature HID, LED and halogen lighting. The model I tested is
the VAPOR. The VAPOR has a MSRP of $139.95.
Trail Tech is a Washington State based engineering company
that produces affordable instrument displays. Their focus was in
dirt bike and ATV gauges. Over time, their product became famous for its flexibility and riders of street bikes chose them also.
Trail Tech makes displays/installation kits bike specific and they
have generic kits. You can use as a stand-alone display or to augment an old display that is less user friendly.
The speedometer shows current speed and maximum speed
and is selectable to MPH or KMH
display. The Tachometer is a bar
graph, a numeric RPM readout, and
dual programmable shift LEDs up
to 20,000 RPMs. The temperature
function shows air temperature and
engine temperature in Fahrenheit or
Centigrade and has dual programmable temperature LEDs. The clock
has a 12/24 display, stop watch, ride
time, accumulated ride time, and a
permanent hour meter. There is an
odometer, and adjustable distance
display. The unit runs off of AC or
32 | www.RideMSTA.com
DC power, and has auto switch to internal power if power is lost.
It also has permanent data memory. A full installation kit is included with waterproof connectors. On the display, there is a left
and right button and mode button. They are used to select and
modify computer settings. The Vapor comes with a one-year warrantee and unlimited free Trail Tech support.
Mounting the gauge is bike specific. The attached mount is
great for a street machine. User feedback states that if you plan
on using your bike in very rough terrain a stronger mount may be
desirable. The kit comes with dimensions and vibration damping
grommets. Detailed instructions are included. You can use the
speedometer pickup off the front or rear brake. Upon installation, you remove one of the stock rotor bolts and install one of the
supplied bolts that have a rare earth magnet in its head. If you're
planning heavy off road use zip-ties may provide added security.
The RPM sensor has four options for hookup, a capacitive coupling to the spark plug wire; direct connect to coil spade connector, and two options for a coil over plug connections. For the water
temperature pickup, you cut the water line and splice in the radiator sensor. A thermistor bolt temp sensor option is also available
for radiator applications. For air-cooled engines, a temperature
sensor attaches to the underside of
the spark plug.
This is a great low cost multifunction digital display that equals or surpasses most motorcycle displays. The
only thing missing is a gear indicator.
For more information contact your
nearest Trail Tech authorized dealer
or call 360-687-4530. Their website
in the US is www.trailtech.net, and
in Europe www.trailtech.eu. While
there check out their other models.•
Ride Safe my friend.
Clear skies, clear roads….
Safety strategies
IMPORTANT NOTICE: Ultimately, the safety of motorcycle riders
and their passengers is their own responsibility. Nothing presented
in the column supersedes, negates or relieves a motorcyclist and/or
passenger from assumption of personal responsibility for their actions and safety.
Winter Crashes
Nick Zarras, our fearless Editor, put an interesting question
to me the other day. He wants to know if winter weather and
its associated factors (cold pavement, slick roads, hypothermia, etc.) play any statistical part in the number of motorcycle
crashes.
From a personal perspective, I spent about 5 years living in
southern Maryland, commuting year round on my bike into
Washington, D.C. everyday. The trip was about 50 miles and
it usually took me about an hour each way, leaving the house
at 5am and returning about 5pm (Flex time saved me from
the worst of the traffic!). I rode throughout the winter months
regardless of temperature, the only limiting factor being the
actual road conditions. Only ice and snow kept me from motorcycle commuting. I lived in Alaska and Montana for a couple
of years each, and rode there as well, whenever road conditions
permitted. I also had a memorable road trip that saw me waking up one morning in Santa Rosa NM to 30 degree temps and
blowing snow, and setting out on the bike following the tire
tracks made by the semi-trucks, cutting through the snow and
ice on I-40, heading into Albuquerque. I rode through snow,
ice, freezing rain, rain, hail and ended up in Kingman AZ that
afternoon in sunny, 80+ degree weather, so I have my inclement weather riding badge and can hopefully add some personal
insight to this discussion as well. Anyway, Nick's initial inquiry sent me on a search of my usual and other crash statistics
sources for the answer to this one. Here is what I came up with:
According to various sources (listed at the end of this article), the actual number of motorcycle crashes in the U.S.
decreases during the winter months. This only makes sense,
as the majority of northern riders are usually putting their
mounts into hibernation in the winter and simply not riding as
many miles.
I was not able to find any recent statistical data suggesting
winter riding conditions are a significant factor in motorcycle
crashes. Failing the availability of current data, I returned to
the landmark Hurt Report. If you haven't heard of the Hurt
Report, please take the time to research it. In any case, the
Report noted that the largest percentage of crashes in the
study (38.2%) occurred when ambient temperatures were in
the 61-70 Degrees F range. Below this temperature range, the
statistical number of crashes decreases dramatically, with
16.1% in the 51-60 Degree range, 4.5% in the 41-50 Degree
range, and just 0.7% in 31-40 Degree weather. (Source: Hurt
Study, Table 10.4.2.). There were no recorded crashes below
31 Degrees. Interestingly, the Hurt Report also indicated that
the large majority of motorcycle crashes occurred during clear
weather, 79.4%. (Hurt Study, Table 10.4.1.)
Now, does all this mean winter riding conditions are not a
factor? Of course not. What it tells us is that statistically, there
Doug Westly | Safety Editor
are fewer motorcycle crashes during winter
months and/or in cold weather conditions
(temperatures < 61 Degrees F). I can opine
a number of factors for this conclusion and
why winter conditions aren't usually cited
as a crash factor. First off, we know there
are fewer riders on the road (except probably in Florida, where
the state population actually grows by over 1 million people
during the winter months, as the snowbirds arrive, many
bringing their motorcycles with them…). Next, riders that are
on the roads in less than perfect riding conditions are probably very aware of these factors and are probably even more
careful than usual in terms of their riding and road conditions.
Finally, it may be that weather conditions have played a factor
in a crash, but are not being cited as a primary cause of the
accident by the investigating or reporting agencies.
So what do we draw from all of this, in terms of safety? We
all know that driving in cold weather conditions, even if it's
only in a car, requires a different set of control considerations.
Does it mean we can't ride safely in cold weather? Of course
not. However, cold weather riding considerations differ dramatically from going out and hopping on your bike on a nice
Spring or Summer day. Here are just a couple of thoughts:
Rider Preparation: Being prepared to ride in cold weather
is both physical and mental. The physical part is not only the
right kind of gear (you do have heated gear for low ambient
temperature riding, right?), but also simply being in shape to
ride. Mentally, you have to not only be ready to ride, but be
focused on the riding conditions, and be able to do good onthe-fly analysis of riding conditions, which can change dramatically and without warning in the winter months.
Bike Preparation: Sure, your bike won't perform any differently in low temperatures, will it? Well, maybe it will. First
off, tire pressures won't increase as much, as the tires won't
be as hot during a cold ride. In fact, if it's cold enough, you
may experience lowering tire pressures as you ride. More
than once I've come off a cold day's ride and found my tire
pressures lower than when I started out. In any case, even if
your tires warm up, it takes them longer to do so, particularly
if you have had the bike parked outside or otherwise in an
unheated area. Traction is key, and it won't be the same with
cold tires. Will your bike otherwise perform differently? Well,
cold bike components may not respond the same way. Your
fork oil, when cold, doesn't flow the same way as when the
components are hot. If you have valved forks or shocks, this
could make a difference in suspension response. How about
something as simple as your seat? If your seat is cold and stiff,
it may mean you slide on it, instead of staying seated in place.
It may sound silly, but keeping your butt planted during an
emergency maneuver is kind of important.
Riding Conditions: Whoa, where do we start? Cold pavement doesn't stick like hot pavement. That means the traction
environment is completely different. Cold air causes breath
condensation on the inside of your face shield, potentially
impacting your vision. I've ridden in temperatures so cold that
more SAFETY on 34 ➲
Great Riders. Great Roads. Join Us! | 33
member profile
Syd Mayes
Hometown/State? I live in Sutherland, Virginia.
What was your first motorcycle? My first motorcycle was a 1968
Honda 305cc Scrambler.
Current motorcycle(s)? My motorcycle stable includes a 2012
Suzuki DL650 V-Strom, 2008 Yamaha FZ6, 2006 Piaggio BV500
scooter, 2004 Aprilia Scarabeo 500 scooter, and a 1981 Honda
GL1100 Gold Wing.
What is your all-time favorite motorcycle? My all-time favorite
would be a 1983 Suzuki GSX1100E painted in Corvette yellow. I
liked this bike because back then I still had testosterone and liked
playing with its power curve.
How long have you been riding? I've been riding motorcycles for
49 years.
When did you join the MSTA? I joined the club in March, 2005.
How did you hear about the MSTA? I found the club via an online
search. I didn't know anyone in the club at the time I joined. But
after I won the STAR raffle bike in 2008, I decided to become more
involved and attend more events.
Who or what was your biggest influence in motorcycling? My
younger brother Mike influenced my decision to embrace motorcycles and touring.
What are your favorite places to ride? I like riding the mountains of Virginia, North Carolina and West Virginia.
Describe a memorable motorcycle adventure? I rode to STAR
2010 in Taos, New Mexico, with member Dave Brickner. I had a new
seat made especially for my V-Strom because of the long ride from
VA to NM. All too soon I realized that the new seat was making my
butt raw. It got so bad that I stopped at a Walmart store, picked out
a kitchen chair seat that looked comfortable and strapped it to my
bike. The rest of the ride to Taos was much nicer. (I later ended up
with a Sargent seat that fits my butt and my needs very well.)
➲ SAFETY from 33
my breath not only condensed, it instantly froze into ice when
it hit the inside of my face shield (it was about 15 degrees at
the time). At that point the only choice is to crack open the
face shield to help clear it. Wind chill isn't even funny at these
temperatures, but a matter of life and death.
Finally, the smart rider needs to know when to say
"Enough." You are not proving anything by trying to follow
the semi-truck tracks in the wet snow on the Interstate. You
are on two wheels, which rely on a set amount of traction to
simply stay upright. You need to know when to call it quits.
In the end, cold weather riding requires a completely different (additional) set of considerations. We don't see a lot of
34 | www.RideMSTA.com
What is the best motorcycle advice or tip learned through the
years? Be bold, put yourself out there to meet more motorcycling
friends (create some fellowship). Make yourself available to others
who like to ride like you do. Don't be afraid to ask someone at an
MSTA event if you can join their riding group. Ride your own ride,
don't get in over your head.
What turns you on about motorcycles or riding? I love the
people that I have met through the sport. I love the places that I've
seen while astride a motorcycle. Riding my motorcycle adds to the
enjoyment of seeing new places.
What do you get out of your MSTA membership? Friendship .
. . and I coordinate the Fall Colors Rally that occurs in late September. I enjoy the appreciation shown by members for my efforts. It
feels good to be appreciated for one's efforts.
What are your hobbies and interests outside of motorcycling? I enjoy outdoor grilling and cooking in general. I enjoy boating on the James River with my children and grandchildren. I enjoy
traveling with my wife.
crashes due to cold weather conditions, but then again statistically we don't have a lot of bikes on the road when the snow
starts falling (a few of us insane riders excepted, whenever we
find ourselves in those instances). If you're going to be a cold
weather rider, make sure you prepare yourself and your bike,
and know when you reach the limits of safe riding!•
Ride Smart and Ride Safe!
Sources:
Motorcycle Crashes, Insurance Information Institute, December 2015
Motorcyclist Traffic Fatalities by State, Governors Highway Safety Association, 2011
NHTSA Motorcycle Crash Statistics, www.nhtsa.gov/safety
Hurt Report, 1981.
Quick Look Road Test:
2015 Piaggio
BV 350 Maxi-Scooter
By Nick Zarras Managing Editor
I was surprised when I was offered this machine for a road
test, as I did not know they had one in stock. You would not
see many of these at a local bike meet unless it was in Europe.
In America, we look for the high performance, sport bike,
or classic cruiser like styling in our 300cc plus motorcycles.
However, in Europe or at an area that is mostly cosmopolitan
where traffic is heavy, and distances are short, a maxi-scooter
like this can be very user friendly. Your thoughts are more
for utility as a commuter than a high performance machine.
However, I was curious how a motorcycle with a 350 cc engine in this generation would be. One of my first motorcycles
was a 350cc Yamaha R5C. It was a fast two-stroke machine
that would give the Kawasaki 900s a run for their money up
to 85 mph. Going into the road test I knew not to expect that
level of performance, but I was curious how the BV 350 would
perform.
The Piaggio BV 350 is engineered as a great entry-level
maxi-scooter for the rider who wants to twist the throttle and
go. No shifting is required. The BV 350 features a four stroke,
single cylinder, four-valve, liquid cooled, electronic fuel injected 350 cc engine. At 32.8 hp, they advertise the engine
having the power of a 400cc with the dimensions of a 300
cc, and being the most powerful in its class. The BV 350 also
comes in at a comfortable $5499 MSRP (excludes destination
& vehicle preparation charges). They provide a 2-year unlimited-mileage warranty. One free year of roadside assistance
provided by Road America. The Piaggio BV 350 comes in
Shiny Black, or like my test bike, Matte Silver.
When you first approach the BV 350 you
notice the unique European styling, a large
seat of 31.3 inch height,
and fine fit and finish.
The seat is very comfortable and the ergonomics
are quite good even for
my 220 pound, six foot
frame. The seat opens
up and fits a helmet and
gear in an under the seat
compartment. One storage compartment has a
12-volt power outlet. The
fuel tank capacity is 3.4
gallons, which at the observed 66 mpg will travel
166 miles to the onegallon reserve. The instrument cluster features
large easy to read gages
with a data LCD panel
below the speedometer.
Twist the throttle and the
engine engages the Automatic CVT smoothly and provides
surprisely quick acceleration.
The bike rides on Michelin 110/70 16-inch front and 150/70
14-inch rear tires. The tires grip very well on the highway. In
addition, at only 390 pounds, this maxi-scooter is tossable.
more QUICK LOOK on 36 ➲
Great Riders. Great Roads. Join Us! | 35
On the curving roads of Red Rock
National Conservation Area, the BV
350 carved quite well, and the throttle
was easy to modulate in the curves.
For a commuter this can be a fun bike
on twisty roads. It stays planted, and is
very stable. It will surprise you. Will
you trade in your sport bike for it? Probably not, but if you are looking for a
fully automatic commuter for the city,
or longer countryside ride out to a picnic
area, this may fit the ticket. It is a great
entry-level bike for those who don't
need the style or performance of mainstream motorcycles. For 2016, Piaggio
features a BV 350 ABS & ASR Traction
Control model for an MSRP of $6199.
➲ QUICK LOOK from 35
The front forks have 35 mm tubes, with
90 mm of travel. The rear suspension
uses dual preload adjustable hydraulic
shocks that provide a very good ride.
The front 300 mm disk with three-piston floating brake caliper and 240 mm
disc brake with two-piston rear caliper
provided strong stopping power with
good modulation. On the highway, this
is a surprising performer up to its 70
mph plus speed. The larger windscreen
provides good protection with no buffeting. Mirrors are large and provide good
rearward visibility. I saw 75 mph; they
advertise 86 mph, which may be feasible
with a lighter rider.
36 | www.RideMSTA.com
I would like to thank Freedom Cycle
Triumph Las Vegas for the use of the
Piaggio BV 350 for this road test. They
feature Triumph, MV-Agusta, Vespa,
and Piaggio motorcycles for sale. They
also rent Triumph motorcycles and
Vespa scooters. Contact Craig Knapp
for more information on their fine line
of motorcycle products at phone: 702430-3500, cellular: 702-901-2044, web:
www.freedomcycleslasvegas.com and
address: 5031 Wagon Trail Avenue, Las
Vegas, Nevada 89118 (South Decatur
Blvd and I-215).•
Ride Safe my friend.
Clear skies, clear roads….
Great Riders. Great Roads. Join Us! | 37
38 | www.RideMSTA.com
Great Riders. Great Roads. Join Us! | 39
STAReview Vol. 35 No. 1
ADDRESS SERVICE REQUESTED
POSTMASTER, SEND TO:
MSTA
P.O. Box 7697
La Verne, CA 91750
www.traxxion.com
COMFORT
(770) 592-3823
CONTROL
CONFIDENCE
Crossing Town or Crossing a Continent… All We Do Is Suspension!