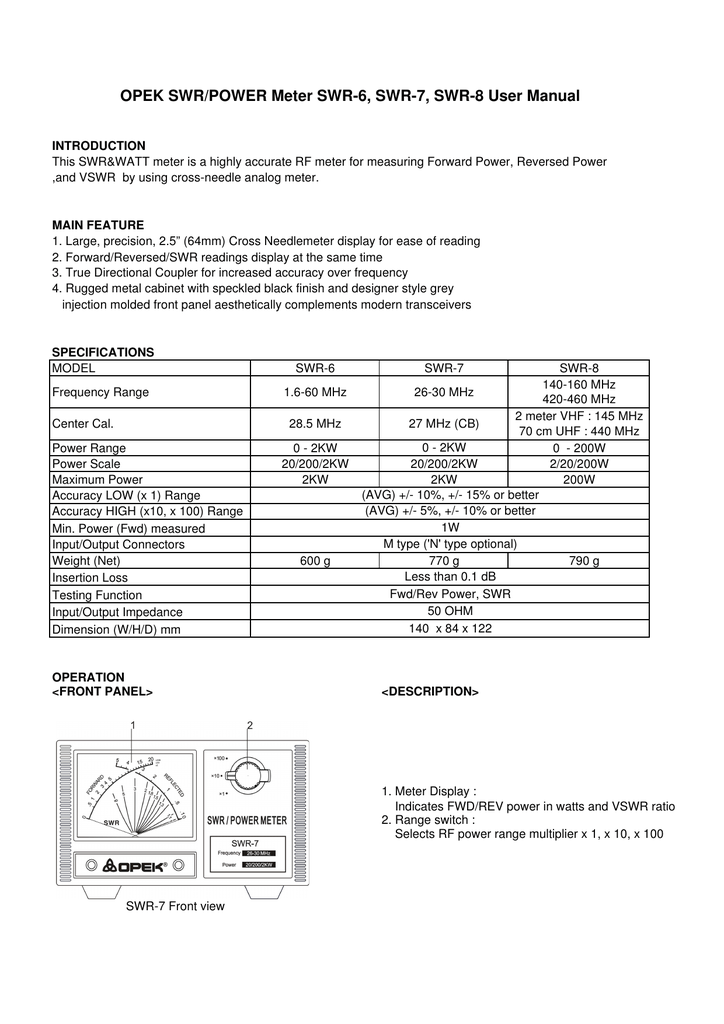 OPEK SWR/POWER Meter SWR-6, SWR-7, SWR-8 User Manual
INTRODUCTION
This SWR&WATT meter is a highly accurate RF meter for measuring Forward Power, Reversed Power
,and VSWR by using cross-needle analog meter.
MAIN FEATURE
1. Large, precision, 2.5" (64mm) Cross Needlemeter display for ease of reading
2. Forward/Reversed/SWR readings display at the same time
3. True Directional Coupler for increased accuracy over frequency
4. Rugged metal cabinet with speckled black finish and designer style grey
injection molded front panel aesthetically complements modern transceivers
SPECIFICATIONS
MODEL
SWR-6
Frequency Range
1.6-60 MHz
Center Cal.
28.5 MHz
Power Range
Power Scale
Maximum Power
Accuracy LOW (x 1) Range
Accuracy HIGH (x10, x 100) Range
Min. Power (Fwd) measured
Input/Output Connectors
Weight (Net)
Insertion Loss
Testing Function
Input/Output Impedance
Dimension (W/H/D) mm
OPERATION
<FRONT PANEL>
0 - 2KW
20/200/2KW
2KW
600 g
SWR-7
SWR-8
140-160 MHz
26-30 MHz
420-460 MHz
2 meter VHF : 145 MHz
27 MHz (CB)
70 cm UHF : 440 MHz
0 - 2KW
0 - 200W
20/200/2KW
2/20/200W
2KW
200W
(AVG) +/- 10%, +/- 15% or better
(AVG) +/- 5%, +/- 10% or better
1W
M type ('N' type optional)
770 g
790 g
Less than 0.1 dB
Fwd/Rev Power, SWR
50 OHM
140 x 84 x 122
<DESCRIPTION>
1. Meter Display :
Indicates FWD/REV power in watts and VSWR ratio
2. Range switch :
Selects RF power range multiplier x 1, x 10, x 100
SWR-7 Front view
<REAR PANEL>
<DESCRIPTION>
3. TX connector :
Coax connector to transmitter 50 ohm RF output
4. ANT connector :
Coax connector to 50 ohm antenna system
<INSTALLATION/OPERATION>
Transmitter
SWR Meter
<FORWARD, REVERSE PWR, SWR MEASUREMENT>
Antenna
1. Set the RANGE switch to the proper meter multiplier
(X1, X10, X100) for the expected power level of the
intended measurement.
2. It corresponds to 20/200/2KW forward and 5/50/500W
reversed in SWR-7, 2/20/200W forward and 0.5/5/50W
reversed in SWR-8 (Fwd : Rev = 4 : 1 in scale)
3. Set the radio transceiver to transmit mode and read the
scale corresponding to the RANGE selected
[CAUTION]
1. Since the meter movement is very sensitive, avoid excessive vibration or mechanical shock to the meter.
2. Watch the absolute maximum power could be applied to the meter by different models you bought.
3. The meter must never be reverse connected. Always observe the correct connections to transmitter and
antenna as indicated on the rear sockets.
4. Do not expose the meter to excessive temperatures, high humidity, or strong magnetic fields.
5. Contact your local dealer for service. Dealer information is in the back of user manual.

* Your assessment is very important for improving the work of artificial intelligence, which forms the content of this project