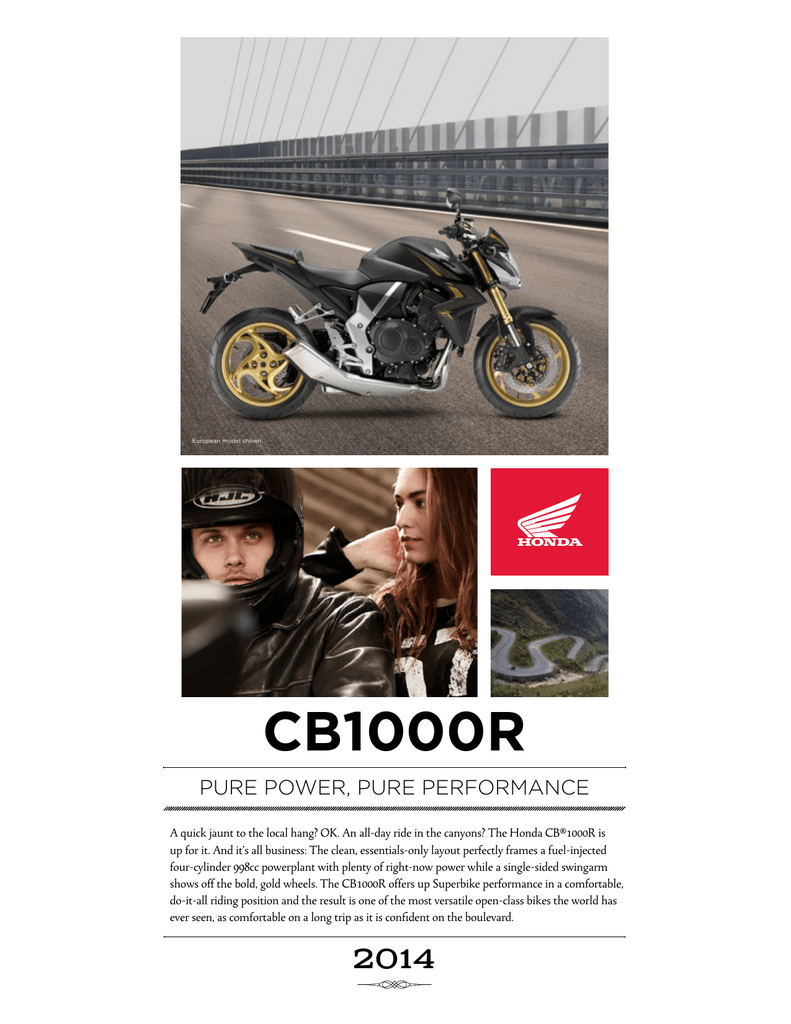 European model shown.
CB1000R
PURE POWER, PURE PERFORMANCE
A quick jaunt to the local hang? OK. An all-day ride in the canyons? The Honda CB®1000R is
up for it. And it's all business: The clean, essentials-only layout perfectly frames a fuel-injected
four-cylinder 998cc powerplant with plenty of right-now power while a single-sided swingarm
shows off the bold, gold wheels. The CB1000R offers up Superbike performance in a comfortable,
do-it-all riding position and the result is one of the most versatile open-class bikes the world has
ever seen, as comfortable on a long trip as it is confident on the boulevard.
2014
2014
CB1000R
SPECIFICATIONS
AND ACCESSORIES
ENGINE: 998cc liquid-cooled inline four-cylinder
FUEL SYSTEM: PGM-FI Fuel injection with automatic enrichment
circuit and 36mm throttle bodies
IGNITION: Computer-controlled digital transistorized with 3-D mapping
TRANSMISSION: Close-ratio six-speed
01
02
FRONT SUSPENSION: 43mm inverted HMAS™ cartridge fork with
spring preload, rebound and compression damping adjustability; 4.3
inches of travel
REAR SUSPENSION: Single gas-charged HMAS shock with spring
preload and rebound damping adjustability; 5.0 inches of travel
FRONT BRAKE: Dual radial-mounted four-piston calipers with fullfloating 310mm discs
REAR BRAKE: Single-caliper 256mm disc
FRONT TIRE: 120/70ZR-17 radial
REAR TIRE: 180/55ZR-17 radial
WHEELBASE: 56.9 inches
SEAT HEIGHT: 32.1 inches
FUEL CAPACITY: 4.5 gallons, including 1.0 gallon reserve
CURB WEIGHT*: 485 pounds
01 SOUL OF A SUPERBIKE
The CB1000R is built around a superbike-strong 998cc DOHC
inline-four engine that's great for street riding, with plenty of
torque and power on tap. Since it's a four-cylinder, it's smooth
enough for longer rides too.
02 ALL-DIGITAL INSTRUMENTATION
CB1000R's high-tech, all-digital instrument display features
tachometer, plus LCD readouts for speedometer, coolant
temperature, odometer, two tripmeters and a clock, mpg and
average fuel consumption.
Honda ACCESSORIES
When you care enough to ride the best, you should choose the
best accessories too. And that's what you get with our lineup
of Honda Genuine Accessories™.
MILEAGE ESTIMATE**: 37 MPG
* Includes all standard equipment, required fluids and a full tank of fuel.
** M
iles per gallon values are calculated estimates of fuel consumed during laboratory
exhaust emissions tests specified by the EPA, not during on road riding. Use for
comparison purposes only. Your actual mileage will vary depending on how you
ride and maintain your vehicle, weather, road conditions, tire pressure, cargo and
accessories, rider and passenger weight, and other factors.
Passenger Seat Cowl
Custom-shaped, color-matched
seat cowl provides a more
aggressive look.
For a full list of specifications go to powersports.honda.com
Under Fender Cowl
COLOR
A stylish, titanium look under
the fender cover featuring the
CB1000R logo.
Matte Gray Metallic
For a full list of all the Honda Genuine Accessories available for your
CB1000R log on to genuineaccessories.honda.com
ENVIRONMENTAL COMMITMENT At Honda, we believe in performance and leadership. That's why we're taking a leadership
position when it comes to the environment, in our products and in all other aspects of our business as well. For more information visit
http://powersports.honda.com/about/environment.aspx.
BE A RESPONSIBLE RIDER Remember, always wear a helmet, eye protection and protective clothing whenever you ride.
Never ride under the influence of drugs or alcohol, and never use the street as a racetrack. Inspect your motorcycle before
riding and read your owner's manual. Log on to the HRCA® website (hrca.honda.com) concerning reimbursement through
the Honda Rider's Club of America® for Motorcycle Safety Foundation (MSF) rider training. Obey the law, use common
sense, respect the rights of others when you ride, and make sure you have a proper license when riding on public roads.
Operating your motorcycle with a modified engine, emissions control system or noise-control system may be illegal. For more
information visit powersports.honda.com.
European model shown.
Specifications, programs and availability subject to change without notice. See your Honda Dealer for details on all programs. All specifications in this
brochure—including colors, etc.—apply only to models sold and registered in the United States. CB,® Honda Genuine Accessories,™ Honda Rider's Club of
America,® HRCA® and HMAS,™ are trademarks of Honda Motor Co., Ltd. ©2014 American Honda Motor Co., Inc.