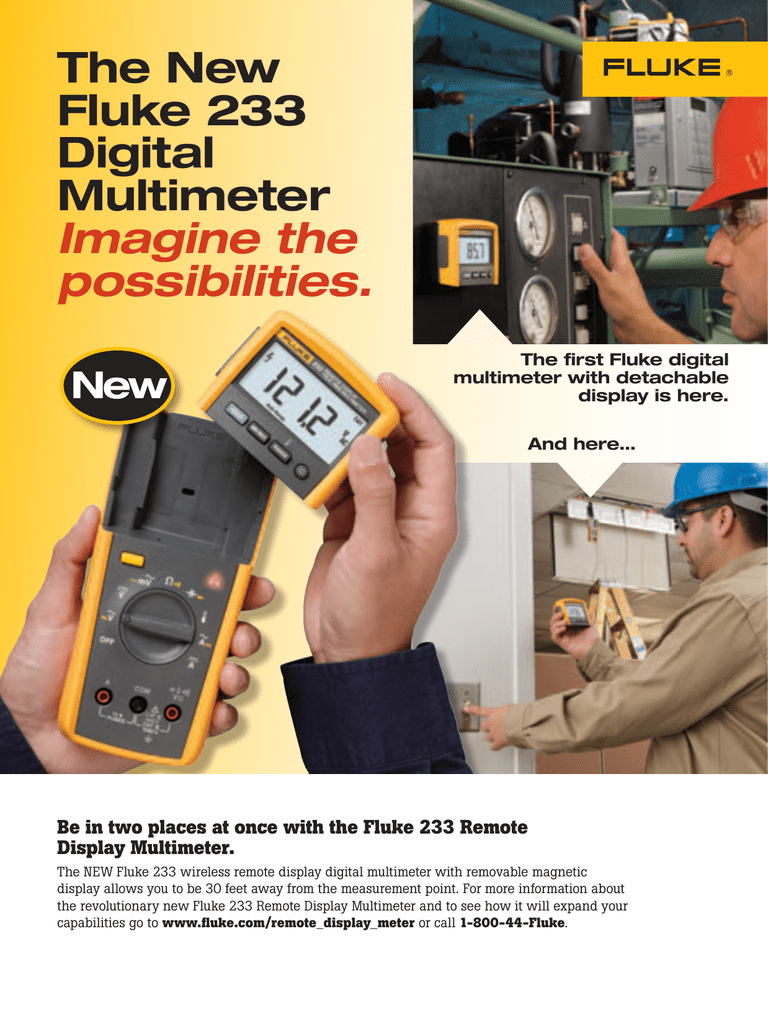 The New
Fluke 233
Digital
Multimeter
Imagine the
possibilities.
The first Fluke digital
multimeter with detachable
display is here.
And here...
Be in two places at once with the Fluke 233 Remote
Display Multimeter.
The NEW Fluke 233 wireless remote display digital multimeter with removable magnetic
display allows you to be 30 feet away from the measurement point. For more information about
the revolutionary new Fluke 233 Remote Display Multimeter and to see how it will expand your
capabilities go to www.fluke.com/remote_display_meter or call 1-800-44-Fluke.
The NEW Fluke 233 True-rms
Remote Display Digital
Multimeter allows you to be
in two places at once.
•Removable display gives the user flexibility in
situations where display viewing is difficult or
impossible
•Place the display where you can see it
•Removes the dilemma of trying to take measurements in hard-to-reach places, or making
measurements in machines or panels that are
physically separated from a limit or isolator
switch
•Can be used in areas where the operator can't
be close to the active measurement point, like
clean rooms or hazardous areas
•True-rms ac voltage and current for accurate
measurements on non-linear signals
•Measure up to 1000 V ac and dc
•Measure up to 10 A (20 A for 30 seconds)
•10,000 µF capacitance range
•Frequency to 50 kHz
•Built in thermometer conveniently allows you
to take temperature readings without having to
carry a separate instrument
•Resistance, continuity and diode test
Features
•Low power wireless technology allows the display to be carried up
to 10 meters (33 ft) away from the point of measurement for added
flexibility
•No interference with measurements
•The removable magnetic display can be conveniently mounted
where it is easily seen
•Make measurements without holding the meter to improve visual
focus on probes and improve safety of electrical measurements
•Use as a conventional multimeter when the display is connected
•Radio transmitter automatically turns off when the display is connected to the meter
•Auto power off maximizes battery life
•Min/Max and Average recording to capture variations automatically
•Test continuity and diodes
•Easy to read display with large digits and bright backlight
•Battery life approximately 400 hours
©2009 Fluke Corporation. Specifications subject to change without notice. Printed in U.S.A. 9/2009 3531449A F-EN-N
Modification of this document is not permitted without written permission from Fluke Corporation.

* Your assessment is very important for improving the work of artificial intelligence, which forms the content of this project