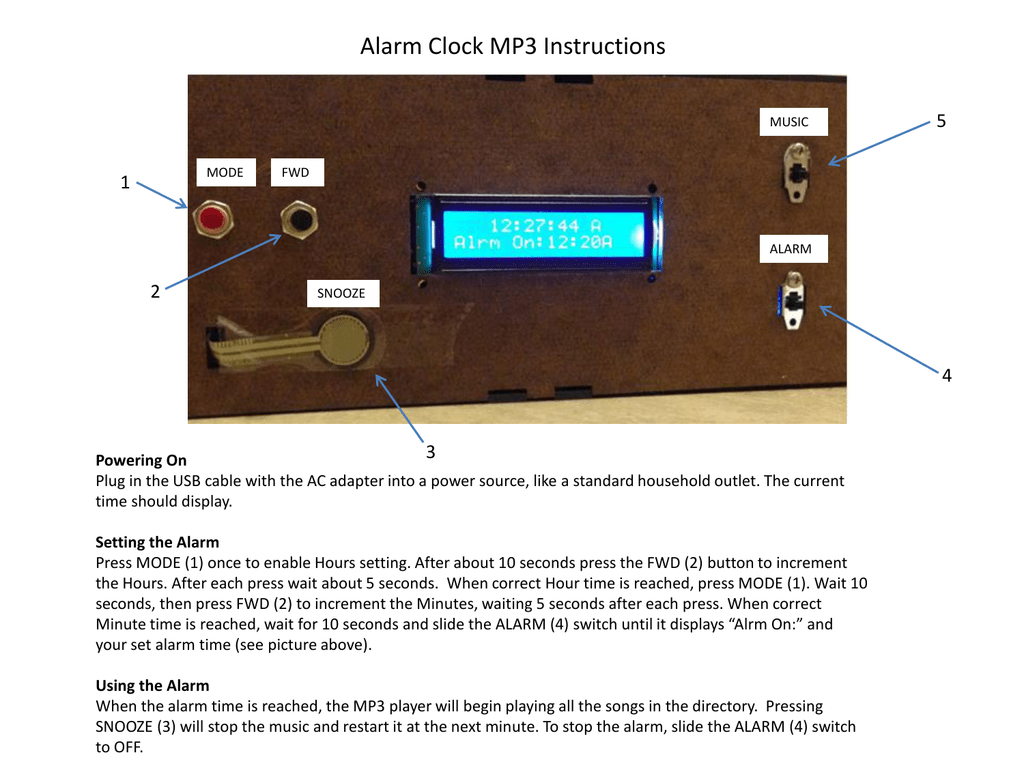 Alarm Clock MP3 Instructions
MUSIC
MODE
1
5
FWD
ALARM
2
SNOOZE
4
3
Powering On
Plug in the USB cable with the AC adapter into a power source, like a standard household outlet. The current
time should display.
Setting the Alarm
Press MODE (1) once to enable Hours setting. After about 10 seconds press the FWD (2) button to increment
the Hours. After each press wait about 5 seconds. When correct Hour time is reached, press MODE (1). Wait 10
seconds, then press FWD (2) to increment the Minutes, waiting 5 seconds after each press. When correct
Minute time is reached, wait for 10 seconds and slide the ALARM (4) switch until it displays "Alrm On:" and
your set alarm time (see picture above).
Using the Alarm
When the alarm time is reached, the MP3 player will begin playing all the songs in the directory. Pressing
SNOOZE (3) will stop the music and restart it at the next minute. To stop the alarm, slide the ALARM (4) switch
to OFF.

* Your assessment is very important for improving the work of artificial intelligence, which forms the content of this project