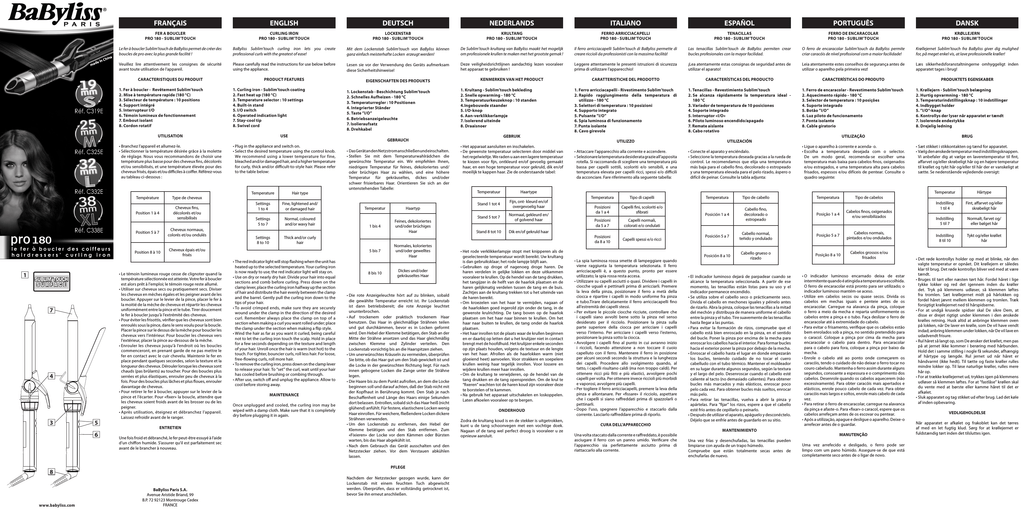 e in
mad
a
n
Chi
FRANÇAIS
ENGLISH
DEUTSCH
NEDERLANDS
ITALIANO
ESPAÑOL
PORTUGUÊS
DANSK
FER A BOUCLER
PRO 180 - SUBLIM'TOUCH
CURLING IRON
PRO 180 - SUBLIM'TOUCH
LOCKENSTAB
PRO 180 - SUBLIM'TOUCH
KRULTANG
PRO 180 - SUBLIM'TOUCH
FERRO ARRICCIACAPELLI
PRO 180 - SUBLIM'TOUCH
TENACILLAS
PRO 180 - SUBLIM'TOUCH
FERRO DE ENCARACOLAR
PRO 180 - SUBLIM'TOUCH
KRØLLEJERN
PRO 180 - SUBLIM'TOUCH
Le fer à boucler Sublim'touch de BaByliss permet de créer des
boucles de pro avec la plus grande facilité !
BaByliss Sublim'touch curling iron lets you create
professional curls with the greatest of ease!
Mit dem Lockenstab Sublim'touch von BaByliss können
ganz einfach meisterhafte Locken erzeugt werden!
De Sublim'touch krultang van BaByliss maakt het mogelijk
om professionele krullen te maken met het grootste gemak !
Il ferro arricciacapelli Sublim'touch di BaByliss permette di
creare riccioli da professionisti con la massima facilità!
Las tenacillas Sublim'touch de BaByliss permiten crear
bucles profesionales con la mayor facilidad.
O ferro de encaracolar Sublim'touch da BaByliss permite
criar caracóis de nível profissional com a maior facilidade!
Krøllejernet Sublim'touch fra BaByliss giver dig mulighed
for, på meget enkel vis, at lave professionelle krøller!
Veuillez lire attentivement les consignes de sécurité
avant toute utilisation de l'appareil.
Please carefully read the instructions for use below before
using the appliance.
Lesen sie vor der Verwendung des Geräts aufmerksam
diese Sicherheitshinweise!
Deze veiligheidsrichtlijnen aandachtig lezen vooraleer
het apparaat te gebruiken !
Leggere attentamente le presenti istruzioni di sicurezza
prima di utilizzare l'apparecchio!
¡Lea atentamente estas consignas de seguridad antes de
utilizar el aparato!
Leia atentamente estes conselhos de segurança antes de
utilizar o aparelho pela primeira vez!
Læs sikkerhedsforanstaltningerne omhyggeligt inden
apparatet tages i brug!
CARACTERISTIQUES DU PRODUIT
PRODUCT FEATURES
EIGENSCHAFTEN DES PRODUKTS
KENMERKEN VAN HET PRODUCT
CARATTERISTICHE DEL PRODOTTO
CARACTERÍSTICAS DEL PRODUCTO
CARACTERÍSTICAS DO PRODUTO
PRODUKTETS EGENSKABER
1. Fer à boucler - Revêtement Sublim'touch
2. Mise à température rapide (180 °C)
3. Sélecteur de température : 10 positions
4. Support intégré
5. Interrupteur I/O
6. Témoin lumineux de fonctionnement
7. Embout isolant
8. Cordon rotatif
1. Curling iron - Sublim'touch coating
2. Fast heat up (180 °C)
3. Temperature selector : 10 settings
4. Built-in stand
5. I/O switch
6. Operated indication light
7. Stay-cool tip
8. Swivel cord
1. Lockenstab - Beschichtung Sublim'touch
2. Schnelles Aufheizen - 180 °C
3. Temperaturregler : 10 Positionen
4. Integrierter Ständer
5. Taste "I/O"
6. Betriebsanzeigeleuchte
7. Isolieraufsatz
8. Drehkabel
1. Ferro arricciacapelli - Rivestimento Sublim'touch
2. Rapido raggiungimento della temperatura di
utilizzo - 180 °C
3. Selettori di temperatura : 10 posizioni
4. Supporto integrato
5. Pulsante "I/O"
6. Spia luminosa di funzionamento
7. Punta isolante
8. Cavo girevole
1. Tenacillas - Revestimiento Sublim'touch
2. Se alcanza rápidamente la temperatura ideal 180 °C
3. Variador de temperatura de 10 posiciones
4. Soporte integrado
5. Interruptor «I/O»
6. Piloto luminoso encendido/apagado
7. Remate aislante
8. Cabo rotativo
1. Ferro de encaracolar - Revestimento Sublim'touch
2. Aquecimento rápido - 180 °C
3. Selector de temperatura : 10 posições
4. Suporte integrado
5. Botão "I/O"
6. Luz piloto de funcionamento
7. Ponta isolante
8. Cable giratorio
UTILIZZO
UTILIZACIÓN
•A
ttaccare l'apparecchio alla corrente e accendere.
• S elezionare la temperatura desiderata grazie all'apposita
rotella. Si raccomanda di scegliere una temperatura più
bassa per capelli sottili, scoloriti e/o sensibili, e una
temperatura elevata per capelli ricci, spessi e/o difficili
da acconciare. Fare riferimento alla seguente tabella:
• Conecte el aparato y enciéndalo.
• Seleccione la temperatura deseada gracias a la rueda de
control. Le recomendamos que elija una temperatura
más baja para el cabello fino, decolorado o estropeado
y una temperatura elevada para el pelo rizado, áspero o
difícil de peinar. Consulte la tabla adjunta:
UTILISATION
• Branchez l'appareil et allumez-le.
• Sélectionner la température désirée grâce à la molette
de réglage. Nous vous recommandons de choisir une
température plus basse pour des cheveux fins, décolorés
et/ou sensibilisés, et une température élevée pour des
cheveux frisés, épais et/ou difficiles à coiffer. Référez-vous
au tableau ci-dessous :
Température
Type de cheveux
Position 1 à 4
Cheveux fins,
décolorés et/ou
sensibilisés
Cheveux normaux,
colorés et/ou ondulés
Position 5 à 7
Position 8 à 10
1
SUBLIM' TOUCH
SURFACE
7
4
3
5
6
• Le témoin lumineux rouge cesse de clignoter quand la
température sélectionnée est atteinte. Votre fer à boucler
est alors prêt à l'emploi; le témoin rouge reste allumé.
• Utiliser sur cheveux secs ou pratiquement secs. Diviser
les cheveux en mèches égales et les peigner avant de les
boucler. Appuyer sur le levier de la pince, placer le fer à
la moitié de la mèche de cheveux et répartir les cheveux
uniformément entre la pince et le tube. Tirer doucement
le fer à boucler jusqu'à l'extrémité des cheveux.
• Pour éviter les frisottis, vérifier que les cheveux sont bien
enroulés sous la pince, dans le sens voulu pour la boucle.
Placer la pince sur le dessus de la mèche pour boucler les
cheveux vers l'intérieur. Pour boucler les cheveux vers
l'extérieur, placer la pince au-dessous de la mèche.
• Enrouler les cheveux jusqu'à l'endroit où les boucles
commenceront, en prenant garde de ne pas mettre le
fer en contact avec le cuir chevelu. Maintenir le fer en
place pendant quelques secondes, selon la texture et la
longueur des cheveux. Dérouler lorsque les cheveux sont
chauds (pas brûlants) au toucher. Pour des boucles plus
serrées et plus élastiques, enrouler peu de cheveux à la
fois. Pour des boucles plus lâches et plus floues, enrouler
davantage de cheveux.
• Pour retirer le fer à boucler, appuyer sur le levier de la
pince et l'écarter. Pour «fixer» la boucle, attendre que
les cheveux soient froids avant de les brosser ou de les
peigner.
• A près utilisation, éteignez et débranchez l'appareil.
Laissez refroidir avant de le ranger.
ENTRETIEN
Une fois froid et débranché, le fer peut-être essuyé à l'aide
d'un chiffon humide. S'assurer qu'il est parfaitement sec
avant de le brancher à nouveau.
• Plug in the appliance and switch on.
• Select the desired temperature using the control knob.
We recommend using a lower temperature for fine,
bleached and/or damaged hair, and a higher temperature
for curly, thick and/or difficult-to-style hair. Please refer
to the table below:
Temperature
Hair type
Settings
1 to 4
Fine, lightened and/
or damaged hair
Settings
5 to 7
Normal, coloured
and/or wavy hair
Settings
8 to 10
Thick and/or curly
hair
•D
as Gerät an den Netzstrom anschließen und einschalten.
• S tellen Sie mit dem Temperaturwahlrädchen die
gewünschte Temperatur ein. Wir empfehlen Ihnen,
niedrigere Temperatur für feines, dekoloriertes und/
oder brüchiges Haar zu wählen, und eine höhere
Temperatur für gekräuseltes, dickes und/oder
schwer frisierbares Haar. Orientieren Sie sich an der
untenstehenden Tabelle:
Temperatur
1 bis 4
5 bis 7
• The red indicator light will stop flashing when the unit has
heated up to the selected temperature. Your curling iron
is now ready to use; the red indicator light will stay on.
• Use on dry or nearly dry hair. Divide your hair into equal
sections and comb before curling. Press down on the
clamp lever, place the curling iron halfway up the section
of hair and distribute the hair evenly between the clamp
and the barrel. Gently pull the curling iron down to the
tips of your hair.
• To avoid crimped ends, make sure they are securely
wound under the clamp in the direction of the desired
curl. Remember always place the clamp on top of a
section when making a curl you want rolled under; place
the clamp under the section when making a flip style.
• Wind the hair as far as you want it curled, being careful
not to let the curling iron touch the scalp. Hold in place
for a few seconds depending on the texture and length
of your hair. Unroll once the hair is warm (not hot) to the
touch. For tighter, bouncier curls, roll less hair. For loose,
free-flowing curls, roll more hair.
• To remove the curling iron, press down on the clamp lever
to release your hair. To "set" the curl, wait until your hair
has cooled before brushing or combing through.
• After use, switch off and unplug the appliance. Allow to
cool before storing away.
MAINTENANCE
Once unplugged and cooled, the curling iron may be
wiped with a damp cloth. Make sure that it is completely
dry before plugging it in again.
8 bis 10
Haartyp
Feines, dekoloriertes
und/oder brüchiges
Haar
Normales, koloriertes
und/oder gewelltes
Haar
Dickes und/oder
gekräuseltes Haar
•D
ie rote Anzeigeleuchte hört auf zu blinken, sobald
die gewählte Temperatur erreicht ist. Ihr Lockenstab
ist dann betriebsbereit; die rote Anzeige leuchtet
ununterbrochen.
•A
uf trockenem oder praktisch trockenem Haar
benutzen. Das Haar in gleichmäßige Strähnen teilen
und gut durchkämmen, bevor es in Locken geformt
wird. Den Hebel der Klemme betätigen, den Stab an der
Mitte der Strähne ansetzen und das Haar gleichmäßig
zwischen Klemme und Zylinder verteilen. Den
Lockenstab vorsichtig bis an die Haarspitzen ziehen.
•U
m unerwünschtes Kräuseln zu vermeiden, überprüfen
Sie bitte, ob das Haar gut um den Stab gewickelt ist und
die Locke in der gewünschten Richtung liegt. Für nach
innen gebogene Locken die Zange unter die Strähne
legen.
•D
ie Haare bis zu dem Punkt aufrollen, an dem die Locke
beginnen soll und darauf achten, daß der Stab nicht mit
der Kopfhaut in Berührung kommt. Den Stab je nach
Beschaffenheit und Länge des Haars einige Sekunden
dort belassen. Entrollen, sobald sich das Haar heiß (nicht
glühend) anfühlt. Für festere, elastischere Locken wenig
Haar einrollen. Für weichere, fließendere Locken dickere
Strähnen verwenden.
•U
m den Lockenstab zu entfernen, den Hebel der
Klemme betätigen und den Stab entfernen. Zum
«Fixieren» der Locke vor dem Kämmen oder Bürsten
warten, bis das Haar abgekühlt ist.
•N
ach dem Gebrauch das Gerät ausschalten und den
Netzstecker ziehen. Vor dem Verstauen abkühlen
lassen.
PFLEGE
BaByliss Paris S.A.
Avenue Aristide Briand, 99
B.P. 72 92123 Montrouge Cedex
FRANCE
GEBRUIK
GEBRAUCH
Cheveux épais et/ou
frisés
8
www.babyliss.com
USE
1. Krultang - Sublim'touch bekleding
2. Snelle opwarming - 180 °C
3. Temperatuurkeuzeknop : 10 standen
4.Ingebouwde staander
5. I/O-knop
6. Aan-verklikkerlampje
7. Isolerend uiteinde
8. Draaisnoer
Nachdem der Netzstecker gezogen wurde, kann der
Lockenstab mit einem feuchten Tuch abgewischt
werden. Überprüfen, dass er vollständig getrocknet ist,
bevor Sie ihn erneut anschließen.
•H
et apparaat aansluiten en inschakelen.
•D
e gewenste temperatuur selecteren door middel van
het regelwieltje. We raden u aan een lagere temperatuur
te kiezen voor fijn, ontkleurd en/of gevoelig gemaakt
haar, en een hoge temperatuur voor gekruld, dik en/of
moeilijk te kappen haar. Zie de onderstaande tabel:
Temperatuur
Stand 1 tot 4
UTILIZAÇÃO
BRUG
• Ligue o aparelho à corrente e acenda- o.
• Escolha a temperatura desejada com o selector.
De um modo geral, recomenda-se escolher uma
temperatura mais baixa para cabelos finos, oxigenados
e/ou estragados, e uma temperatura alta para cabelos
frisados, espessos e/ou difíceis de pentear. Consulte o
quadro seguinte:
• Sæt stikket i stikkontakten og tænd for apparatet.
• Vælg den ønskede temperatur med indstillingsknappen.
Vi anbefaler dig at vælge en laveretemperatur til fint,
affarvet og/eller skrøbeligt hår og en højere temperatur
til krøllet og tykt hår og/eller til hår der er vanskeligt at
sætte. Se nedenstående vejledende oversigt:
Haartype
Fijn, ont- kleurd en/of
overgevoelig haar
Stand 5 tot 7
Normaal, gekleurd en/
of golvend haar
Stand 8 tot 10
Dik en/of gekruld haar
•H
et rode verklikkerlampje stopt met knipperen als de
geselecteerde temperatuur wordt bereikt. Uw krultang
is dan gebruiksklaar; het rode lampje blijft aan.
•G
ebruiken op droge of nagenoeg droge haren. De
haren verdelen in gelijke lokken en deze uitkammen
vooraleer te krullen. Op de hendel van de tang drukken,
het tangijzer in de helft van de haarlok plaatsen en de
haren gelijkmatig verdelen tussen de tang en de buis.
Zachtjes aan de krultang trekken tot u het uiteinde van
de haren bereikt.
•O
m kroezelen van het haar te vermijden, nagaan of
de haarlokken goed ingerold zijn onder de tang, in de
gewenste krulrichting. De tang boven op de haarlok
plaatsen om het haar naar binnen te krullen. Om het
haar naar buiten te krullen, de tang onder de haarlok
plaatsen.
•H
et haar inrollen tot de plaats waar de krullen beginnen
en er daarbij op letten dat u het krulijzer niet in contact
brengt met de hoofdhuid. Het krulijzer enkele seconden
op zijn plaats houden, volgens de textuur en de lengte
van het haar. Afrollen als de haarlokken warm (niet
gloeiend heet) aanvoelen. Voor strakkere en soepelere
krullen weinig haar tegelijk inrollen. Voor lossere en
wijdere krullen meer haar inrollen.
•O
m de krultang te verwijderen, op de hendel van de
tang drukken en de tang openspreiden. Om de krul te
"fixeren" wachten tot de haren koud zijn vooraleer deze
te borstelen of te kammen.
•N
a gebruik het apparaat uitschakelen en loskoppelen.
Laten afkoelen vooraleer op te bergen.
ONDERHOUD
Zodra de krultang koud is en de stekker is uitgetrokken,
kunt u de tang schoonvegen met een vochtige doek.
Nagaan of de tang wel perfect droog is vooraleer u ze
opnieuw aansluit.
Temperatura
Tipo di capelli
Posizioni
da 1 a 4
Capelli fini, scoloriti e/o
sfibrati
Posizioni
da 5 a 7
Capelli normali,
colorati e/o ondulati
Posizioni
da 8 a 10
Capelli spessi e/o ricci
• L a spia luminosa rossa smette di lampeggiare quando
viene raggiunta la temperatura selezionata. Il ferro
arricciacapelli è, a questo punto, pronto per essere
utilizzato; la spia rossa resta accesa.
•U
tilizzare su capelli asciutti o quasi. Dividere i capelli in
ciocche uguali e pettinarli prima di arricciarli. Premere
la leva della pinza, posizionare il ferro a metà della
ciocca e ripartire i capelli in modo uniforme fra pinza
e tubo.Tirare delicatamente il ferro arricciacapelli fino
all'estremità dei capelli stessi.
•P
er evitare le piccole ciocche ricciute, controllare che
i capelli siano avvolti bene sotto la pinza nel senso
desiderato per il ricciolo. Posizionare la pinza sulla
parte superiore della ciocca per arricciare i capelli
verso l'interno. Per arricciare i capelli verso l'esterno,
posizionare la pinza sotto la ciocca.
•A
vvolgere i capelli fino al punto in cui avranno inizio
i riccioli, facendo attenzione a non toccare il cuoio
capelluto con il ferro. Mantenere il ferro in posizione
per alcuni secondi secondo la struttura e la lunghezza
dei capelli. Procedere allo svolgimento quando, al
tatto, i capelli risultano caldi (ma non troppo caldi). Per
ottenere ricci più fitti e più elastici, avvolgere pochi
capelli per volta. Per ottenere invece riccioli più morbidi
e vaporosi, avvolgere più capelli.
•P
er togliere il ferro arricciacapelli, premere la leva della
pinza e allontanare. Per «fissare» il ricciolo, aspettare
che i capelli si siano raffreddati prima di spazzolarli o
pettinarli.
•D
opo l'uso, spegnere l'apparecchio e staccarlo dalla
corrente. Lasciarlo raffreddare prima di riporlo.
CURA DELL'APPARECCHIO
Una volta staccato dalla corrente e raffreddato, è possibile
asciugare il ferro con un panno umido. Verificare che
l'apparecchio sia perfettamente asciutto prima di
riattaccarlo alla corrente.
Temperatura
Tipo de cabelos
Temperatura
Tipo de cabello
Posición 1 a 4
Cabello fino,
decolorado o
estropeado
Posição 1 a 4
Cabelos finos, oxigenados
e/ou sensibilizados
Posición 5 a 7
Cabello normal,
teñido y ondulado
Posição 5 a 7
Cabelos normais,
pintados e/ou ondulados
Posición 8 a 10
Cabello grueso o
rizado
Posição 8 a 10
Cabelos grossos e/ou
frisados
• El indicador luminoso dejará de parpadear cuando se
alcance la temperatura seleccionada. A partir de ese
momento, las tenacillas están listas para su uso y el
indicador permanece encendido.
• Se utiliza sobre el cabello seco o prácticamente seco.
Divida el cabello en mechones iguales y péinelo antes
de rizarlo. Abra la pinza, coloque las tenacillas a la mitad
del mechón y distribuya de manera uniforme el cabello
entre la pinza y el tubo. Tire suavemente de las tenacillas
hasta llegar a las puntas.
• Para evitar la formación de rizos, compruebe que el
cabello está bien enroscado en la pinza, en el sentido
del bucle. Poner la pinza por encima de la mecha para
enroscar los cabellos hacia el interior. Para formar bucles
hacia el exterior poner la pinza por debajo de la mecha.
• Enroscar el cabello hasta el lugar en donde empezarán
los bucles, teniendo cuidado de no tocar el cuero
cabelludo con el tubo térmico. Mantener el moldeador
en su lugar durante algunos segundos, según la textura
y el largo del pelo. Desenroscar cuando el cabello esté
caliente al tacto (no demasiado calientes). Para obtener
bucles más marcados y más elásticos, enroscar poco
pelo cada vez. Para obtener bucles más sueltos, enrocar
más pelo.
• Para retirar las tenacillas, vuelva a abrir la pinza y
apártelas. Para "fijar" los rizos, espere a que el cabello
esté frío antes de cepillarlo o peinarlo.
• Después de utilizar el aparato, apáguelo y desconéctelo.
Déjelo que se enfríe antes de guardarlo en su sitio.
MANTENIMIENTO
Una vez frías y desenchufadas, las tenacillas pueden
limpiarse con ayuda de un trapo húmedo.
Compruebe que están totalmente secas antes de
enchufarlas de nuevo.
1. Krøllejern - Sublim'touch belægning
2. Hurtig opvarmning - 180 °C
3. Temperaturindstillingsknap : 10 indstillinger
4. Indbygget holder
5. "I/O"-knap
6. Kontrollys der lyser når apparatet er tændt
7. Isolerende endestykke
8. Drejelig ledning
• O indicador luminoso encarnado deixa de estar
intermitente quando é atingida a temperatura escolhida.
O ferro de encaracolar está pronto para ser utilizado; o
indicador luminoso mantém-se aceso.
• Utilize em cabelos secos ou quase secos. Divida os
cabelos em mechas iguais e penteie antes de os
encaracolar. Carregue na alavanca da pinça, coloque
o ferro a meio da mecha e reparta uniformemente os
cabelos entre a pinça e o tubo. Faça deslizar o ferro de
encaracolar até à extremidade do cabelo.
• Para evitar o frisamento, verifique que os cabelos estão
bem enrolados sob a pinça, no sentido pretendido para
o caracol. Coloque a pinça por cima da mecha para
encaracolar o cabelo para dentro. Para encaracolar
para o cabelo para fora, coloque a pinça por baixo da
mecha.
• Enrole o cabelo até ao ponto onde começarem os
caracóis, tendo o cuidado de não deixar o ferro tocar no
couro cabeludo. Mantenha o ferro assim durante alguns
segundos, consoante a espessura e o comprimento dos
cabelos. Desenrole quando os cabelos aquecerem (não
excessivamente). Para obter caracóis mais apertados e
elásticos, enrole pouco cabelo de cada vez. Para obter
caracóis mais largos e soltos, enrole mais cabelo de cada
vez.
• Para retirar o ferro de encaracolar, carregue na alavanca
da pinça e afaste-o. Para «fixar» o caracol, espere que os
cabelos arrefeçam antes de os escovar ou pentear.
• Após a utilização, apague e desligue o aparelho. Deixe-o
arrefecer antes de o guardar.
MANUTENÇÃO
Uma vez arrefecido e desligado, o ferro pode ser
limpo com um pano húmido. Assegure-se de que está
completamente seco antes de o ligar de novo.
Temperatur
Hårtype
Indstilling
1 til 4
Fint, affarvet og/eller
skrøbeligt hår
Indstilling
5 til 7
Normalt, farvet og/
eller bølget hår
Indstilling
8 til 10
Tykt og/eller krøllet
hår
• Det røde kontrollys holder op med at blinke, når den
valgte temperatur er opnået. Dit krøllejern er således
klar til brug. Det røde kontrollys bliver ved med at være
tændt.
• Bruges til tørt eller næsten tørt hår. Fordel håret i lige
tykke lokker og red det igennem inden du krøller
det. Tryk på klemmens udløser, så klemmen løftes
fra tromlen. Sæt krøllejernet midt på hårlokken og
fordel håret jævnt mellem klemmen og tromlen. Træk
forsigtigt krøllejernet ned til hårspidserne.
• For at undgå krusede spidser skal De sikre Dem, at
disse er drejet rigtigt under klemmen i den ønskede
krølles retning. Husk altid at anbringe klemmen oven
på lokken, når De laver en krølle, som De vil have vendt
indad; anbring klemmen under lokken, når De vil lave en
udadvendt frisure.
• Rul håret så langt op, som De ønsker det krøllet, men pas
på at jernet ikke kommer i berøring med hårbunden.
Hold det i samme stilling i nogle få sekunder, afhængig
af hårtype og længde. Rul jernet ud når håret er
håndvarmt (ikke hedt). Til tætte og faste krøller rulles
mindre lokker op. Til løse naturlige krøller, rulles mere
hår op.
• For at trække krøllejernet ud, trykkes igen på klemmens
udløser så klemmen løftes. For at "fastlåse" krøllen skal
du vente med at børste eller kamme håret til det er
afkølet.
• Sluk apparatet og tag stikket ud efter brug. Lad det køle
af inden opbevaring.
VEDLIGEHOLDELSE
Når apparatet er afkølet og frakoblet kan det tørres
af med en let fugtig klud. Sørg for at krøllejernet er
fuldstændig tørt inden det tilsluttes igen.
SVENSKA
NORSK
SUOMI
ΕΛΛΗΝΙΚΑ
MAGYAR
POLSKI
ČESKY
РУССКИЙ
TÜRKÇE
LOCKTÅNG
PRO 180 - SUBLIM'TOUCH
KRØLLTANG
PRO 180 - SUBLIM'TOUCH
KIHARRIN
PRO 180 - SUBLIM'TOUCH
ΨΑΛΙΔΙ ΓΙΑ ΜΠΟΥΚΛΕΣ
PRO 180 - SUBLIM'TOUCH
HAJSÜTŐVAS
PRO 180 - SUBLIM'TOUCH
LOKÓWKA
PRO 180 - SUBLIM'TOUCH
KULMA
PRO 180 - SUBLIM'TOUCH
ПЛОЙКА
PRO 180 - SUBLIM'TOUCH
SAÇ MAŞASI
PRO 180 - SUBLIM'TOUCH
Med Sublim'touch locktång från BaByliss kan du skapa
proffsiga lockar ännu lättare!
Krølltangen Sublim'touch fra BaByliss gir deg mulighet til å
lage profesjonelle krøller meget enkelt!
BaBylissin Sublim'touch-kihartimella saat ammattimaiset
kiharat vaivatta!
A BaByliss Sublim'touch hajsütőjével professzionális
hullámok készíthetőek a lehető legkönnyebben!
Lokówka Sublim'touch firmy BaByliss pozwala robić
profesjonalne loki z nieporównywalną łatwością!
Pomocí kulmy Sublim'touch značky Babyliss snadno
vytvoříte vlny jako od profesionálního kadeřníka.
Плойка Sublim'touch марки BaByliss дает возможность
создавать профессиональные локоны с большой
легкостью!
BaByliss Sublim'touch saç kıvırma maşası, çok kolay bir
şekilde bukleler elde edilmesini sağlar!
Läs noggrant dessa säkerhetsföreskrifter innan du
använder apparaten!
Les disse sikkerhetsanvsiningene grundig før apparatet
tas i bruk!
Lue huolellisesti turvallisuusohjeet ennen laitteen
käyttöä!
Με το ψαλίδι για μπούκλες από Sublim'touch της BaByliss
μπορείτε πάρα πολύ εύκολα να δημιουργείτε μπούκλες όπως
κι ένας επαγγελματίας!
Olvassa el figyelmesen a biztosági utasításokat, mielőtt a
készüléket használná!
Przed użyciem urządzenia, dokładnie
poniższe przepisy bezpieczeństwa!
Před použitím přístroje si pečlivě přečtěte bezpečnostní
pokyny!
PRODUKTEGENSKAPER
PRODUKTEGENSKAPER
TUOTTEEN OMINAISUUDET
1. Locktång - Sublim'touch beläggning
2. Snabb uppvärmning - 180 °C
3. Temperaturväljare – 10 lägen
4. Inbyggt stativ
5. Knapp "I/O"
6. Ljusindikator visar att apparaten är igång
7. Isolerad topp
8. Vridbar sladd
1. Krølltang - Sublim'touch belegg
2. Rask oppvarming - 180 °C
3. Temperaturvelger : 10 innstillinger
4. Innebygget stativ
5. "I/O"-knapp
6. Indikatorlampe for bruk
7. Isolerende tupp
8. Roterende ledning
ANVÄNDNING
• Anslut apparaten och sätt på den.
• Välj önskad temperatur med hjälp av inställningsratten.
Vi rekommenderar att man väljer en lägre temperatur
för tunnare, blekt och/eller känsligt hår och en högre
temperatur för lockigt eller tjockt hår och/eller svårskött
hår. Jämför med tabellen nedan:
Temperatur
Hårtyp
Läge 1-4
Fint, blekt och/eller
sprött hår
Läge 5-7
Läge 8-10
Normalt, färgat och/
eller permanentat
Tjockt och/eller
lockigt
1. Kiharrin - Sublim'touch pinnoite
2. Nopea kuumeneminen - 180 °C
3. Lämpötilan valitsin : 10 asentoa
4. Sisäänrakennettu teline
5. Virtakytkin
6. Käytön ilmaiseva merkkivalo
7. Eristetty pää
8. Pyörivä johto
BRUK
KÄYTTÖ
• Stikk støpslet i stikkontakten og slå på apparatet.
• Velg ønsket temperatur med innstillingsknappen. Vi
anbefaler deg å velge en lavere temperatur til fint,
bleket og/eller slitt hår og en høyere temperatur til
krøllet og tykt hår og/eller til hår som er vanskelig å
style. Se veiledende oversikt nedenfor:
Temperatur
Hårtype
• Pane pistoke pistorasiaan ja kytke laite päälle.
• Valitse säätölevyn avulla haluamasi lämpötila.
Suosittelemme hennoille, vaalennetuille ja/tai hauraille
hiuksille alinta lämpötilaa ja kiharille, paksuille ja/tai
vaikeasti kammattaville hiuksille korkeaa lämpötilaa. Ks.
alla olevaa taulukkoa:
Lämpötila
Διαβαστε προσεκτικα τισ συμβουλεσ ασφαλειασ πριν να
χρησιμοποιησετε τη συσκευη!
ΧΑΡΑΚΤΗΡΙΣΤΙΚΑ ΤΟΥ ΠΡΟΪΟΝΤΟΣ
1. Ψαλίδι κατσαρώματος - Επίστρωση από
Sublim'touch
2. Ταχεία άνοδος της θερμοκρασίας - 180 °C
3. Κουμπί επιλογής της θερμοκρασίας : 10 θέσεις
4. Ενσωματωμένη βάση στήριξης
5. Κουμπί έναρξης/διακοπής λειτουργίας «I/O»
6. Φωτεινή ένδειξη λειτουργίας
7. Μονωτικό άκρο
8. Περιστρεφόμενο καλώδιο
ΧΡΗΣΗ
• Βάζετε τη συσκευή στην πρίζα και την ανάβετε.
• Ε πιλέγετε τη θερμοκρασία που θέλετε από τη ροδέλα
ρύθμισης. Σας συνιστούμε να επιλέγετε μία πιο χαμηλή
θερμοκρασία για τα μαλλιά που είναι λεπτά, ξεβαμμένα
και/ή ευαίσθητα, και μία πιο υψηλή θερμοκρασία για
μαλλιά φριζαρισμένα, χοντρά και/ή δύσκολα στο
χτένισμα. Δείτε τον παρακάτω ενδεικτικό πίνακα:
A TERMÉK JELLEMZŐI
1. Hajsütővas - Sublim'touch bevonat
2. Gyors felmelegedés - 180 °C
3. Hőmérséklet-választó kapcsoló : 10 állás
4. Beépített tartó
5. "I/O" gomb
6. Működést jelző lámpa
7. Hőszigetelt végződés
8. Forgó tápvezeték
Hiustyyppi
Innstilling 5 til 7
Innstilling 8 til 10
Fint hår, bleket og/
eller sensibelt hår
Normalt hår, farget
og/eller krøllet hår
Tykt hår og/eller
kruset hår
Asennot 1 - 4
Asennot 5 - 7
Asennot 8 - 10
Ohuet, vaalennetut
ja/tai herkät hiukset
Θερμοκρασία
Normaalit, värjätyt ja/
tai aaltoilevat hiukset
Θέση 1 έως 4
Paksut ja/tai kiharat
hiukset
Θέση 5 έως 7
Μαλλιά λεπτά,
ρωματισμένα, πάρα πολύ
ευαίσθητα
Μαλλιά κανονικά,
βαμμένα και/ή με
κυματισμούς
1 – 4 pozíció
5 – 7 pozíció
• Det røde kontrollyset slutter å blinke når valgt
temperatur er oppnådd. Krølltangen er da klar til bruk.
Det røde kontrollyset fortsetter å være tent.
• Kan brukes på tørt eller nesten tørt hår. Del håret inn i
like store deler og gre dem før du krøller dem. Trykk inn
klypens hendel, plasser tangen midt på hårlengden og
fordel håret jevnt mellom klypen og røret. Dra tangen
forsiktig helt ut i enden av håret.
• For å unngå at hårtuppene kruses bør du passe på at
tuppene er bøyd under skjeen i ønsket krøllretning.
Husk alltid å legge skjeen ovenpå hårlokken når du
ønsker å krølle håret innover; legg den under hårlokken
når du ønsker en vippeefekt utover.
• Rull håret opp så langt som du selv ønsker, men pass på
at tangen ikke rører hodebunnen. Hold tangen på plass
et par sekunder, alt etter hvor tykt og langt håret du har.
Løsne så snart håret kjennes varmt (ikke for varmt). For
tettere krøll ruller du opp små hårlokker, ønsker du løs,
lett krøll fordeler du håret i større lokker.
• Trykk inn klypens hendel og åpne klypen for å fjerne
krølltangen. For å få krøllene til å «feste seg», vent til
håret er kaldt med å børste eller kamme det.
• Slå apparatet av etter bruk og trekk støpslet ut av
stikkontakten. La apparatet avkjøles før det legges på
plass.
UNDERHÅLL
Så snart tangen er kald og frakoblet strømnettet, kan
jernet tørkes av med en fuktig klut. Pass på at det er
fullstendig tørt før du setter i støpselet igjen.
Då locktången kallnat och sladden dragits ur väggen kan
den rengöras med en fuktig duk.
Försäkra dig om att tången är fullständigt torr innan du
ställer undan den.uppåt så långt som önskas.
VEDLIKEHOLD
• Punainen merkkivalo lakkaa vilkkumasta, kun valittu
lämpötila on saavutettu. Kiharrin on käyttövalmis.
Punainen merkkivalo jää palamaan.
• Käytä kuiviin tai melkein kuiviin hiuksiin. Jaa hiukset
samankokoisiin osiin ja kampaa ne ennen kähertämistä.
Paina pihtien kahvasta, aseta rauta hiussuortuvan
puoleen väliin ja jaa hiukset tasaisesti pihdin ja rullan
väliin. Vedä rauta varovasti hiusten latvoihin saakka.
• Voidaksesi välttää päiden taipumista varmista
että hiukset on kierretty huolellisesti kielen alle
haluamassasi suunnassa. Laita kieli aina sen hiusnipun
päälle, jonka haluat kihartaa alaspäin. Laita kieli
hiusnipun alle kääntäessäsi hiuksia ylöspäin. Kierrä
hiuksia niin pitkälle kuin haluat niiden kihartuvan,
mutta varo koskettamasta ihoa.
• Anna vaikuttaa muutama sekunti hiusten laadusta
ja pituudesta riippuen. Kierrä piippaussakset pois
hiusten ollessa lämpimät (ei kuumat). Jos haluat
enemmän kiharuutta, kierrä pienempi hiusnippu ja
jos haluat vähemmän, kierrä suurempi hiusnippu.Kun
irrotat piippaussaksia, paina automaattista kiharoiden
irrotuspainiketta ja vedä sakset pois.
• Ottaaksesi kähertimen pois, paina kahvasta ja avaa.
Anna hiusten jäähtyä ennen kuin harjaat tai kampaat
ne, että kiharat ehtivät "kiinnittyä".
• Sammuta laite ja irrota pistoke käytön jälkeen. Anna
laitteen jäähtyä, ennen kuin panet sen paikoilleen.
HUOLTO
Kun rauta on jäähtynyt ja irrotettu pistorasiasta, se
voidaan pyyhkiä kostealla rievulla. Varmista, että rauta
on täysin kuiva ennen kuin
Θέση 8 έως 10
Vékony, szőkített és /
vagy gyenge szálú haj
Normál, festett és/ vagy
hullámosított haj
Vastag és/vagy göndör
haj
Μαλλιά χοντρά και/ή
κατσαρά
•Η
κόκκινη ενδεικτική λυχνία σταματάει να αναβοσβήνει
όταν το ψαλίδι φτάσει στη θερμοκρασία που έχετε
επιλέξει. Το ψαλίδι για μπούκλες είναι έτοιμο και η
κόκκινη ενδεικτική λυχνία παραμένει αναμμένη.
•Χ
ρησιμοποιείτε σε μαλλιά στεγνά ή σχεδόν στεγνά.
Χωρίζετε τα μαλλιά σε τούφες ίδιου μεγέθους και τις
χτενίζετε πριν τις κάνετε μπούκλες. Πατάτε στο μοχλό
της λαβίδας, τοποθετείτε το ψαλίδι στη μέση της
τούφας και ξεχωρίζετε ομοιόμορφα τα μαλλιά μεταξύ
της λαβίδας και του σωλήνα. Τραβάτε απαλά το ψαλίδι
για μπούκλες μέχρι την άκρη των μαλλιών.
• Γ ια να αποφύγετε το φριζάρισμα, βεβαιωθείτε ότι τα
μαλλιά είναι καλά τυλιγμένα κάτω από τη λαβίδα και
προς την κατεύθυνση που επιθυμείτε να έχει η μπούκλα.
Τοποθετείτε την λαβίδα από πάνω από την τούφα για να
κάνετε μπούκλες προς τα μέσα. Για να κάνετε μπούκλες
προς τα έξω, τοποθετείτε την λαβίδα από κάτω από την
τούφα.
• Τ υλίγετε τα μαλλιά μέχρι εκεί όπου θέλετε να αρχίζουν
οι μπούκλες, προσέχοντας ώστε το ψαλίδι να μην έρθει
σε επαφή με το δέρμα του κεφαλιού. Κρατάτε το ψαλίδι
στη θέση αυτή για μερικά δευτερόλεπτα, ανάλογα με
την υφή και το μήκος των μαλλιών. Ξετυλίγετε ενώ τα
μαλλιά είναι ακόμη ζεστά (να μην καίνε) όταν τα πιάνετε.
Για πιο σφιχτές και πιο ελαστικές μπούκλες, ξετυλίγετε
λίγα μαλλιά κάθε φορά. Για πιο χαλαρές μπούκλες και
μπούκλες με κίνηση, ξετυλίγετε περισσότερα μαλλιά.
• Γ ια να απομακρύνετε το ψαλίδι για μπούκλες, πατάτε το
μοχλό της λαβίδας και το αφήνετε. Για να «φιξάρετε» την
μπούκλα, περιμένετε μέχρι τα μαλλιά να κρυώσουν πριν
τα βουρτσίσετε ή τα χτενίσετε.
•Μ
ετά τη χρήση σβήνετε τη συσκευή και την βγάζετε
από την πρίζα. Περιμένετε να κρυώσει πριν την
αποθηκεύσετε.
ΣΥΝΤΗΡΗΣΗ
Αφού βγάλετε το ψαλίδι από την πρίζα και αφήσετε να
κρυώσει, μπορείτε να το καθαρίσετε με ένα υγρό πανί.
Βεβαιωθείτε ότι είναι εντελώς στεγνό πριν το βάλετε πάλι
στην πρίζα.
VLASTNOSTI VÝROBKU
1. Kulma - Kryt z Sublim'touch
2. Rychlé zahřátí - 180 °C
3. Přepínače teploty - 10 stupňů
4. Vestavěná podpěra
5. Tlačítko "I/O"
6. Provozní světelná kontrolka
7. Izolační nástavec
8. Otočná šňůra
OBSŁUGA
•W
łączyć do prądu i uruchomić aparat.
•W
ybierz odpowiednią temperaturę za pomocą pokrętła.
Zalecamy wybranie niższej temperatury w przypadku
włosów cienkich, rozjaśnianych i/lub wrażliwych oraz
temperaturę wyższą w przypadku włosów mocno
kręconych, gęstych i/lub trudnych w układaniu. Zakres
temperatur podaje poniższa tabela:
Rodzaj włosów
•A
piros jelzőlámpa villogása leáll, amikor a kiválasztott
hőmérsékletet elérte; a piros lámpa égve marad.
• S záraz vagy gyakorlatilag száraz hajon kell használni.
Ossza fel a haját egyenletes tincsekre, és fésülje ki,
mielőtt hozzálátna a göndörítéshez. Nyomja le a csipesz
emelőjét, helyezze a hajsütővasat a hajtincs hosszának
a közepére, és ossza el a hajat egyenletesen a csipesz
és a sütővas hengere között. Finoman húzza fel a
hajsütővasat a haj végéig.
•H
elyezze a csipeszt a hajtincs fölé, ha azt akarja, hogy a
fürt befele csavarodjon. Ha azt akarja, hogy a haj kifele
csavarodjon, helyezze a csipeszt a hajtincs alá.
• T ekerje fel a hajat addig a pontig, ahonnan a hullámnaak
(fürtnek) kezdődnie kell, vigyázva arra, hogy a vas
ne érintse meg a fejbőrt. Tartsa a vasat egy pár
másodpercig a hajon, a hajszálak természete és haj
hosszának függvényében. Tekerje le a tincset amikor
a haj érintése meleg (nem forró). Még szorosabb és
rugalmasabb fürtök kialakítására, tekerjen fel kisebb
hajtincseket. Szétfolyóbb, elmosottabb hullámok
készítéséhez, nagyobb hajtincseket használjon.
•A
hajsütővas kivételéhez az emelőt megnyomva nyissa
szét a csipeszt. A göndörítés "rögzítéséhez" várja meg,
míg a haja lehűl, mielőtt kikefélné, vagy kifésülné.
•H
asználat után kapcsolja ki a készüléket és húzza ki az
üzemkábelt a konnektorból. Hagyja lehűlni elpakolás
előtt.
KARBANTARTÁS
A kihűlt és a csatlakozóból kihúzott hajsütővasat nedves
törlőruhával lehet tisztítani. Mielőtt újra csatlakoztatná
a hálózathoz, győződjön meg róla, hogy teljesen
megszáradt.
Położenie
od 1 do 4
Włosy cienkie,
rozjaśniane i/lub
wrażliwe
Położenie
od 5 do 7
Włosy normalne,
farbowane i/lub po
trwałej ondulacji
Położenie
od 8 do 10
Włosy grube i/lub
kręcone
•C
zerwona kontrolka przestanie migać gdy wybrana
temperatura zostanie osiągnięta. Twoja lokówka jest
gotowa do pracy; czerwona kontrolka pozostanie
zapalona.
• S tosować na suche lub prawie suche włosy.
Podzielić włosy na równe kosmyki i wyczesać przed
podwinięciem. Nacisnąć na dźwigienkę szczypców,
umieścić żelazko w połowie kosmyka i rozłożyć
równomiernie włosy między szczypcami a korpusem
aparatu. Przeciągnąć delikatnie żelazko aż po same
końcówki włosów.
•A
by uniknąć efektu kędzierzawych loków, sprawdzić czy
włosy są dokładnie nakręcone na lokówkę w kierunku
skrętu loków. Umieścić kleszcze powyżej włosów, aby
uzyskać loki skręcane do środka. Aby loki skręcić na
zewnątrz, umieścić kleszcze poniżej kosmyka włosów.
•N
akręcić włosy na lokówkę do miejsca gdzie mają
zaczynać się loki uważając, aby nie dotknąć skóry
głowy nagrzaną powierzchnią lokówki. Pozostawić
lokówkę na włosach przez kilka sekund w zależności od
grubości włosów i ich długości. Wysunąć lokówkę, kiedy
włosy przy dotknięciu są ciepłe (ale nie gorące). Aby
uzyskać silniej skręcone i giętkie loki, podzielić włosy
na niewielkie kosmyki. Natomiast efekt loków luźniej
skręconych, uzyskuje się nakręcając grubsze kosmyki
włosów.
•W
celu zdjęcia żelazka z włosów, nacisnąć na dźwigienkę
szczypców i wyjąć aparat. Aby utrwalić loki, odczekać
do ostygnięcia włosów przed ich wyszczotkowaniem
lub wyczesaniem.
•P
o użyciu, wyłączyć aparat wyjmując wtyczkę z prądu.
Pozostawić do ostygnięcia.
KONSERWACJA
Lokówkę można czyścić wilgotną szmatką, wyłączając
ją uprzednio z prądu i wystudzając. Upewnić się czy jest
sucha przed jej ponownym włączeniem do sieci.
До того, как воспользоваться аппаратом, следует
внимательно прочесть правила безопасности!
ХАРАКТЕРИСТИКИ АППАРАТА
1. Плойка - Покрытие из Sublim'touch
2. Быстрый разогрев - 180 °C
3. Регулятор температуры : 10 позиций
4. Встроенная опора
5. Кнопка "I/O"
6. Световой датчик функционирования
7. Изолирующий наконечник
8. Вращающийся шнур
• Zapojte přístroj do sítě a zapněte ho.
• Pomocí páčky nastavení zvolte požadovanou teplotu.
Pro jemné, odbarvené a/nebo narušené vlasy
doporučujeme zvolit nižší teplotu. Pro kudrnaté, husté
a/nebo nepoddajné vlasy doporučujeme zvolit vyšší
teplotu. Postupujte dle údajů v tabulce:
Teplota
• Подсоедините прибор к сети и включите его.
• С
помощью
колесика
выберите
желаемую
температуру нагрева. Для тонких, обесцвеченных и/
или поврежденных волос мы рекомендуем более
низкую температуру, для вьющихся, густых и/или
трудно поддающихся укладке волос – более высокую
температуру. Обратитесь к следующей далее таблице:
Температура
Тип волос
Позиция
от 1 до 4
Тонкие, бесцвеченные и/
или вствительные волосы
Typ vlasů
Stupeň
1 až 4
Jemné, odbarvené a/
nebo citlivé vlasy
Stupeň
5 až 7
Normální, barvené a/
nebo vlnité vlasy
Позиция
от 5 до 7
Нормальные, крашеные
и/или волнистые волосы
Stupeň
8 až 10
Husté a/nebo
kudrnaté vlasy
Позиция
от 8 до 10
Густые и/или вьющиеся
волосы
• Po dosažení zvolené teploty přestane červená kontrolka
blikat. Kulma je připravena k použití; červená kontrolka
zůstane rozsvícená.
• Používejte na suché nebo téměř suché vlasy. Vlasy
rozdělte do stejných pramenů a před úpravou
je pročešte. Stlačte páku kleští, umístěte kulmu
do poloviny pramene vlasů a vlasy rovnoměrně
rozprostřete mezi kleště a trubkový nástavec. Kulmou
jemně táhněte až ke konečkům vlasů.
• Zkontrolujte, zda jsou vlasy pod kleštěmi dobře
navinuty ve směru požadovaného zvlnění, aby nedošlo
k vytváření chomáčků. Chcete-li zvlnit vlasy směrem
dovnitř k hlavě, umístěte kleště na pramen shora.
Chcete-li zvlnit vlasy směrem nahoru od hlavy, umístěte
kleště na pramen zespodu.
• Vlasy naviňte až k místu, kde mají začínat vlny. Dbejte na
to, aby kulma nepřišla do styku s vlasovou pokožkou.
Kulmu na vlasech několik vteřin přidržte, dle délky a
hustoty vlasů. Jakmile jsou vlasy na dotek teplé (nikoliv
horké), odviňte je z kulmy. Chcete-li mít vlny pevnější a
pružnější, naviňte vždy jen malé množství vlasů. Pokud
si přejete, aby byly vaše vlny volnější, naviňte současně
více vlasů najednou.
• Kulmu sundáte tak, že stlačíte páčku kleští a oddálíte
ji. "Zafixování" vlny dosáhnete tím, že vlasy necháte
nejprve vychladnout a potom je upravíte kartáčem
nebo hřebenem.
• Přístroj po použití vypněte a odpojte ze sítě. Před
uklizením nechte přístroj vychladnout.
ÚDRŽBA
Jakmile je kulma vychladlá a odpojená ze sítě, můžete je
otřít navlhčeným hadříkem. Před opětovným zapnutím
zkontrolujte, zda je kulma dokonale suchá.
Cihazı kullanmadan önce güvenlik talimatlarını dikkatlice
okuyunuz!
ÜRÜNÜN ÖZELLİKLERİ
1. Saç kıvırma maşası - Sublim'touch kaplama
2. Hızlı ısınma - 180 °C
3. Sıcaklık seçme düğmeleri : 10 pozisyon
4. Entegre destek
5. "I/O" Tuşu
6. Işıklı çalışma göstergesi
7. Yalıtıcı yüksük
8. Döner kablo
ИСПОЛЬЗОВАНИЕ
POUŽITÍ
A haj típusa
Τύπος μαλλιών
8 – 10 pozíció
• Den röda kontrollampan slutar blinka när önskad
temperatur uppnåtts. Locktången är då klar att
använda. Den röda kontrollampan fortsätter att lysa.
• Använd på torrt eller nästan torrt hår. Dela upp håret
i lika stora slingor och kamma dem innan du lockar.
Tryck på hävarmen för att öppna, placera locktången
på mitten av hårslingan och fördela håret jämnt längs
locktångens rör. Dra locktången försiktigt ner mot
hårtopparna.
• För att undvika krusiga hårtoppar bör man noga
kontrollera att de ligger väl upprullade runt tångens
uppvärmda del i önskad riktning. Vill man locka håret
inåt placerar man tången ovanpå locken och rullar
inåt. För att rulla håret utåt placerar man tången under
hårlocken.
• Rulla upp hårlocken ända till hårrötterna. Var försiktig
så att ni inte kommer i kontakt med huvudsvålen. Håll
locktången på plats några sekunder, beroende på
hårets tjocklek och längd. Rulla av locken, när håret
känns varmt (inte hett). Vill man ha fastare lockar, rullar
man upp mindre hår åt gången. För större, lösare lockar
arbetar man med tjockare lockar.
• För att släppa slingan, tryck åter på hävarmen och lossa
slingan. För att "fixera" locken, borsta eller kamma inte
håret förrän det har svalnat.
• Stäng av och koppla ur apparaten efter användning. Låt
apparaten svalna innan du lägger bort den.
1. Lokówka - Powłoka Sublim'touch
2. Szybkie nagrzewanie - 180 °C
3. Przełącznik temperatury : 10 ustawień
4. Wbudowany stojak
5. Przycisk "I/O"
6. Kontrolka pracy
7. Końcówka z izolacją
8. Obrotowy przewód
Temperatura
Hőmérséklet
Innstilling 1 til 4
CHARAKTERYSTYKA PRODUKTU
HASZNÁLATA
•D
ugja az üzemdrót villásdugóját a konnektorba és
kapcsolja be az indító gombot.
•A
beállító korong segítségével válassza ki a kívánt
hőmérsékletet. Alacsonyabb hőmérséklet kiválasztását
javasoljuk a vékony szálú, szőkített illetve érzékeny
hajhoz, magasabb hőmérsékletet pedig a göndör, erős
szálú vagy nehezen kifésülhető hajhoz. Használja az
alábbi táblázatot:
przeczytać
• Когда будет достигнут выбранный уровень нагрева,
световой датчик перестает мигать. Ваша плойка готова
к использованию: красный датчик горит непрерывно.
• Пользоваться плойкой следует на сухих или
практически сухих волосах. Разделите волосы на
равномерные пряди и расчешите их перед тем,
как начать укладку. Нажмите на рычажок щипцов,
расположите плойку посередине пряди и равномерно
распределите волосы между плойкой и зажимом.
Аккуратно протяните аппарат по пряди до самых
кончиков волос.
• Чтобы не образовались заломы, проверьте, хорошо
ли накручены волосы под зажимом, правильно
ли выбрано направление укладки локона. Чтобы
уложить локоны внутрь, зажим должен располагаться
над прядью. Чтобы уложить локоны наружу, зажим
должен располагаться под прядью.
• Накрутите волосы на плойку до того места, откуда
должны, по вашему мнению, начинаться локоны;
старайтесь не прикасаться плойкой к кожному
покрову. Подержите аппарат в этом положении
несколько секунд, в зависимости от структуры и
длины волос. Раскручивать прядь следует тогда, когда
волосы на ощупь станут горячими (не обжигающими).
Для получения упругих и эластичных локонов пряди
волос, накручиваемые на плойку, должны быть более
тонкими. Если вы хотите, чтобы ваши локоны были
мягкими и плавными, прядь волос, накручиваемая на
плойку, должна быть более толстой.
• Чтобы извлечь плойку, нажмите на рычаг зажима
и отведите его от греющегося элемента. Чтобы
«зафиксировать» локон, подождите, пока волосы
остынут, и только затем расчешите их расческой или
щеткой.
• После использования прибора выключите его и
обесточьте. Прежде чем убрать прибор на хранение
дайте ему остыть.
УХОД
После того, как отключенный от сети аппарат остыл,
его можно протереть влажной тряпочкой. Прежде чем
снова включить аппарат в сеть, убедитесь в том, что он
полностью сухой.
Щипцы для укладки волос
Производитель: BaByliss SA
99 Авеню Аристид Бриан BP72
92120, Монруж, Франция
Сделано в Китае
Дата производства: см. на товаре
KULLANIM
• Cihazı prize takın ve açma düğmesini çevirin.
• Ayarlama düğmesi yardımıyla arzu edilen sıcaklığı
ayarlayın. İnce telli, rengi açılmış ve/veya hassaslaşmış
saçlar için düşük bir sıcaklığı ve kıvırcık, kalın telli ve/
veya şekillendirilmesi zor saçlar için daha yüksek bir
sıcaklığı seçmenizi öneriyoruz. Aşağıdaki tabloya
bakınız:
Sıcaklık
Saç tipi
Pozisyon 1 - 4
İnce telli, rengi açılmış
ve/veya yıpranmış
saçlar
Pozisyon 5 - 7
Normal, boyalı ve/veya
dalgalı saçlar
Pozisyon 8 - 10
Kalın ve/veya kıvırcık
saçlar
• Seçilen sıcaklığa ulaşıldığında kırmızı ışığın yanıp
sönmesi durur. Bu durumda saç kıvırma maşası
kullanıma hazırdır; kırmızı ışık yanık kalır.
• Kuru veya nemli saçları eşit tutamlar halinde ayırın ve
şekillendirmeden önce tarayın. Pens üzerine bastırın,
saç maşasını saç tutamının yarısına yerleştirin ve
saçları pens ve tüp arasında eşit bir şekilde dağıtın. Saç
maşasını yavaşça saçların ucuna kadar çekin.
• Saçların kabarmaması için, saçların pens altında istenilen
dalga yönünde sarılmış olmasına dikkat edin. Saçları
içeri doğru dalgalandırmak için pensi saç tutamının
üzerine yerleştirin. Saçları dışarı doğru dalgalandırmak
için, , pensi saç tutamının altına yerleştirin
• Saçları dalgaların başlamasını istediğiniz yere kadar
sarın ve maşanın saç derisine temas etmemesine dikkat
edin. Saçın yapısına ve uzunluğuna göre saç maşasını
birkaç saniye öylece tutun. Saçlar elle tutulduğunda
sıcak olduğunda (yakıcı değil) sardığınız saçı açın. Daha
sıkı ve daha esnek dalgalar için, bir kerede az miktarda
saç sarın. Daha gevşek ve daha az belirgin dalgalar için
daha fazla saç sarın.
• Saç maşasını çekmek için, pens koluna basın ve ayırın.
Saçın dalgasını "sabitlemek" için, saçları fırçalamadan
veya taramadan önce soğumasını bekleyin.
• Kullanımdan sonar cihazınızı kapatıp, prizden çekin.
Kaldırmadan önce soğumasını bekleyin.
BAKIM
Prizden çekilip, soğuyunca maşa nemli bir bezle
silinebilir. Tekrar prize koymadan evvel maşanın iyice
kuruduğundan emin olunuz.