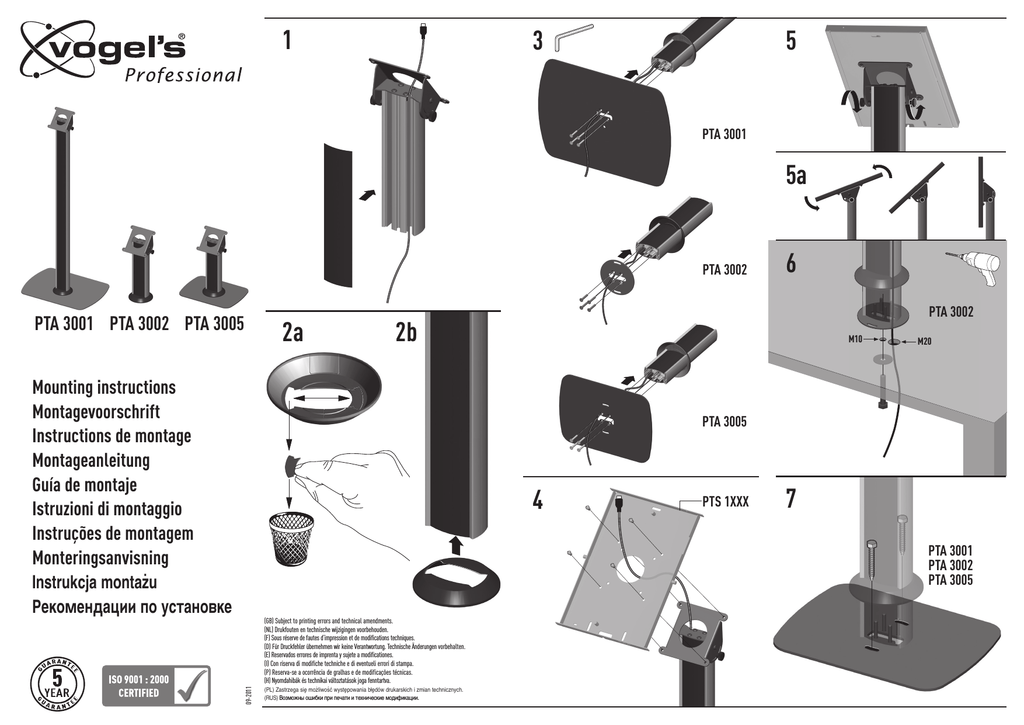 1
3
5
PTA 3001
5a
PTA 3002
PTA 3001 PTA 3002 PTA 3005
2a
6
PTA 3002
2b
Mounting instructions
Montagevoorschrift
Instructions de montage
Montageanleitung
Guía de montaje
Istruzioni di montaggio
Instruções de montagem
Monteringsanvisning
M10
M20
PTA 3005
4
PTS 1XXX
7
PTA 3001
PTA 3002
PTA 3005
Instrukcja montażu
Rekomendacii po ustanovke
09-2011
(GB) Subject to printing errors and technical amendments.
(NL) Drukfouten en technische wijzigingen voorbehouden.
(F) Sous réserve de fautes d'impression et de modifications techniques.
(D) Für Druckfehler übernehmen wir keine Verantwortung. Technische Änderungen vorbehalten.
(E) Reservados errores de imprenta y sujete a modificationes.
(I) Con riserva di modifiche techniche e di eventueli errori di stampa.
(P) Reserva-se a ocorrência de gralhas e de modificações técnicas.
(H) Nyomdahibák és technikai változtatások joga fenntartva.
(PL) Zastrzega się możliwość występowania błędów drukarskich i zmian technicznych.
(RUS) Vozmoøny oπibki pri pehati i texniheskie modifikacii.

* Your assessment is very important for improving the work of artificial intelligence, which forms the content of this project