2014 Honda CBR1000RR Fireblade SP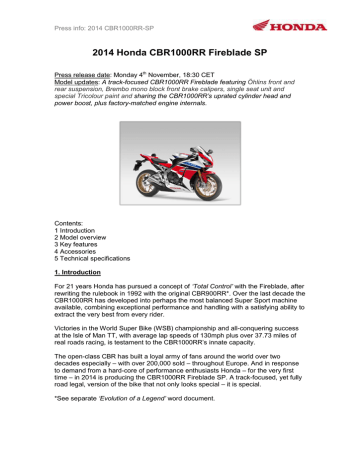 Press info: 2014 CBR1000RR-SP
2014 Honda CBR1000RR Fireblade SP
Press release date: Monday 4th November, 18:30 CET
Model updates: A track-focused CBR1000RR Fireblade featuring Öhlins front and
rear suspension, Brembo mono block front brake calipers, single seat unit and
special Tricolour paint and sharing the CBR1000RR's uprated cylinder head and
power boost, plus factory-matched engine internals.
Contents:
1 Introduction
2 Model overview
3 Key features
4 Accessories
5 Technical specifications
1. Introduction
For 21 years Honda has pursued a concept of 'Total Control' with the Fireblade, after
rewriting the rulebook in 1992 with the original CBR900RR*. Over the last decade the
CBR1000RR has developed into perhaps the most balanced Super Sport machine
available, combining exceptional performance and handling with a satisfying ability to
extract the very best from every rider.
Victories in the World Super Bike (WSB) championship and all-conquering success
at the Isle of Man TT, with average lap speeds of 130mph plus over 37.73 miles of
real roads racing, is testament to the CBR1000RR's innate capacity.
The open-class CBR has built a loyal army of fans around the world over two
decades especially – with over 200,000 sold – throughout Europe. And in response
to demand from a hard-core of performance enthusiasts Honda – for the very first
time – in 2014 is producing the CBR1000RR Fireblade SP. A track-focused, yet fully
road legal, version of the bike that not only looks special – it is special.
*See separate 'Evolution of a Legend' word document.
Press info: 2014 CBR1000RR-SP
2. Model Overview
In Japanese to give something 'edge' is to add polish. And for the dedicated track
day goer that's exactly what the CBR1000RR Fireblade SP has been given: 'Total
Control' with an extra edge.
The chassis wears circuit-ready front and rear Öhlins suspension plus Brembo fourpiston mono block calipers, with frame revisions and new top and bottom yokes to
suit. Honda's electronic Combined Anti-lock Brake System is an option, with
software remapped appropriately. Pirelli Diablo Supercorsa SP tyres are the finishing
touch.
The 999.8cc inline four-cylinder engine gets the same updated cylinder head as the
standard 2014 CBR1000RR Fireblade, with improved inlet/exhaust gas flow and
combustion efficiency, and the extra 2kW peak power boost. However it features
factory-matched pistons and con-rods, to ensure optimum internal balance.
As a track-focused machine there's no provision for a pillion and a sleek single seat
unit saves weight. Further marking the SP version out from standard is its own
unique Tricolour paint – white and two-tone blue, with a central red stripe and
trademark Honda gold wheels.
3. Key Features
3.1 Chassis
The CBR1000RR SP's die-cast aluminium twin-spar frame is based on that of the
standard machine, with modifications to match the Öhlins suspension. Tuning the
frame to increase rider feedback with the suspension's different performance
parameters proved critical during development and the rigidity balance around the
rear suspension mount has been revised to give more flex – and therefore feel – for
traction.
The Öhlins inverted front fork has an outer diameter tube of 55mm (1mm more than
the Showa unit) and the revised top and bottom yoke use a steel, rather than
aluminium, steering stem. The top yoke itself features high precision CNC machining
and features a greater surface area in contact with the forks, improving rigidity.
As on the CBR1000RR the aluminium gull-wing swingarm operates through MotoGPderived Unit Pro-Link rear suspension. Rake is set at 23° 30' with trail of 96mm and
wheelbase of 1410mm. Kerb weight is 199kg with front/rear weight distribution of
52.7%/47.3%
The second-generation Honda Electronic Steering Damper (HESD) monitors speed
and tailors damping force accordingly. It enhances stability at high speed by
minimising sudden steering angle changes, while also leaving the steering
untouched – and light – at low speed.
The SP version has the same aggressive riding position as the standard machine,
offering outstanding control, leverage and acceleration. Compared to the 2013 year
model CBR1000RR, the footpegs are set 10mm back and the handlebars are wider,
lower (by 1°) and further forward (by 5°). A new rear subframe – with no need to
Press info: 2014 CBR1000RR-SP
support a pillion – is lighter and the revised seat material firmer. A new screen
delivers improved high-speed aerodynamics rather than wind protection.
Specialists from Öhlins worked with Honda's engineers and test riders during all
stages of development. Fully adjustable, the 43mm inverted fork and rear shock were
developed specifically for the CBR1000RR SP, to offer superbly balanced all-round
performance and greater potential for cutting lap times on a closed circuit.
The 12-spoke cast aluminium wheels perfectly complement the new suspension
setup. The front 17in x 3.50in rim wears super-sticky, track-ready – and fully road
legal – Pirelli Diablo Supercorsa SP tyres; a 120/70-ZR17 front and a 190/50ZR17
rear on a 17in x 6in rim.
Brembo mono block four-piston calipers were chosen because of their compatibility
and performance potential with the Öhlins fork. The caliper body is standard but
Brembo manufactured special pistons for use in the new machine, with pad material
designed to give consistent and linear feel when braking hard from high speed.
3.2 Electronic Combined ABS
Honda's high-performance electronically-controlled Combined Anti-lock Brake
System (electronic Combined ABS) is an option on the CBR1000RR SP. The system
has been used in every race since 2010 in the IDM German national championship
by the Holzhauer Racing team, whose rider Karl Muggeridge won the series in 2011.
It has also been used by the Honda TT Legends team in the Endurance World
Championship series since 2011. Know-how gained in racing has led to continued
refinements of the system.
Electronic Combined ABS has a high level of precision and adjustability, due to the
fact that it is a 'brake-by-wire' system. A dedicated ECU converts hydraulic pressure
from the front and rear brake into an electronic signal passed to power units which in
turn generate hydraulic pressure at the calipers.
The system's electronic control has numerous benefits. Firstly, it eliminates the
"pulsating" effect on the brake lever associated with conventional motorcycle ABS
technology. It also allows the system to be activated instantly as soon as tyre slip is
detected, minimising loss of grip and eliminating the possibility of locking a wheel. It
also means there is absolutely precise control of the speed at which the brake
callipers are activated. The result is extremely stable and neutral bike behaviour,
giving the rider maximum feel and confidence, even under hard braking,
For the CBR1000RR SP, know-how gained in racing has been reflected in
refinements to the system. Compared to the standard machine, activation of the rear
brake distributes less braking force to the front. The adjustability of the electronic
system has also been used to make initial activation of the ABS system even more
gradual and smooth.
The combined element of the system varies the distribution characteristics of braking
force as the front or rear brakes are applied and released. The system is set up so
that when the rear brake is applied gently, the front brake is not activated. This
allows the rider to use only the rear brake for small adjustments to speed, useful in
Super Sports riding such as when settling the bike for corner entry. In this area too,
feedback from racing activities has led to a new programme for the CBS activation.
Press info: 2014 CBR1000RR-SP
As the rider releases the front brake, the rear brake is released more quickly to allow
lean angle to be maintained more easily through the corner.
3.3 Engine
The CBR1000RR SP's 999.8cc, 16-valve inline four-cylinder engine has the same
cylinder head updates as the standard machine. The inlet and exhaust ports have
been re-shaped and polished with the combustion chambers 'gas-flowed' to improve
efficiency.
Gas-flowing (flow-testing through an air-flow bench) effectively improves both the
quality and quantity of airflow at high rpm when air resistance becomes much
greater; increased combustion efficiency and outright power results. The valve seats
have also been revised to match the cylinder head work and the intake funnels are
now 'slash cut', a design used in WSB.
Where the SP differs is the selection of 'middle value' pistons as the engine is
manufactured. Essentially a factory blueprint, each batch of pistons and rods are
weighed and those that most closely match the middle tolerance – and each other –
are used. This injects an even greater level of balance into the engine, especially at
the high rpm generated on track.
Bore and stroke is set at 76mm x 55.1mm with compression ratio of 12.3:1. A nickelsilicon carbide (Ni-SiC) surface treatment on the cylinder walls reduces friction and
ensures reliability. At 35mm (from 38mm) the exhaust pipe diameters are smaller,
increasing torque and a new vertical connecting pipe balances pressure between
cylinders two and three. Peak power of 133kW – up 2kW – arrives at 12,250rpm;
torque is improved in the 4-6,000rpm area, peaking with 114Nm delivered at
10,500rpm.
The Programmed Dual Sequential Fuel Injection system (PGM-DSFI) has been
remapped to match the revised cylinder head and exhaust. It delivers precise fuelling
and an accessible power delivery, perfect for driving hard out of slow-speed corners.
At throttle openings of up to 25% the PGM-DSFI delivers relatively fine and
consistent changes in power and torque output – perfect for extracting maximum
drive at full lean. As throttle openings become larger, the changes in output are
progressively greater and the overall result (at the throttle) is an engine that responds
with great accuracy to rider input, giving superb feel from the rear tyre and highly
usable, linear acceleration.
The MotoGP-derived slipper clutch ensures full power transmission together with
ultra-smooth gear shifting and light feel at the lever. In the critical hard braking, backshifting corner-entry phase it decreases the torque passed from engine to the rear
wheel, reducing the chance of traction loss and increasing stability.
Combined with the chassis changes 'Total Control' is elevated to a whole new level
and the CBR1000RR SP has the potential to turn in significantly lower lap times than
the standard machine.
Press info: 2014 CBR1000RR-SP
3.3 Equipment
The CBR1000RR SP uses a new 'wave' design ignition key; it offers improved
security and its compact size greatly reduces the chance of breakage. Also new is
the fuel tank cap – it uses an improved breather design for better venting.
Instrumentation is a multi-function LCD with a cockpit display dominated by the
digital bar-type linear tachometer that scrolls left to right as engine speed increases.
Beneath this are the main numerical readouts: gear position, coolant temperature,
speedometer, clock/lap time, trip/fuel efficiency/fuel consumption and
odometer/numerical tachometer. At the bottom of the display are lights for headlight
high beam, neutral and indicators.
Clear and easy to read in all light conditions, the tachometer has four display modes:
Conventional, which uses black LCD segments to show current rpm; Reverse, which
employs black LCD segments to show remaining rpm. Peak Hold indicates rpm in
the conventional way and also leaves a tell tale segment showing the peak rpm
achieved while Single Segment uses a single block to show current engine speed. In
addition the odometer may be switched to display engine rpm numerically.
The lap timer features four modes. The display can also show fuel consumption,
average fuel efficiency, distance travelled and total elapsed time. To assist debriefing
after a session, lap time recall mode shows the fastest lap time and the lap on which
it was set.
To ensure gear shifting at the optimum engine rpm, the 5-level shift indicator display
uses highly visible white LEDs, adjustable for brightness. They illuminate sequentially
as engine rpm rises, finally blinking at a chosen pre-set rpm (default is 13,000rpm but
this can be set between 4,000rpm and 13,000rpm). The interval between sequential
illumination can also be set at 0, 200 or 400rpm.
4. Accessories
The CBR1000RR SP can be personalised with a range of Honda Genuine
Accessories. And like all Honda Genuine Accessories those for the CBR1000RR fit
perfectly because they have been developed alongside the model. They are all
subject to Honda's rigorous testing procedures to make sure they adhere to our
exacting quality standards, which is why they're offered with a two-year Honda
warranty.
Hugger
A painted hugger protects the rear shock absorber from dirt splashes and also adds
a high-class, sporty look. The single-piece unit is available in bodywork colours to
create a seamless sporting entity.
Press info: 2014 CBR1000RR-SP
Carbon-fibre accessories
A range of carbon-fibre accessories give the CBR1000RR the ultimate sports finish
and underline the machine's rich racing heritage. The carbon-fibre hugger is based
on that used on the Repsol Honda RC213V in MotoGP and features a Honda Racing
logo. An optimised number of carbon layers ensure the perfect balance of weight,
handling and durability.
Similarly, at the front end, a carbon-fibre mudguard also reflects the CBR1000RR's
racing pedigree with a Honda Racing logo, while its soft edges and clear coating
exude class.
A set of quality carbon-fibre crankcase covers protect the powerplant with an
advanced composite cover on the left and, on the right, also protecting the clutch
cover, a guard featuring the Honda Racing logo.
High windscreen
A black-tinted high windscreen – 27mm higher than standard – gives added wind
protection, while complying fully with European homologation regulations. It also
integrates perfectly and, even with its side stays, does not compromise visibility,
drivability or manoeuvrability. To underline the CBR1000RR's racing heritage, a
Honda Racing logo is featured on the high screen.
Other CBR1000RR accessories:









Averto alarm
A series of tank pad and fuel filler cover sets
A comfort seat E-cushion
A rear maintenance stand
2 indoor cycle covers and an outdoor cover
A tank bag
A wheel sticker set
A Honda OptiMate 5 battery optimiser
A fairing scuff guard set
Press info: 2014 CBR1000RR-SP
5. Technical Specifications
ENGINE
Type
Liquid-cooled 4-stroke 16-valve
DOHC inline-4
Displacement
999.8cm3
Bore  Stroke
76 x 55.1mm
Compression Ratio
12.3:1
Max. Power Output
133kW @ 12,250rpm
(F-type: 78kW @ 11,000rpm)
Max. Torque
114Nm @ 10,500rpm
(F-type: 86Nm @ 7,000rpm)
Oil Capacity
3.7L
FUEL SYSTEM
Carburation
PGM-DSFI electronic fuel injection
Fuel Tank Capacity
17.5L
Fuel Consumption
18.0km/l ( WMTC mode*)
ELECTRICAL SYSTEM
Starter
Electric
Battery Capacity
12V/6AH
ACG Output
409W
DRIVETRAIN
Clutch Type
Wet, multiplate with diaphragm
spring
Transmission Type
6-speed
Final Drive
#530 O-ring sealed chain
Press info: 2014 CBR1000RR-SP
FRAME
Type
Diamond; aluminium composite
twin-spar
CHASSIS
Dimensions (LWH)
2,080 x 720 x 1,141mm
Wheelbase
1410mm
Caster Angle
23° 30'
Trail
96mm
Seat Height
820mm
Ground Clearance
130mm
Kerb Weight
199kg (ABS: 210kg)
SUSPENSION
Type Front
Telescopic inverted fork with an
inner tube diameter of 43mm, and a
NIX30 (OHLINS) Front Fork with
preload, compression and rebound
adjustment, 120mm stroke
Type Rear
Unit Pro-Link with gas-charged
TTX36 (OHLINS) damper featuring
8mm preload and 22 click
compression and 22click rebound
damping adjustment. 60mm stroke.
WHEELS
Type Front
12-spoke cast aluminium
Type Rear
12-spoke cast aluminium
Rim Size Front
17M/C x MT3.5
Press info: 2014 CBR1000RR-SP
Rim Size Rear
17M/C x MT6
Tyres Front
120/70 -ZR17M/C (W)
Tyres Rear
190/50 -ZR17M/C (W)
BRAKES
ABS System Type
Electronic Combined ABS
Type Front
320 x 4.5mm dual hydraulic disc
with 4-piston Brembo Monobloc
calipers and sintered metal pads
Type Rear
220 x 5mm hydraulic disc with
single-piston caliper and sintered
metal pads
INSTRUMENTS & ELECTRICS
Instruments
Gear position, coolant temperature,
speedometer, clock/lap time,
trip/fuel efficiency/fuel consumption
and odometer/numerical tachometer
Security System
HISS
Headlight
12V, 55W x 1 (low)/55W x 2 (high)
Taillight
LED
All specifications are provisional and subject to change without notice.
# Please note that the figures provided are results obtained by Honda under
standardised testing conditions prescribed by WMTC. Tests are conducted on a
rolling road using a standard version of the vehicle with only one rider and no
additional optional equipment. Actual fuel consumption may vary depending on how
you ride, how you maintain your vehicle, weather, road conditions, tire pressure,
installation of accessories, cargo, rider and passenger weight, and other factors.

* Your assessment is very important for improving the work of artificial intelligence, which forms the content of this project