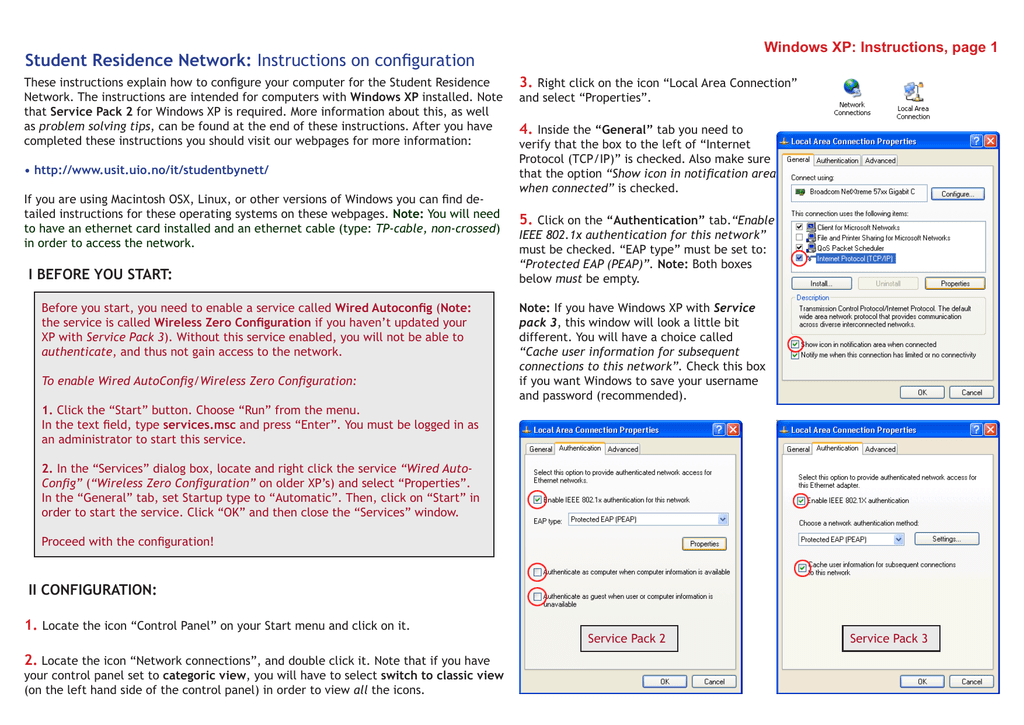 Student Residence Network: Instructions on configuration
These instructions explain how to configure your computer for the Student Residence
Network. The instructions are intended for computers with Windows XP installed. Note
that Service Pack 2 for Windows XP is required. More information about this, as well
as problem solving tips, can be found at the end of these instructions. After you have
completed these instructions you should visit our webpages for more information:
• http://www.usit.uio.no/it/studentbynett/
If you are using Macintosh OSX, Linux, or other versions of Windows you can find detailed instructions for these operating systems on these webpages. Note: You will need
to have an ethernet card installed and an ethernet cable (type: TP-cable, non-crossed)
in order to access the network.
I BEFORE YOU START:
Before you start, you need to enable a service called Wired Autoconfig (Note:
the service is called Wireless Zero Configuration if you haven't updated your
XP with Service Pack 3). Without this service enabled, you will not be able to
authenticate, and thus not gain access to the network.
To enable Wired AutoConfig/Wireless Zero Configuration:
1. Click the "Start" button. Choose "Run" from the menu.
In the text field, type services.msc and press "Enter". You must be logged in as
an administrator to start this service.
2. In the "Services" dialog box, locate and right click the service "Wired AutoConfig" ("Wireless Zero Configuration" on older XP's) and select "Properties".
In the "General" tab, set Startup type to "Automatic". Then, click on "Start" in
order to start the service. Click "OK" and then close the "Services" window.
Windows XP: Instructions, page 1
3. Right click on the icon "Local Area Connection"
and select "Properties".
4. Inside the "General" tab you need to
verify that the box to the left of "Internet
Protocol (TCP/IP)" is checked. Also make sure
that the option "Show icon in notification area
when connected" is checked.
5. Click on the "Authentication" tab."Enable
IEEE 802.1x authentication for this network"
must be checked. "EAP type" must be set to:
"Protected EAP (PEAP)". Note: Both boxes
below must be empty.
Note: If you have Windows XP with Service
pack 3, this window will look a little bit
different. You will have a choice called
"Cache user information for subsequent
connections to this network". Check this box
if you want Windows to save your username
and password (recommended).
Proceed with the configuration!
II CONFIGURATION:
1. Locate the icon "Control Panel" on your Start menu and click on it.
2. Locate the icon "Network connections", and double click it. Note that if you have
your control panel set to categoric view, you will have to select switch to classic view
(on the left hand side of the control panel) in order to view all the icons.
Service Pack 2
Service Pack 3
Click on the "Properties" / "Settings" button (located next to the pull-down menu).
6. The window "Protected EAP Properties"
will appear. Make sure that "Validate server
certificate" is not checked. Also, make sure
that the authentication method is set to
"Secured password (EAP-MSCHAP v2)".
Windows XP: Instructions, page 2
Be extra careful while doing this, making sure that you do not type anything wrong.
If you get the message "Authentication failed" you probably just entered either the
username or the password incorrectly. Note: If the configuration settings are incorrect
you will also get the same error message, even though you entered the username and
password correctly. If you enter the user account information correctly, a new notification bubble pops up, saying that you are connected!
Proceed by clicking "Configure...".
7. Inside "EAP MSCHAPv2 Properties",
"Automatically use my Windows logon..."
must be empty. Click OK until all windows
are closed. The configuration is now complete!
8. Unplug the network cable from your computer, wait for 5 seconds, and then plug
it in again. A notification "bubble" should appear after a while at the bottom right of
your screen, saying something like:
"Click here to select a certificate or other credentials for connecting to the network".
III PROBLEM SOLVING:
- The "Authentication" tab is not visible inside "Local Area Connection Properties".
Left click the notification bubble (not the icon).
9. You should see a new window called "Enter Credentials". Type in your UiO user-
name and password. If you don't have a user account at UiO, you should have received
SiO account credentials from your nearest SiO reception. If the latter is the case, the
username will be similar to:
• [email protected]
Leave the "Logon domain" field empty! Click "OK".
Note: Remember that you have to be logged in as an Administrator (or
have administrator privileges) in order to perform system changes. You
also need to close all windows and programs before you perform this
action!
You need to enable the service called "Wired Autoconfig" ("Wireless
Zero Configuration" on older XP's). Please consult Chapter I BEFORE
YOU START for an explanation on how to do this.
- I don't have the option "Protected EAP (PEAP)" in the "EAP type"-menu.
You need to install Service Pack 2. Click on the start menu. Click on
"Run". Type in "winver" (omit the hyphens). Click OK. It should say
"Service Pack 2" (or Service Pack 3) inside the version specification.
The SiO receptions have CDs with anti-virus software and Service Pack 2
available. You can also contact Houston, by phone: 228 40004. Service
Pack 2 can also be obtained online, by accessing the webpage:
http://update.microsoft.com
- The notification "bubble" which i am supposed to click on (steps 8-9) in order to
enter my credentials does not appear and/or I get limited or no connectivity.
First of all, make sure that your cable is connected correctly (into the
data socket) and that you have entered all the settings in steps 1-7
correctly. Secondly, check that the cable is the correct type (CAT5 (or
better) TP-cable, non-crossed).
Make sure that the option "flow control" in your network card properties, is disabled! (Right click on the "Local Area Connection" icon,
choose "Properties" and then click on the button "Configure..." inside
the "General" tab. Click on the "Advanced" tab, and search for "flow
control". Set the value to be "disabled"). Note that not all network
cards have the "flow control" option.
Do you have anti-virus software and/or firewall software installed on
your computer? Try to disable it, and then unplug/plug in your network
cable again. The most common problem is with Norton/Symantec Antivirus blocking this "bubble". You need to disable the "Auto-protect"
feature, or, if you have Norton Internet Security, disable it completely.
The procedure for this will be different in different versions of Symantec/Norton products.
Other anti-virus and firewall products might also cause the same problem. The solution is to disable this software while performing steps
8-9. You can switch the firewall and/or protection features on again,
afterwards.
Windows XP: Instructions, page 3
- The network access appears to be unstable and/or I suddenly get "Authentication
failed" from time to time, even though I have already entered the correct username
and password.
This problem might occur if you have third party software installed
on your computer. More specifically, this is a problem when you have
a wireless LAN card (most laptops have this by default). A majority
of wireless LAN products come with product specific software, either
preinstalled or on a CD. A good example of this would be Intel wireless
cards, that come bundled with the software "Intel ProSet".
Other manufacturers supply other third party software for their wireless products, that in many cases cause the same problem.
This type of software will often interfere with Windows' built-in wireless service, "Wireless Zero Configuration". Since this service also
provides 802.1x authentication for wired 802.1x-based networks (like
the student residence network), you might get "authentication failed"
problems. The third party software shuts down this service in Windows,
since it wants to use its own solution.
In order to fix the problem, you must make sure that Windows is in
charge of your wireless connections, and not the third party software.
In Intel ProSet this is accomplished by right clicking the icon called "Intel ProSet" in the bottom right corner of your screen (on the taskbar,
next to the clock), and clicking on the option called "Use Microsoft
client". Note that you still will be able to connect to wireless networks
(for instance on UiO campus) using Windows built-in wireless client.
This problem does not exist on XP's with Service Pack 3 or in Windows Vista, since the wireless service is separated from the wired
service in these versions of Windows.
If these tips do not help you out, please check our webpages for more information:
• http://www.usit.uio.no/it/studentbynett/ - or call Houston on phone: 228 40004.
Windows XP: Instructions, page 4
IV IMPORTANT INFORMATION:
File sharing
Read our webpages located at: http://www.usit.uio.no/it/studentbynett/
It can be tempting to download/upload movies, games, books, music, etc. on a 10mbit
network. You should therefore be aware that a lot of the material available on the
internet is copyrighted.
We regularly post information and critical messages concerning the network information that all users of the network have a responsibility to read.
Should you have any questions regarding your connection, or experience any problems
during configuration, contact Houston at 228 40004.
Security - protection from attacks/hacking and malware
If you have just recently moved to a dorm room, and you've brought your computer
which you've previously used on other networks, there's a high risk of your computer
being infected by viruses, bots or that it contains spyware/adware. This could happen even if you have resided in the dorm room for a longer period of time, or even if
you have followed our security guide. It is impossible to protect one self 100%, but our
security guide will give you some general tips:
• http://www.usit.uio.no/it/studentbynett/english/security.html
On Windows XP, it's mandatory to have "Automatic Updates" enabled. This service automatically downloads and installs all the latest security patches onto your computer.
In order to enable "Automatic Updates", or verify that this service is enabled, you
need to click on: "Start" -> "Control Panel" -> "System" -> "Automatic Updates".
Remember that you have to be logged in as an Administrator (or have administrator
privileges) in order to perform any changes here.
Make sure you have anti-virus software installed on your system. The University of
Oslo officially use F-Secure Anti-Virus for Windows. An arrangement for private/home
computers exists for all students and employees at the university. Read more at:
• http://www.usit.uio.no/it/pc/antivirus/ (norwegian only)
You are, of course, permitted to use other anti-virus products than F-secure.
A general walkthrough of Windows security is available from Microsoft:
• http://www.microsoft.com/athome/security/protect/default.aspx
This is recommended reading!
Be aware that it is not allowed to distribute material protected by copyright laws. This
includes movies, music, games, software - utilizing file sharing software like DirectConnect (DC++), Kazaa, Morpheus, eDonkey, BitTorrent and similar software. Downloading
copyrighted material from other than a legal source, is not allowed.
Any infringement of the Copyright Act is a violation of the Rules for the use of IT services at the University of Oslo (pt 5.3 and 6) as well as Norwegian and international
laws. Students who distribute copyrighted material or download copyrighted material
without approval from the copyright holder or other warrant, will lose access to the
student residence network for a period of 10 weeks, or in more serious cases risc being
blocked permanently. See more about this at:
• http://houston.uio.no/fildeling/index-eng.html
Connecting multiple computers/devices on the network
Even though it is very convenient to be able to access the network anywhere in your
room without having to drag cables around, setting up a private wireless access point
(wireless router) is not allowed at the residence network. The range of a wireless access point may be up to several hundred meters, which makes it possible for anyone to
connect to the UiO network (especially if encryption is disabled). Some wireless access
points also have a built-in DHCP server.
A DHCP server distributes IP addresses dynamically to computers connected to a network. USIT provides this service for the whole Student Residence Network. If you try
to establish your own DHCP server the network will stop working correctly, and a lot of
residents may loose their network connection.
Also, do not use Internet Connection Sharing (ICS) for connecting multiple computers.
The recommended solution for connecting multiple devices to the network, is by using
a switch:
• http://www.usit.uio.no/it/studentbynett/english/computers.html
Failure to comply with these rules might cause a shut down of your connection.