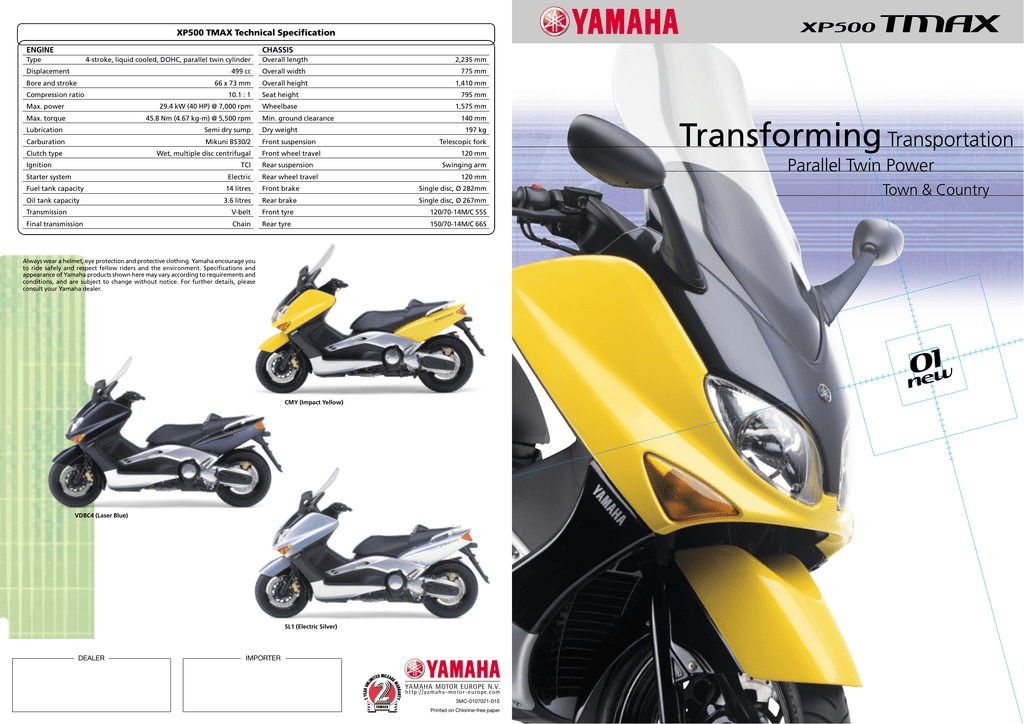 XP500
XP500 TMAX Technical Specification
ENGINE
TMAX
CHASSIS
Type
4-stroke, liquid cooled, DOHC, parallel twin cylinder
Displacement
499 cc
Bore and stroke
66 x 73 mm
Compression ratio
Overall length
Overall width
Overall height
2,235 mm
775 mm
1,410 mm
10.1 : 1
Seat height
795 mm
Max. power
29.4 kW (40 HP) @ 7,000 rpm
Wheelbase
1,575 mm
Max. torque
45.8 Nm (4.67 kg-m) @ 5,500 rpm
Min. ground clearance
Lubrication
Semi dry sump
Dry weight
Carburation
Mikuni BS30/2
Front suspension
Clutch type
Wet, multiple disc centrifugal
Ignition
TCI
Starter system
Electric
Front wheel travel
Rear suspension
Rear wheel travel
140 mm
197 kg
Telescopic fork
120 mm
Swinging arm
120 mm
Fuel tank capacity
14 litres
Front brake
Single disc, Ø 282mm
Oil tank capacity
3.6 litres
Rear brake
Single disc, Ø 267mm
Transmission
V-belt
Front tyre
120/70-14M/C 55S
Final transmission
Chain
Rear tyre
150/70-14M/C 66S
Transforming Transportation
Parallel Twin Power
Town & Country
Always wear a helmet, eye protection and protective clothing. Yamaha encourage you
to ride safely and respect fellow riders and the environment. Specifications and
appearance of Yamaha products shown here may vary according to requirements and
conditions, and are subject to change without notice. For further details, please
consult your Yamaha dealer.
1
0
ew
n
CMY (Impact Yellow)
VDBC4 (Laser Blue)
SL1 (Electric Silver)
DEALER
IMPORTER
YAMAHA MOTOR EUROPE N.V.
http://yamaha-motor-europe.com
3MC-0107021-01E
Printed on Chlorine-free paper
Ride into a new world.
Offering the high performance of a motorcycle, the convenience of a
luxury scooter and the elegance of an exotic sports car, the futuristic
new TMAX transforms European transportation for the 21st Century.
Powered by a revolutionary new, liquid-cooled, DOHC 4-valve
parallel-twin engine, the TMAX out-accelerates most anything on four
wheels. With a top speed in the region of 160 km/h, this supersport
scooter delivers a smooth and relaxing ride quality for enjoyable
long-distance highway cruising. And the TMAX is very rider friendly,
thanks to an automatic transmission, low-effort controls and many
convenience features.
TMAX not only has the power of a motorcycle, it also handles like
one, thanks to a rigid "Diamond" frame for high chassis stiffness.
Long-travel front and rear suspension, disc brakes and high-traction
tyres give the TMAX a level of handling performance that so far
exceeds that of other scooters that it creates a category all on its own:
Maxi Scooter with Motorcycle Performance. If a fashion house
designed a two-wheeler, this is what it would look like. The TMAX is so
stylish you'll be astonished at how comfortable and functional it is,
with a capacious under-seat storage area, a plush seat with adjustable
backrest and a highly aerodynamic bodywork and windscreen that
protect you from the elements while still letting you enjoy them.
TMAX.
TMAX The most innovative, stylish and enjoyable way to move
around in a new world.
01
new
What's New
✸ Long-travel motorcycle-type front
forks and single-shock rear suspension
combine to create a highly rigid chassis
that delivers superb high-speed
stability and gives the sporty handling
performance of a motorcycle.
✸ Liquid-cooled, 499 cc, DOHC, 4-valve,
horizontal parallel-twin engine with
opposed-piston balancer delivers
effortless highway cruising and
astonishingly rapid acceleration.
Low-maintenance silent-chain drive
transmits power quietly and efficiently.
✸ Specially designed for aerodynamic
efficiency at higher speeds, the large
windscreen and sculpted bodywork
provide rider and passenger with
superb wind and weather protection.
Brake/Tyres
Responsive braking comes
courtesy of powerful,
large-diameter front and
rear disc brakes.
Lightweight cast-alloy
wheels run with hightraction 14-inch front tyres
deliver light, precise
steering and a smooth ride.
Utility
Rear Suspension/
Brake/Tyre
Instrument Panel
Comprehensive instrument
panel keeps you fully
informed of this
sophisticated machine's
operating conditions.
Single-shock, laydown rear
suspension soaks up the
bumps. Together with rear
disc brake and wide-profile
rear tyre it offers
confidence-inspiring road
holding.
Whether commuting to
work with briefcase or
laptop, picnicking in the
country, or storing a
full-face helmet, the
capacious under-seat
storage area has plenty of
room. Rider comfort is
further enhanced with an
adjustable backrest.

* Your assessment is very important for improving the work of artificial intelligence, which forms the content of this project