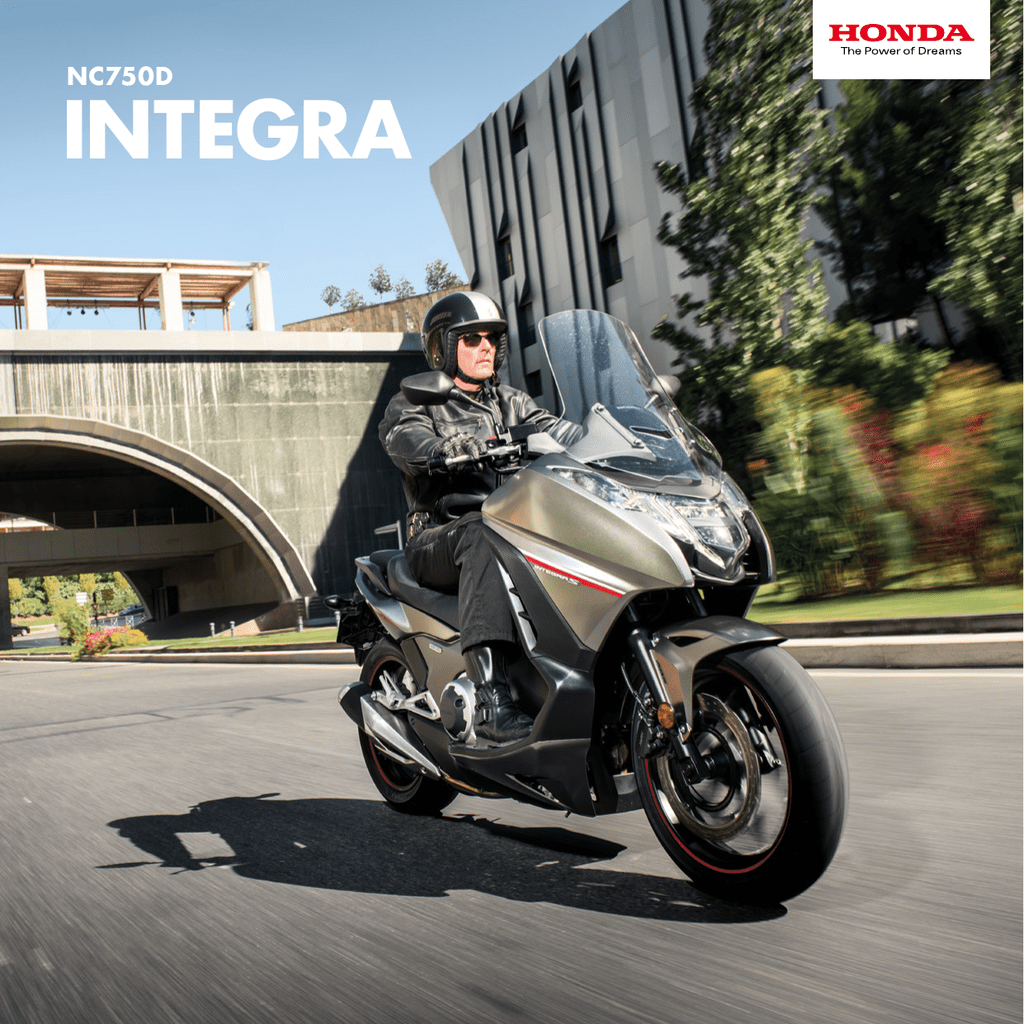 NC750D
INTEGRA
THE POWER
TO BE DIFFERENT
If you like the sound and feel of a motorcycle
but prefer the look, comfort, style and all round
weather protection of a large scooter, welcome to
the Integra. Part of the NC750 series, this machine
merges the finer qualities of motorcycle and
scooter into one. It's the perfect blend.
Leaner and sharper looking than previous models,
the new 2016 Integra exudes individuality.
A strong parallel twin cylinder engine provides
smooth power and delivers it in a controllable
and manageable way. Giving you power that will
propel you through town traffic with ease, or take
you touring effortlessly on the open road.
The comfortable riding position makes filtering
through town traffic easy and with Honda's
Dual Clutch Transmission (DCT), which has two
automatic modes – Drive and Sport – you simply
twist and go; just like a scooter. For a more
exciting ride Sport mode now has three different
settings to choose from.
Changing to Manual couldn't be easier; gears shift
with switches on the left handlebar.
The new Showa Dual Bending Valve (SDBV)
front forks with improved damping up and down,
combined with standard ABS brakes, provide
controlled handling and sure, safe stopping. The
rear shock's preload adjustment allows you to
easily modify to suit your weight, passenger weight
and luggage.
The front cowl features a bright new LED headlight
and provides good weather protection.
Another new feature is the secure and convenient
'Wave' ignition key – just click and go. Start up the
Euro 4 compliant engine and you'll notice its deep,
steady beat – pure motorcycle. Fill up the tank and
the Integra will take you up to 250 miles* before
you need make another fuel stop – pure tourer.
The Integra has everything for the rider who wants
to ride a different way, a better way. At Honda we
challenge everything by doing things differently.
The Integra is the product of this approach and
that's what makes it such an individual machine perfect for riders who want something different.
*Fuel consumption: 80.3 mpg (WMTC Mode)
DETAILS
SPECIFICATION
LCD METER DISPLAY
NC750D INTEGRA
Speed is displayed digitally on the larger LCD meter, while
RPM is shown as a colour change on a tacho bar graph; along
with pinpoint readings for fuel consumption, gear positions,
directional indicators and high-low beam indicator.
Engine Type: Liquid-cooled 4-stroke 8-valve, SOHC parallel 2-cylinder
Fuel Capacity: 14.1 litres
Engine Displacement: 745 cm
Length × Width × Height: 2,215 × 810 × 1,440 mm
Compression Ratio: 10.7 : 1
Wheelbase: 1,525 mm
SHARPER DESIGN
Max. Power Output: 40.3 kW / 6,250 rpm (95/1/EC)
Seat Height: 790 mm
The LED rear light has an integrated smoked lens and
the cleverly designed passenger hand grips blend
nicely with the sleek lines of the Integra's tail section.
A stylish, new, lightweight, pentagon shaped muffler
provides a satisfying exhaust note and a finely
designed protector adds the final touch.
Max. Torque: 68.0 Nm / 4,750 rpm (95/1/EC)
Ground Clearance: 135 mm
Fuel Consumption*: 80.8 mpg
ABS System Type: 2-Channel ABS
Oil Capacity: 4.1 litres
Front Wheels: Multi-spoke cast aluminium
Ignition: Computer-controlled digital transistorised with electronic advance
Rear Wheels: Multi-spoke cast aluminium
Starter: Electric
Front Brakes: 320 mm single wavy hydraulic disc with 2-piston
caliper and sintered metal pads
3
Carburation: PGM-FI electronic fuel injection
Bore × Stroke: 77 × 80 mm
Rear Brakes: 240 mm single wavy hydraulic disc with 2-piston
caliper and resin mold pads
Battery Capacity: 12V-11.2AH
Front Rim Size: 17M/C × MT3.50
ACG Output: 448 W / 5,000 rpm
Rear Rim Size: 17M/C × MT4.50
Clutch: Wet multiplate hydraulic 2-clutch
Front Tyre: 120/70-ZR17M/C (58 W)
Final Drive: Chain Drive
Rear Tyre: 160/60-ZR17M/C (69 W)
Gearbox / Transmission Type: 6-Speed Dual Clutch Transmission
Front Suspension: 41 mm telescopic fork
Frame Type: Diamond; steel pipe
Rear Suspension: Monoshock damper, Pro-Link® swingarm
Caster Angle: 27o
Security System: HISS
Trail: 110 mm
Headlight: LED
Taillight: LED
Turning Radius: 3 m
All specifications are provisional and subject to change without notice. The technical data given is general
data (ED-type). Please speak to your Honda Dealer for local information. *WMTC mode
Kerb Weight: 238 Kg
NEW SUSPENSION
New for the 2016 Integra, and its adventure stablemate,
the NC750X, are the Showa Dual Bending Valve (SDBV)
front forks that help prevent the front end from diving under
heavy braking. These are the first machines to feature this
improved, progressive and compliant suspension damping
system; which makes the Integra ideal for commuting and touring.
COLOURS
MODERN AND STYLISH
With the new sharp look comes
two new sporty metallic colours.
NEW COLOURS
Comfort and style go together. The Integra's new colours show off
its sporty side with stripe detailing on an all new super metallic paint
finish. The lightweight wheels, with colour coded accents, complement
the Integra's new lighter, sportier look.
Matt Majestic Silver Metallic
Matt Alpha Silver Metallic
GENUINE ACCESSORIES
SAY HELLO
MAKE IT YOUR OWN
WE'LL SHOW YOU EVEN MORE
All Honda motorcycles are ready to go, but you can personalise
and equip yourself for the challenges ahead with some well
chosen Honda Genuine Accessories.
You deserve complete confidence that you've made the right choice, long after you've made
the purchase. That's why we appoint our Honda Authorised Dealers with as much care as
we build into our products.
Genuine Accessories are designed, tested and built to the
same rigourous standards that Honda applies to their
motorcycles, guaranteeing superb fit, finish and functionality.
EXPERTISE. SALES. SERVICE.
Our Authorised Dealers are true experts in their field, often with years of first-hand
experience under their belt. They not only feature a comprehensive display of Honda
products to see and touch, but through extensive Honda training, provide valuable
advice you can trust.
For information on the full range of Honda Genuine
Accessories and for advice on compatibility contact
your Honda Dealership or visit honda.co.uk
As well as offering the highest levels of after-sales service, our Authorised
Dealers' factory trained technicians perform a full Pre-Delivery Inspection
(PDI) on every machine, and are fully equipped to keep your product in
peak condition with cost-effective servicing.
HONDA WARRANTY
For your peace of mind the Honda warranty will cover you for unlimited
mileage to be free from material or manufacturing defects for two
years and is standard on all new Honda motorcycles or scooters.
FINANCE
SIMPLE. FLEXIBLE. CONVENIENT.
HONDA SCHOOL OF
MOTORCYCLING
There's nothing like that exciting feeling of riding your brand new Honda for the first time.
The satisfaction of crisp functionality and the peace of mind of a box fresh Honda.
Honda Finance provides simple, flexible and convenient finance to allow you to ride the
Honda of your dreams and to suit your budget:
SKILL UP WITH HONDA
> A s part of Honda Motor Company, we offer finance specifically for Honda products
Already on a bike and want to upgrade your licence
to ride a bigger bike? Or need a refresher course
to get back into biking? There's a course for you
at one of Honda's training schools.
> N o fussy forms, intrusive questions or reams of small print to wade through
> A uthorised and regulated by the Financial Conduct Authority
> Potentially a more cost effective way to finance your Honda than traditional methods
Improve your skills and take the Upgrade
Licence Course. All initial test fees are
included*.
We offer a choice of finance to suit you and your budget
Personal Loan (VPL)
Honda Aspirations
Deposit
Low monthly fixed payments
Deposit
Low monthly fixed payments
Choose your
deposit amount
Agree a payment and term
that suits you
Choose your
deposit amount
Agree a payment and term
that suits you
(PCP - Personal Contract Purchase)
If you've taken a break from the bike
and it's time to get back on, take
our Refresher Course and start
riding again.
Guaranteed Minimum
Future Value
You retain, return or
renew your bike
All paid for
You own the bike
Repayment Term
Repayment Term
*Terms and Conditions
apply, please visit
honda.co.uk, ask
your Dealer or call
0845 200 8000
for full details.
Part No: MC-BROCH-INTEG0216
The specific details of this brochure do not apply to any particular product supplied or
offered for sale. Manufacturers reserve the right to vary specifications, including colours,
with or without notice at such times in such manner as deemed appropriate. Major as
well as minor changes may be involved. Every effort, however, is made to ensure the
accuracy of the particulars contained in this brochure. Consult your Dealer for details
regarding the specifications of any featured product. This publication shall not constitute
- under any circumstances whatsoever - an offer by the Company to any individual.
All sales are made by the Distributor or Dealer subject to and with the benefit of the
standard Conditions of Sale and Warranty provided by the Distributor or Dealer, copies
of which may be obtained upon request. While efforts are made to ensure specification
accuracy, brochures are prepared and printed several months in advance of distribution
and consequently cannot always immediately reflect either changes in specification
or in some isolated cases the provision of a particular feature. Customers are always
advised to discuss specific details with the supplying Dealer, especially if a selection is
dependent upon one of the features advertised. Photography shown is of a professional
rider in a controlled enviroment. Please note that the fuel consumption figures provided
are results obtained by Honda under standardised testing conditions prescribed by
WMTC. Tests are conducted on a rolling road using a standard version of the vehicle with
only one rider and no additional optional equipment. Actual fuel consumption may vary
depending on how you ride, how you maintain your vehicle, weather, road conditions,
tyre pressure, installation of accessories, cargo, rider and passenger weight, and other
factors. You accept that if you do go ahead and make a purchase or enter into any kind
of transaction, whether for payment or not, you did so entirely in reliance on your own
skill and judgement and not on that of anyone else.
RIDE WITH STYLE Read the owner's manual thoroughly. Get to know your machine
and its capabilities. Concentration assists anticipation. Observe other road users'
movements. Brake in plenty of time. Always wear a helmet and quality kit, ride fit and
NEVER after drinking alcohol. Good roadcraft and courtesy identify the skilled and stylish
rider. Honda endorse the law that all helmet visors must comply with BS 4110. Visors
that transmit less than 50% of visible light cannot legally be used on the road.
Honda (UK)
Cain Road, Bracknell, Berkshire, RG12 1HL, England
Honda Contact Centre Tel: 0845 200 8000
www.honda.co.uk
Please don't bin me.
Pass me on to a
friend or recycle me.
Honda Motor Europe sources
paper responsibly from
manufacturers within the EU.