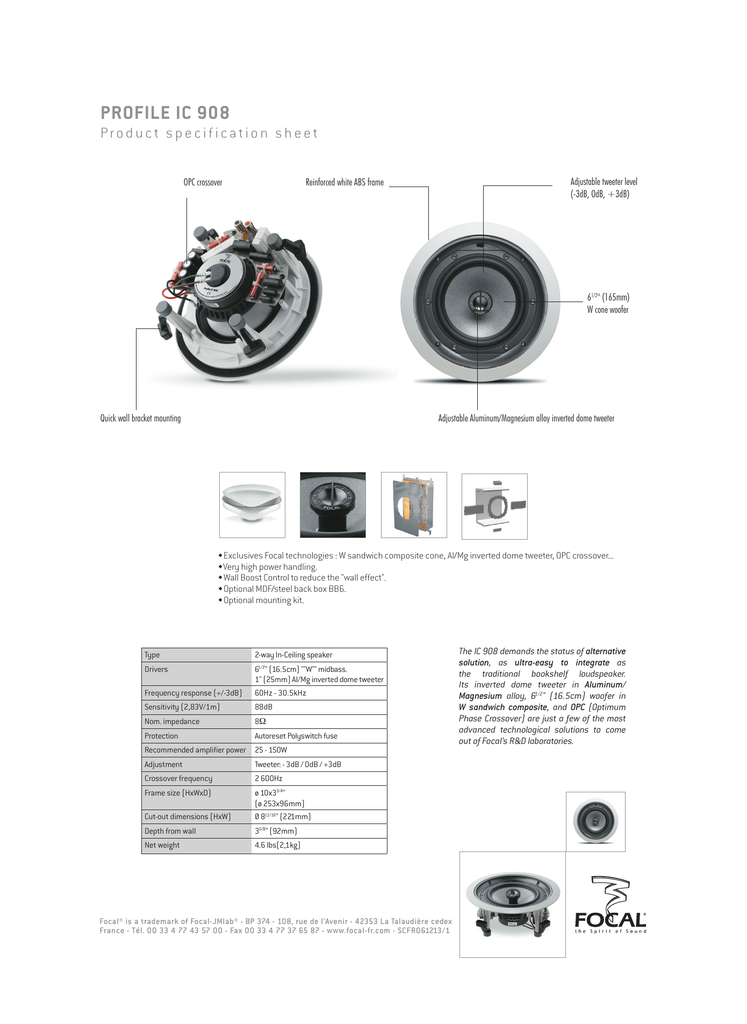 PROFILE IC 908
Product specification sheet
OPC crossover
Adjustable tweeter level
(-3dB, OdB, +3dB)
Reinforced white ABS frame
61/2" (165mm)
W cone woofer
Quick wall bracket mounting
Adjustable Aluminum/Magnesium alloy inverted dome tweeter
w Exclusives Focal technologies : W sandwich composite cone, Al/Mg inverted dome tweeter, OPC crossover...
wVery high power handling.
w Wall Boost Control to reduce the "wall effect".
w Optional MDF/steel back box BB6.
w Optional mounting kit.
Type
Drivers
2-way In-Ceiling speaker
1/2
Frequency response (+/-3dB)
6 " (16.5cm) ""W"" midbass.
1" (25mm) Al/Mg inverted dome tweeter
60Hz - 30.5kHz
Sensitivity (2,83V/1m)
88dB
Nom. impedance
8Ω
Protection
Autoreset Polyswitch fuse
Recommended amplifier power 25 - 150W
Adjustment
Tweeter: - 3dB / 0dB / +3dB
Crossover frequency
2 600Hz
Frame size (HxWxD)
Cut-out dimensions (HxW)
ø 10x33/4"
(ø 253x96mm)
Ø 811/16" (221mm)
Depth from wall
35/8" (92mm)
Net weight
4.6 lbs(2,1kg)
Focal® is a trademark of Focal-JMlab® - BP 374 - 108, rue de l'Avenir - 42353 La Talaudière cedex
France - Tél. 00 33 4 77 43 57 00 - Fax 00 33 4 77 37 65 87 - www.focal-fr.com - SCFR061213/1
The IC 908 demands the status of alternative
solution, as ultra-easy to integrate as
the traditional bookshelf loudspeaker.
Its inverted dome tweeter in Aluminum/
Magnesium alloy, 61/2" (16.5cm) woofer in
W sandwich composite, and OPC (Optimum
Phase Crossover) are just a few of the most
advanced technological solutions to come
out of Focal's R&D laboratories.

* Your assessment is very important for improving the work of artificial intelligence, which forms the content of this project