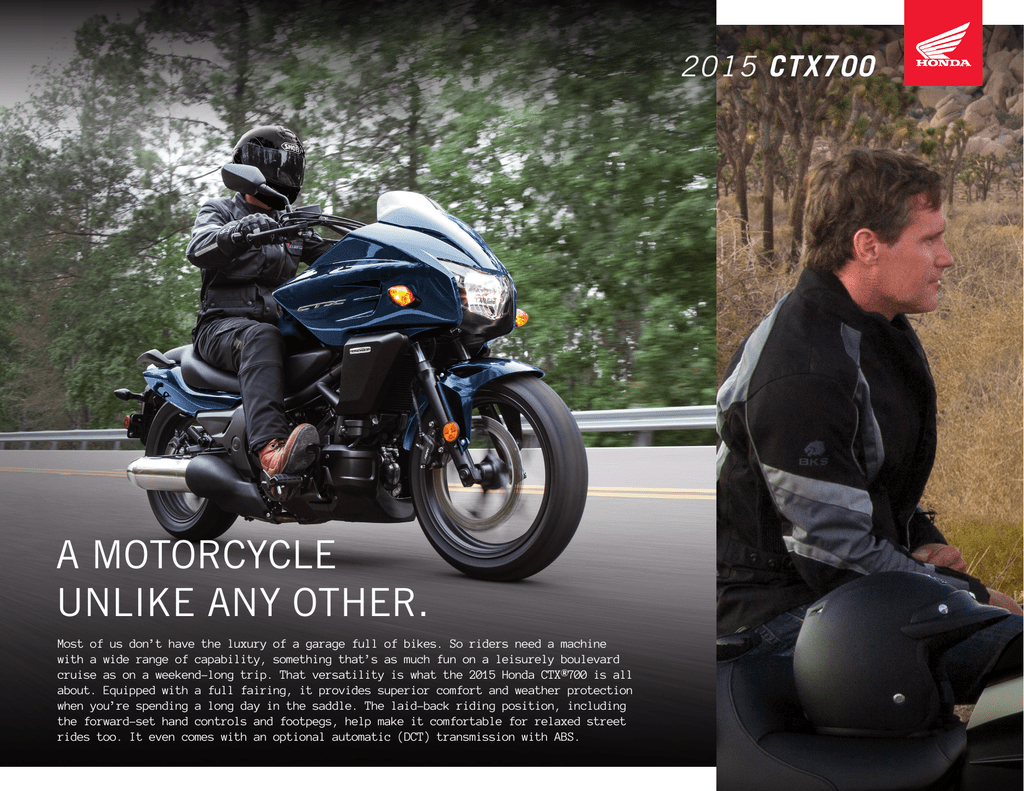 2015 CTX700
A MOTORCYCLE
UNLIKE ANY OTHER.
Most of us don't have the luxury of a garage full of bikes. So riders need a machine
with a wide range of capability, something that's as much fun on a leisurely boulevard
cruise as on a weekend-long trip. That versatility is what the 2015 Honda CTX®700 is all
about. Equipped with a full fairing, it provides superior comfort and weather protection
when you're spending a long day in the saddle. The laid-back riding position, including
the forward-set hand controls and footpegs, help make it comfortable for relaxed street
rides
too. It even comes with an optional automatic (DCT) transmission with ABS.
CBR1000RR SP model shown.
2015 CTX700 / CTX700 DCT ABS
FEATURES
TWIN-CYLINDER ENGINE DESIGN
Liquid-cooled 670cc parallel-twin engine
pumps out plenty of torque in the low-end
and mid-range for easily-accessible power.
SPECIFICATIONS
ENGINE: 670cc liquid-cooled SOHC parallel-twin
TRANSMISSION: Six-speed / Automatic six-speed
with two modes and a manual mode (DCT)
TWO TRANSMISSION CHOICES
The CTX700 is available with a conventional,
six-speed manual transmission or if you choose
the CTX700 DCT/ABS, you'll get a fully automatic
Honda Dual-Clutch Transmission that shifts itself.
FRONT SUSPENSION: 41mm fork, 4.2 inches of travel
REAR SUSPENSION: Pro-Link® single shock; 4.3 inches of travel
SEAT HEIGHT: 28.3 inches
FUEL CAPACITY: 3.27 gallons
CURB WEIGHT*: 494 pounds / 516 pounds (DCT/ABS)
Honda GENUINE ACCESSORIES
MILEAGE ESTIMATE**: 64 MPG / 61 MPG (DCT/ABS)
*Includes all standard equipment, required fluids and a full tank of fuel.
**Fuel economy estimates for this model are based on EPA exhaust emission measurement test procedures while operating in D-Mode
and are intended for comparison purposes only. Your actual mileage will vary depending on how you ride, how you maintain your
vehicle, weather, road conditions, tire pressure, installation of accessories, cargo, rider and passenger weight, and other factors.
TALL WINDSCREEN
Stylish clear PVC touring screen. Provides
increased wind protection. (2014 model shown.)
For a full list of specifications go to powersports.honda.com
COLOR
Gray Blue Metallic
SADDLEBAG SET
These stylish 29-liter hard bags feature a locking,
quick-detach utilizing the "One-key" system.
Requires Saddlebag Stay for installation.
(2014 model shown.)
For a full list of all the Honda Genuine Accessories available for your
CTX700 log on to
powersports.honda.com/accessories.aspx
ENVIRONMENTAL COMMITMENT At Honda, we believe in performance and leadership. That's why we're taking a leadership position when it
comes to the environment, in our products and in all other aspects of our business as well. For more information visit http://powersports.honda.
com/about/environment.aspx.
BE A RESPONSIBLE RIDER Remember, always wear a helmet, eye protection and protective clothing whenever you ride. Never ride under the
influence of drugs or alcohol, and never use the street as a racetrack. Inspect your motorcycle before riding and read your owner's manual. Log on to
the HRCA® website (hrca.honda.com) for information concerning reimbursement through the Honda Rider's Club of America® for Motorcycle Safety
Foundation (MSF) rider training. Obey the law, use common sense, respect the rights of others when you ride, and make sure you have a proper license
when riding on public roads. Operating your motorcycle with a modified engine, emissions control system or noise-control system may be illegal.
For more information visit powersports.honda.com.
Specifications, programs and availability subject to change without notice. See your Honda Dealer for details on all programs. All specifications in this brochure including colors,
etc.—apply only to models sold and registered in the United States. CTX,™ Pro-Link,® Honda Genuine Accessories,™ Honda Rider's Club of America® and HRCA® are trademarks of Honda
Motor Co., Ltd. © 2015 American Honda Motor Co., Inc.

* Your assessment is very important for improving the work of artificial intelligence, which forms the content of this project