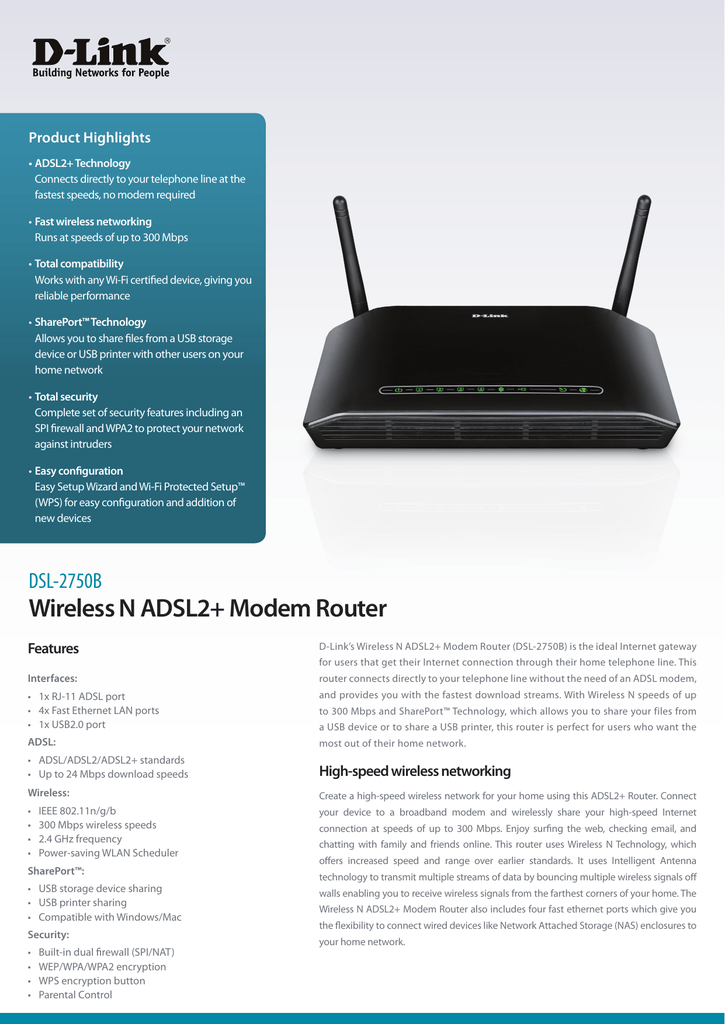 Product Highlights
•ADSL2+ Technology
Connects directly to your telephone line at the
fastest speeds, no modem required
•Fast wireless networking
Runs at speeds of up to 300 Mbps
•Total compatibility
Works with any Wi-Fi certified device, giving you reliable performance
•SharePort™ Technology
Allows you to share files from a USB storage
device or USB printer with other users on your home network
•Total security
Complete set of security features including an
SPI firewall and WPA2 to protect your network against intruders
•Easy configuration
Easy Setup Wizard and Wi-Fi Protected Setup™
(WPS) for easy configuration and addition of new devices
DSL-2750B
Wireless N ADSL2+ Modem Router
Features
D-Link's Wireless N ADSL2+ Modem Router (DSL-2750B) is the ideal Internet gateway
Interfaces:
router connects directly to your telephone line without the need of an ADSL modem,
• 1x RJ-11 ADSL port
• 4x Fast Ethernet LAN ports
• 1x USB2.0 port
and provides you with the fastest download streams. With Wireless N speeds of up
ADSL:
most out of their home network.
• ADSL/ADSL2/ADSL2+ standards
• Up to 24 Mbps download speeds
High-speed wireless networking
Wireless:
Create a high-speed wireless network for your home using this ADSL2+ Router. Connect
•
•
•
•
your device to a broadband modem and wirelessly share your high-speed Internet
IEEE 802.11n/g/b
300 Mbps wireless speeds
2.4 GHz frequency
Power-saving WLAN Scheduler
SharePort™:
• USB storage device sharing
• USB printer sharing
• Compatible with Windows/Mac
Security:
•
•
•
•
Built-in dual firewall (SPI/NAT)
WEP/WPA/WPA2 encryption
WPS encryption button
Parental Control
for users that get their Internet connection through their home telephone line. This
to 300 Mbps and SharePort™ Technology, which allows you to share your files from
a USB device or to share a USB printer, this router is perfect for users who want the
connection at speeds of up to 300 Mbps. Enjoy surfing the web, checking email, and
chatting with family and friends online. This router uses Wireless N Technology, which
offers increased speed and range over earlier standards. It uses Intelligent Antenna
technology to transmit multiple streams of data by bouncing multiple wireless signals off
walls enabling you to receive wireless signals from the farthest corners of your home. The
Wireless N ADSL2+ Modem Router also includes four fast ethernet ports which give you
the flexibility to connect wired devices like Network Attached Storage (NAS) enclosures to
your home network.
DSL-2750B Wireless N ADSL2+ Modem Router
Share and stream files with Shareport™ Technology
Smart traffic/bandwidth prioritisation
Connect a USB storage device to the Wireless N ADSL2+ Modem Router to
With some routers, all wired and wireless traffic, including Internet calls such
create a shared storage space, making it easy to share music, movies and
as Skype™, video streaming, online gaming, and web browsing are mixed
documents between computers and devices connected on your home
together into a single data stream. By handling data this way, applications
network. Plug in a USB hard drive and access your library of videos and music
such as streaming video may stutter or have an unstable connection. With
from your laptop. You can even customise your shared storage space by
the D-Link Smart Quality of Service technology, wired and wireless traffic is
creating separate accounts to control access to the USB drive, so you can share
analysed and separated into multiple data streams. Different applications like
your music with everyone but keep your personal files private.
voice, video, and data will be automatically detected and prioritised so that
you can stream without buffering and game without lag.
Side View
Rear View
DSL-2750B Wireless N ADSL2+ Modem Router
IPv6 ready
D-Link Green™
This router is ready for the future of the Internet with support for the upcoming
This router is part of D-Link Green™, D-Link's programme for providing
move from IPv4 to IPv6. It carries the IPv6 Ready Gold Logo, meaning that it not
eco-friendly alternatives without compromising performance. This Modem
only supports the IPv6 protocol, but is also compatible with IPv6 equipment
Router supports WLAN Scheduler, the WLAN Scheduler function turns off
from other manufacturers. Using a dual-stack architecture, this router can
your wireless network when it is not needed, for example at night or during
handle routing for both IPv4 and IPv6 networks at the same time, so you can
weekends. Also power consumption is further reduced with its Energy Star™
be assured that your router is forward and backward compatible.
power supply.
Network diagram
The Boxee
Box by
D-Link
Smartphone
DSL-2750B
Wireless N ADSL2+ Modem Router
2.4 GHz
Laptop
Storage
DSL-2750B Wireless N ADSL2+ Modem Router
Functions & Features
Device Interfaces
•1x RJ-11 ADSL port
•4x 10/100BASE-TX MDI/MDIX ports
•802.11n WLAN
•1x USB 2.0 port
Wireless
•802.11g/b/n standards
•Up to 300 Mbps (802.11n)
•Frequency range: 2.4 GHz to 2.484 GHz
•2x Non-detachable MIMO antennas
•64/128-bit WEP data encryption
•WPA /WPA 2 (personal/enterprise) security
•802.1x RADIUS
•WPS (Wi-Fi Protected Setup)
•MAC address-based access control
ADSL standards
•ADSL standards: Multi-mode, ANSI T1.413 Issue
2, ITU G.992.1 (G.dmt) Annex A, ITU G.992.2 (G.lite)
Annex A, ITU G.994.1 (G.hs)
•ADSL2 standards: ITU G.992.3 (G.dmt.bis) Annex
A/L/M, ITU G.992.4 (G.lite.bis) Annex A
•ADSL2+ standards: ITU G.992.5 Annex A/L/M
ADSL data rates
•G.dmt: 8 Mbps downstream, 832 Kbps upstream
•G.lite: 1.5 Mbps downstream, 512 Kbps upstream
•ADSL2: 12 Mbps downstream, 1 Mbps upstream
•ADSL2+: 24 Mbps downstream, 1 Mbps upstream
ATM & PPP protocols
•ATM Adaptation Layer Type 5 (AAL5)
•Bridged or routed Ethernet encapsulation
•VC and LLC based multiplexing
•PPP over Ethernet (PPPoE)
•PPP over ATM (RFC 2364)
•ITU-T I.610 OAM F4/F5
Network protocols
•WAN/LAN Switchable Port
•NAT (maximum 4096 NAT sessions)
•DHCP server/client/relay
•Universal Plug and Play (UPnP) Compliant
•Dynamic Domain Name System (DDNS)
•Virtual Server
Firewall/Access Security
•Built-in NAT firewall
•Stateful Packet Inspection (SPI)
•DoS attack prevention
•Packet filtering (IP/ICMP/TCP/UDP)
•Intrusion Detection System (IDS)
•DMZ
•Parental Control (URL blocking, scheduling)
Virtual Private Network (VPN)
•Multiple PPTP/IPSec/L2TP pass-through
Device Configuration/Management
•Installation Wizard
•Web-based GUI for configuration, firmware upgrade
•Code lock to prevent improper firmware upgrade
•Telnet
•Syslog monitoring
Quality of Service (QoS)
•LAN to WAN traffic prioritisation/classification
•Traffic Shaping
USB Applications
•Samba server
•Printer server
Power Input / Humidity
•12 V / 1 A, external
•5% to 95% non-condensing
Diagnostic LEDs
•Power
•LAN (1 to 4)
•WLAN
•DSL
•Internet
•WPS
•USB
Dimensions (L x W x H) / Weight
•182.8 x 127.8 x 32mm
•236 grams
Temperature
•Operating: 0 to 40˚C
•Storage: -20 to 70˚C
Certifications
•C-Tick
•CE
•FCC
•IC
•WHQL
•Wi-Fi Certified
•WPS
For more information: www.dlink.eu
D-Link European Headquarters. D-Link (Europe) Ltd., D-Link House, Abbey Road, Park Royal, London,
NW10 7BX. Specifications are subject to change without notice. D-Link is a registered trademark
of D-Link Corporation and its overseas subsidiaries. All other trademarks belong to their respective
owners. ©2012 D-Link Corporation. All rights reserved. E&OE.