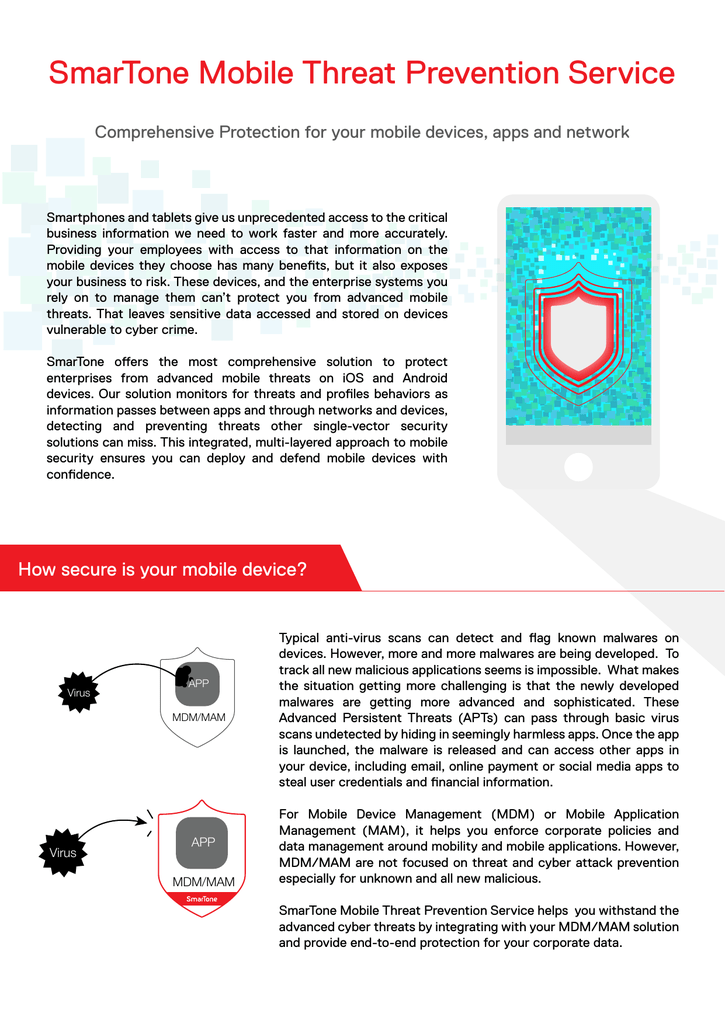 SmarTone Mobile Threat Prevention Service
Comprehensive Protection for your mobile devices, apps and network
Smartphones and tablets give us unprecedented access to the critical
business information we need to work faster and more accurately.
Providing your employees with access to that information on the
mobile devices they choose has many benefits, but it also exposes
your business to risk. These devices, and the enterprise systems you
rely on to manage them can't protect you from advanced mobile
threats. That leaves sensitive data accessed and stored on devices
vulnerable to cyber crime.
SmarTone offers the most comprehensive solution to protect
enterprises from advanced mobile threats on iOS and Android
devices. Our solution monitors for threats and profiles behaviors as
information passes between apps and through networks and devices,
detecting and preventing threats other single-vector security
solutions can miss. This integrated, multi-layered approach to mobile
security ensures you can deploy and defend mobile devices with
confidence.
How secure is your mobile device?
Virus
APP
MDM/MAM
Virus
APP
MDM/MAM
Typical anti-virus scans can detect and flag known malwares on
devices. However, more and more malwares are being developed. To
track all new malicious applications seems is impossible. What makes
the situation getting more challenging is that the newly developed
malwares are getting more advanced and sophisticated. These
Advanced Persistent Threats (APTs) can pass through basic virus
scans undetected by hiding in seemingly harmless apps. Once the app
is launched, the malware is released and can access other apps in
your device, including email, online payment or social media apps to
steal user credentials and financial information.
For Mobile Device Management (MDM) or Mobile Application
Management (MAM), it helps you enforce corporate policies and
data management around mobility and mobile applications. However,
MDM/MAM are not focused on threat and cyber attack prevention
especially for unknown and all new malicious.
SmarTone Mobile Threat Prevention Service helps you withstand the
advanced cyber threats by integrating with your MDM/MAM solution
and provide end-to-end protection for your corporate data.
SmarTone Mobile Threat Prevention Service delivers
the advanced mobile threat detection features :
Advanced End-to-End Threat Protection
●
Identify known and unknown threats by applying threat emulation, app reputation and machine
learning against Android and iOS mobile devices
●
Analyze device, application and network detecting attacks through cloud-based Behavioral Risk
Engine
●
Conduct advanced static code analysis to prevent new or targeted malware is injected into the
app during compilation
●
Real-time and continuously analyzes devices to uncover vulnerabilities and behaviors cyber
criminals use to attack devices and steal information
●
Integrate with Enterprise Mobility Solution to restrict secure container access, or make real
-time, risk-based policy adjustments on compromised devices that MDMs on their own can't
make
Real-time WiFi Network Detection
●
Prevent WiFi Man-in-the-Middle (MitM) attacks by detecting malicious network behavior and
conditions. It can automatically disable suspicious networks to keep devices and your data safe
Ease of use
●
Better user experience with simple User Interface
●
Mobile apps displays the analysis of all other apps on your mobile device, device level and
network attack detection
●
Real-time analysis through cloud base server. No need to update the database in customer's
device manually
●
No IT Support required
Flexible and Affordable
●
No Upfront CAPEX investment.
One monthly fee
●
On-demand scale up the license
●
No restriction on ISP
Contact us
For more information, please contact your Account Manager
 2281 8818
 [email protected]
www.smartone.com
Copyright 2016. All rights reserved.

* Your assessment is very important for improving the work of artificial intelligence, which forms the content of this project