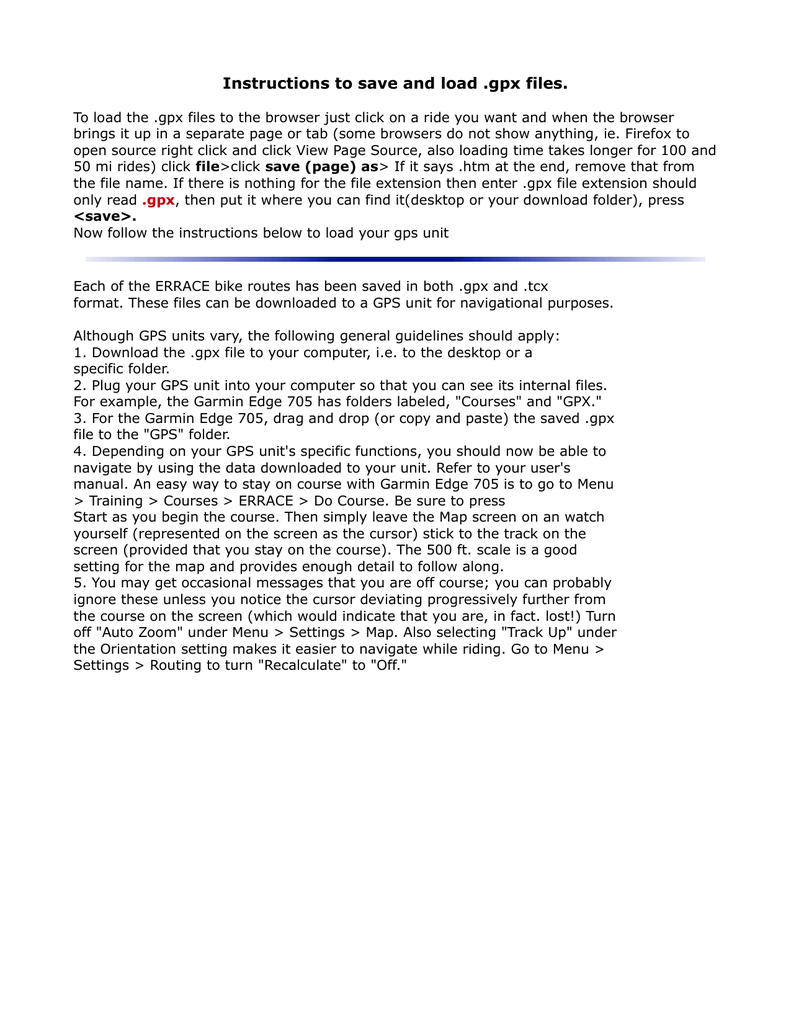 Instructions to save and load .gpx files.
To load the .gpx files to the browser just click on a ride you want and when the browser
brings it up in a separate page or tab (some browsers do not show anything, ie. Firefox to
open source right click and click View Page Source, also loading time takes longer for 100 and
50 mi rides) click file>click save (page) as> If it says .htm at the end, remove that from
the file name. If there is nothing for the file extension then enter .gpx file extension should
only read .gpx, then put it where you can find it(desktop or your download folder), press
<save>.
Now follow the instructions below to load your gps unit
Each of the ERRACE bike routes has been saved in both .gpx and .tcx
format. These files can be downloaded to a GPS unit for navigational purposes.
Although GPS units vary, the following general guidelines should apply:
1. Download the .gpx file to your computer, i.e. to the desktop or a
specific folder.
2. Plug your GPS unit into your computer so that you can see its internal files.
For example, the Garmin Edge 705 has folders labeled, "Courses" and "GPX."
3. For the Garmin Edge 705, drag and drop (or copy and paste) the saved .gpx
file to the "GPS" folder.
4. Depending on your GPS unit's specific functions, you should now be able to
navigate by using the data downloaded to your unit. Refer to your user's
manual. An easy way to stay on course with Garmin Edge 705 is to go to Menu
> Training > Courses > ERRACE > Do Course. Be sure to press
Start as you begin the course. Then simply leave the Map screen on an watch
yourself (represented on the screen as the cursor) stick to the track on the
screen (provided that you stay on the course). The 500 ft. scale is a good
setting for the map and provides enough detail to follow along.
5. You may get occasional messages that you are off course; you can probably
ignore these unless you notice the cursor deviating progressively further from
the course on the screen (which would indicate that you are, in fact. lost!) Turn
off "Auto Zoom" under Menu > Settings > Map. Also selecting "Track Up" under
the Orientation setting makes it easier to navigate while riding. Go to Menu >
Settings > Routing to turn "Recalculate" to "Off."

* Your assessment is very important for improving the work of artificial intelligence, which forms the content of this project