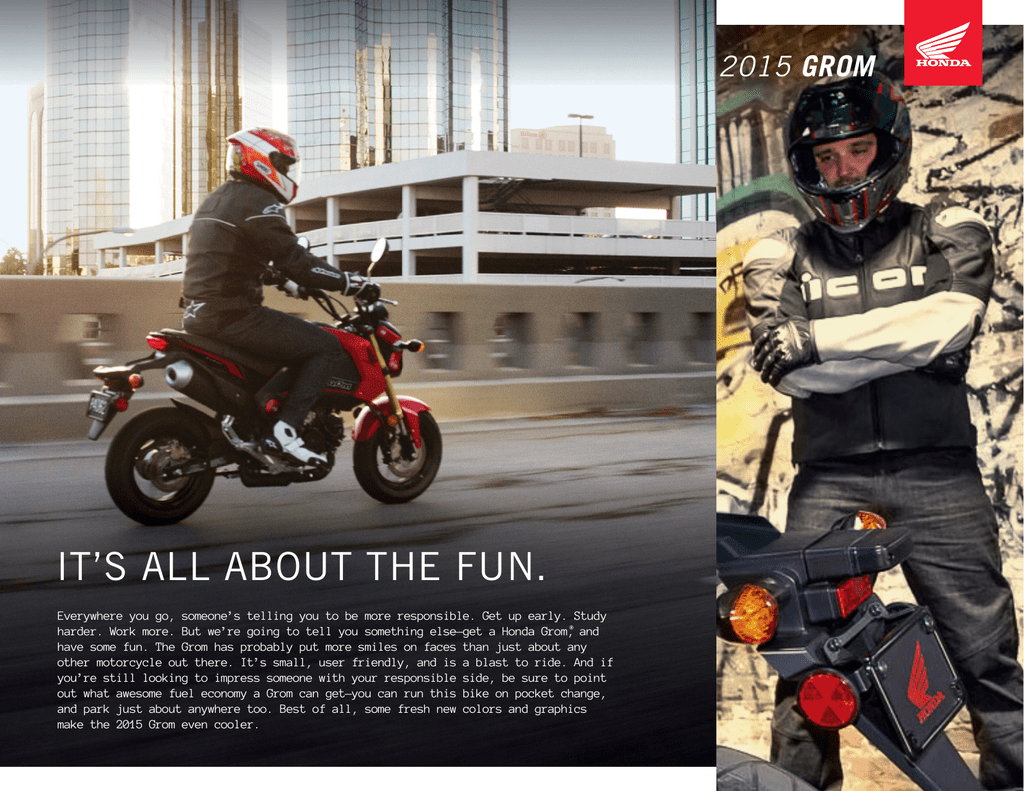 2015 GROM
IT'S ALL ABOUT THE FUN.
Everywhere you go, someone's telling you to be more responsible. Get up early. Study
harder. Work more. But we're going to tell you something else—get a Honda Grom,® and
have some fun. The Grom has probably put more smiles on faces than just about any
other motorcycle out there. It's small, user friendly, and is a blast to ride. And if
you're still looking to impress someone with your responsible side, be sure to point
out what awesome fuel economy a Grom can get—you can run this bike on pocket change,
and park just about anywhere too. Best of all, some fresh new colors and graphics
make the 2015 Grom even cooler.
2015 GROM
SPECIFICATIONS
ENGINE: 124.9cc air-cooled single-cylinder four-stroke
FUEL SYSTEM: PGM-FI with automatic enrichment circuit
IGNITION: Electric
TRANSMISSION: Four-speed
FRONT SUSPENSION: 31mm inverted fork; 3.9 inches of travel
REAR SUSPENSION: Single shock with steel box-section swingarm;
4.1 inches of travel
FRONT BRAKE: Single 220mm disc with hydraulic dual-piston caliper
REAR BRAKE: Single 190mm disc with hydraulic single-piston caliper
FEATURES
WHEELBASE: 47.2 inches
SEAT HEIGHT: 29.7 inches, including 0.38-gallon reserve
FUEL CAPACITY: 1.45 gallons
CURB WEIGHT*: 225 lbs.
COMMAND CENTRAL
The Grom features digital instruments that look
cool and give you access to the speedometer,
odometer, tachometer, A&B trip meters, fuel
gauge, clock, and indicator for low/high beam.
*Includes all standard equipment, required fluids and a full tank of fuel.
For a full list of specifications go to powersports.honda.com
DISC BRAKES
When it comes to features, the Grom's all Honda.
Hydraulic disc brakes front and rear give you
excellent stopping power. (2014 Model Shown)
S
COLORS
PLENTY OF POWER
Black
The Grom features a low-maintenance, fuelinjected, single-cylinder engine. A standard
four-speed manual transmission gives you the
control of a standard gearbox.
Yellow
ENVIRONMENTAL COMMITMENT At Honda, we believe in performance and leadership. That's why we're taking a leadership position when it
comes to the environment, in our products and in all other aspects of our business as well. For more information visit http://powersports.honda.
com/about/environment.aspx.
Pearl White
Red
BE A RESPONSIBLE RIDER Remember, always wear a helmet, eye protection and protective clothing whenever you ride. Never ride under the
influence of drugs or alcohol, and never use the street as a racetrack. Inspect your motorcycle before riding and read your owner's manual. Log on to
the HRCA® website (hrca.honda.com) for information concerning reimbursement through the Honda Rider's Club of America® for Motorcycle Safety
Foundation (MSF) rider training. Obey the law, use common sense, respect the rights of others when you ride, and make sure you have a proper license
when riding on public roads. Operating your motorcycle with a modified engine, emissions control system or noise-control system may be illegal.
For more information visit powersports.honda.com.
Specifications, programs and availability subject to change without notice. See your Honda Dealer for details on all programs. All specifications in this brochure including
colors, etc.—apply only to models sold and registered in the United States. Grom,® Honda Rider's Club of America® and HRCA® are trademarks of Honda Motor Co., Ltd.
© 2015 American Honda Motor Co., Inc.

* Your assessment is very important for improving the work of artificial intelligence, which forms the content of this project