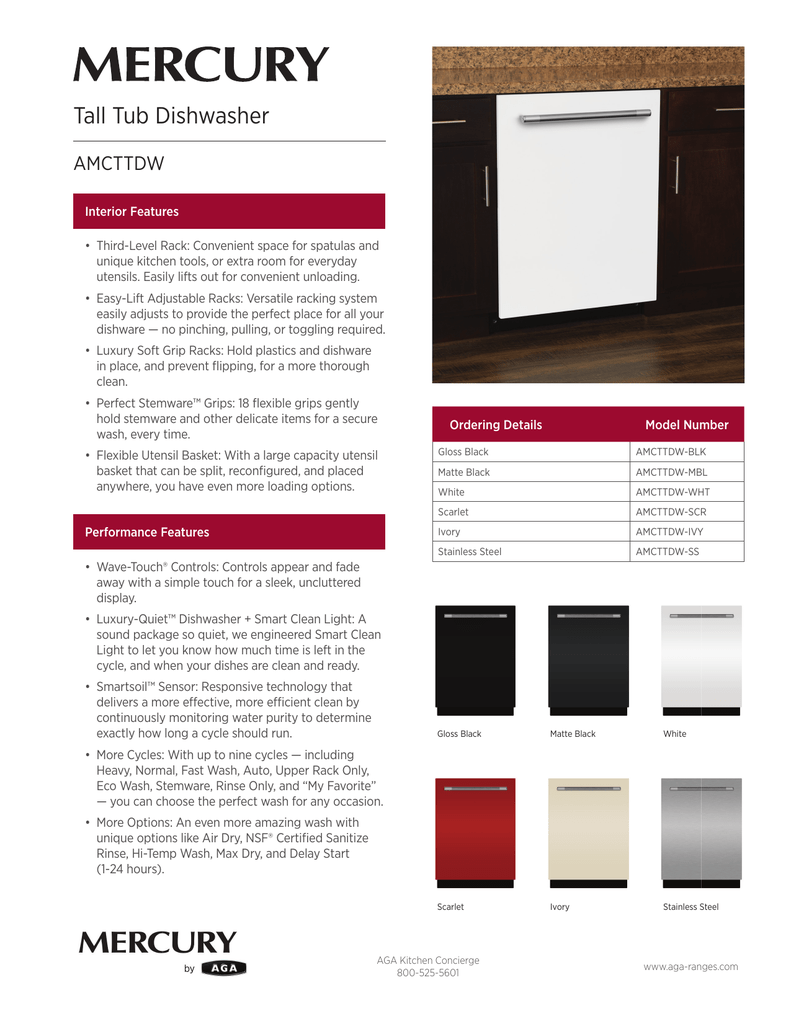 Tall Tub Dishwasher
AMCTTDW
Interior Features
• Third-Level Rack: Convenient space for spatulas and
unique kitchen tools, or extra room for everyday
utensils. Easily lifts out for convenient unloading.
• Easy-Lift Adjustable Racks: Versatile racking system
easily adjusts to provide the perfect place for all your
dishware — no pinching, pulling, or toggling required.
• Luxury Soft Grip Racks: Hold plastics and dishware
in place, and prevent flipping, for a more thorough
clean.
• Perfect Stemware™ Grips: 18 flexible grips gently
hold stemware and other delicate items for a secure
wash, every time.
• Flexible Utensil Basket: With a large capacity utensil
basket that can be split, reconfigured, and placed
anywhere, you have even more loading options.
Performance Features
Ordering Details
Model Number
Gloss Black
AMCTTDW-BLK
Matte Black
AMCTTDW-MBL
White
AMCTTDW-WHT
Scarlet
AMCTTDW-SCR
Ivory
AMCTTDW-IVY
Stainless Steel
AMCTTDW-SS
• Wave-Touch® Controls: Controls appear and fade
away with a simple touch for a sleek, uncluttered
display.
• Luxury-Quiet™ Dishwasher + Smart Clean Light: A
sound package so quiet, we engineered Smart Clean
Light to let you know how much time is left in the
cycle, and when your dishes are clean and ready.
• Smartsoil™ Sensor: Responsive technology that
delivers a more effective, more efficient clean by
continuously monitoring water purity to determine
exactly how long a cycle should run.
Gloss Black
Matte Black
White
Scarlet
Ivory
Stainless Steel
• More Cycles: With up to nine cycles — including
Heavy, Normal, Fast Wash, Auto, Upper Rack Only,
Eco Wash, Stemware, Rinse Only, and "My Favorite"
— you can choose the perfect wash for any occasion.
• More Options: An even more amazing wash with
unique options like Air Dry, NSF® Certified Sanitize
Rinse, Hi-Temp Wash, Max Dry, and Delay Start
(1-24 hours).
AGA Kitchen Concierge
800-525-5601
www.aga-ranges.com
Tall Tub Dishwasher
AMCTTDW
Depth
24¼"
Technical Details
Height (Adjustable*)
33-3/4" – 35-3/4"
Width
23-3/4
Depth
24-1/4"
Depth with 90° Door Open
50-1/4"
Panel-Ready
Power Supply Location
Water Inlet Location
T
Right Bottom Front
Left Bottom Front
Water Usage (Gallons) – Normal Cycle
4.0 – 8.0
Water Pressure (PSI)
15 – 120
Integral Air Gap on Supply
Voltage Rating
Connected Load
(kW Rating) @120 Volts
Amps @ 120 Volts
Shipping Weight (Approx.)
Target Wash Zones
Height
33¾"–35¾"
Yes
120V / 60 Hz
1.44
15
115 Lbs.
4
Wash Levels
5
Sound Level
45dB
Width 23¾"

* Your assessment is very important for improving the work of artificial intelligence, which forms the content of this project