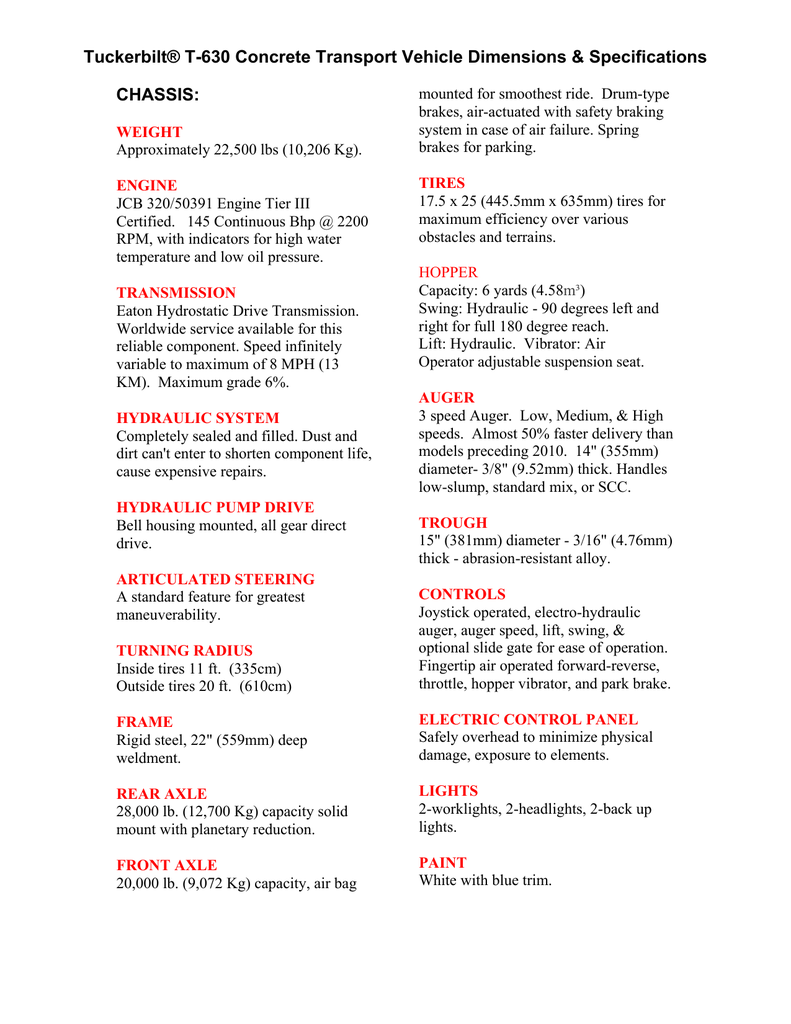 Tuckerbilt® T-630 Concrete Transport Vehicle Dimensions & Specifications
CHASSIS:
WEIGHT
Approximately 22,500 lbs (10,206 Kg).
ENGINE
JCB 320/50391 Engine Tier III
Certified. 145 Continuous Bhp @ 2200
RPM, with indicators for high water
temperature and low oil pressure.
TRANSMISSION
Eaton Hydrostatic Drive Transmission.
Worldwide service available for this
reliable component. Speed infinitely
variable to maximum of 8 MPH (13
KM). Maximum grade 6%.
HYDRAULIC SYSTEM
Completely sealed and filled. Dust and
dirt can't enter to shorten component life,
cause expensive repairs.
HYDRAULIC PUMP DRIVE
Bell housing mounted, all gear direct
drive.
ARTICULATED STEERING
A standard feature for greatest
maneuverability.
mounted for smoothest ride. Drum-type
brakes, air-actuated with safety braking
system in case of air failure. Spring
brakes for parking.
TIRES
17.5 x 25 (445.5mm x 635mm) tires for
maximum efficiency over various
obstacles and terrains.
HOPPER
Capacity: 6 yards (4.58m³)
Swing: Hydraulic - 90 degrees left and
right for full 180 degree reach.
Lift: Hydraulic. Vibrator: Air
Operator adjustable suspension seat.
AUGER
3 speed Auger. Low, Medium, & High
speeds. Almost 50% faster delivery than
models preceding 2010. 14" (355mm)
diameter- 3/8" (9.52mm) thick. Handles
low-slump, standard mix, or SCC.
TROUGH
15" (381mm) diameter - 3/16" (4.76mm)
thick - abrasion-resistant alloy.
TURNING RADIUS
Inside tires 11 ft. (335cm)
Outside tires 20 ft. (610cm)
CONTROLS
Joystick operated, electro-hydraulic
auger, auger speed, lift, swing, &
optional slide gate for ease of operation.
Fingertip air operated forward-reverse,
throttle, hopper vibrator, and park brake.
FRAME
Rigid steel, 22" (559mm) deep
weldment.
ELECTRIC CONTROL PANEL
Safely overhead to minimize physical
damage, exposure to elements.
REAR AXLE
28,000 lb. (12,700 Kg) capacity solid
mount with planetary reduction.
LIGHTS
2-worklights, 2-headlights, 2-back up
lights.
FRONT AXLE
20,000 lb. (9,072 Kg) capacity, air bag
PAINT
White with blue trim.

* Your assessment is very important for improving the work of artificial intelligence, which forms the content of this project