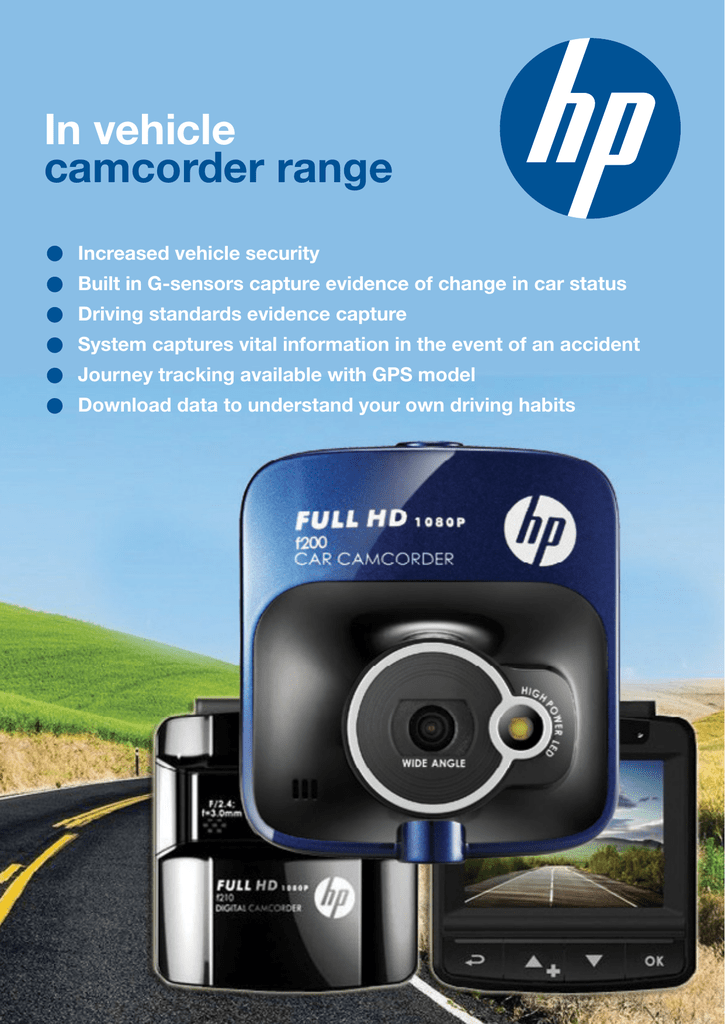 In vehicle
camcorder range
vehicle security
• Increased
in G-sensors capture evidence of change in car status
• Built
standards evidence capture
• Driving
captures vital information in the event of an accident
• System
tracking available with GPS model
• Journey
• Download data to understand your own driving habits
f200 and f210 in vehicle camcorders
• Full HD Camera (1920 x 1080 @ 30fps)
• 2.4" LCD colour screen
• Motion detector, built-in G Sensor
• Automatic emergency recording for collision detection
• Wide angle lens
Cameras you should never be without in your vehicle.
These compact full HD 1080p camcorders with a wide angle lens will capture all
of the important details of your trip. With built in force sensor triggering you will
never miss video when needed most, during an emergency. With the included
car charger these cameras are always ready to go.
Built-in 3-Axis G-Force and motion sensor.
The f200 and f210 come with a built in 3-axis force sensor which allows
handsfree recording in the event of a collision. This sensor automatically puts
the camera in record mode when the camera is jarred and saves the video in a
secure file folder. With the built in motion sensor setting, the camera can be set
up to record when motion is sensed, this makes for a great security camera.
Full HD 1080p video recording.
The f200 and f210 allow you to record video in full 1080p high definition enabling
you to capture key moments in crisp, clear detail and vivid colors. With the
SDHC card class 6 and above and up to 32GB of capacity you will have enough
storage to capture the HD videos.
Small size with a big view.
The f200 and f210 small size makes them perfect to carry in your vehicle so are
always available when needed. Even with the small size the f200 and f210 are
equipped with a 128 degree wide angle lens to make sure you capture all the
critical elements.
Flexible mounting bracket
The f200 and f210 come with a flexible mounting bracket which allow them to be
mounted in multiple location in the vehicle as well as other mobile environments.
The Compact Flagship - HP f210
The f210 has all the features listed above, plus this in-car camcorder has a
very compact form factor body and weighs only 78 grams. Even with the small
package HP f210 has a very powerful processor for video recording.
Plus the f210 has GPS navigation
Nowadays, in-car navigation systems, like GPS are clearly gaining popularity,
so it is not surprising that developers decided to equip HP f210 with a GPS chip.
Regardless of the selected recording mode, built in GPS is always tracking a
real time location and storing this information with the record. This feature will
be very useful on the road to determine the direction, route planning, plus you
can determine the exact time of the event.
UK Distributor
Nemesis GB Ltd 17 Great Western Business Park
McKenzie Way, Tolladine Road, Worcester, WR4 9GN
[email protected] Tel: 01905 720170
C
Copyright Nemesis GB Ltd 2013. All rights reserved. Prices shown are recommended retail including VAT where applicable and are correct
at time of going to press. You are advised to check cost and availability before purchasing. The photographs and descriptions of the
products are intended as a guide only and may be subject to change without notice. Reproduction in whole or in part is prohibited without
the written permission of the publisher, Nemesis GB Ltd.

* Your assessment is very important for improving the work of artificial intelligence, which forms the content of this project