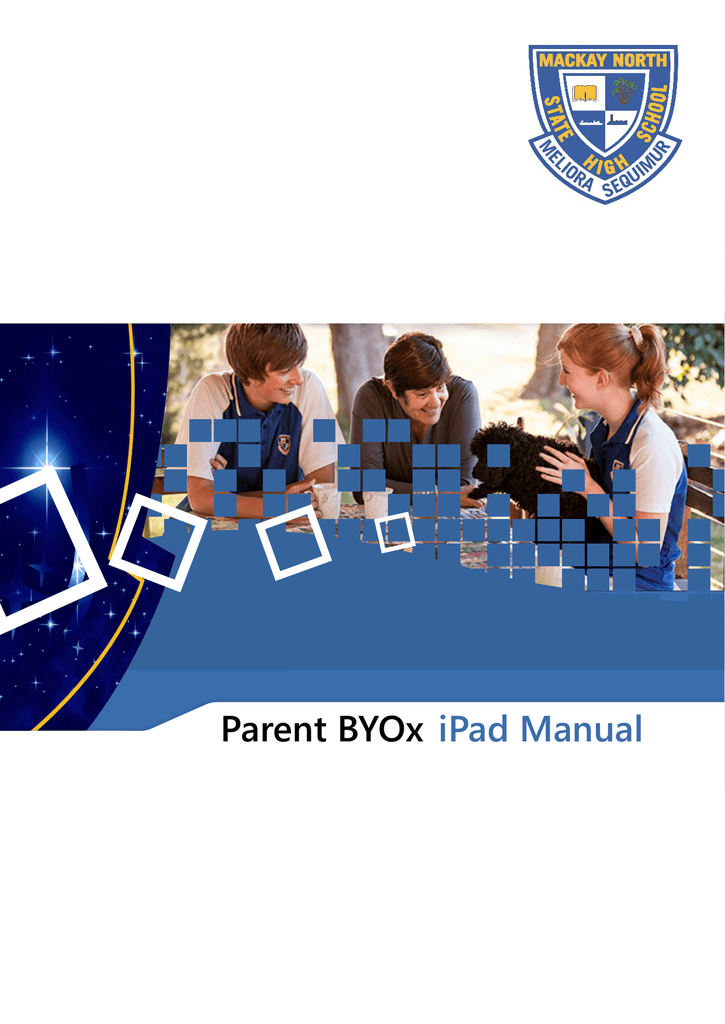 Parent BYOx iPad Manual
1.
2.
3.
4.
5.
6.
7.
8.
9.
10.
11.
12.
13.
14.
15.
16.
17.
18.
The Digital World.
School ICT Vision.
What is a BYOx iPad program?
Why do we need a BYOx program?
Is the BYOx program mandatory?
Minimum specifications for the iPad BYOx device.
Setting up an Apple ID for your child.
How to setup family sharing with Apple.
How to setup parental controls on your child's device.
Keeping your child's iPad software up to date.
Loss and Damage (what to do?).
Expectations of school use (acceptable use policy).
Helpful information regarding online etiquette and
behaviours.
Helpful information regarding cyber-safety, social media and
personal details.
Protecting the iPad from accidental damage.
Technical help at school.
Rules regarding iPad emails.
How to setup your child's iPad to connect to the school
wireless network.
1. The Digital World
Our students are living in a world where they have immediate access to
information anytime and anywhere.
With digital learning, every student can access high quality and rigorous
instruction, thereby maximising their opportunity for success in school
and beyond.
The Melbourne Declaration on the Educational Goals for Young
Australians (MCEETYA 2008) recognises that in a digital age, and with
rapid and continuing changes in the ways that people share, use, develop
and communicate with ICT, young people need to be highly skilled in its
use. To participate in a knowledge-based economy and to be empowered
within a technologically sophisticated society now and into the future,
students need the knowledge, skills and confidence to make ICT work for
them at school, at home, at work and in their communities.
2. School ICT Vision
Mackay North State High School is committed to equipping our students
for the future through innovation, creativity, collaboration and personal
success in their learning using ICTs.
We aim to also provide the best practice teaching that enables, enhances
and transforms student learning and outcomes through the use of ICTs.
3. What is a BYOx iPad program?
Bring Your Own 'x' (BYOx) is a new pathway supporting the delivery
of 21st Century learning. Bring Your Own 'x' (BYOx) is an initiative that
will allow students who have an iPad device to bring them to school,
and use them for educational purposes which meet their learning
needs under the direction of a teacher or administrator.
4. Why do we need a BYOx program?
The centrally driven and supported model for the supply of
technology resources in education is no longer a model which can be
provided to meet the future demands of teachers and students.
Mackay North State High School values the rich learning experiences
that tightly integrated interactions with technology brings. The
promotion and advancement of this integration is core to the
school's educational philosophies.
In implementing our Bring Your Own Device (BYOx) policy, Mackay
North State High School empowers its students and gives them direct
involvement in the way they use technology in their learning. At the
same time, BYOx enables teachers to build on their experiences from
the previous centrally-delivered model and adapt to this new BYOx
environment, without losing the core technological capabilities on
which they have been able to rely.
5. Is the BYOx program mandatory?
Yes. Due to the deep integration of ICTs inside the school's core
teaching philosophies, it would be difficult for students who do not
participate in the BYOx program to achieve optimal learning
outcomes.
6. Minimum specifications for the iPad
BYOx device.
Because iPad models change from year to year and specifications
change, the most broad requirements for our iPad BYOx program are
listed below:
● The iPad device must be capable of running the latest version
of the IOS operating system (Greater than IOS 9).
● The device must have a reasonable amount of storage space
(Greater than 32GB of space is advised).
● A 7" iPad Mini or a 10" iPad Air is equally suitable for the BYOx
program, but if cost is a concern we recommend the iPad Mini
as it is more cost effective. We do not recommend an iPad Pro
at this time.
● The device you purchase is also recommended to be installed in
a highly damage resistant and protective shell/case to avoid it
breaking from day to day use (See chapter 15).
● We also highly recommend the purchase of AppleCare+ or
damage insurance to mitigate costs associated with accidental
damage of your child's device.
7. Setting up an Apple ID for your child.
As a parent or guardian, you want the best learning environment for
your student - One that makes learning relevant for each student and
allows for creativity, collaboration, and critical thinking. With an iOS
device like an iPad, students always have access to the content they
need—no matter where they are. To access all the great content
available in the App Store, iBooks Store, and iTunes U, as well as
materials they create, your child will need an Apple ID. Parents have
several options when sorting out an Apple ID for their child which are
listed below:
● You may simply use an existing family based Apple ID for the
BYOx program and add that to the new device.
● If your child is over the age of 13, you can go to the following
website and create a new individual Apple ID for your child (You
must have an email address for the creation of an Apple ID).
https://appleid.apple.com/account
● You may also perhaps consider the option of using Family
Sharing which allows a parent who has an existing Apple ID to
create a family unit of IDs and create an Apple ID, even for
children under the age of 13. The family sharing option also
allows parents to have more control over what is occurring on
your child's device. (See the next section for more specific
instructions.)
NOTE: The apple ID username and password for apple devices is
extremely important, so we recommend that these details are written
down and kept in an extremely safe place. This way, they should not
be forgotten.
8. How to setup family sharing with
Apple.
Family Sharing makes it easy for up to six people in your family to share
each others iTunes, iBooks and App Store purchases without sharing
accounts. It allows payment for family purchases with the same credit
card and gives the ability to approve kids' spending straight from a
parent's device. Family sharing also gives the family the ability to share
photos, share a family calendar and more to help keep everyone
connected.
With Family Sharing, one of the great benefits is that children under 13
years of age can have their own Apple IDs. As a parent or legal guardian,
the organiser creates the child's Apple ID and adds the child to the
family group. For your child's device, "Ask to Buy" is turned on by
default, and the organiser can also limit the content the child's account
has access to on their devices through Restrictions on an iOS device.
The Family Sharing setup
process for separate Apple
IDs is shown below. NOTE:
A permanent credit card
must be added to the
organiser's
Apple
ID
account for the creation of
sub-accounts under family
sharing. This is required for
the continued checking of
the
family
organiser's
identity.
Step 1: Go to Settings > scroll down and tap on iCloud.
Step 2: If you're setting up Family Sharing for the first time, tap on
Set Up Family Sharing.
Step 3: Tap on the Get Started at the next
screen.
Step 4: Now tap on Continue, if you want
to continue with the logged in iTunes
account, or tap on the want to use a
different ID at the bottom of the screen to
change your iTunes account.
Step 5: At the next screen, tap on Continue
to confirm Share purchases. Again, press
continue at the next screen to confirm your
payment details.
Step 6: At the next screen, select Share Your
Location, if you would like to share your
location with your family members, or
choose Not Now.
Step 7: After this, tap on Add Family
Member.
Step 8: Enter the Apple ID of the person you
want to add to the Family Sharing and then
tap on Next. An invitation to join the
sharing will be sent to this Apple ID.
You can repeat the process to add more
family members to the Family Sharing.
Here's something you should note though:
every member in the Family Sharing club
needs to have the same credit card data as
the main account holder. Every purchase
"request" is sent to you for your approval.
So if your child decides to purchase a
game, you will get a notification
(lockscreen, alert) requesting your
permission. If you decline, that purchase is
not made.
9. How to setup parental controls on your
child's device.
Restrictions inside the settings' app on an iPad allow you to set devicewide restrictions that will always be enforced. For example, you could
prevent your children from ever using certain apps, prevent them from
installing new apps, disable in-app purchases, only allow them to install
apps with appropriate ratings, prevent access to certain websites, and
lock down other settings. Settings you select here can't be changed
without the PIN you provide.
To set up Restrictions on your child's iPad, open the Settings app and
navigate to General > Restrictions. Enable Restrictions and you'll be
prompted to create a PIN that you'll need whenever you change your
Restrictions' settings.
From here, you can scroll down through the list and customise the
types of apps, content, and settings you want your children to have
access to.
For example, to enforce content ratings, scroll down to the Allowed
Content section. Tap the apps section and you can choose which types
of apps your child can install. For example, you could prevent them
from installing apps with the "17+" age rating.
Tap the Websites option and you'll
be able to block the Safari browser
from loading certain types of
websites. You can limit access to
certain types of adult content or
choose to only allow access to
specific
websites.
You
can
customise which exact websites are
and are not allowed, as well.
If you wanted to block access to the
web entirely, you can disable access
to the Safari browser and disable the Installing Apps feature, which would
prevent your children from using the installed Safari browser or installing
any other browsers.
Other settings allow you to lock certain privacy and system settings,
preventing them from being changed. For example, you could prevent
your child from changing the Mail and Calendar accounts on the device.
Near the bottom, you'll also find options for Game Centre — you can
prevent your child from playing multi player games or adding friends in
Apple's Game Centre app.
The settings you choose will always be enforced until you enter the
Restrictions screen in the settings, tap the Disable Restrictions option, and
provide the PIN you created.
10. Keeping your child's iPad software up to
date.
iOS iPad software updates introduce new features that let you do even
more with your iPad. Be sure to keep your devices up to date so that
your child doesn't miss out on all the latest features and bug fixes. It is
highly recommended to update the iPad regularly.
Before you update your iPad.
Back up your device to iCloud or iTunes.
There are two ways to keep your iPad up to date.
1. Update your iPad device Wirelessly.
2. Update your iPad device through iTunes.
NOTE: If you have a mobile broadband enabled iPad and use your device's Personal Hotspot
capabilities for your iTunes computer's Internet connection, update your iPad device wirelessly or
connect your iTunes computer to another network through ADSL broadband before proceeding.
1. Update your iPad device wirelessly.
The easiest way to update your device is wirelessly, also called "over the
air." Here's how:
● Plug in your iPad device to a power source.
● Tap Settings > General > Software Update.
● Tap Download and Install. Updates might download automatically
while your device is connected to Wi-Fi and a power source.
● Tap Install, or tap Later to install the update later. If you use a
passcode, you'll need to enter it before installing the update.
2. Update your iPad device using iTunes.
If you can't update your iPad wirelessly, or if you want to update with
iTunes, follow these steps:
● Install the latest version of iTunes on your computer.
● Plug in your device to your computer.
● In iTunes, select your device.
● In the Summary pane, click Check for Update.
● Click Download and Update.
Note: If you don't have enough free space on your iPad to update using
iTunes, you'll need to delete content manually from your device.
11. Loss and Damage (what to do?).
1. Dealing with Loss.
To help in the case of your child's iPad device being misplaced and assist
with its recovery, we advise very strongly that parents have location
services activated on the iPad and that you have personally activated the
"Find my iPhone" feature by toggling that feature inside the iCloud
settings on the iPad.
This will allow you to navigate to the following web page and locate your
device. You should test this functionality before allowing it to come to
school as a security precaution.
http://www.icloud.com/find
Note: If your child's device has been lost, please also notify the school immediately
and we will assist you as much as we can in trying to locate and return it.
2. Dealing with Damage.
When you purchase an iPad for your child, we
recommend that you purchase an "AppleCare+"
plan which provides two years of expert
telephone technical support and additional
hardware coverage from Apple, including up to
two incidents of accidental damage coverage,
each subject to a small service fee. Repairing a broken screen without
damage insurance can be an expensive exercise, but there are many iPad
repair agents in Mackay who can do this for you. (Consult the Yellow
Pages for repairers.)
To prevent accidental damage in the first place and to reduce the
severity of damage to your child's device when dropped, we recommend
that you purchase an iPad case with excellent protective qualities.
(Please see Chapter 15 for our protective case recommendations.)
12. Expectations of school use (acceptable
use policy).
All students using iPads to support their learning at Mackay North State
High School are required to comply with the following expectations
regarding their use. Students not meeting these expectations will be
dealt with according to school's Responsible Behaviour Plan.
Digital Access and Use
● Students will be responsible for the care and maintenance of their
iPad. The school takes no responsibility for any damage or loss of
a student's iPad. Parents are advised to take an extended Apple
warranty for their iPad and to ensure the iPad is covered under
their home insurance.
● Students must ensure their iPad is fully charged before bringing it
to school each day.
● The iPad must be carried in a protective cover at all times and
stored safely in either the student's school bag or locker when not
in class use.
● Students must regularly backup their iPad to the home computer
or cloud storage.
"
Digital Access and Use (continued)
● Students must not leave their device in any place where it may be
easily stolen.
● Students are to report any software or hardware issues as soon as
possible.
● Students need to have their iPad passcode protected so that no
other student can access the iPad. Passcodes must not be shared
and iPads are never to be leant to another student.
● On days such as swimming and athletics carnivals, excursions,
camps or any major school event, students must leave their iPads
at home (unless otherwise specified by the teacher).
● Students must only use camera and audio recording functions at
the direction of their teachers and are reminded that they must
not publish photographs to any online network with malicious
intent.
During Lessons
Your iPad is a teaching and learning tool. To make the most of learning
time, the following routines for the use of your device have been
developed:
● Wait to use your iPad and only open apps when your teacher
instructs you to do so.
● Make sure your iPad is connected to the school wireless system
ensuring you are ready to work before class.
● Communicating with other students, using your device, during
learning time is not permitted unless under direct instruction from
your teacher.
● Projecting your own device onto a teacher's laptop or projector
through AirServer, Reflector or AppleTV may only occur after
direct teacher instruction to do so.
● Your device cannot be used during
exams, unless you are otherwise
instructed.
● Students are not permitted to take a
photo of any assessment task sheet or
exam without approval.
● Ensure at least 1 GB of storage capacity
is available at all times for use in
learning activities.
Communicating with others
Your iPad will be an invaluable tool for connecting you to vital
information within and beyond the school and there are some routines
and procedures required to ensure the most appropriate use of the
device in an educational setting:
● Remember respectful communication conventions should be used
at all times, either on the iPad or when using other communication
methods (see chapter 13).
● Students have been supplied with an Education Queensland email
address. This must be the only email service used when
communicating with teachers and peers at school.
● Email or other forms of communication, including Bluetooth
(e.g. Airdrop), may only be used during class time when directly
instructed to do so by a teacher.
Use in and around the school
As learners, we must ensure we are ready and prepared to learn. This
includes ensuring our ICT equipment is functional and in good working
order.
● While at school, iPads should be used for educational purposes.
This includes the use of camera and video devices. The use of these
devices is only permitted under teacher direction.
● Ensure your devices are fully charged before school and have
enough battery life for all class periods to complete required work.
● iPads should be stored in school bags when moving between
classes or around the school.
● To avoid damage, food and drinks should be kept away from ICT
equipment.
● Your device is for your use only. Do not share it with others.
Cyber Safety and Security
In eget sapien
vitae massa
rhoncus
lacinia. Nullam
at leo nec
The safety of our students when working in an online environment is a
high priority:
● Ensure your cyber safety by keeping your personal details,
including username, password, address or phone number private.
● Your account details need to be kept private. It is not appropriate
to share these details with another student.
● In line with cyber safety guidelines, ensure you do not store, send
or upload photos of yourself, other students, teachers or visitors
to the school under any circumstances.
● Social media (e.g. Facebook, AskFM, Instagram, Twitter, SnapChat
etc.) must not to be accessed while at school.
● All activities on the school network, including internet history, may
be stored accessed and monitored by authorised EQ staff to
determine your compliance with this agreement.
● Hacking or attempting to hack the network and other accounts,
and bypassing network security or filtering are seriously
inappropriate uses of ICT equipment and will incur consequences.
● Downloads of large files, videos or images through the school
network will affect the use of the network for others. Internet
download limits may be put in place by the school.
● The publishing of inappropriate or abusive material about staff,
students or the school in any public or school domain including
the Internet is a breach of the school's behaviour plan for students.
● The viewing, scanning, storing, transmitting, forwarding, printing,
playing etc. of inappropriate images, video, audio or email is
strictly prohibited. This applies to anything that could cause
offence to others and anything that is disruptive to an activity.
13. Helpful information regarding online
etiquette and behaviours.
In modern society, we expect students to be good digital citizens and
be mindful of netiquette. Listed below are some bullet points that
should be discussed and understood when interacting digitally.
● Respect others and their opinions. It is important to respect
feelings and opinions of people from various backgrounds in
online learning environments.
● Tone Down Your Language. Given the absence of face-to-face
clues, written text can easily be misinterpreted. Avoid the use of
strong or offensive language and the excessive use of exclamation
marks. If you feel particularly strongly about a point, it may be
best to write it first as a draft and then to review it, before posting
it.
● Pick the right tone. Since we depend on the written word in online
learning, it is especially important to choose the right words to
convey your meaning.
● Keep a Straight Face. In general, avoid humour and sarcasm. These
frequently depend either on facial, or tone of voice, cues absent
in text communication, or on familiarity with the reader.
● Consider others' privacy. Ask for permission if you want to
forward someone's email messages to third parties. Keep in mind
that all private email mail is considered copyrighted by the
original author.
● Avoid inappropriate material.
● Be forgiving. If someone writes something that you find offensive,
mention this directly to the teacher. Remember that the person
contributing to the discussion might be new to this form of
communication. What you find offensive may quite possibly have
been unintended and can best be cleared up by the teacher.
● Think before you hit the send button.
● Check grammar, punctuation and spelling carefully before
sending.
● Test for Clarity. Messages may often appear perfectly clear to you
as you compose them, but turn out to be perfectly obtuse to your
reader. One way to test for clarity is to read your message aloud
to see if it flows smoothly. If you can read it to another person
before posting it, even better.
● Brevity is best. Be as concise as possible when contributing to a
discussion. Your points might me missed if hidden in a flood of
text.
● Stick to the point. Contributions to a discussion should stick to
the subject. Don't waste others' time by going off on irrelevant
tangents.
● Frivolous email. Don't forward jokes, "chain letters" or
unimportant email to other students without their permission.
Not only does it fill up their mailboxes but it may offend people
who do not share the same sense of humour or who are tired of
these types of email.
● Read First, Write Later. Don't add your comments to a discussion
before reading the comments of other students, unless the
assignment specifically asks you to. Doing so is tantamount to
ignoring your fellow students and is rude. Comments related to
the content of previous messages should be posted under them
to keep related topics organised, and you should specify the
person and the particular point you are following up on.
● Net speak. Although electronic communication is still young,
many conventions have already been established. DO NOT TYPE
IN ALL CAPS. This is regarded as shouting and is out of place in a
classroom. Acronyms and emoticons (arrangements of symbols to
express emotions) are popular, but excessive use of them can
make your message difficult to read.
14. Helpful information regarding cybersafety, social media and personal details.
Cyber Bullying
Cyber bullying is the use of technology to bully a person or group.
Bullying is repeated behaviour with the intent to harm others.
Behaviour may include:
1. Abusive texts and emails
2. Posting unkind or threatening messages, videos or images on
social media websites
3. Imitating or excluding others online
4. Inappropriate image tagging
For many teenagers, their online life is an important part of their
social identity. Many young people fear that parents might take away
their devices and refuse access to the internet and so do not report
cyber bullying to their parents. Teenagers are also often concerned
that parents' actions will make cyber bullying issues worse, so it is
important to remain calm and supportive. Trolling is when a user
intentionally causes distress by posting inflammatory comments
online. Trolling differs from cyber bullying in that trolls aim to gain
attention and power through disruption of conversation by
encouraging a defensive reaction from those they attack. Cyber
bullying usually focuses less on the reaction of the victim, and more
on the feelings and authority of the bully. Cyber bullying is usually
repeated behaviour, while trolling can be one-off.
What can I do about cyber bullying?
● Talk to them about cyber bullying before it happens. Work out
strategies to address any potential issues and reassure your
child that you will be there to support them.
● Advise your child not to reply to any messages from a bully.
Often if bullies don't receive a response they will give up.
● Learn how to block a bully so they are no longer able to make
contact.
What can I do about cyber bullying? (Continued)
● Keep a record of harassing messages in case authorities become
involved. Put them somewhere your child won't continue to see
them.
● Contact the website administrator or use the reporting function
to ask for content to be removed or to report harassment.
● Talk to your child's school if cyber bullying involves another
student. The school should have a policy in place to help manage
the issue.
● Remember that if your child has been involved in cyber bullying
and seems distressed or shows changes in behaviour or mood, it
may be advisable to seek professional support, including through
the Cyber smart Online Help line listed below.
http://cybersmart.gov.au/
Social Media
Social networking describes a variety of services like Facebook,
YouTube, Instagram, World of Warcraft, Moshi Monsters, Twitter, Skype,
Snapchat, Minecraft and many others. All of these services enable direct
interaction between individuals. Users can post information about
themselves, display photos, tell people what they've been up to, chat
and play games. Social networking forms a part of the social identity of
many teenagers.
Grooming
Online grooming is the illegal act of adults making contact with a child
online for the purpose of establishing a sexual relationship. Often this
will be via a social networking site, but it may also be through other
online services.
What can I do about Social Media issues?
Stay involved in your child's use of new technology. Set up your own
account and learn about privacy settings so you can understand how
you can best protect your child. It can be fun for you too! Mainstream
sites like Facebook, Instagram and others require the user to be 13 or
older.
What can I do about Social Media issues? (Continued)
● Check the age restrictions for the social networking service or
game. Some social networking sites (such as Club Penguin) are
created especially for children under the age of 13, but most
mainstream sites like Facebook, Instagram and others require the
user to be 13 or older.
● Advise children to set their accounts to private so that only people
they want to see it can view their information.
● Encourage children to think before they put anything online.
Information posted online can be difficult or impossible to
remove. An inappropriate image posted today can have a long
term impact on their digital reputation.
● Show them how to set up location services on their phone so they
are not inadvertently broadcasting their location.
● Remind children to be careful when making new friends online;
people may not be who they say they are. Never arrange to meet
an online friend unless a trusted adult is with them.
● Report any abuse or inappropriate content to the social
networking site and show children how to do this too.
● Learn how to keep a copy of online conversations and how to
block people prior to an issue occurring.
15. Protecting the iPad from accidental
damage.
Protecting your child's iPad device is extremely important and is
something that is well worth spending extra money on to protect your
family's ICT investment from any sort of physical damage which can be
costly to repair. In chapter 11.2, we outlined the importance of having an
AppleCare+ plan or some other type of accidental damage insurance
which provides you some level of cost protection from accidental
damage incidents. This insurance will reduce the costs associated with a
break event once it has occurred. This chapter will focus on the
importance of buying an excellent iPad case that will help prevent wear
and tear and minimise the possibility of breakages before they happen.
Please find some school recommendations for appropriate
iPad cases for your child's device shown below.
Griffin iPad Cases
Griffin Survivor cases come with an excellent reputation for damage
protection and wear and tear. These cases may also be purchased at
a local retailer but they may differ in price. When you purchase your
case online you can also select from a range of colours so your child
can individualise their case to their preferred liking. The website
below offers online sales.
https://store.griffintechnology.com/ipad
Trident Cases
The Trident case range is quite extensive and has several models to
select from depending on the model of iPad your child has for our
program.
The Kraken A.M.S. case can be obtained for differing models and is
particularly recommended. It can be purchased online at:
http://www.tridentcase.com/shop-products/apple/
Otterbox Defender Cases
Otterbox sells many types of cases for each iPad model, though we
only recommend the Defender range of cases which have the
protective qualities that we require for day to day school use.
http://www.otterbox.com/
16. Technical help at school.
The Technology department at school is here to help you and your
child with all ICT related enquiries and problems. If your child has a
technical problem, please encourage them to come to the Technology
helpdesk in the library as a first point of call.
Listed below are some of the things we can help you and your child
with.
● Parents having trouble setting up the iPad for your child.
● Parents having trouble creating an Apple ID.
● Your child is having trouble downloading the required school
iPad App List.
● Your child is having problems connecting to the school wireless
network.
● Your child is having trouble with printing from the iPad.
● Your child is having trouble with his/her school username and
password.
● Your child is having trouble downloading all the school provided
textbooks on the iPad.
● General enquiries about the use of the iPad.
If you have any concerns about anything at all please find our contact
details listed below.
Technology counter hours: 8 AM - 3:30 PM in 1500 block
Phone Number:
(07) 49 631636
Email address:
tech@macknortshs.eq.edu.au
17. Rules regarding iPad emails.
Emailing in the modern world is a vital form of communication, one that
students and teachers will be using frequently to send school work back
and forth over the course of a student's time at school. To enable this
sort of communication in a safe setting, Education Queensland has
provided every student with an individual
email account which has possibly been
provided to your child in primary school.
The technology support staff at Mackay
North State High School can assist with
providing this information if the student
does not know this email address. (See
chapter 16)
Students
must
use
the
Education
Queensland email account to communicate
electronically within our school environment. Students can of course
have other email accounts attached to their iPads, but each must be a
secondary account. A big benefit of the email system as provided by
Education Queensland is that it is monitored and filtered for
inappropriate use and is the only email system the department will allow
to work from within the wireless network.
18. How to setup your child's iPad to connect
to the school wireless network.
Meraki is a mobile device management (MDM) solution
that allows organisations such as ours to centrally
manage iOS devices such as iPads. This functionality
allows us to automate many of the processes that
would otherwise have been done manually, such as
network connections and school purchased App
installations. Using Meraki allows us to take some of the stress out of
setting up a new BYOx iPad on behalf of every parent and student. Meraki
Systems Manager is a totally free app available from the iTunes App store
and should be fairly easy to install.
Step one: Update your child's iPad.
In order to smoothly transition into our school network, it is advisable
that your child's iPad software and all your currently installed apps be
updated to the very latest version. Updates to both the iPad operating
system and individual Apps are regularly distributed by Apple. Whenever
a new version of software is available, you are encouraged to upgrade
which may add new features to your iPad or remove any bugs that you
may have been experiencing previously.
The minimum version of iPad software we are expecting at this time is iOS
version 8.3. The iPad software can be updated by plugging your device
into iTunes or updated directly from the iPad if you have connected it to
your home wireless network. If a new version of the software is available,
it will then prompt you for your permission to install.
Step two: Name the iPad appropriately.
In order to identify your child's iPad amongst all the other student BYOx
iPads, it is very important to name the iPad so that it can be easily
identified as your child's device. This naming assists us in providing
subject or class based apps to your device. We recommend that you use
your child's full name e.g. "John Smith's iPad" as a naming convention.
The naming of the device can either be done via iTunes when plugged
into your home computer, or alternatively on the device itself.
The easiest method to rename the device is on the iPad itself and you can
do this by going into the Settings app.
Once you have opened the Settings app, navigate to
"General" -> "About" -> "Name"
At this location you can then change your child's
iPad name to meet the criteria explained above.
Step three. Installing the Meraki App.
There are a two ways to obtain the Meraki App for your new iPad. The
first option uses your home computer with iTunes and the second
method allows it to be installed directly from the iPad itself. The
method of installation is an entirely personal preference.
Method One.
Connect to the following URL on your home computer (iTunes must
be installed).
https://itunes.apple.com/au/app/meraki-systemsmanager/id472572194
Once you have gone to this URL, you will see the following screen.
Then click on the
button on the web page and it will
automatically display the next window as shown below.
On this window please click the allow button. This will open iTunes on
your computer and display the Meraki App for you to add to your
iTunes account.
Click the free button and follow the prompts to download the Meraki
App into your iTunes library. Once the Meraki app is loaded into your
iTunes library, please sync your iPad to your iTunes library and add the
Meraki App to your iPad. This is the end of method one.
Method Two.
Open the App Store icon on your iPad itself. Look for the icon
resembling this picture.
Once the App Store is open, please search for the word Meraki as shown
below.
The results of the Meraki App search should be shown as below.
Select the free Meraki Systems Manager app to install the app on your
iPad. You will now be prompted for your iTunes' password. The Meraki
app should now install automatically. This is the end of the second
installation method.
Step four: Enroling your iPad with Meraki.
On your iPad, open the Meraki App.
The school's Meraki Enrolment code is:
085-714-3804
You may either enter this code manually or you can use the iPad camera
to scan the following QR Code.
Click the enrol button after inputting the code and accept the
following prompts.
1.
Profile Installation prompt one (Click OK).
2.
Install Profile prompt two (Click Install).
3.
Install Profile prompt three (Click Install).
4.
Install Profile prompt four (Click Install).
5.
Install Profile prompt five (Click Trust).
6.
Install Profile prompt six (Click Done)
7.
Location Services prompt seven.
(Optional Choice)
Allowing Meraki to access the iPad's
location could potentially allow us to
assist you in locating the device if it is
misplaced. If you would prefer location
services not to track the device, you can
of course choose to deny Meraki access
to its location. This option is entirely set
at the discretion of the user and can be
changed at any time.
8.
Enrolment is complete when the tick is shown next to enrolment
status as shown below.
9.
When Meraki is working correctly, school apps will be displayed
under the Managed Apps section of Meraki. Our default App booklist
will then automatically begin downloading Apps by asking to be
installed individually. If the download does not happen automatically,
please click on each of the app icons when connected to the Internet
to begin the installation process. The pictures of what the app list
looks like inside Meraki, and the prompt to install, is printed on the
following page.
Once all the Apps have populated onto your child's device,
you have finished the BYOx iPad setup process. The
Technology team hope you have also found our BYOx parent
manual helpful and please don't hesitate to contact the school
regarding any problems you or your child may be
experiencing.
Regards,
The Mackay North State High School technology team.