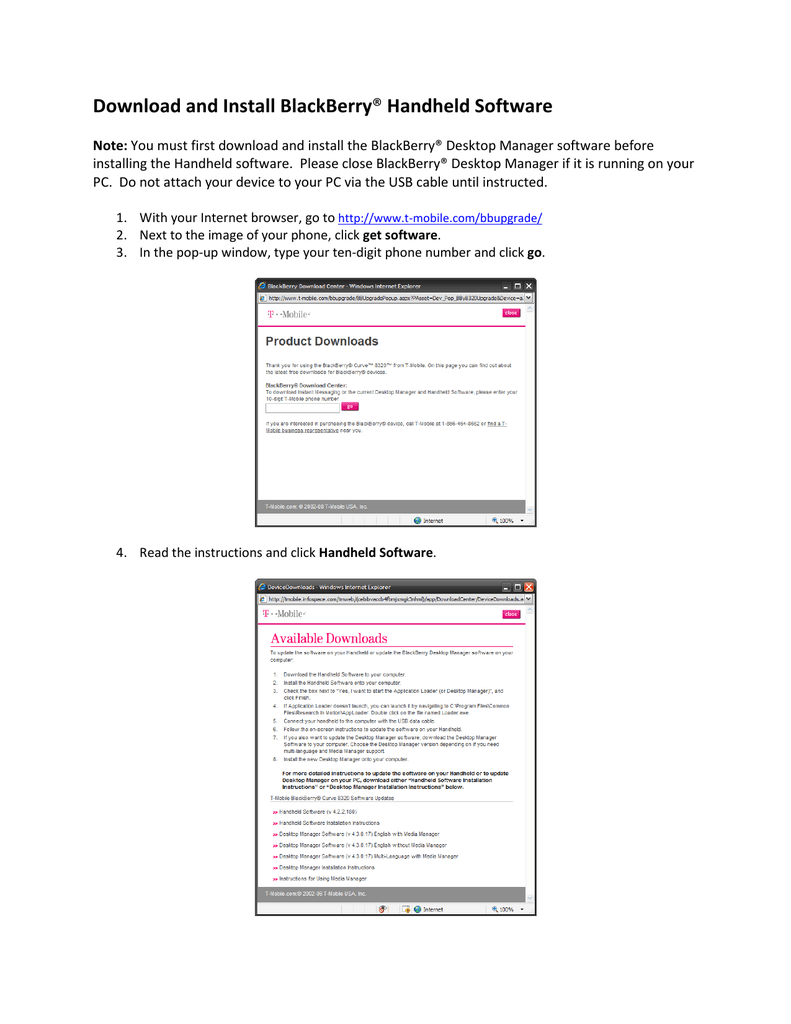 Download and Install BlackBerry® Handheld Software
Note: You must first download and install the BlackBerry® Desktop Manager software before
installing the Handheld software. Please close BlackBerry® Desktop Manager if it is running on your
PC. Do not attach your device to your PC via the USB cable until instructed.
1. With your Internet browser, go to http://www.t-mobile.com/bbupgrade/
2. Next to the image of your phone, click get software.
3. In the pop-up window, type your ten-digit phone number and click go.
4. Read the instructions and click Handheld Software.
5. Follow the instructions and verify your current software version.
Note: If you have the current Desktop Manager Software version you do not need to download
and install the BlackBerry® Desktop Software.
6. Click Download.
7. Click Save File or Save and save the file in the desired location.
8. Navigate to and then double-click the saved file to launch the BlackBerry® Handheld Software
Installation program.
9. Select the setup language and click OK.
10. Click Next.
11. Select region and click Next.
12. Read the License Agreement and select the radio button next to I accept the terms in the
license agreement. Then, click Next.
13. Click Finish.
Note: If Desktop Manager does not launch, click Start > Programs > BlackBerry > Desktop Manager.
14. Connect your BlackBerry® device to your PC using the USB cable.
15. Once the handheld software is installed and you have connected your BlackBerry device to
your PC, you may see an Application Updates Available pop-up window. If this occurs,
please click Update Now. If this does not occur, double click on the Application Loader icon.
16. To back up the data on your BlackBerry, under Data preservation and device backup, click
Options.
17. Place a check in the check box next to Back up device data automatically during the
installation process. Click OK.
18. Click Next.
19. A summary of updates to be installed appears. Click Finish.
Update your e-mail setup:
•
•
If you use BlackBerry Internet E-mail to access your personal e-mail accounts, turn on your
BlackBerry device wireless service. Press the Menu key, scroll to and select Turn Wireless
On. Next scroll to and select Set up Internet E-mail, and select Send Service Books.
If you use BlackBerry Enterprise Server for your corporate e-mail, contact your IT
department if you need assistance.

* Your assessment is very important for improving the work of artificial intelligence, which forms the content of this project