No category
SETTING UP THE SENSOR BAR FOR THE NINTENDO WII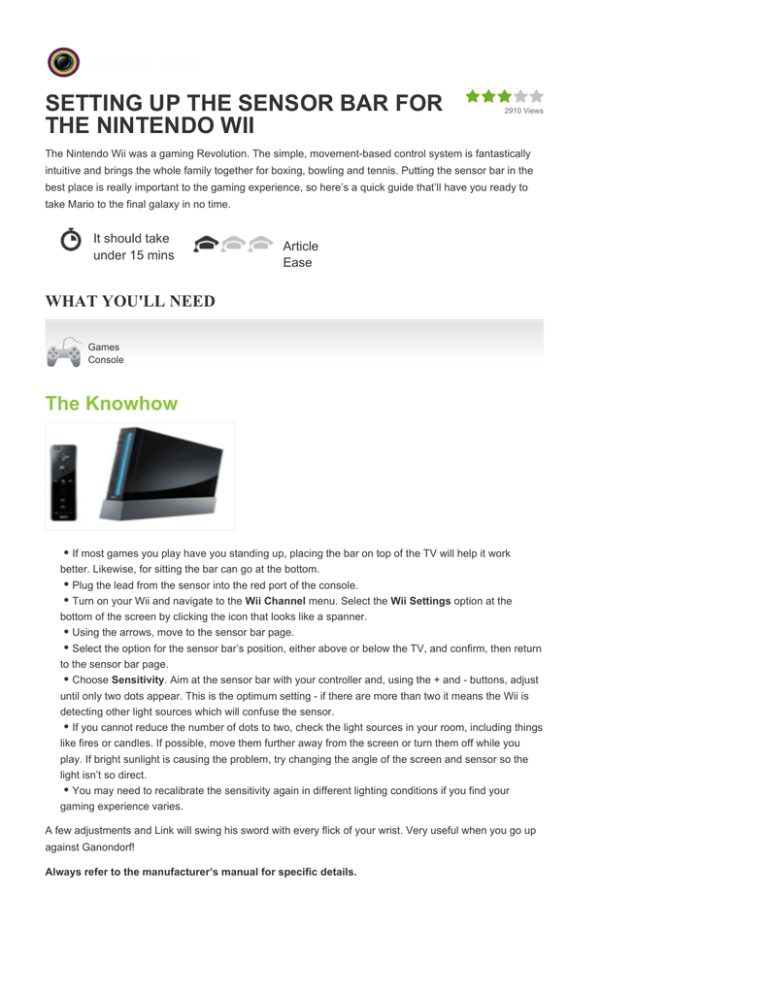 SETTING UP THE SENSOR BAR FOR
THE NINTENDO WII
Rating
3out
of 5
2910
Views
The Nintendo Wii was a gaming Revolution. The simple, movement-based control system is fantastically
intuitive and brings the whole family together for boxing, bowling and tennis. Putting the sensor bar in the
best place is really important to the gaming experience, so here's a quick guide that'll have you ready to
take Mario to the final galaxy in no time.
It should take
under 15 mins
1
Article
Ease
WHAT YOU'LL NEED
Games
Console
The Knowhow
If most games you play have you standing up, placing the bar on top of the TV will help it work
better. Likewise, for sitting the bar can go at the bottom.
Plug the lead from the sensor into the red port of the console.
Turn on your Wii and navigate to the Wii Channel menu. Select the Wii Settings option at the
bottom of the screen by clicking the icon that looks like a spanner.
Using the arrows, move to the sensor bar page.
Select the option for the sensor bar's position, either above or below the TV, and confirm, then return
to the sensor bar page.
Choose Sensitivity. Aim at the sensor bar with your controller and, using the + and - buttons, adjust
until only two dots appear. This is the optimum setting - if there are more than two it means the Wii is
detecting other light sources which will confuse the sensor.
If you cannot reduce the number of dots to two, check the light sources in your room, including things
like fires or candles. If possible, move them further away from the screen or turn them off while you
play. If bright sunlight is causing the problem, try changing the angle of the screen and sensor so the
light isn't so direct.
You may need to recalibrate the sensitivity again in different lighting conditions if you find your
gaming experience varies.
A few adjustments and Link will swing his sword with every flick of your wrist. Very useful when you go up
against Ganondorf!
Always refer to the manufacturer's manual for specific details.

* Your assessment is very important for improving the work of artificial intelligence, which forms the content of this project