PT-AT5000E Full HD 3D Home Cinema Projector - Beamer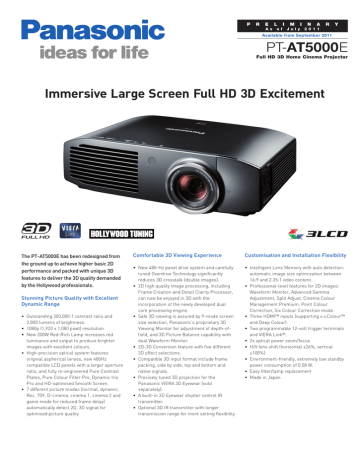 P
R
E
As
L
of
I
M
July
I
N
A
2011
R
Y
Available from September 2011
PT-AT5000E
Full HD 3D Home Cinema Projector
Immersive Large Screen Full HD 3D Excitement
The PT-AT5000E has been redesigned from
the ground up to achieve higher basic 2D
performance and packed with unique 3D
features to deliver the 3D quality demanded
by the Hollywood professionals.
Stunning Picture Quality with Excellent
Dynamic Range
• Outstanding 300,000:1 contrast ratio and
2,000 lumens of brightness.
• 1080p (1,920 x 1,080 pixel) resolution
• New 200W Red-Rich Lamp increases red
luminance and output to produce brighter
images with excellent colours.
• High-precision optical system features
original aspherical lenses, new 480Hz
compatible LCD panels with a larger aperture
ratio, and fully re-engineered Pure Contrast
Plates, Pure Colour Filter Pro, Dynamic Iris
Pro and HD-optimised Smooth Screen.
• 7 different picture modes (normal, dynamic,
Rec. 709, D-cinema, cinema 1, cinema 2 and
game mode for reduced frame delay)
automatically detect 2D, 3D signal for
optimised picture quality
Comfortable 3D Viewing Experience
Customisation and Installation Flexibility
• New 480-Hz panel drive system and carefully
tuned Overdrive Technology significantly
reduces 3D crosstalk (double images).
• 2D high quality image processing, including
Frame Creation and Detail Clarity Processor,
can now be enjoyed in 3D with the
incorporation of the newly developed dual
core processing engine.
• Safe 3D viewing is assured by 9-mode screen
size selection, Panasonic's proprietary 3D
Viewing Monitor for adjustment of depth-offield, and 3D Picture Balance capability with
dual Waveform Monitor.
• 2D-3D Conversion feature with five different
3D effect selections.
• Compatible 3D input format include frame
packing, side by side, top and bottom and
native signals.
• Precisely tuned 3D projection for the
Panasonic VIERA 3D Eyewear (sold
separately).
• A built-in 3D Eyewear shutter control IR
transmitter.
• Optional 3D IR transmitter with longer
transmission range for more setting flexibility.
• Intelligent Lens Memory with auto detection:
automatic image size optimization between
16:9 and 2.35:1 video content.
• Professional-level features for 2D images:
Waveform Monitor, Advanced Gamma
Adjustment, Split Adjust, Cinema Colour
Management Premium, Point Colour
Correction, Six Colour Correction mode.
• Three HDMI™ inputs (supporting x.v.Colour™
and Deep Colour)
• Two programmable 12-volt trigger terminals
and VIERA Link®.
• 2x optical power zoom/focus
• H/V lens shift (horizontal ±26%, vertical
±100%)
• Environment-friendly, extremely low standby
power consumption of 0.08 W.
• Easy filter/lamp replacement
• Made in Japan
Specifications (Tentative)
Power supply
Power consumption
LCD*1 panel
Panel size
Display method
Drive method
Pixels
Lamp*2
Lens
Projection size
2D projection
3D projection
Throw distance
Colours
Brightness*3
Centre-to-corner uniformity ratio*3
Contrast ratio*3
Resolution
Scanning frequency
RGB
YPBPR (YCBCR)
Video/S-Video
Optical axis shift*6
Keystone correction range
Installation
On-screen menu languages
100–240 V AC, 50/60 Hz
285 W (0.08 W in standby mode with fan
stopped.)
18.7 mm (0.74 in) diagonal (16:9 aspect ratio)
Transparent LCD panel (× 3, R/G/B)
Active matrix
2,073,600 (1,920 × 1,080) × 3,
total of 6,220,800 pixels
200 W UHM lamp
Powered zoom/focus lenses (1.35:1–2.7:1),
F 1.9–3.2, f 22.4–44.8 mm
1.02–7.62 m (40–300 inches)
1.02–5.08 m (40–200 inches)
1.16–18.08 m (3 ft 10 in to 59 ft 4 in)
Full colour (1,073,741,824 colours)
2,000 lumens*4
85%
300,000:1* 5 (full on/full off)
1,920 × 1,080 pixels
fH: 15 kHz–74 kHz, fV: 24 Hz–85 Hz,
dot clock: 154 MHz or lower
480i (525i), 576i (625i), 480p (525p),
576p (625p), 720 (750)/60p, 720 (750)/50p,
1080 (1125)/60i, 1080 (1125)/50i,
1080 (1125)/24p, 1080 (1125)/60p,
1080 (1125)/50p
fH: 15.75 kHz, fV: 60 Hz [NTSC/NTSC4.43/
PAL-M/PAL60]
fH: 15.63 kHz, fV: 50 Hz [PAL/PAL-N/SECAM]
Vertical: ±100%, horizontal: ±26%
Vertical: approx. ±30°
Ceiling/desk, front/rear (menu selection)
English, French, German, Spanish, Italian,
Chinese, Korean, Russian, Swedish,
Danish, Norwegian, Polish, Czech,
Hungarian, Portuguese, Thai, Japanese
Terminals
HDMI IN
HDMI connector × 3, HDMI™ (Deep Colour,
x.v.Colour™*7, CEC*8 ), HDCP compliant,
supports HDAVI Control Version 5
D-sub HD 15-pin (female) × 1
(RGB/YPBPR × 1)
RCA pin × 3 (YPBPR/YCBCR)
12 V, max. 100 mA (input/output/3D transmitter output selectable using on-screen
menu)
RCA pin × 1
Mini DIN 4-pin × 1
D-sub 9-pin × 1 for external control
(RS-232C compliant)
3.0 m (9 ft 10 in)
Moulded plastic (PC+ABS)
470 mm × 137 mm × 345 mm* 9
(18-17/32˝ × 5-13/32˝ × 13-19/32˝ )* 9
Approx. 8.7 kg (19.2 lbs)
0°–40°C (32°–104°F)
20%–80% (no condensation)
COMPUTER (RGB) IN
COMPONENT IN
TRIGGER IN/OUT
VIDEO IN
S-VIDEO IN
SERIAL IN
Power cord length
Cabinet materials
Dimensions (W × H × D)
Weight*10
Operating temperature
Operating humidly
Remote control unit
Power supply
Operation range*11
Dimensions (W × H × D)
Weight
Supplied accessories
3 V DC (R6/AA type battery × 2)
Approx. 7 m (23 ft) when operated from
directly in front of the signal receptor
48 × 138 × 28.3 mm
(1-7/8˝ × 5-7/16˝ × 1-1/8˝)
Approx. 125 g (4.4 oz) (including batteries)
Power cord (× 1)
Wireless remote control unit (× 1)
Batteries for remote control (R6/AA type × 2)
Lens cover (× 1)
Optional accessories
Replacement lamp unit
Ceiling mount bracket for high ceilings
Ceiling mount bracket for low ceilings
3D eyewear
3D IR transmitter
* 1 The projector uses a type of liquid crystal panel that typically consists of millions of
pixels. This panel is built with very high-precision technology to provide the finest
possible image. Occasionally, a few pixels may remain turned on (bright) or turned
off (dark). Please note that this is an intrinsic characteristic of the manufacturing
technology that affects all products using LCD technology.
* 2 The projector uses a high-voltage mercury lamp that contains high internal pressure. This lamp may break, emitting a large sound, or fail to illuminate, due to
impact or extended use. The length of time that it takes for the lamp to break or
fail to illuminate varies greatly depending on individual lamp characteristics and
usage conditions.
* 3 Measurement, measuring conditions, and method of notation all comply with ISO
21118 international standards.
*4
*5
*6
*7
*8
*9
* 10
* 11
* 12
ET-LAA310
ET-PKA110H
ET-PKA110S
TY-EW3D2L*12
TY-EW3D2M*12
TY-EW3D2S*12
ET-TRM110
In dynamic mode, with dynamic iris on.
In cinema 1 mode, with dynamic iris on.
Shift range is limited during simultaneous horizontal and vertical shifting.
Effective in Rec. 709 picture mode.
CEC is an abbreviation for Consumer Electronics Control. Operation may not be
possible with some connected equipment or settings.
Lens and legs not included.
Average value. May differ depending on models.
Operation range differs depending on environments.
Suffix to the model names differ from region to region.
For more information about Panasonic projectors
http://panasonic.net/avc/projector
JQA-QMA14392
Weights and dimensions shown are approximate. Specifications and appearance are subject to change without
notice. Product availability differs depending on region and country. This product may be subject to export control
regulations. This product may be subject to export control regulations. HDMI, the HDMI logo and High-Definition
Multimedia Interface are trademarks or registered trademarks of HDMI Licensing LLC.
All other trademarks are the property of their respective trademark owners.
Projection Images simulated. © 2011 Panasonic Corporation. All rights reserved.
EC98J2010
051
Factories of Business Solutions Business Group have received ISO
14001:2004—the Environmental Management System certification
(except for third parties' peripherals).
All information included here is valid as of July 2011.
PT-AT5000PRE1 Printed in Japan.

* Your assessment is very important for improving the work of artificial intelligence, which forms the content of this project