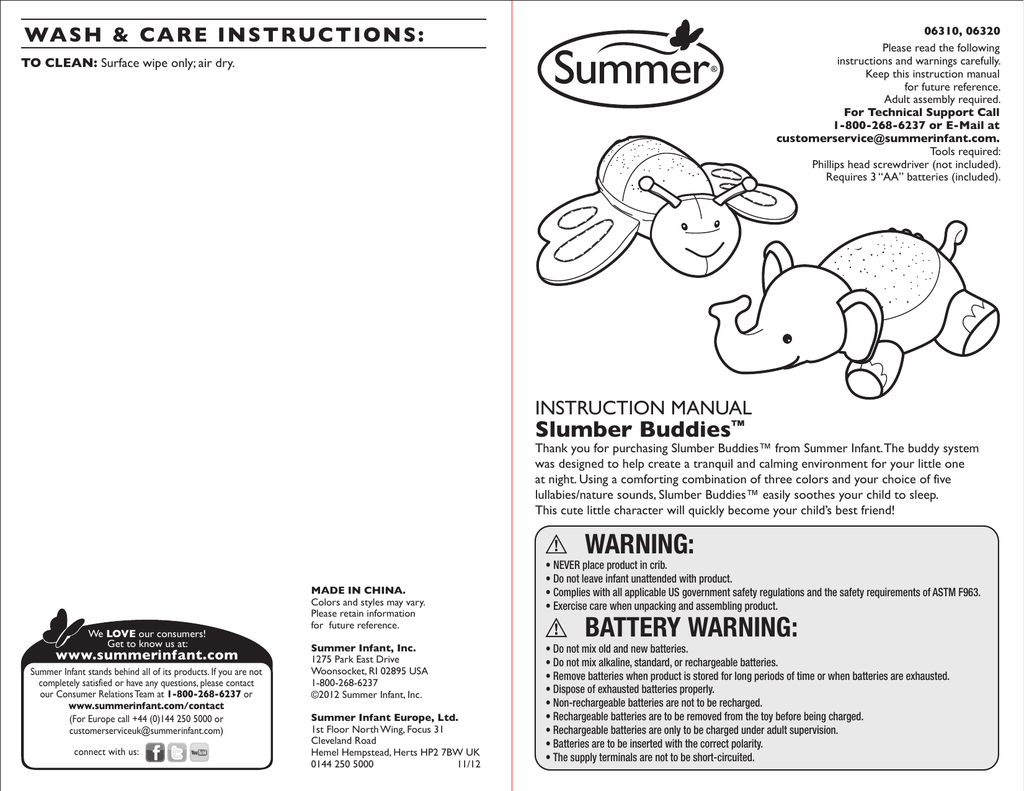 WASH & CAR E I N STRUC TIONS :
06310, 06320
Please read the following
instructions and warnings carefully.
Keep this instruction manual
for future reference.
Adult assembly required.
For Technical Support Call
1-800-268-6237 or E-Mail at
customerservice@summerinfant.com.
Tools required:
Phillips head screwdriver (not included).
Requires 3 "AA" batteries (included).
TO CLEAN: Surface wipe only; air dry.
INSTRUCTION MANUAL
Slumber Buddies™
Thank you for purchasing Slumber Buddies™ from Summer Infant. The buddy system
was designed to help create a tranquil and calming environment for your little one
at night. Using a comforting combination of three colors and your choice of five
lullabies/nature sounds, Slumber Buddies™ easily soothes your child to sleep.
This cute little character will quickly become your child's best friend!
WARNING:
We LOVE our consumers!
Get to know us at:
www.summerinfant.com
Summer Infant stands behind all of its products. If you are not
completely satisfied or have any questions, please contact
our Consumer Relations Team at 1-800-268-6237 or
www.summerinfant.com/contact
(For Europe call +44 (0)144 250 5000 or
customerserviceuk@summerinfant.com)
connect with us:
MADE IN CHINA.
Colors and styles may vary.
Please retain information
for future reference.
Summer Infant, Inc.
1275 Park East Drive
Woonsocket, RI 02895 USA
1-800-268-6237
©2012 Summer Infant, Inc.
Summer Infant Europe, Ltd.
1st Floor North Wing, Focus 31
Cleveland Road
Hemel Hempstead, Herts HP2 7BW UK
11/12
0144 250 5000
• NEVER place product in crib.
• Do not leave infant unattended with product.
• Complies with all applicable US government safety regulations and the safety requirements of ASTM F963.
• Exercise care when unpacking and assembling product.
BATTERY WARNING:
• Do not mix old and new batteries.
• Do not mix alkaline, standard, or rechargeable batteries.
• Remove batteries when product is stored for long periods of time or when batteries are exhausted.
• Dispose of exhausted batteries properly.
• Non-rechargeable batteries are not to be recharged.
• Rechargeable batteries are to be removed from the toy before being charged.
• Rechargeable batteries are only to be charged under adult supervision.
• Batteries are to be inserted with the correct polarity.
• The supply terminals are not to be short-circuited.
TO USE:
TO C HA NGE BATT E R I E S :
NOTE: Batteries are included for the "Try Me" mode. To activate the normal play mode,
move switch to any of the three timer positions. When in "Try Me" mode, each function
will automatically shut off after 3 seconds.
Step 1:
Open pocket on bottom of unit.
Power/Timer Control:
The main on/off/timer switch can be found next
to the battery door on the bottom of the unit.
Open the pocket to locate the switch.
Turn switch to the "Off" position
during long periods of inactivity.
ON/OFF/TIMER CONTROL:
1st position: "Try Me" mode
2nd position: Off
3rd position: On / 15 min auto shut-off
4th position: On / 30 min auto shut-off
5th position: On / 45 min auto shut-off
Nightlight/Selecting Display Color:
To choose a color for the nightlight star display, press the corresponding button to cycle
through each of the four options – red, green, blue and light show (all colors). The display
will automatically shut off after the set time has completed. Also, after cycling through
each of the colors, press the button once more to turn the display off.
Lullabies/Nature Sounds:
To choose one of the three Lullabies or two Nature Sounds, press the corresponding
button to begin cycling through the options. Once you make a decision, the sound
will play the selected amount of time for before shutting off automatically.
You can turn off the Lullabies/Nature Sounds feature manually by cycling
through all five options and then pressing the button once more.
Volume:
Adjust the sound level with the volume button (Low / Medium / High) on each unit unit.
Nightlight Display
(Red / Green / Blue / Light Show / Off)
Lullabies/Nature
3 Lullabies / 2 Nature Sounds / Off
Volume
Low / Medium / High
Step 2:
Use a Phillips head screwdriver to loosen
battery door screw. Open battery door.
Remove old batteries and dispose of them safely.
Step 3:
Insert 3 new "AA" batteries, making sure
that the "+ and _" are facing the correct way.
The battery compartment is marked for clarity.
Step 4:
Screw battery door back onto unit.
Make sure the On/Off Switch is in
one of the three "On/Timer" positions
and secure pocket.
On/Off/Timer Switch
R A D IO A ND T ELEVISION IN T ERFEREN CE:
This equipment has been tested and found to comply with the limits for a Class B digital device,
pursuant to Part 15 of the FCC rules. These limits are designed to provide reasonable protection
against harmful interference in a residential installation. This equipment generates, uses and can radiate
radio frequency energy and, if not installed and used in accordance with the instructions, may cause
harmful interference to radio communications. However, there is no guarantee that interference
will not occur in a particular installation. If this equipment does cause harmful interference to radio
or television reception, which can be determined by turning the equipment off and on, the user
is encouraged to try to correct the interference by one or more of the following measures:
• Reorient or relocate the receiving antenna.
• Increase the separation between the equipment and the receiver.
• Connect the equipment into an outlet on a circuit different from that to which
the receiver is connected.
• Consult the dealer or an experienced radio/TV technician for help.
You may also find helpful the following booklet, prepared by the FCC: "How to Identify and Resolve
Radio-TV Interference Problems." This booklet is available from the U.S. Government Printing Office,
Washington D.C. 20402.
Changes and Modifications not expressly approved by Summer Infant, Inc. can void your
authority to operate this equipment under Federal Communications Commissions rules.

* Your assessment is very important for improving the work of artificial intelligence, which forms the content of this project