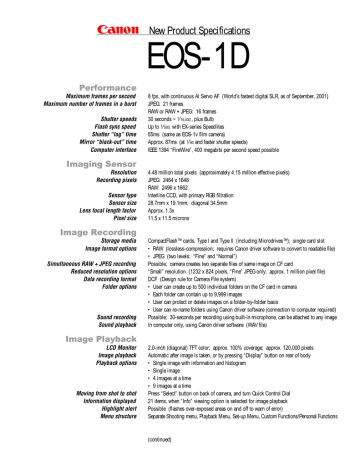 New Product Specifications
EOS-1D
Performance
Maximum frames per second
Maximum number of frames in a burst
Shutter speeds
Flash sync speed
Shutter "lag" time
Mirror "black-out" time
Computer interface
8 fps, with continuous AI Servo AF (World's fastest digital SLR, as of September, 2001)
JPEG: 21 frames
RAW or RAW + JPEG: 16 frames
30 seconds ~ 1⁄ 16,000 , plus Bulb
Up to 1 ⁄ 500, with EX-series Speedlites
55ms (same as EOS-1v film camera)
Approx. 87ms (at 1⁄ 60 and faster shutter speeds)
IEEE 1394 "FireWire", 400 megabits per second speed possible
Imaging Sensor
Resolution
Recording pixels
Sensor type
Sensor size
Lens focal length factor
Pixel size
4.48 million total pixels (approximately 4.15 million effective pixels)
JPEG: 2464 x 1648
RAW: 2496 x 1662
Interline CCD, with primary RGB filtration
28.7mm x 19.1mm; diagonal 34.5mm
Approx. 1.3x
11.5 x 11.5 microns
Image Recording
Storage media
Image format options
Simultaneous RAW + JPEG recording
Reduced resolution options
Data recording format
Folder options
Sound recording
Sound playback
CompactFlash™ cards, Type I and Type II (including Microdrives™); single card slot
• RAW (lossless-compression; requires Canon driver software to convert to readable file)
• JPEG (two levels: "Fine" and "Normal")
Possible; camera creates two separate files of same image on CF card
"Small" resolution (1232 x 824 pixels, "Fine" JPEG only; approx. 1 million pixel file)
DCF (Design rule for Camera File system)
• User can create up to 500 individual folders on the CF card in camera
• Each folder can contain up to 9,999 images
• User can protect or delete images on a folder-by-folder basis
• User can re-name folders using Canon driver software (connection to computer required)
Possible; 30-seconds per recording using built-in microphone, can be attached to any image
In computer only, using Canon driver software (WAV file)
Image Playback
LCD Monitor
Image playback
Playback options
Moving from shot to shot
Information displayed
Highlight alert
Menu structure
2.0-inch (diagonal) TFT color; approx. 100% coverage; approx. 120,000 pixels
Automatic after image is taken, or by pressing "Display" button on rear of body
• Single image with information and histogram
• Single image
• 4 images at a time
• 9 images at a time
Press "Select" button on back of camera, and turn Quick Control Dial
21 items, when "Info" viewing option is selected for image playback
Possible (flashes over-exposed areas on and off to warn of error)
Separate Shooting menu, Playback Menu, Set-up Menu, Custom Functions/Personal Functions
(continued)
EOS-1D specifications (continued)
Page 2
Autofocus
Number of AF points
Focus modes
Focusing speed and performance
Methods of selecting AF point
AF working range
45, in AF Area Ellipse (identical to EOS-1v; proportionally larger area due to smaller format)
One-Shot AF (for stationary subjects) and AI Servo AF (for tracking moving subjects)
Identical to EOS-1v
• In AI Servo AF, a subject moving 186mph can be tracked until it's as close as
66 ft away when using the 300mm ƒ2.8L IS lens
Identical to EOS-1v; Eye-controlled AF NOT possible
EV 0 ~ 18 (Identical to EOS-1v)
White Balance
Modes available
White Balance Bracketing
• Auto (hybrid system: determined by external sensor and reading off CCD sensor)
• User-set (Daylight, Shade, Overcast, Tungsten, Fluorescent, Flash)
• Manual (reading off gray card, or neutral white object)
• Color Temperature (user-set in 100°K increments over range 2800K ~ 10,000K)
Three shots, varying the white balance (not exposure) over a user-set range of °K
Exposure Control
ISO sensitivity
Exposure modes
Metering
Spot metering options
Exposure compensation
Automatic Bracketing
200 ~ 1600, set by user in 1 ⁄ 3-stop increments; expandable to ISO 100 or 3200 via C.Fn 3
Program AE, Shutter-priority, Aperture-priority, Manual, Depth-of-field AE, Bulb
21-zone metering sensor (identical to EOS-1v)
• 21-zone Evaluative metering
• Center-weighted metering
• Partial metering (central five metering zones; approx. 13.5% of picture area)
• Spot metering (single metering zone; approx 3.8% of picture area)
• Spot meter at center of frame, or link Spot metering to one of 11 or 9 active AF points
• Multi-Spot metering (up to eight separate Spot meter readings averaged by camera)
• FEL (Spot metering of E-TTL flash, locked into memory for 16 seconds)
Possible in any Auto exposure mode, by turning rear Quick Control Dial; +⁄ - up to 3 stops
Possible in any mode, including Manual; 3 shots at up to +⁄- 3 stops exposure variation
• Conventional bracketing of shutter speed and/or aperture (depends upon exposure mode)
• Bracketing of exposure by changing ISO (shutter speed & aperture remain constant)
• White Balance bracketing (varies White Balance; exposure remains constant)
Flash
Compatible flashes
E-TTL flash metering
Flash Exposure Lock
Flash Exposure Compensation
Ambient exposure +/- w/ flash
Flash Exposure Bracketing
Flash Metered Manual
Hi-speed flash sync
Wireless E-TTL flash
PC socket
• Canon EX-series Speedlites (Manual flash only with 540EZ, 430EZ, and 420EZ flashes)
• Non-dedicated, third-party shoe-mount flashes
• Studio strobes, via PC socket on camera body
21-zone Evaluative flash metering, Through The Lens, with any EX-series Speedlite
3.8% Spot reading of flash with any EX-series Speedlite (via FEL button on EOS-1D body)
+⁄- up to 3 stops; can be set on EOS-1D body or on certain EX-series Speedlites
Possible by turning Quick Control Dial; does not affect E-TTL flash output
Possible with Speedlite 550EX, Macro Ring Lite MR-14EX, and Macro Twin Lite MT-24EX
Possible with EX-series Speedlites; pre-flash measured and read out on analog finder scale
Possible with EX-series Speedlites to 1⁄ 16,000; normal x-sync speed is 1⁄ 500
Fully compatible; ratio control (A:B or A:B:C) possible over six-stop range
• Compatible units: ST-E2 Transmitter, 550EX, 420EX (as slave only), MR-14EX, MT-24EX
Threaded socket on camera body for studio strobes; Not sensitive to +⁄- sync line polarity
(continued)
EOS-1D specifications (continued)
Page 3
The Viewfinder
Viewfinder
Viewfinder display
Focusing screens
Diopter
Eyepiece blind
100% coverage (magnification 0.72x, with 50mm lens at infinity, -1 diopter)
Similar to EOS-1v, with added information:
• Digital display of frames remaining in a burst
• JPEG recording indication
• Frames remaining on CF card or ISO speed (user-selectable via Custom Function)
Interchangeable (same as EOS-1v; 9 available)
Adjustable diopter (range -3.0 ~ +1.0); Dioptric Lens E can be added to extend range
Built-in (same as EOS-1v)
The Camera Body
Chassis material
Outer body material
Weather resistance
Operating temperature range
Shutter durability
Dimensions (W x H x D)
Weight (without battery or CF card)
Magnesium alloy, aluminum diecast mirror box
Magnesium alloy
Similar to EOS-1v; added weather sealing at battery compartment
Guaranteed 32°F ~ 140°F (0°C ~ 45°C); according to tests performed by Canon, Inc.
Tested to 150,000 exposures
6.1 x 6.2 x 3.1 inches (156 x 157.6 x 79.9mm)
44.1 oz. / 2.7 lbs (1250g)
Power Supply
Battery
Battery capacity
Battery check
Recharging battery
Recharging time
Conditioning function
AC power option
Rechargeable dedicated Ni-MH pack NP-E3 (unique to EOS-1D — will not fit Booster PB-E2)
Approximately 350 images at normal temperatures
Full-time, 4-stage display on top LCD panel (appears whenever camera is ON)
Charger NC-E2 included with camera (same unit as used to charge EOS-1v's NP-E2 pack)
Approx. 2 hours for fully exhausted NP-E3 battery pack
Built into Charger NC-E2; approx. 8 hours to discharge a fully-charged NP-E3 pack
DC Coupler DCK-E1 and AC adapter PA-V16 included with camera
• Voltage range 100v ~ 240v
• Consists of "dummy" battery and separate AC adapter unit
Customization
Custom Functions
Personal Functions
Note:
21 Custom Functions built into camera; user-selectable via Menu on rear LCD panel
• Similar to Custom Functions built-in to EOS-1v film camera
25 Personal Functions can be installed into EOS-1D using dedicated Canon driver software
• Similar to Personal Functions for EOS-1v film camera using EOS Link ES-E1 software
All specifications are preliminary and subject to change without notice.
All information and specifications based on Canon, Inc.'s standard test methods,
and are current as of September, 2001.

* Your assessment is very important for improving the work of artificial intelligence, which forms the content of this project