Canon 18X50 IS binocular (4624A014)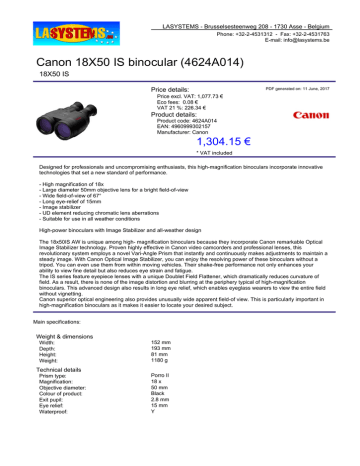 LASYSTEMS - Brusselsesteenweg 208 - 1730 Asse - Belgium
Phone: +32-2-4531312 - Fax: +32-2-4531763
E-mail: [email protected]
Canon 18X50 IS binocular (4624A014)
18X50 IS
PDF generated on: 11 June, 2017
Price details:
Price excl. VAT: 1,077.73 €
Eco fees: 0.08 €
VAT 21 %: 226.34 €
Product details:
Product code: 4624A014
EAN: 4960999302157
Manufacturer: Canon
1,304.15 €
* VAT included
Designed for professionals and uncompromising enthusiasts, this high-magnification binoculars incorporate innovative
technologies that set a new standard of performance.
- High magnification of 18x
- Large diameter 50mm objective lens for a bright field-of-view
- Wide field-of-view of 67°
- Long eye-relief of 15mm
- Image stabilizer
- UD element reducing chromatic lens aberrations
- Suitable for use in all weather conditions
High-power binoculars with Image Stabilizer and all-weather design
The 18x50IS AW is unique among high- magnification binoculars because they incorporate Canon remarkable Optical
Image Stabilizer technology. Proven highly effective in Canon video camcorders and professional lenses, this
revolutionary system employs a novel Vari-Angle Prism that instantly and continuously makes adjustments to maintain a
steady image. With Canon Optical Image Stabilizer, you can enjoy the resolving power of these binoculars without a
tripod. You can even use them from within moving vehicles. Their shake-free performance not only enhances your
ability to view fine detail but also reduces eye strain and fatigue.
The IS series feature eyepiece lenses with a unique Doublet Field Flattener, which dramatically reduces curvature of
field. As a result, there is none of the image distortion and blurring at the periphery typical of high-magnification
binoculars. This advanced design also results in long eye relief, which enables eyeglass wearers to view the entire field
without vignetting.
Canon superior optical engineering also provides unusually wide apparent field-of view. This is particularly important in
high-magnification binoculars as it makes it easier to locate your desired subject.
Main specifications:
Weight & dimensions
Width:
Depth:
Height:
Weight:
152 mm
193 mm
81 mm
1180 g
Technical details
Prism type:
Magnification:
Objective diameter:
Colour of product:
Exit pupil:
Eye relief:
Waterproof:
Porro II
18 x
50 mm
Black
2.8 mm
15 mm
Y
Field of view (at 1000 m):
Real field of view:
Apparent field of view:
Closest focusing distance:
Image stabilizer:
Focus:
Objective lens structure (elements/groups):
Eyepiece lens structure (elements/groups):
Lens coating:
65 m
3.7 °
67 °
6m
Y
Manual
4/3
7/5
Multi Coated (MC)
Power
Battery type:
Battery operated:
2x AA
Y
*PLEASE NOTE: Every effort has been made to ensure the accuracy of all information contained herein. Lasystems makes no warranty expressed or implied with respect to
accuracy of the information, including price, editorials or specifications. Lasystems or its suppliers shall not be liable for incidental, consequential or special damages arising from, or
as a result of, any electronic transmission or the accuracy of the information contained herin, even if Lasystems has been advised of the possibility of such damages. Product and
manufacturer names are used only for the purpose of identification.

* Your assessment is very important for improving the work of artificial intelligence, which forms the content of this project