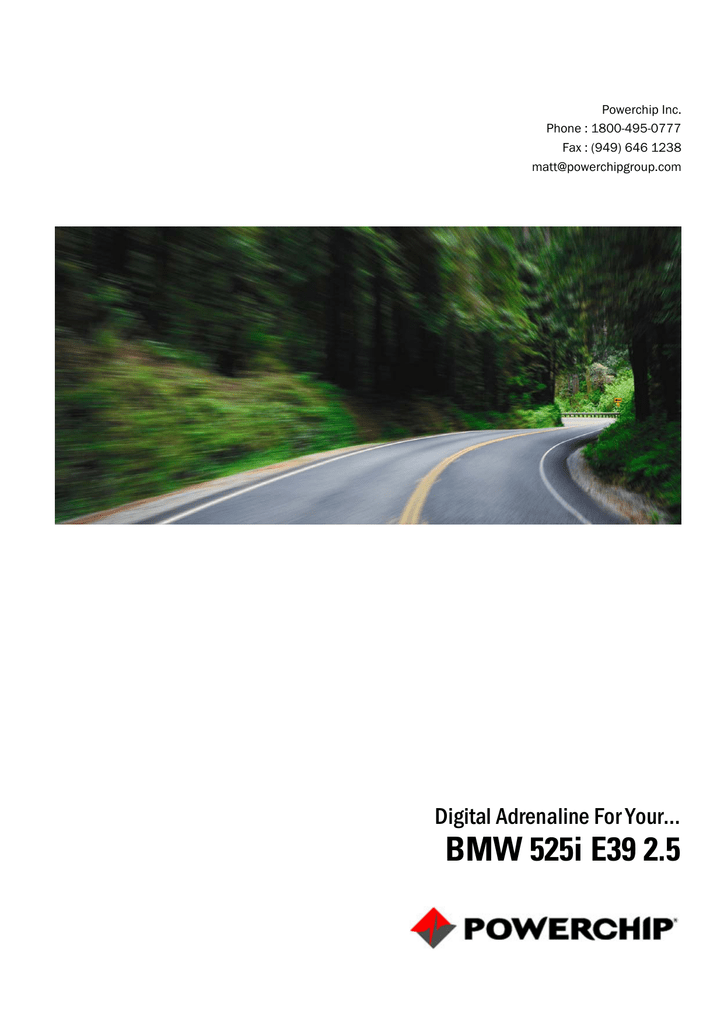 Powerchip Inc.
Phone : 1800-495-0777
Fax : (949) 646 1238
matt@powerchipgroup.com
Digital Adrenaline For Your…
BMW 525i E39 2.5
Powerchip technology enhances your BMW to its ultimate level,
delivering faster, smoother acceleration in all driving conditions.
Whether you enjoy a leisurely weekend cruise or a hard racetrack
drive – there is no easier and more effective way to release the
potential from your 525i E39 2.5.
The following information is an overview of the performance the
Powerchip will deliver. If you have any questions, your Power
Consultant will assist you as best as possible. We look forward to
giving you the best performance possible from your BMW.
BMW
Make
Model
Engine
Year
Powerchip Code
525i E39 2.5
Dec 00 to Oct 03
BMW0085
Power
In standard form the BMW 525i E39 2.5 produces 189 hp at the
flywheel, and Powerchip improves the engine power to 204 hp.
Power (hp)
Standard
Bronze/
Silver
Gold 91
Gold 93
189
N/A
200
204
The extra performance achieved by the Powerchip allows your vehicle
to respond much better than stock 525i E39 2.5s. You will notice an
effortless push back into the driver's seat, to give you a much more
enjoyable and at times safer driving experience. The Powerchip will
tap into your BMW's 'hidden reserves', to give you an immediately
noticeable improvement from your vehicle – we guarantee it!
Torque
Torque is a measurement of your engines pulling power, and it's
torque that pulls you up hills, allowing your engine a more linear and
aggressive acceleration curve. With the Powerchip, you notice the
increase in torque right throughout the rev range, which gives you far
greater flexibility at low engine revolutions. Towing will become less
demanding, and you will no longer feel the need to take the engine to
the redline in each gear to get the performance you demand... It's
always there for you, when you really need it most!
Torque (lb.ft)
Standard
Bronze/
Silver
Gold 91
Gold 93
181
N/A
190
191
Acceleration
Increased Power and Torque results in faster acceleration. And it is
not just standing start acceleration that is improved, your in-gear
acceleration is improved and faster.
If overtaking is important to you, you will feel safe knowing that you
spend less time on the "wrong side of the road", improving the safety
of your car, for you and your family or passengers.
Perhaps you feel that you need that extra bit of power when you are
lined up at the "traffic light grand prix" against another car with similar
(or more) power? If you want to have the unfair advantage that will
give you more 'GO' away from the lights, you need a Powerchip
performance software upgrade for your 525i E39 2.5.
Fitting Details
Your car contains the latest technology ECU that can be reprogrammed through the on-board diagnostic port (OBD-II).
Specialised software interfaces with your vehicle's engine
management system to extract the electronic code via serial
download. Once the information has been read, Powerchip
technicians apply the performance changes and upload the
performance program back through the OBD-II port. Installation
cannot be performed by the end user. Programming must occur at an
Authorized Powerchip Office or at authorised Powerchip Platinum
dealers. The programming takes approximately 2 hour's to complete.
On Road Development
Where Powerchip really shines out over its competitors is the
emphasis and time spent refining the program for drivability and
enjoyment. Much more a 'real world' gain than full throttle horse
power runs on a dyno, part throttle refinement is a gain everyone
uses every time they drive the vehicle. Flat spots and poor off the line
performance are smoothed out in this process, and transient throttle
conditions are made razor sharp for the ultimate in response. Real
time changes to tables like throttle response and power enrichment
are done on road to fine tune the driving experience of the vehicle,
with acceleration timing equipment used to ensure consistent and
measurable gains in part throttle drivability.
Driveability
Powerchip technicians do not spend their whole research and
development focus tuning the full throttle performance of each
vehicle. A significant emphasis is placed on the part throttle
performance. We understand that driving in everyday conditions is
more than just flat out acceleration, with your foot flat to the floor.
With Powerchip performance software, your car will perform to its
potential, even when you are not demanding the peak performance.
You no longer need to mash the throttle to take off briskly, and ingear overtaking can be performed without needing to change down
gears. One of the main benefits of choosing to enhance your vehicle
with the Powerchip is the improvement you will feel in all driving
situations, no matter what your driving style is...
Manufacturers Tolerances
BMW unfortunately leaves large tolerances in the performance
characteristics of its entire fleet to allow for drivers that are negligent
on maintenance, and who are non-enthusiasts. The 525i E39 2.5 is
'de-tuned' to be able to run on the poorest grade of fuel that the car
is likely to encounter anywhere in the world, and also to allow for the
small percentage of owners who put their cars reliability to the test
due to their lack of mechanical understanding. In most cases, our
clients are enthusiasts who place more emphasis on the performance
characteristics of their vehicle, and therefore the Powerchip does not
need to be programmed as conservatively as the stock software.
Modified Spark Advance
In the old days the ignition distributor controlled the engine spark
timing. Changes to the position in the distributor will result in changed
ignition settings, and is a good method of 'tune-up' for older vehicles.
Modern engine ignition is controlled by a series of tables or maps.
These maps give the engine any instructions required to operate,
under ALL load and rev per minute access points.
Similar to the old systems, advancing the point of ignition within a
cylinder results in increased horsepower and toque. It is important
not to advance the timing beyond the capabilities of the fuel used, or
else detonation can occur. Peak horsepower is achieved when
ignition timing is set as close to the point of detonation as possible,
without exceeding it. This is the primary purpose for asking the octane
rating each client uses most frequently, so that the software is set to
the correct level of ignition advance for the fuel used.
The end result of ignition advance changes is increased horsepower
and torque, resulting in better acceleration and various other driving
benefits.
49 State Emissions Legal
The Powerchip complies with U.S. EPA Memorandum 1A, or it has not
been found nor is believed to be unlawful for use under the provisions
of the Clean Air Act. Currently, Powerchip is not legal in California for
vehicles that may be used on a highway. Powerchip is currently
undergoing testing for certification under the Californian Air
Resources Board (CARB) exemption process.
Our Satisfaction Guarantee
Every Powerchip sold in North America comes with an unconditional
14-day money back guarantee. This ensures that the Powerchip will
live up to your expectations, not ours! If for any reason you are
unsatisfied with the Powerchip, you may return the Powerchip to your
place of purchase for a full refund of the purchase price (not including
shipping and handling, installation and removal etc.).
Our satisfaction guarantee offers you total peace of mind, and makes
the purchase of the Powerchip risk free. By purchasing a Powerchip
you have nothing to lose – and everything to gain!
Octane ratings
The Powerchip is designed to get the best from your engine, and to do
this you must use a high performance fuel (91 Octane minimum). It is
not possible to improve the performance on late model fuel injected
vehicles using poor quality fuels, such as 87 or 89 octane. When
ordering your Powerchip upgrade, your Power Consultant will ask you
for the octane rating you would like your program to run.
Powerchip Gold 91 is designed to run on fuel with an octane rating of
either 91 or 92. Powerchip Gold 93 is designed to run on fuel with an
octane rating of 93 or higher. We highly recommend that you use the
highest-octane fuel available to you, such as 92, 93 or 94 octane if a
higher than 91-octane fuel is available.
Warranty
All Gold 93 Powerchips come with a three year, unlimited mile
warranty, which means that if anything occurs with the Powerchip in
that time, we will replace it without charge to you. An optional
extended Powerchip warranty is also available at an additional $90 at
the time of ordering. This extends the warranty period on any Power
chip to six years.
The terms and conditions of the Powerchip warranties can be viewed
in detail on our web site at
http://www.powerchipgroup.com/products/warranty.asp
To briefly summarize the information: if your car is covered by a new
or dealer warranty, the dealer may not 'void' a warranty simply
because you have fitted an aftermarket product. SEMA, the
automotive aftermarket industry body in North America has made the
following statements regarding aftermarket products such as
performance chips...
"The vehicle manufacturer is not allowed to void the vehicle warranty
just because aftermarket equipment is installed on the vehicle..."
"...In cases where such a failed aftermarket part is responsible for a
warranty claim, the (vehicle) manufacturer must arrange a settlement
with the part manufacturer, but the new vehicle warrant is not void
under the law."
"If the failure to honor a claim involves the new-vehicle warranty, and
it appears that the (vehicle) manufacturer is improperly denying a
claim, the incident should be reported to the Federal Trade
Commission (FTC)."
The fitment of the Powerchip will not have a detrimental effect on
your vehicle performance or engine longevity, and therefore does not
interfere with the manufacturers warranty in any way.
Value for a Lifetime
The investment you make in the Powerchip will last for as long as you
keep your car, and for most of our customers, that is normally for 3 or
4 years. So when you consider the benefits of the chip over a number
of years, it is not a lot to pay for extra performance you will probably
use nearly every day. As a percentage of the total cost of your car, the
Powerchip works out to be very cost effective.
Cost Effectiveness
As we all know, modifying late model vehicles is not a cheap exercise,
however, when you look at it on a hp per dollar basis, the Powerchip
comes in ahead of any other modification you could make to your
BMW. Have a look at just how well the Powerchip stacks up:
Price
hp Gain
Price/hp
$640
15 hp
$42.67
The Powerchip is designed to offer excellent value for money
compared with other modifications you might be planning in the
future.
COST USD($) (not including shipping/handling)
Bronze
Silver
Gold 91
Gold 93
N/A
N/A
$640
$640
Ask the Experts
Your Powerchip Power Consultant is trained to provide you with the
best information about getting more performance for your car. We
have a specific Power Consultant who is responsible for the BMW
range, and he is an expert at answering all of your technical
questions, especially about the 525i E39 2.5. If you would like to
speak with your Power Consultant about any aspect of the upgrade,
please telephone Toll Free North American headquarters in California
on 1800-495 0777 or email your BMW Power Consultant directly at
tcattach@powerchipgroup.com
© Powerchip Group, All Rights Reserved. Reproduction by any means is prohibited.
Gold 91 Performance Data for your...
BMW 525i E39 2.5 *
R.P.M.
hp STD
hp Powerchip
hp Gain
lb.ft. STD
1500
2000
2500
3000
3500
4000
4500
5000
5500
6000
6500
30
49
64
79
93
105
117
127
138
147
145
33
54
71
87
105
119
133
148
160
171
163
3
5
7
8
12
14
16
21
22
24
18
106
128
134
138
140
138
136
134
132
129
117
hp Powerchip
hp STD
lb.ft.
Powerchip
116
142
149
153
158
157
156
155
153
149
132
lb.ft. Powerchip
10
14
15
15
18
19
20
21
21
20
15
lb.ft. STD
180
1000
160
900
140
800
700
120
600
100
500 lb.ft.
hp
80
400
60
300
40
200
20
100
0
ENGINE
6500
6000
5500
5000
4500
4000
3500
3000
2500
2000
1500
0
R.P.M.
MODEL
lb.ft Gain
* This graph shows figures for
Powerchip Gold 91 when tested at
75% load.
VERSION
CAPACITY
Max hp
Max lb.ft.
0-60 Auto
0-60 Man
525i E39 2.5
Standard
2494cc
189
181
N/A
N/A
525i E39 2.5
Gold 91
2494cc
200
190
N/A
N/A
Gold 93 Performance Data for your...
BMW 525i E39 2.5 *
R.P.M.
hp STD
hp Powerchip
hp Gain
lb.ft. STD
1500
2000
2500
3000
3500
4000
4500
5000
5500
6000
6500
30
49
64
79
93
105
117
127
138
147
145
31
50
67
82
98
110
122
133
145
154
149
1
1
3
3
5
5
5
6
7
7
4
106
128
134
138
140
138
136
134
132
129
117
hp Powerchip
hp STD
lb.ft.
Powerchip
109
132
140
144
147
145
143
140
138
135
121
lb.ft. Powerchip
3
4
6
6
7
7
7
6
6
6
4
lb.ft. STD
180
1000
160
900
140
800
700
120
600
100
500 lb.ft.
hp
80
400
60
300
40
200
20
100
0
ENGINE
6500
6000
5500
5000
4500
4000
3500
3000
2500
2000
1500
0
R.P.M.
MODEL
lb.ft Gain
* This graph shows figures for
Powerchip Gold 93 when tested at
75% load.
VERSION
CAPACITY
Max hp
Max lb.ft.
0-60 Auto
0-60 Man
525i E39 2.5
Standard
2494cc
189
181
N/A
N/A
525i E39 2.5
Gold 93
2494cc
204
191
N/A
N/A
Customer Testimonials
Customer Name: Alex B, Short Hills
Car: X5 E53 4.6is
Testimonial added: Jan 7 2004
Customer Comments:
"First of all, X5 rocks after Powerchip. I added a few
Dinan bolt-ons and this is a real BMW, not a truck
anymore. Wasn't a real truck to start with (4.6), but
you know what I mean. By mistake when Dinan stuff
was added also Dinan software was installed, and it
was actually reasonable, not as good as Powerchip
though, but certainly more competitive than M5 Dinan
versus M5 Powerchip. For M5 which I also had both
Dinan first and Powerchip later hands down to
Powerchip, nothing even to compare to Dinan.
However, there was a problem with loading software
on X5. The key for serial kit would work only once. So I
downloaded the original software with a key sent.
When Powerchip file was sent to me I couldn't load it
because key wasn't recognized by the X5 ECU.
Powerchip sent me a new key and it worked. But,
there is more... After this I had Dinan mods and Dinan
software mistakenly loaded. When I tried to reinstall
Powerchip the key was again not recognized by ECU,
so Powerchip sent me another key, and it worked . So
they sent me 3 keys to fix my X5. You can look at this
2 ways: something is wrong with X5, or my X5 and
Powerchip keys, or how Powerchip guys were really
professional and send me all these keys to finally get
right software in my X5. I aplaud them for not making
me sent my ECU to California. Jessie is one smart
young guy. Looking forward to Powechiping any car
I get a hold of."
Customer Name: STUART V,
Car: 528i 2.8 I6 E39
Testimonial added: Jan 13 2004
Customer Comments:
"I have noticed smoother idling when cold, a much
more effortless swing to red line, smoother shifting
and an overall improved feeling of torque and
acceleration. Install was a breeze.
Nearly a night and day difference that I would highly
recommend."
Customer Name: James H,
Car: 530i E60 3.0
Testimonial added: Oct 3 2004
Customer Comments:
"Increases fuel economy, gives the car that extra kick
on the freeways and that extra torque from 0mph.
great midrange power, my car has no more hesitation.
I love it, and for the price of it, it's a bargain what it did
to my E60. Powerchip is like what they advertised.
Digital Adrenaline! Can't go wrong!"