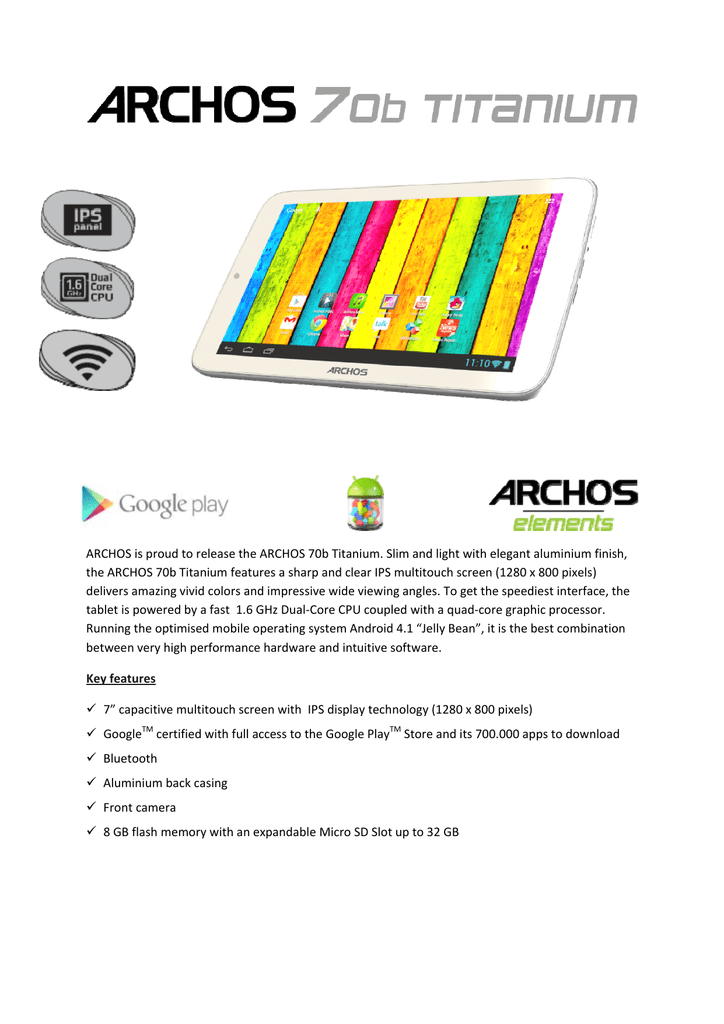 ARCHOS is proud to release the ARCHOS 70b Titanium. Slim and light with elegant aluminium finish, the ARCHOS 70b Titanium features a sharp and clear IPS multitouch screen (1280 x 800 pixels) delivers amazing vivid colors and impressive wide viewing angles. To get the speediest interface, the tablet is powered by a fast 1.6 GHz Dual‐Core CPU coupled with a quad‐core graphic processor. Running the optimised mobile operating system Android 4.1 "Jelly Bean", it is the best combination between very high performance hardware and intuitive software. Key features  7" capacitive multitouch screen with IPS display technology (1280 x 800 pixels)  GoogleTM certified with full access to the Google PlayTM Store and its 700.000 apps to download  Bluetooth  Aluminium back casing  Front camera  8 GB flash memory with an expandable Micro SD Slot up to 32 GB IPS screen The ARCHOS 70b Titanium is equipped with an impressive 7 '' IPS screen that brings you amazing image quality & extra wide viewing angles. This next generation LCD delivers excellent screen sharpness and vivid colors. Thanks to its 1280 x 800 screen resolution you can see every single detail in you pictures. Premium design The ARCHOS 70b Titanium is stylish, thin and light. Thanks to its aluminium body at just 8.6mm thick and weighing only 300g. Never run out of storage with the 8GB embedded* memory and the microSD slot (supporting SDHC cards up to 32GB) Powered by Android 4.1 "Jelly Bean" with Full Access to Google Play™ Store Certified by Google™, the ARCHOS 70b Titanium includes full access to the Google Play™ Store, including DRM support for downloading books, music and movies. Play Apps and Games ‐ with over 700,000 Android™ apps and games your tablet truly is your mobile entertainment system. Thanks to the 1.6 GHz dual‐core processor and its powerful graphics co‐processor even graphically demanding games will look amazing on its quad‐core GPU. Play Music ‐ Millions of tracks, hand‐picked rising artists and great bands from your favorite genres. You can even transfer your own music library from a USB stick or portable hard drive via the USB host port (adaptor required). Play Books ‐ With over 4 million books to choose from, including millions of free titles, your next great read is never far away. Play Movies ‐ Choose from an incredible selection of thousands of movies on Google Play including HD titles, new releases, award‐winning films or your favorite classics. A new Multimedia experience So you can watch HD movies and listen to your favorites songs, the ARCHOS Media Center applications include the most complete codec and format support around. Using over 12 years of mobile video and audio experience, these apps will play pretty much anything that you could throw at them; even true 1080p HD video for most formats and codecs. Easy as a simple drag and drop you could synchronize all your content in just few seconds. Video carousel ‐ find your film easily thanks to movie and TV show information and jackets automatically downloaded by the ARCHOS Media Center and displayed in the video carrousel; your video library is organized by title, series, actor etc. Subtitle search tool ‐ part of the ARCHOS Media Center, the Subtitle search tool means that the right subtitles are just a few taps away. Read media from external storage ‐ The ARCHOS media center apps can read media directly from any USB flash or hard drive that you plug into your ARCHOS Titanium tablet. PN
Item
UPC
502424 ARCHOS 70b Titanium 8GB WW 690590524248 502425 ARCHOS 70b Titanium 8GB CH 690590524255 Technical specifications Operating system 


Flash memory: 8 GB * Expandable via micro SDXC Slot up to 32 GB ANDROID™ 4.1.1 "Jelly Bean" CPU/GPU 
Dual Core @1.6 GHz / Quad‐core graphics MALI 400 MP RAM 
1GB DDR3 Display 
IPS 7" 1280 x 800 Screen resolution Video playback1 

H.264 up to 1080p resolution – 30 fps MPEG‐42– 30 fps With the above codecs, the device can play video files with the following extensions: .avi .mp4 ,mkv, .mov, and .flv Audio Playback1 
MP3 , WAV (PCM/ADPCM), AAC, AAC+ 5.13, OGG Vorbis, FLAC Photo viewer3 
JPEG, BMP, GIF, PNG Interfaces Battery life4 












1x Micro USB host 2.0 to connect external devices Audio Jack 3.5mm Micro SD slot (SDHC compatible) Up to 64 GB HDMI output (Mini HDMI / HDMI cable sold separately) WiFi Bluetooth built‐in speaker Microphone G‐sensor Front camera Internal: Lithium Polymer battery 5V/2A Power Adapter Video playback time: TBD Dimensions & weight 
TBD Compatibility 
Computer interface 


Microsoft® Windows® 8, 7, Vista, XP and Windows Media Player 11 Mac OS. X with Transfer Files application (not included) Linux with android MTP tool (not included) 1x Micro USB 2.0 interface Package includes 
Storage Communication protocols Miscellaneous Power source ARCHOS 70b Titanium, USB cable, Power adapter, Quick Start Guide (QSG) 1/ Certain bitrates, resolutions, and/or file variations may not be compatible.
2/ MPEG-4 ASP@L5 AVI (MPEG-4: ISO standard by Moving Picture Experts Group; AVI: audio/video file container by
Microsoft) without GMC and Quarter.
3/ Certain resolutions and file sizes may not be compatible. 4/ Battery life and number of charge cycles vary by use and settings.
Test run with low backlight. All brands and product names are registered trademarks and the property of their respective
owners. Specifications are subject to change without notice. Errors and omissions accepted. Images and illustrations.

* Your assessment is very important for improving the work of artificial intelligence, which forms the content of this project