No category
Autofocus / Drive EOS-1D Mark III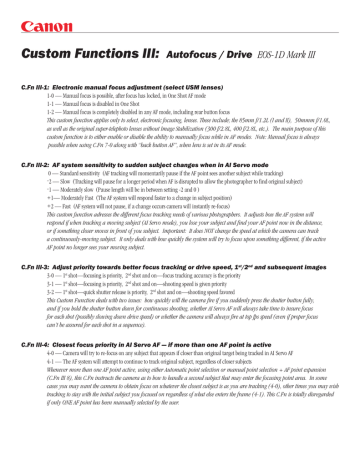 Custom Functions III:
Autofocus / Drive EOS-1D Mark III
C.Fn III-1: Electronic manual focus adjustment (select USM lenses)
1-0 — Manual focus is possible, after focus has locked, in One Shot AF mode
1-1 — Manual focus is disabled in One Shot
1-2 — Manual focus is completely disabled in any AF mode, including rear button focus
This custom function applies only to select, electronic focusing, lenses. These include; the 85mm f/1.2L (I and II), 50mmm f/1.0L,
as well as the original super-telephoto lenses without Image Stabilization (300 f/2.8L, 400 f/2.8L, etc.). The main purpose of this
custom function is to either enable or disable the ability to manually focus while in AF modes. Note: Manual focus is always
possible when using C.Fn 7-0 along with "back button AF", when lens is set in its AF mode.
C.Fn III-2: AF system sensitivity to sudden subject changes when in AI Servo mode
0 — Standard sensitivity (AF tracking will momentarily pause if the AF point sees another subject while tracking)
-2 — Slow (Tracking will pause for a longer period when AF is disrupted to allow the photographer to find original subject)
-1 — Moderately slow (Pause length will be in between setting -2 and 0 )
+1— Moderately Fast (The AF system will respond faster to a change in subject position)
+2 — Fast (AF system will not pause, if a change occurs camera will instantly re-focus)
This custom function adresses the different focus tracking needs of various photographers. It adjusts how the AF system will
respond if when tracking a moving subject (AI Servo mode), you lose your subject and find your AF point now in the distance,
or if something closer moves in front of you subject. Important: It does NOT change the speed at which the camera can track
a continuously-moving subject. It only deals with how quickly the system will try to focus upon something different, if the active
AF point no longer sees your moving subject.
C.Fn III-3: Adjust priority towards better focus tracking or drive speed, 1st/2nd and subsequent images
3-0 — 1st shot—focusing is priority, 2nd shot and on—focus tracking accuracy is the priority
3-1 — 1st shot—focusing is priority, 2nd shot and on—shooting speed is given priority
3-2 — 1st shot—quick shutter release is priority, 2nd shot and on—shooting speed favored
This Custom Function deals with two issues: how quickly will the camera fire if you suddenly press the shutter button fully,
and if you hold the shutter button down for continuous shooting, whether AI Servo AF will always take time to insure focus
for each shot (possibly slowing down drive speed) or whether the camera will always fire at top fps speed (even if proper focus
can't be assured for each shot in a sequence).
C.Fn III-4: Closest focus priority in AI Servo AF — if more than one AF point is active
4-0 — Camera will try to re-focus on any subject that appears if closer than original target being tracked in AI Servo AF
4-1 — The AF system will attempt to continue to track original subject, regardless of closer subjects
Whenever more than one AF point active, using either Automatic point selection or manual point selection + AF point expansion
(C.Fn III 8), this C.Fn instructs the camera as to how to handle a second subject that may enter the focusing point area. In some
cases you may want the camera to obtain focus on whatever the closest subject is as you are tracking (4-0), other times you may wish
tracking to stay with the initial subject you focused on regardless of what else enters the frame (4-1). This C.Fn is totally disregarded
if only ONE AF point has been manually selected by the user.
EOS-1D Mark III Autofocus / Drive Custom Functions
C.Fn III-5: Lens "hunting" if camera cannot achieve focus
5-0 — Keep trying to obtain focus (search)
5-1 — Stop trying to focus (avoid "hunting")
If the camera continues to try and focus and still cannot, you may be left with the image completely out of focus as it searches.
With C.Fn III-5-1, lens "searching" or "hunting" is avoided if your subject is well out of focus, often saving time by keeping the
lens where it last read the subject, and allowing quick manual focus adjustment if needed. This C.Fn can also be useful to improve
focus tracking consistency for challenging subjects such as birds in flight.
C.Fn III-6: AF stop button function (select "white" super-telephoto lenses)
6-0 — Locks AF when button is pressed
6-1 — Starts AF when pressed
6-2 — Exposure lock enabled when pressed
6-3 — Switch active AF point (auto AF point > center point / from single point > auto)
6-4 — Buttons are used to toggle between One Shot AF and AI Servo AF modes
6-5 — Starts image stabilization (with IS switch set to ON)
6-6 — AF stop button + FEL button allows selection of current AF point or previous
The AF stop buttons are the four black buttons around the front of certain select Image Stabilized super-telephoto lenses (EF 300mm
f/2.8L IS, etc). This Custom Function allows changing the role of these buttons to suit user preference or conditions. Regardless of
how this C.Fn is set, it will be ignored when any lens without AF Stop buttons is mounted on the camera.
C.Fn III-7: AF microadjustment to correct for slight front/back focusing
7-0 — Disable
7-1 — One adjustment is set for all lenses
7-2 — Adjustments are made specifically for each lens (up to 20 lenses)
This adjustment is only to be done if it is required; if done incorrectly it may prevent correct focus from being achieved. It allows
the user to take test shots, and adjust the camera's AF plane of sharpest focus forward or backward, if a consistent tendency for frontor back-focusing is perceived. For C.Fn III-7-2, adjustment can be made for one or more individual lens versions; keep in mind
that the camera can tell the difference between (for example) a 300mm f/2.8L IS and a 300mm f/4L IS lens, but it cannot
distinguish between two different samples of 300mm f/2.8L IS.
C.Fn III-8: Changing size of a manually-selected AF point
8-0 — When user manually selects one AF point, focus is limited to that single point
8-1 — One AF point on each side of selected point is added (cluster of three points total; added points are above & below in vertical shot)
8-2 — The "ring" of six points surrounding the selected point are all active (though not lit)
This Custom Function allows the user to change the size of a manually-selected AF point. Option 8-1 broadens the active AF area
but preserves the utmost in AF speed for challenging moving subjects; 8-2 creates an even larger cluster of active AF points,
and can be ideal for subjects without a lot of detail, and/or in low light conditions.
EOS-1D Mark III Autofocus / Drive Custom Functions
C.Fn III-9: Limit the number of available AF points
9-0 — All 19 selectable, cross type, AF points are selectable
9-1 — Inner 9 (center point plus inner ring of eight AF points are selectable)
9-2 — Outer 9 (cener point plus outer ring of eight points are selectable)
By limiting the total number of AF points, you allow quicker switching for fast paced shooting. Combining C.Fn III-9-1 or 9-2
with C.Fn IV-3-1 allows instant changes with the Quick Control Dial (no need to press AF point select button first), and instant
return to Center AF point if the Multicontroller is pressed straight in.
C.Fn III-10: Instant return to memorized AF point
10-0 — Feature is disabled, even if an AF point has been previously memorized
10-1 — Jump to memorized AF point by pressing Multi-controller straight in
This is similar to C.Fn 18 on the previous EOS-1D Mark II series. Users can memorize any AF point, or even the Automatic AF point
select mode, by first navigating to that point, and then holding down the AF Point select button and pressing the ISO button. "HP"
appears momentarily on the camera's top LCD panel during this procedure, to alert you that you've memorized a "home point".
Once a point is memorized, instantly return to it at any time, and from any other point you may currently be using, by simply
pushing the Multi-controller straight inward (not at an angle).
C.Fn III-11: Methods to enable Automatic AF point select mode – Quick control dial / Main Dial
11-0 — Quick control dial cannot enable Auto AF point selection / Main dial can
11-1 — Neither dial can enable Auto AF point selection
11-2 — Both dials can be used to enable Automatic AF point selection
This Custom Function dictates whether or not you can easily enter the Automatic AF point selection mode. It takes effect when combined with direct Quick Control Dial access to AF points (C.Fn IV-3-1). It also affects whether you can engage the Automatic AF point
selection mode with the Main Dial, after first pressing the AF point select button. Users who rarely or never use Automatic AF point selection may prefer setting 11-1; conversely, a user who frequently relies on automatic selection of AF points might prefer setting 11-2.
C.Fn III-12: AF point illumination
12-0 — Active AF point will always light in red, and brighten slightly when focused
12-1 — The AF point will never illuminate (except when being selected)
12-2 — AF point will light momentarily when focus has started and again when achieved
This function is designed for the photographer who does not like the red AF point illumination, and would rather have it
only show momentarily (12-2) or not show at all (12-1). Option 12-1 also eliminates red AF point illumination when
using Automatic AF point selection with One-Shot AF.
C.Fn III-13: AF point illumination brightness
13-0 — Normal
13-1 — Brighter (Makes the AF point light up brighter than normal)
In some situations, depending on environment and subject, even the bright red AF point indicator is not bright enough.
This function allows the user to have the focus point light up even brighter than usual, making it easier to see exactly what
the camera is focusing upon. It can be especially useful in bright daylight conditions.
EOS-1D Mark III Autofocus / Drive Custom Functions
C.Fn III-14: Turn off a speedlite's AF assist beam
14-0 — Enabled (The AF-assist beam is emitted by Canon EX-series Speedlites when the camera needs illumination for AF)
14-1 — Disabled (Even in dark, or low contrast areas the AF-assist beam will not emit)
When in a low light, or low contrast situation, it can be difficult for the auto focus system to gather enough information
to achieve focus. When coupled with a Canon EX-series speedlite, a speedlite's focus assist beam will be illuminated in many
low-light conditions to help the camera "see" sufficiently to focus. If a user finds this beam is too distracting or bothersome,
it can be disabled with C.Fn III-14-1. Please remember: regardless of how this C.Fn is set, AF Assist is never emitted from
a speedlite if the camera is set to AI Servo AF, or if the camera "thinks" it can reliably focus using available light.
C.Fn III-15: Mirror lock-up
15-0 — Disabled (mirror will not lock up)
15-1 — Enabled (press shutter release once to lock-up mirror, press again to fire)
15-2 — Enabled (After shutter has fired, mirror remains up until SET button is pressed)
By locking the mirror up, it will prevent camera vibrations caused by the mirror's action from disturbing close-up or long exposures.
Normal mirror-up operation (C.Fn III-15-1) always returns the mirror to its normal, "down" position after a picture is taken. With
option 15-2, the mirror remains up continuously for as many pictures as the user desires, without lowering after each shot. A new
icon on the top LCD panel indicates when the mirror is up. It can be lowered by pressing the SET button, and also by shutting the
camera off or removing the battery.
C.Fn III-16: Change continuous frames per second shooting speeds
Disable — Default settings will be used (H = 10 fps / L = 3 fps)
Enable — User-defined High and Low continuous fps shooting speeds are applied
Register — Customize the cameras continuous shooting speeds (H= 2~10 fps / L= 1~9 fps)
This Custom Function lets the user tailor the continuous frames per second rate to their preference. Out of the box, the High speed is
set to 10 fps, and the Low speed at 3 fps. If "Register" is selected, the user can freely slow down the High setting to as slow as 2 fps, and
can adjust the Low setting over a range of 1 through 9 fps. Once registered, if "Enable" is chosen, the new fps rates take effect. To
revert back to the factory default 10 fps and 3 fps rates, just choose "Disable". The user-applied slower rates are still available, if the
user later selects "Enable" again. One note: the High setting chosen by the user must be a faster fps rate than the Low setting.
C.Fn III-17: Limit continuous shooting count
Disable ­­— No limit is set, camera can continuously fire up to maximum burst indicated
Enable — The continuous shooting will be limited to the number of shots set in [Register]
Register — Continuous shooting can be assigned to a limit of 2-99 frames
Depending on your shooting needs, the ability to limit the total amount of frames in a burst may prove very useful. At 10 fps, you
will find the total amount of shots taken in a burst is quite substantial. By limiting it, you will insure the exact amount of frames
you intended for, helping to cut down on totally image count, and review and edit time needed later.

* Your assessment is very important for improving the work of artificial intelligence, which forms the content of this project