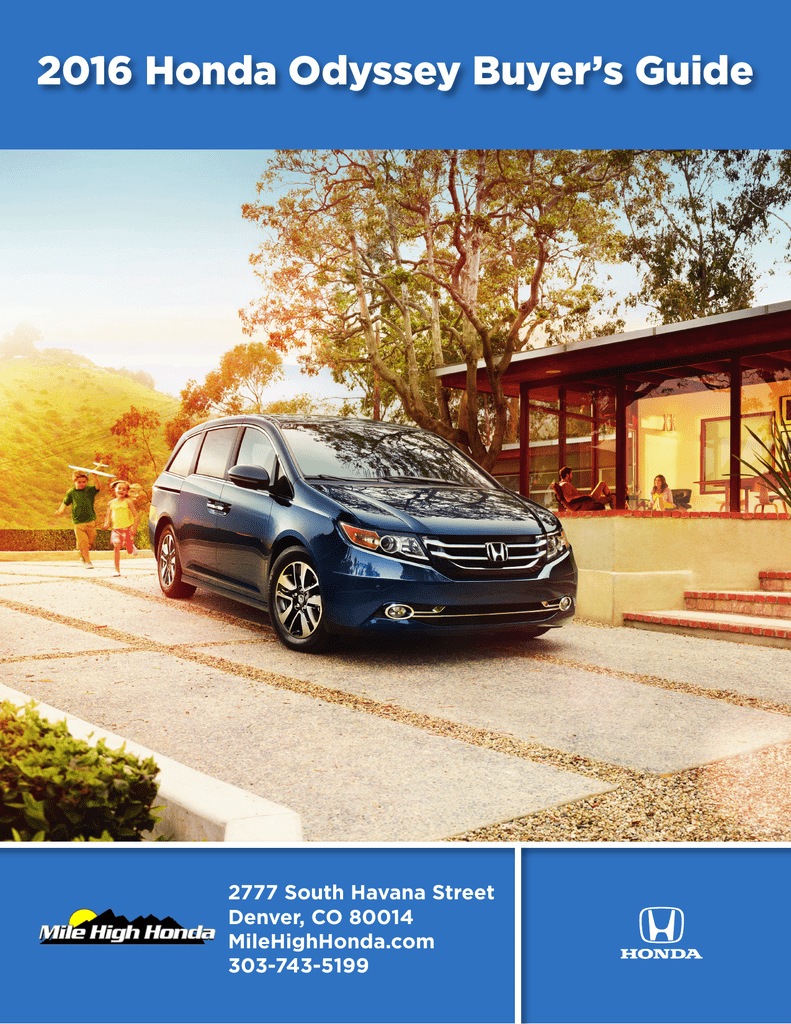 2016 Honda Odyssey Buyer's Guide
2777 South Havana Street
Denver, CO 80014
MileHighHonda.com
303-743-5199
1
2016 Honda Odyssey
Buyer's Guide
While the Honda Odyssey is known as a minivan, it
certainly offers mega options. To help you navigate the
2016 Odyssey's many features and trims, we bundled
buyer-friendly information alongside key specs and
options in the following buyer's guide. It will give you a
chance to learn:
•
•
•
•
•
•
The backstory of Honda's modern minivan
Odyssey engine and mileage specs
What's new for the 2016 Odyssey
What's included in each trim level
By the end of the guide, you'll be set to head to the
dealership, sign off on the paperwork, and drive your
magnificent minivan into the sunset or to soccer
practice, maybe even both.
•
Let's get started!
•
An Odyssey Evolution: The Minivan That Can
Year after year, Honda has proven the Odyssey's status
as a model minivan instead of just another minivan
model. Check out some of the Odyssey's feats through
the years:
Early innovations: Even back in the mid-1990s,
the Odyssey was considered a segment innovator,
offering buyers interior touches that were ahead of
their time, such as the 1995 Odyssey's unique dual
glovebox.
Turn of the century: With the Odyssey's former
four-cylinder engine swapped for a robust 3.5-liter
V6 and inventive storage nooks and consoles that
became the minivan's calling card, the turn-of-thecentury Odyssey upgrade has been the model's
biggest overhaul yet. The 2000 model year even
offered an optional navigation system, way before
this technology was considered commonplace.
Fourth generation: Fast forward 14 years to
the 2014 Odyssey's debut that brought more
groundbreaking ingenuity to the auto realm with
the introduction of the first-ever on-board vacuum,
HondaVAC®.
The future: With its top performance marks in key
categories and desirable features for families of
all sizes, this versatile minivan shows no signs of
stopping its successful journey anytime soon.
Mechanical Overview: Engine and Mileage
The 2016 Honda Odyssey's six trim styles share
the same willing powertrain. Defying the dreaded
acceleration struggle that so many other vans get
caught up in, the Odyssey's 248-horsepower 3.6-liter V6
engine adds a bit of excitement to family cruising.
This ample power, backed by 250 lb-ft of torque,
gives the Odyssey plenty of gusto for errand runs and
highway travel. Plus EPA estimates of 19 city and 28
highway mpg allow the Odyssey to leave an economic
footprint that's far smaller than most would guess.
MileHighHonda.com
2
2016 Honda Odyssey
Buyer's Guide
Honda Odyssey Safety Basics
All Odysseys come equipped with a six-speed
automatic transmission, sturdy suspension, and a
potent set of brakes, adding up to a ride that's steady,
responsive, and safe.
A Minivan's Greatest Ally:
Cargo and Small Storage
If you're looking to tote up to eight travelers, whether
you're going for your monthly bulk grocery run or
paying your weekly carpool dues, space for carry-ons is
essential. Luckily, those who choose the Honda Odyssey
have no shortage of built-in space, which means no one
has to travel with a cold jug of milk on their lap.
The Odyssey is definitely a van that was designed first
and foremost in the name of safety, a mission that's
evident in the model's many standard safety features.
One source of the minivan's inner sense of might is
its resilient, high-strength construction made using
Honda's Advanced Compatibility Engineering. A
comprehensive airbag suite that extends from the front
seat to the rear row builds on this safety aptitude.
The 2016 Honda Odyssey offers 38.4 cubic feet of room
behind the third row of seats, which is plenty to stack
the kids' backpacks, coworkers' briefcases, or both.
Behind the second row, you'll find 93.1 cubic feet after
you fold the final row flat in a cinch with the Odyssey's
special Magic Seat. This row can also be split 60/40 for
those times when you need extra toting room but still
need next-to-full seating capacity.
An expanse of 148.5 cubic feet is available behind the
front row, which is enough room for your Odyssey to
take on the role of a not-so-mini moving van when
it's needed.
Your small storage options are also abundant in the
Odyssey. Cupholders are positioned within reach for
every passenger, a removable center console doubles
as a lined van trash can, and a nifty cooled glovebox
compartment, available on upper trim models, keeps
snacks chilled in transit.
MileHighHonda.com
Advanced brake technology, including a four-wheel
anti-lock brake system, Brake Assist, and Electronic
Brake Force Distribution, adds to the Odyssey's smooth
operating abilities. Standard daytime running lights
make your presence known to other drivers, and a
rearview camera with guidelines, standard on every
model, is a must-have extra that simplifies driveway
navigations considerably.
In the Insurance Institute for Highway Safety's crash
test evaluation, the 2016 Honda Odyssey earned a
perfect score and the highly coveted Top Safety Pick
designation. The Odyssey was also awarded a top rating
from the National Highway Traffic Safety Administration
of five stars overall.
3
2016 Honda Odyssey
Buyer's Guide
About Honda Sensing Technology
Honda's most recent safety technology set, collectively
known as Honda Sensing, uses tiny cameras and radar
technology to act as your van's eyes and ears.
Two of these features are available on the 2016 Honda
Odyssey trims EX-L and above. Small cameras set into
the Odyssey's Lane Departure Warning system read
highway pavement markings. If the system senses that
you're drifting out of your defined lane without using
a turn signal, it will alert you with an audible and visual
warning.
The second sensing feature, Forward Collision Warning,
uses a camera at the front of the van to monitor the
vehicles in front of you. In addition to picking up
another car in your path, the system measures the
distance between you and the vehicle directly ahead
and watches the rate at which this space fluctuates.
Forward Collision Warning keeps drivers cognizant of
upcoming changes in the flow of traffic, allotting you
extra time to slow down when it counts most.
equipped on each model so you can choose the trim
level that meets the wants and needs of you and your
crew.
Base Honda Odyssey LX
Key Features: Seats seven, power-adjustable front
seats, Bluetooth, rearview camera
The Honda Odyssey LX isn't your run-of-the-mill barebones base model. The LX provides ample comfort for
seven passengers and entertainment and convenience
features that many consider road trip luxuries.
On the outside, the LX is equipped with 17-inch steel
wheels, a rear spoiler, and rear privacy glass.
Inside, the Honda Odyssey LX provides a calm, cool,
and collected interior. Active noise cancellation
matches its smooth riding powertrain, and manual twozone air-conditioning keeps travelers cool on summer
journeys. An eight-way power driver's seat, four-way
power front passenger seat, and tilt-and-telescopic
steering wheel give total comfort and control to the
pilot and co-pilot.
Entertainment features are abundant in the entrylevel Odyssey. Drivers have access to an 8-inch multiinformation display and a seven-speaker audio system
on board to play CDs, stream Pandora internet radio, or
play compatible devices connected via auxiliary input
or USB port.
Selecting the Trim That's Right for You
The 2016 Odyssey is available in six trim styles: LX,
EX, SE, EX-L, Touring, and Touring Elite. Consult the
sections below to get to know the features that come
MileHighHonda.com
Honda Odyssey EX
Key Features: Seats eight, multi-adjustable second
row, Honda LaneWatch, HondaLink
The next Odyssey introduces a greater level of
versatility to the minivan interior that's particularly
5
2016 Honda Odyssey
Buyer's Guide
appealing to growing families. The most notable
upgrade, standard on the EX and above, is an extra
passenger seat that bumps available occupancy
up to eight.
Outer enhancements include 17-inch alloy wheels,
power-sliding doors, automatic headlights,
and heated mirrors.
Peel back the layers of this talented van trim and
you'll find a wealth of updated technology from the
dashboard to its back seat. Another major draw of the
Odyssey EX (and above) is its configurable second row
middle seat that has a dual function. It can be easily
removed to make way for back seat riders to reach
the third row or it can slide forward to bring a child
secured in a safety seat closer to the parents up front.
The Odyssey EX also features advanced entertainment
options, including Honda's camera-run LaneWatch
system standard and a 7-inch touchscreen that runs
HondaLink smartphone integration with Aha apps.
Enhanced comfort and convenience features on the
EX include keyless ignition and entry, two-way power
lumbar adjustment for the driver's seat, a conversation
mirror, removable front center console, and tri-zone
automatic climate control.
2016 Honda Odyssey Special Edition
Key Features: Seats eight, HondaVAC®, rear seat
entertainment system, SiriusXM
New for 2016, the Honda Odyssey Special Edition, or
SE, bundles the model's most groundbreaking features
into one memorable package.
MileHighHonda.com
Between the signature HondaVAC® van vacuum on
board to keep crumbs at bay and the Honda rear
entertainment system with wireless headsets to keep
the kids optimally occupied, you may find it tough to
get out of the SE once you get to your destination.
This package also adds in a 115-volt power outlet and
SiriusXM Radio.
The high-value features that the SE brings were once
only offered to buyers in the highest package level,
making it a must-have for buyers after a well-run van
interior at a more modest price tag.
Honda Odyssey EX-L
Key Features: Seats eight, leather seating, sunroof,
Honda Sensing
Honda's fourth trim in the Odyssey lineup, the EX-L,
adds the surefire trappings of a luxury mover with
leather seating, heated front seats, a sunroof, and
a chillable glovebox.
Additional upscale conveniences include:
• Leather-wrapped steering wheel
• Power liftgate
• Heated front seats
• Auto-dimming rearview mirror
• Forward Collision Warning
• Lane Departure Warning
EX-L buyers also have a choice of two additional
packages, one that adds a voice-operated navigation
system and another that brings in the rear seat
entertainment system and the power outlet from
the SE bundle.
6
2016 Honda Odyssey
Buyer's Guide
Honda Odyssey Touring
Key Features: Seats eight, navigation system,
rear seat entertainment system
For those interested in a van that's equipped with
maximum gadgets, one of the two top Odyssey trims
may be just what you're looking for. Advanced outer
elements on the Odyssey Touring include 18-inch alloy
wheels, fog lights, and front and rear parking sensors.
Inside, driver memory settings and the navigation and
rear seat entertainment systems offered on the EX-L
are both standard.
Bringing Your Odyssey Home
With plenty of space, safety, and style, the 2016
Honda Odyssey is a minivan that's equal parts fun
and function. No matter which package you pick, this
modern minivan's superior adaptability makes it ready
to take on any challenge your family throws its way for
many years to come.
Good luck with your Odyssey!
Honda Odyssey Touring Elite
Key Features: Seats eight, HondaVAC®, ultra-wide
rear seat entertainment system
The top-of-the-line Odyssey Touring Elite adds xenon
headlights, brings back the HondaVAC®, and ups
the speaker count to 12 for superior surround sound
quality.
The Touring Elite is also known for its inspiring rear
seat entertainment system that features a huge 16.2inch widescreen monitor with HDMI input that allows
backseat watchers to see two programs play side
by side simultaneously. Wireless headphones shared
on the SE's system keep passengers plugged in and
entertained without the chance of getting tangled up.
19 city/28 highway/22 combined mpg rating. Based on 2016 EPA
mileage ratings. Use for comparison purposes only. Your mileage will
vary depending on how you drive and maintain your vehicle, driving
conditions and other factors.
2777 South Havana St
Denver, CO 80014
MileHighHonda.com
303-743-5199
We'll Make Your First
Month's Payment!
(With This Coupon)
Must present printed coupon at time of purchase.
Cannot be combined with any other offers. First month's
payment waived up to $500. Valid on the lease or
purchase of any new Honda excluding the Honda Fit.
Valid only at Mile High Honda. See dealer for details.
Offer expires December 31, 2016.
250 OFF
$
Any Pre-Owned
Vehicle
(With This Coupon)
Must present printed coupon at time of purchase.
Cannot be combined with any other offers. Valid only
at Mile High Honda. Offer expires December 31, 2016.