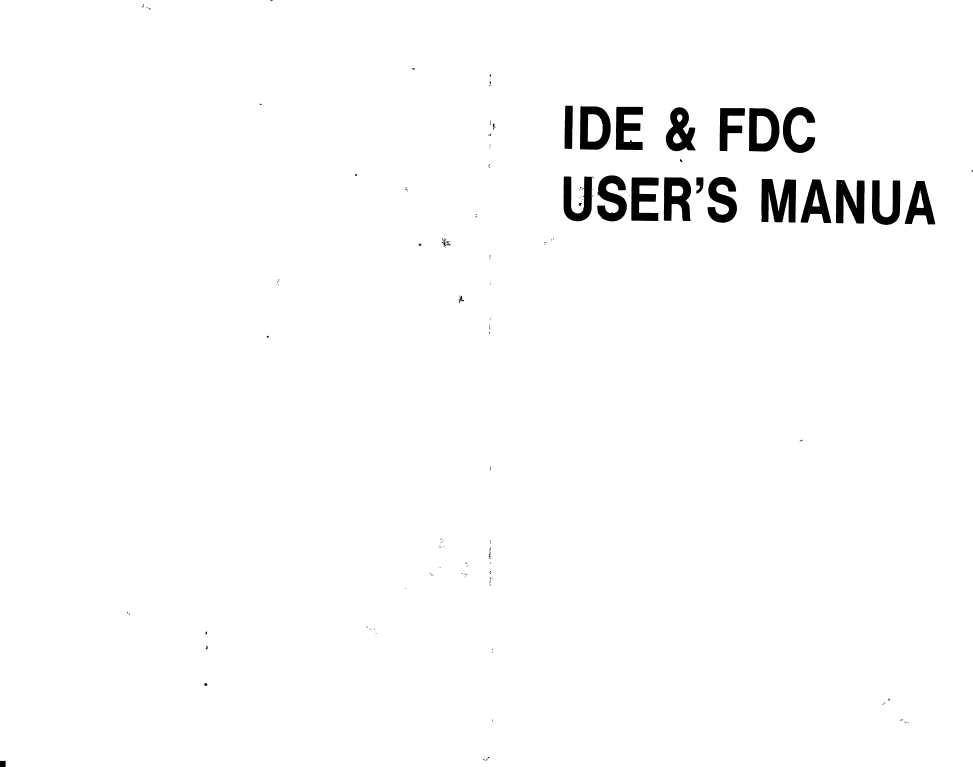 , IDE & FDe
USER'S MANUA
FIDC (Floppy/Integrated Drive Con­
troller) is a floppy and integrated/ embedded drive control card that can control up to two floppy (3W' or 5~") and 2 integrated/embedded drive for PCI AT or Compatible computers. Before installing this card, be sure the card's connector or jumper is set pro­
perly. The outline is shown below: integrate/embedded drive interface floppy drive interface
c::::::J21
LEDI
.2 O.
139 FLOPPY
IDE
c=J CJ c::::J c=J
JP3D
JP4
.34,
33
a
=0
Cl
JPI
CJ c::::J r::=J I
37C65
IJ~
lPl: IRQ14 line with or without buffer
output. Some drive may need this
line with buffer output, like COR­
NER drive set 1-2 (factory set)
without buffer output, set 2-3
with buffer output.
lP2: High capacity drive rotate speed
(RPM) select. Set 1-2 when 300
RPM drive is used set 2-3 (fac­
tory set) when 360 RPM drive is
used.
lP3, lP4: Hard disk/floppy drive primary/
secondary I/O address setting,
see table shown below:
primarY
I/O addr.
2-3*
secondary
I/O addr.
1~2
JP3 IFOH-IF7H 170H-177H hard disk I/O addr.
JP4 3FOH-3F7H 370H-377H floppy disk I/O addr.
16 bit host interface
* factory normal setting.

* Your assessment is very important for improving the work of artificial intelligence, which forms the content of this project