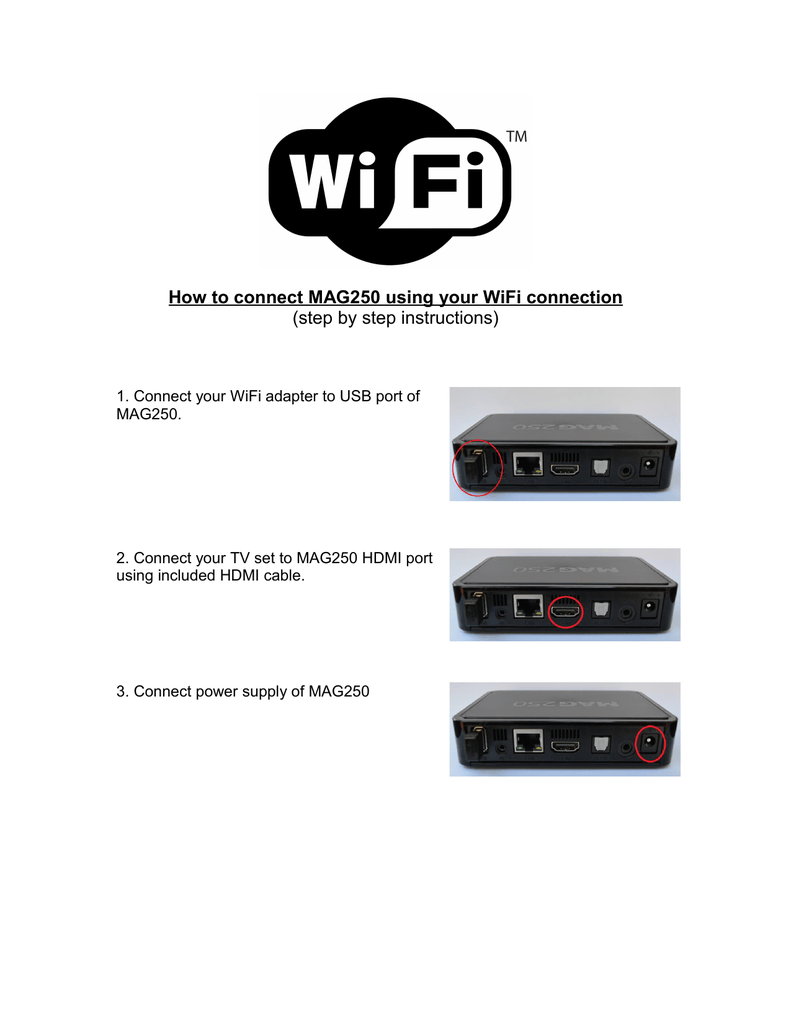 How to connect MAG250 using your WiFi connection
(step by step instructions)
1. Connect your WiFi adapter to USB port of
MAG250.
2. Connect your TV set to MAG250 HDMI port
using included HDMI cable.
3. Connect power supply of MAG250
4. When first time starting MAG250 and no
WiFi connection is configured, please wait for
couple of minutes until message "Page
loading error" occurs on TV.
5. Press blue(F4) button on the remote
control of MAG250 and wait until "System
settings" window opens. Select "Network" and
press OK.
6. On appeared window "Network settings",
select "Wireless (Wi-Fi)" and press OK
7. On "Network configuration/Wireless "
window select "Auto(DHCP)" and press OK
8. Now select "Scan" and press OK
9. Select your home wireless network from
appeared list and press OK
10. Enter the password of your wireless
network on "Key or Passphrase " field. For
this press "keyboard" button, enter password,
once more "keyboard" button and then press
OK
11. Wait for about 15s and check if MAG250
connected to your WiFi network: On "System
settings" menu select "Network INFO" and
press OK.
12. On "Network Information" window select
"Wireless (WiFi)" and press OK.
13. If all data was entered properly, you
should see "Link Status: Up "
If it says "Link Status: Down" check if you
entered your password correctly(start all over
from step 5)
14. If WiFi connection was established
correctly, press "Exit" button twice and player
application will start.

* Your assessment is very important for improving the work of artificial intelligence, which forms the content of this project