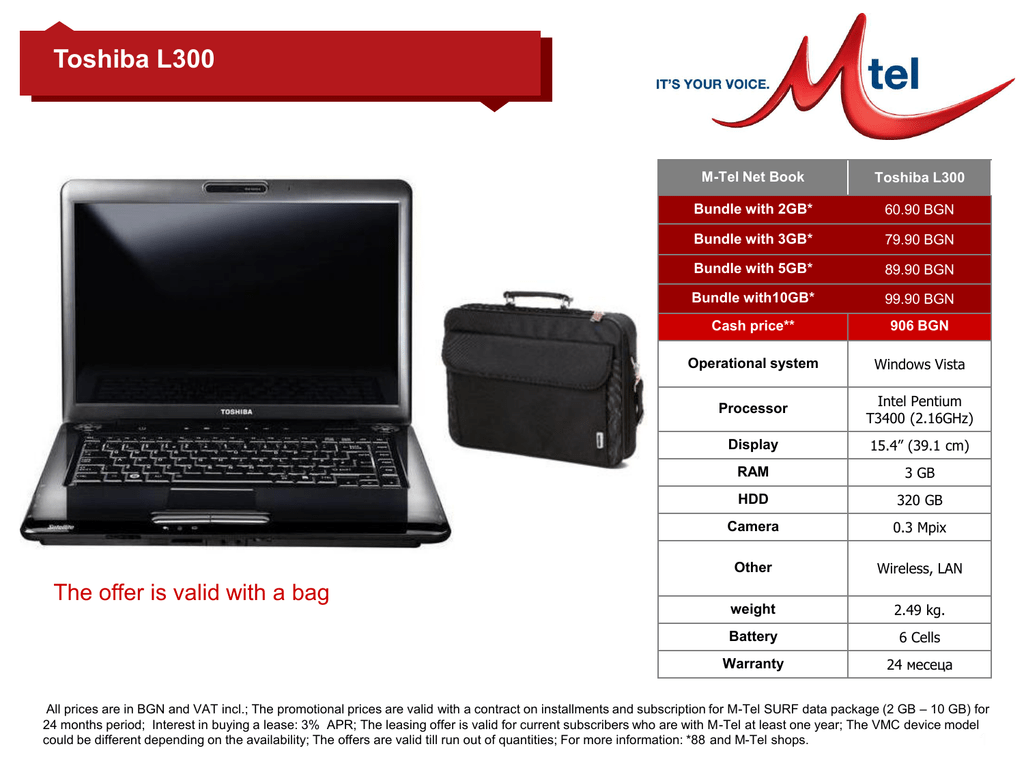 Toshiba L300
Toshiba L300
The offer is valid with a bag
M-Tel Net Book
Toshiba L300
Bundle with 2GB*
60.90 BGN
Bundle with 3GB*
79.90 BGN
Bundle with 5GB*
89.90 BGN
Bundle with10GB*
99.90 BGN
Cash price**
906 BGN
Operational system
Windows Vista
Processor
Intel Pentium
T3400 (2.16GHz)
Display
15.4" (39.1 cm)
RAM
3 GB
HDD
320 GB
Camera
0.3 Mpix
Other
Wireless, LAN
weight
2.49 kg.
Battery
6 Cells
Warranty
24 месеца
All prices are in BGN and VAT incl.; The promotional prices are valid with a contract on installments and subscription for M-Tel SURF data package (2 GB – 10 GB) for
1
24 months period; Interest in buying a lease: 3% APR; The leasing offer is valid for current subscribers who are with M-Tel at least one year; The VMC device model1
1 1
could be different depending on the availability; The offers are valid till run out of quantities; For more information: *88 and M-Tel shops.

* Your assessment is very important for improving the work of artificial intelligence, which forms the content of this project