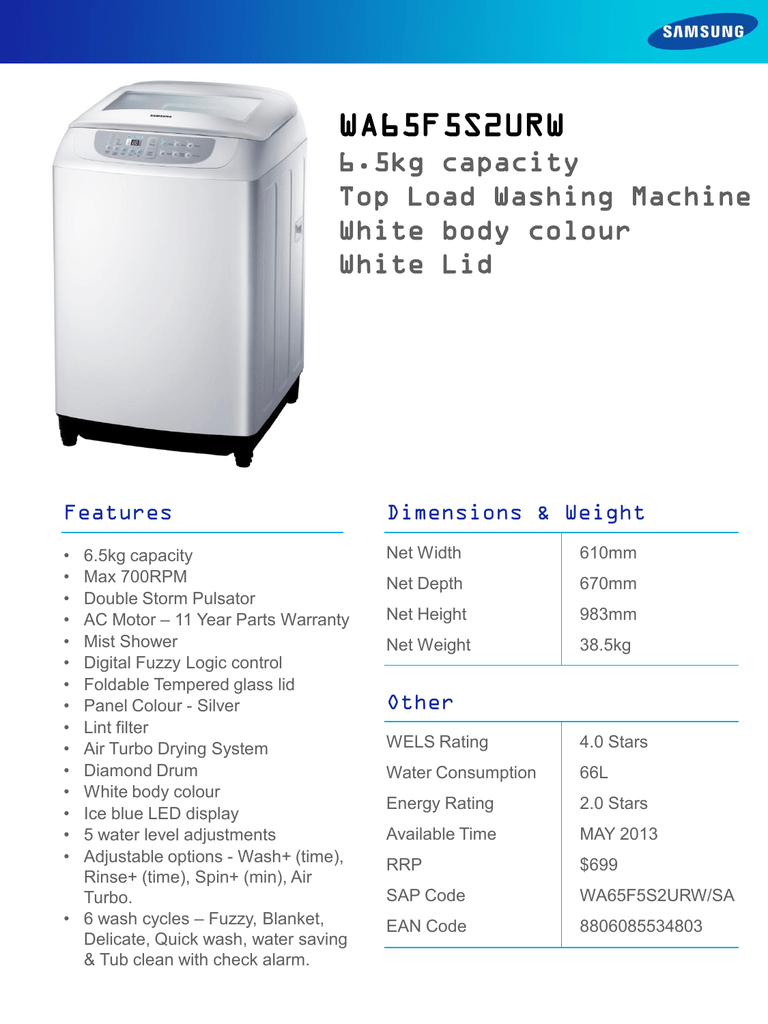 WA65F5S2URW
6.5kg capacity
Top Load Washing Machine
White body colour
White Lid
Features
Dimensions & Weight
•
•
•
•
•
•
•
•
•
•
•
•
•
•
•
Net Width
610mm
Net Depth
670mm
Net Height
983mm
Net Weight
38.5kg
6.5kg capacity
Max 700RPM
Double Storm Pulsator
AC Motor – 11 Year Parts Warranty
Mist Shower
Digital Fuzzy Logic control
Foldable Tempered glass lid
Panel Colour - Silver
Lint filter
Air Turbo Drying System
Diamond Drum
White body colour
Ice blue LED display
5 water level adjustments
Adjustable options - Wash+ (time),
Rinse+ (time), Spin+ (min), Air
Turbo.
• 6 wash cycles – Fuzzy, Blanket,
Delicate, Quick wash, water saving
& Tub clean with check alarm.
Other
WELS Rating
4.0 Stars
Water Consumption
66L
Energy Rating
2.0 Stars
Available Time
MAY 2013
RRP
$699
SAP Code
WA65F5S2URW/SA
EAN Code
8806085534803
WA65F5S2URW
6.5kg capacity
Top Load Washing
Machine
White body colour
White Lid
Gentle and
thorough wash
Samsung's WA65F5S2URW
washing machine has a
pulsator which creates a powerful
water current. This current generates
multi-directive waves to help deliver a
great washing performance.
Slanted Control Panel
Samsung's new front control top load
washing machine features a slanted
more intuitive control panel for ease of
use.
Air Turbo
Drying
System
Dual air intakes and turbo power allow air
to drawn in to the washing machine drum
to pull water out of the load and help
reduce the drying time.
Tub Clean
This function is designed
to remove dirt and biofilm
in the tub by soaking and
spinning only with water.
AC Motor with
11 year parts
replacement
warranty*
Mist Shower
Low fuss and peace of mind for a long
time – WA65F5S2URW comes with an
11 year parts replacement warranty on
the AC motor.
A fine mist of water helps to dissolve
laundry detergents effectively, helping to
ensure more efficient use of detergent
and greater rinsing performance.
Samsung Electronics Australia Pty Ltd | www.samsung.com.au
Product specifications and features may be subject to change
* See warranty card or http://www.samsung.com/au/support/main/supportMain.do for details.

* Your assessment is very important for improving the work of artificial intelligence, which forms the content of this project