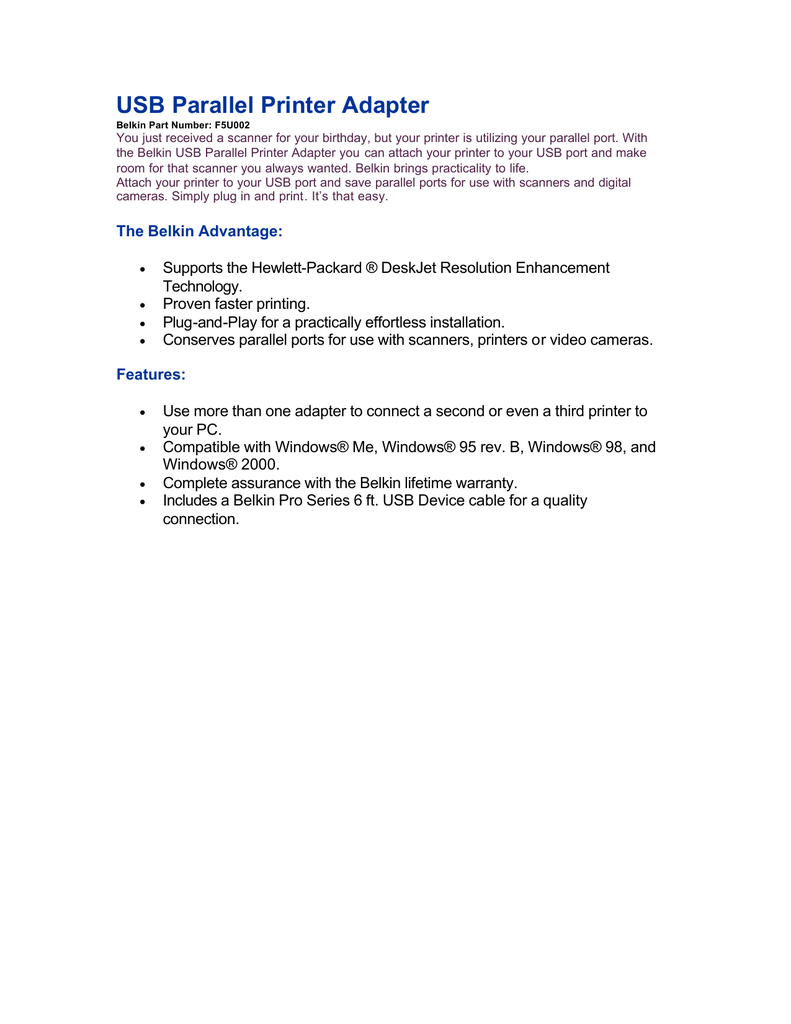 USB Parallel Printer Adapter
Belkin Part Number: F5U002
You just received a scanner for your birthday, but your printer is utilizing your parallel port. With
the Belkin USB Parallel Printer Adapter you can attach your printer to your USB port and make
room for that scanner you always wanted. Belkin brings practicality to life.
Attach your printer to your USB port and save parallel ports for use with scanners and digital
cameras. Simply plug in and print. It's that easy.
The Belkin Advantage:
•
•
•
•
Supports the Hewlett-Packard ® DeskJet Resolution Enhancement
Technology.
Proven faster printing.
Plug-and-Play for a practically effortless installation.
Conserves parallel ports for use with scanners, printers or video cameras.
Features:
•
•
•
•
Use more than one adapter to connect a second or even a third printer to
your PC.
Compatible with Windows® Me, Windows® 95 rev. B, Windows® 98, and
Windows® 2000.
Complete assurance with the Belkin lifetime warranty.
Includes a Belkin Pro Series 6 ft. USB Device cable for a quality
connection.

* Your assessment is very important for improving the work of artificial intelligence, which forms the content of this project