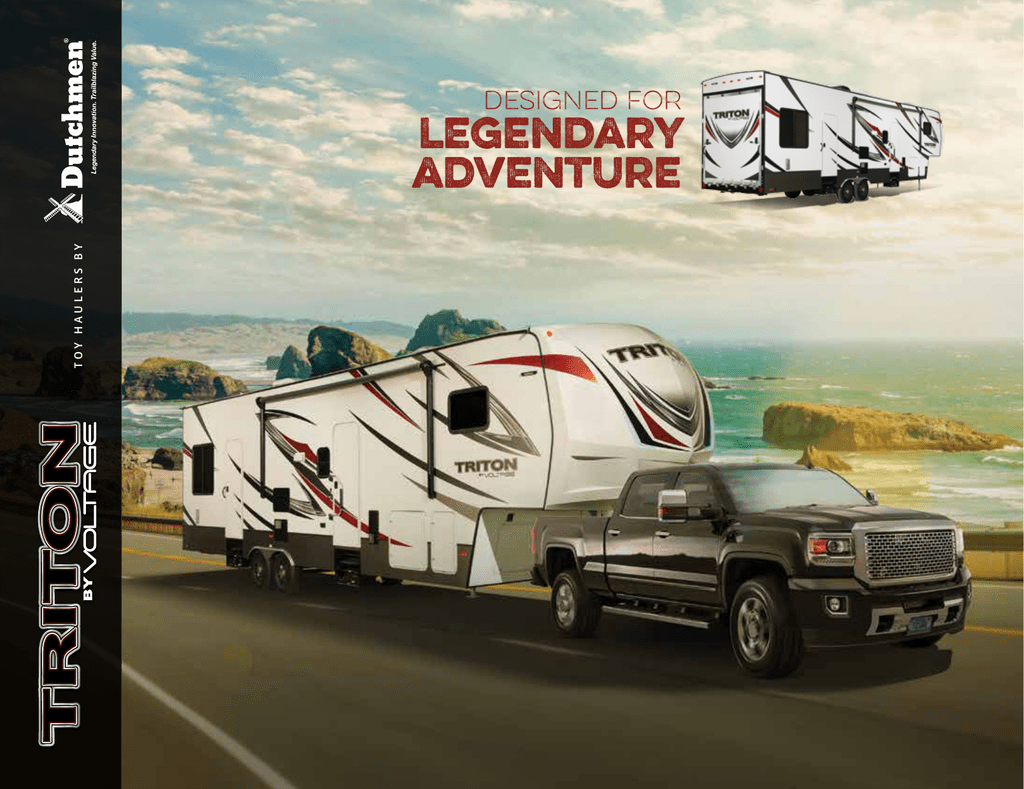 designed for
toy haulers by
legendary
adventure
Triton 3551
DESIGNED FOR LEGENDARY
ADVENTURE.
SLEEP SOUNDLY
HARDWOOD CABINETRY
The Triton features a 60x80-inch queen bed, while
also providing a residential duvet cover, pleated night
shades and a second 15,000-BTU air conditioner.
MAX FLOW AIR DUCTS
STAINLESS-STEEL APPLIANCES
KITCHEN HUTCH
SOLID-SURFACE COUNTERTOPS
Triton 3551
THE TRITON is the titan of its industry delivering
numerous upgraded features, such as residential
furniture, a large electric awning, dual 15K A/C's and
Tuff Ply garage flooring for extreme outdoor trips.
30-GALLON FUEL STATION
7,000LB AXLES
TRITON FLOORPL ANS
REST
17' 1"
WARD
OHC
NIGHT
STAND
SHOWER
OHC
LAY FLAT HAPPI-JACK
POWER BUNK
W/SOFAS
AND TABLE TOP
60" X 80"
QUEEN BED
(W/STORAGE)
TABLE
OH
OHC
8' SPRING
SPRING
ASSIST
ASSIST
RAMP DOOR
WARD
OHC
REFER
C
BUNKS
OR
GARAGE
OHC
NIGHT
STAND
TV
TRITON | 2951
Ext. Length: 33' 6" Ext. Height: 13' 4"
Average Shipping Weight: 10,300 Sleeps: 7
PLAY
20' 3"
MICRO
OHC
OHC
REFER
WARD
NIGHT
STAND
OHC
OHC
60" X 80"
QUEEN BED
(W/STORAGE)
OHC
LAY FLAT HAPPI-JACK
POWER BUNK
W/SOFAS
AND TABLE TOP
OHC
SPRING ASSIST
RAMP DOOR
WARD
SHOWER
OHC
TABLE
NIGHT
STAND
TV
TRITON | 3351
Ext. Length: 36' 5" Ext. Height: 13' 4"
Average Shipping Weight: 11,230 Sleeps: 7
BUILT FOR MILES
12' 7"
GLASS PATIO DOORS
Tons of overhead storage, a 30-gallon fuel station and
dynamic floorplans fit all your needs.
ENT
CENTER
STOWABLE
TABLE
NIGHT
STAND
OH
REFER
MICRO
OHC
C
60" X 80"
QUEEN BED
NIGHT
STAND
NEO-ANGLE
SHOWER
TV
16' AWNING
TRITON | 3451
Ext. Length: 37' 8" Ext. Height: 13' 4"
Average Shipping Weight: 11,190 Sleeps: 7
11'
PANTRY
›
GARAGE OHC CABINET
Enjoy an upgraded sound system with multiple zones and
primed with HDMI/AM/FM/CD/DVD and Bluetooth capabilities.
SPRING ASSIST
RAMP DOOR
LAY FLAT HAPPI-JACK
POWER BUNK
W/SOFAS
AND TABLE TOP
PANTRY
›
GASOLINE PUMP STATION
OHC
Lay flat HappiJac bed lift system helps load the tallest
and widest toys in your collection.
STEP
›
REFER
MICRO
WARDROBE
WARD WARDROBE
WARD
TV
TV
NIGHT
NIGHT
STAND
STAND
60
80
60" X
X 80"
QUEEN
BED
QUEEN BED
(W/STORAGE)
W/STORAGE
OHC
TWIN BED
LOFT
OHC
LAY FLAT HAPPI-JACK
POWER BUNK
W/SOFAS
AND TABLE TOP
LINEN
OHC
8' SPRING
ASSIST
RAMP DOOR
TUB/SHOWER
SHOWER
NIGHT
NIGHT
STAND
STAND
TRITON | 3551
Ext. Length: 39' 0" Ext. Height: 13' 4"
Average Shipping Weight: 12,784 Sleeps: 8
TRANSFORMING
YOUR LIVING
SPACE
The rear of your RV is
set to fit your needs,
from beds, residential
furniture, a large table
perfect for dining or
simply a spot to store
your ATVs and dirt bikes.
DELUXE BATHROOM
Designed for optimal comfort,
Triton bathrooms feature hardwood
cabinetry, a stainless-steel sink and
full fiberglass shower.
TRITON DÉCOR
TIMBER
ECLIPSE
triton specifications
DIMENSIONS
WEIGHTS (LBS.)
Dutchmen—A North American
Campground Classic.
TANKS (GALS.)
FLOORPLAN
EXTERIOR
TRAVEL
LENGTH
EXTERIOR
WIDTH
HEIGHT
(WITH
A/C)
**AVERAGE
SHIPPING
WEIGHT
DRY
HITCH
WEIGHT
CARGO
CARRYING
CAPACITY
***FRESH
WATER
CAPACITY
GREY
WATER
CAPACITY
BLACK
WATER
CAPACITY
2951
33', 6"
100"
160"
10,458
2,494
6,342
92
76
38
3351
36', 5"
100"
160"
11,200
2,750
5,600
92
38
38
3451
37', 8"
100"
160"
11,295
2,614
5,505
92
68
38
3551
39', 0"
100"
160"
12,784
2,980
4,016
92
76
86
*Length is defined as the distance from the centerline of hitch pin/coupler to rear bumper of trailer. **Our weights represent how most
units are built, inclusive of many commonly-ordered options. ***Fresh water capacity includes water heater capacity.
triton standards and options
MANDATORY FEATURES
7,000-lb Axles with Ultra Lube
Nitro Fill Tires
7,040-lb Load Range E-Rated HD Tires (per Axle)
Rear Electric Jacks
Fuel Tank w/ Pump Station (30-Gallons)
Triton Exterior Package
Fully Walkable Roof w/ TPO Superflex
Material (12-Year Warranty)
Triton Garage Package
Triton HappiJac Electric Bed and Roll
Over Sofa System with Table
Triton Interior Package
Few manufacturers have built RVs for
25+ years, and only one has set the
standard for innovation AND value.
Dutchmen IS "A North American
Campground Classic."
MORE STANDARD FEATURES
MORE VALUE
Dutchmen RVs turn more heads on the lot and in the campground than any other. Why? While other
manufacturers offer features as options, Dutchmen tends to make those same features standard.
Large Electric Awning with LED Lights
Call it "bang for the buck," "more for your money," or simply "more value." We've built a reputation
Omni Directional TV Antenna with
AM/FM/Cable Booster
for bringing RV owners more standard features for less money for more than 25 years . . . and it's a
reputation we plan to keep.
Spare Tire with Carrier
TRITON INTERIOR PACKAGE
Tinted Safety Glass Windows
1.0 cu. ft. Microwave
Upgraded Graphics with 3-Year Warranty
15,000 -BTU Bedroom A/C with Thermostat Sensor
3 Burner Range w/ Upgraded Burner
TRITON GARAGE PACKAGE
32"-39" LCD HD Main TV
2 Indoor/Outdoor Speakers
60"x80" Queen Bed (Select Models)
2,500-lb Tie Downs
8 cu. ft. Refrigerator w/ Pantry
Insulated Heat and A/C Ducts
Atwood 6-Gallon Gas Electric Water Heater
w/DSI and 19.7 gal/hr Recovery
Metal Ram Air Vents
Tuff Ply Garage Flooring
Bedroom TV Prep
Cable/Satellite Prep
GENERATOR OPTIONS
Furion Stereo System with HDMI/
AM/FM/DVD/Bluetooth
Generator Ready (Standard)
Onan 5.5 KW Gas Generator
Pleated Night Shades throughout the entire coach
Range Hood with Fan and Lights
OPTIONS
Residential Duvet Covers
12-Volt Tank Heaters with Interior Switches
Solid-Surface Kitchen Countertops
Aluminum Ramp Door Patio System w/ Patio Awning
Stainless-Steel Kitchen Sink
Dual Pane Safety Glass Windows
Upgraded Residential Furniture
CODES AND SEALS
TRITON EXTERIOR PACKAGE
CSA Construction Seal
1" Thick Baggage Doors
RVIA Seal
16" Aluminum Wheels
State Seal (Where Applicable)
50-amp Service with 50' Cord and Indicator Lights
Winterization (October - April)
At Dutchmen, quality is our standard. Every single Dutchmen RV that comes off the
line receives its own pre-delivery inspection. Typically, a competitor performs random
inspections, meaning you won't find this commitment to quality anywhere else.
300
STRONG
NATION WIDE DEALER NETWORK
More than 300 Dutchmen dealers across
North America and our industry-leading
service center in Goshen, Indiana, combine
for your peace of mind before, during and
after the sale. Rest assured no matter where
your travels take you, the best-resourced
RV manufacturing company in the world is
behind you all the way.
PO BOX 2000 • 2164 Caragana Court
Goshen, Indiana 46527 Sales: 574.537.0600
www.dutchmen.com
To check for recent
updates to floorplans
and specifications.
Scan this QR CODE
with your favorite QR
Reader application.
www.dutchmen.com
Visit us online to see all of the Dutchmen brands,
innovative models and spacious floorplans.
Your local dealer
From giving advice to servicing products, we consider our loyal
dealers the best resource for learning about Dutchmen products.
TRI-HM0117-24K
DISCLAIMER: Product information is as accurate as possible as of the brochure publication date. All features, floorplans and specifications
in this brochure are subject to change without notice. Please consult Dutchmen's website at www.Dutchmen.com for current product information and specifications. Tow Vehicle Disclaimer. CAUTION: Owners of Dutchmen recreational vehicles are solely responsible for the selection and proper use of tow vehicles. All customers should consult with a motor vehicle manufacturer or their dealer concerning the purchase and use of suitable tow vehicles for Dutchmen products. Dutchmen disclaims any liability or damages suffered as a result of the
selection, operation, use or misuse of a tow vehicle. DUTCHMEN'S LIMITED WARRANTY DOES NOT COVER DAMAGE TO THE RECREATIONAL
VEHICLE OR THE TOW VEHICLE AS A RESULT OF THE SELECTION, OPERATION, USE OR MISUSE OF THE TOW VEHICLE. REFERENCE DUTCHMEN MANUFACTURING OWNERS MANUAL FOR LIMITED WARRANTY DETAILS.