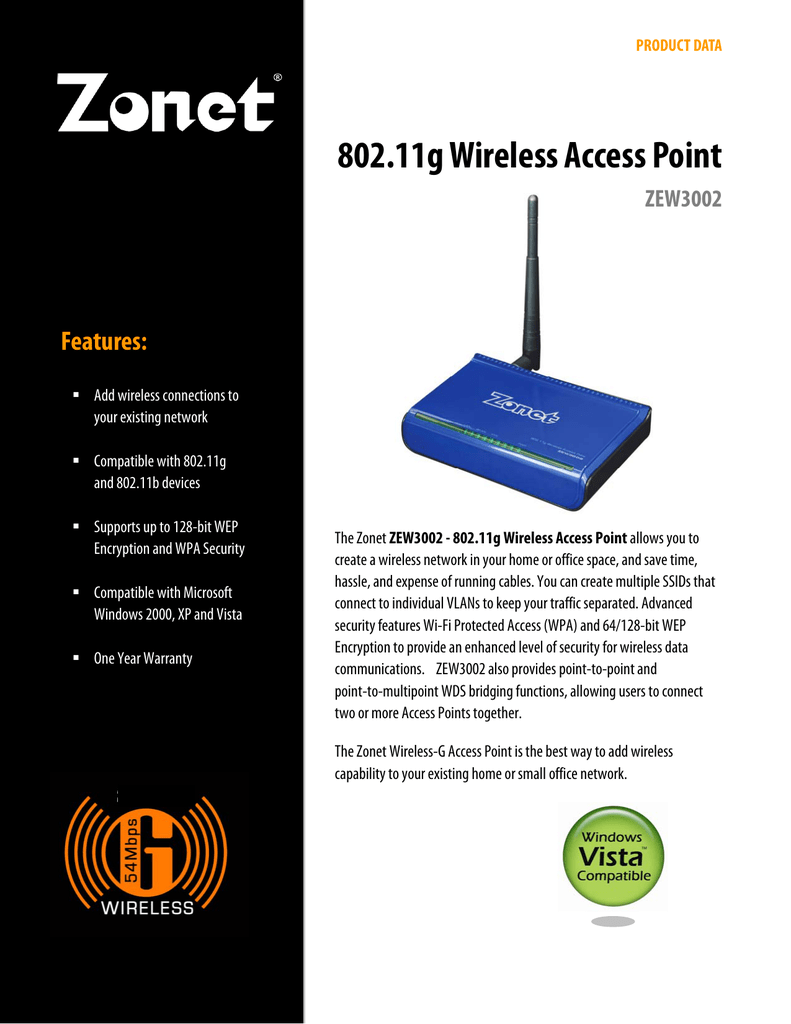 PRODUCT DATA
802.11g Wireless Access Point
ZEW3002
Features:
ƒ Add wireless connections to
your existing network
ƒ Compatible with 802.11g
and 802.11b devices
ƒ Supports up to 128-bit WEP
Encryption and WPA Security
ƒ Compatible with Microsoft
Windows 2000, XP and Vista
ƒ One Year Warranty
The Zonet ZEW3002 - 802.11g Wireless Access Point allows you to
create a wireless network in your home or office space, and save time,
hassle, and expense of running cables. You can create multiple SSIDs that
connect to individual VLANs to keep your traffic separated. Advanced
security features Wi-Fi Protected Access (WPA) and 64/128-bit WEP
Encryption to provide an enhanced level of security for wireless data
communications. ZEW3002 also provides point-to-point and
point-to-multipoint WDS bridging functions, allowing users to connect
two or more Access Points together.
The Zonet Wireless-G Access Point is the best way to add wireless
capability to your existing home or small office network.
802.11g Wireless Access Point
ZEW3002
Package content:
Specification
• One ZEW3002
• One Detachable Antenna
• One Quick Install. Guide
Standards
IEEE 802.11g, IEEE 802.11b, IEEE 802.3, IEEE 802.3u,
IEEE802.3x, IEEE 802.1x, IEEE 802.11e(QoS), IEEE 802.11i
Ports
1 x 10/100Base-T Auto MDI/MDIX RJ-45 Port
• One Installation CD
• One Power Adapter
Frequency Range
2.4 ~ 2.4835GHz
Network Media
10Base-T: UTP category 3 cable or above (max. 100m)
EIA/TIA-568 100Ω STP
100Base-TX: UTP category 5, 5e cable. (max. 100m)
EIA/TIA-568 100Ω STP
Related Products:
ZEW2500P
ZEW1505
ZEW1605
11g Wireless USB Adapter
11g Wireless Cardbus
11g Wireless PCI Adapter
ZSR1134WE 11g Wirelss Router
Data Transfer Rate
IEEE 802.11b: 1/2/3/5.5/11 Mbps
IEEE 802.11g: 6/9/12/18/24/36/48/54 Mbps
Channels
1~11 (US, Canada) 1~13 (Europe) 1~14 (Japan)
Data modulation
BPSK, QPSK, CCK & OFDM
RF Power
-86dBm
Antenna
3dBi Dipole
Encryption
64/128-bit WEP (Wired Equivalent Privacy)/WPA/WPA2
Contact:
Transmission type
CCK, OFDM
Transmission Distance
Up to 100m (indoor), up to 300(outdoor)
1.888.883.8880
Sales@zonetusa.com
Operating Mode
AP, WDS P2P Bridge, WDS P2MP Bridge, WDS AP Repeater,
Client
Environment
Operating Temperature: 0ºC ~ 40ºC
Storage Temperture: -40 ~ 70ºC
www.zonetusa.com
Humidity
10% ~ 90% RH Non-condensing
OS Supported
Windows 2000/ XP/ Vista, Linux, Novell, Mac
Power
9V/1A
Zonet USA Corporation
19929 Harrison Ave, Walnut, CA 91789
Tel: 909.594.3338
Fax: 909.594.3336
Zonet is a registered trademark. Other Brands and product names are trademarks of their respective holders. Information provided in this document
pertains to Zonet products and is subject to change at any time, without notice. For the most recent product information please visit
http://www.www.zonetusa.com.
Copyright © Zonet. All Rights Reserved.

* Your assessment is very important for improving the work of artificial intelligence, which forms the content of this project