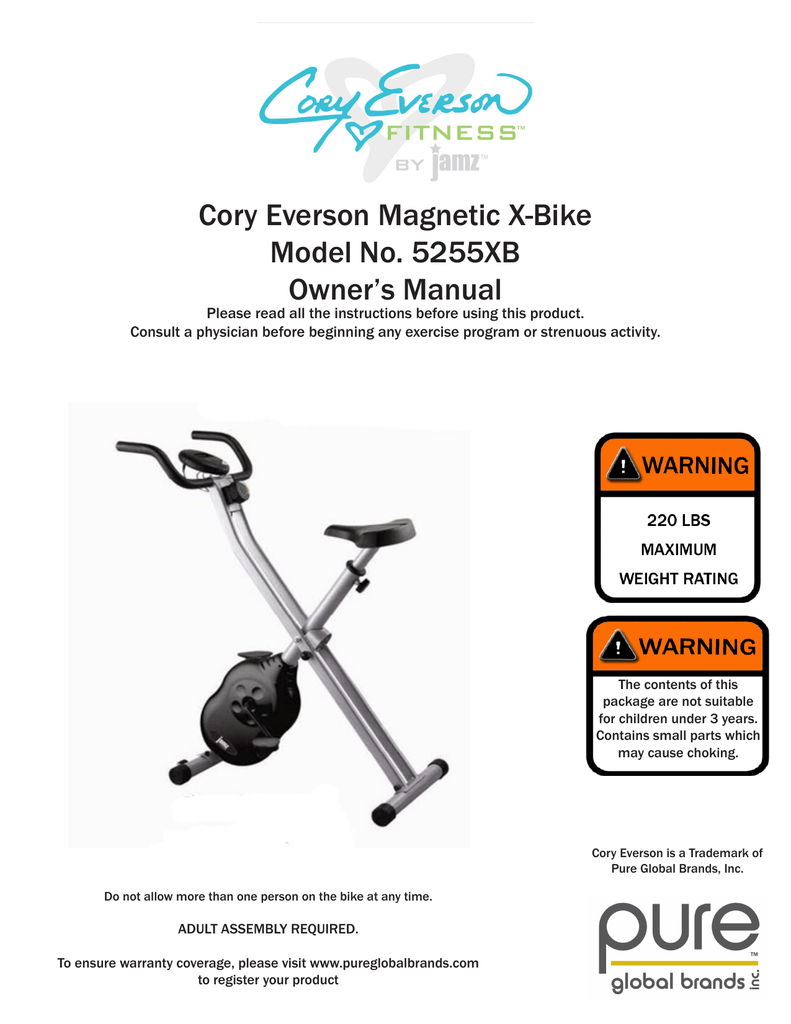 Cory Everson Magnetic X-Bike
Model No. 5255XB
Owner's Manual
Please read all the instructions before using this product.
Consult a physician before beginning any exercise program or strenuous activity.
The contents of this
package are not suitable
for children under 3 years.
Contains small parts which
may cause choking.
Cory Everson is a Trademark of
Pure Global Brands, Inc.
Do not allow more than one person on the bike at any time.
ADULT ASSEMBLY REQUIRED.
To ensure warranty coverage, please visit www.pureglobalbrands.com
to register your product
OWNERS MANUAL
CUSTOMER SERVICE INFORMATION
Thank you for purchasing our Cory Everson™ Magnetic X-Bike
At Pure Global Brands, we want all of our customers to be completely satisfied with their purchase.
Please take time to review the contents of the product you have just received to make sure that all
of the parts are included. If you find that any parts are missing or damaged, we will happily provide
replacement parts at no charge within 30 days of purchase. Please keep in mind that for select damaged part replacement requests, we will require a photo for submission to our quality control office.
To order these parts, or if you have any other questions or concerns about this Pure Global product,
please e-mail the Pure Global Brands, Inc. customer service department at:
customerservice@puregbi.com or contact us at 1-866-498-5269.
You can also visit our website at: www.pureglobalbrands.com
If you request replacement parts, please be sure to include the following information in your correspondence:
YOUR NAME
YOUR MAILING ADDRESS
YOUR EMAIL ADDRESS
RETAILER WHERE YOU PURCHASED PRODUCT
DATE OF PURCHASE
ORDER # (IF AVAILABLE)
PRODUCT MODEL #: 5255XB
SERIAL #
PRODUCT NAME: Cory Everson Magnetic X-Bike
PART # (located in manual)
QUANTITY NEEDED
PICTURE OF DAMAGED PART(s) – SUBMIT VIA Email , Fax, or Mail
Again, thank you for purchasing a Pure Global Brands product.
Sincerely,
Customer Service
Pure Global Brands, Inc.
1-866-498-5269
customerservice@puregbi.com
2253 Vista Parkway, Suite 11
West Palm Beach, FL 33411
LIMITED WARRANTY
Pure Global Brands, Inc. warrants this product to be free from defects in workmanship and materials
under normal use and conditions for the duration of the period outlined below FROM THE DATE OF
ORIGINAL PURCHASE. This Limited Warranty is not transferrable and is available only for the original purchaser of the Product.
The various components of this equipment are warranted against defects and workmanship for the
following time period(s):
•
•
Steel Frame 1-year.
All Other Parts 90-Days
All warranty coverage extends only to the original retail purchaser from the date of purchase.
Pure Global Brands's obligation under this Warranty is limited to replacing or repairing, at Pure Global
Brands's option, the product at one of its authorized service centers. All products for which a warranty claim is made must be received by Pure Global Brands at one of its authorized service centers
and accompanied by sufficient proof of purchase (photocopy of the original store receipt, indicating
the date of purchase). All freight and handling fees are the responsibility of the consumer to pay, both
to and from Pure Global Brands. All warranty claims must be preauthorized by Pure Global Brands.
Preauthorization can be obtained by calling 866-498-5269. This warranty does not extend to any
product or damage to a product caused by or attributable to freight damage, abuse, misuse, improper
or abnormal usage, or repairs not provided by a Pure Global Brands authorized service center or for
products used for commercial or rental purposes. This warranty does not cover ordinary wear and
tear, weathering, failure to follow directions, improper installation, improper maintenance, or acts of
Nature (such as damage caused by wind, lightning, snow, water, or ice). Weather damage, damage caused by unauthorized repair work or damage caused by improper use of the products are not
covered by the product warranty. No other Warranty beyond that specifically set forth above is authorized by Pure Global Brands.
PURE GLOBAL BRANDS IS NOT RESPONSIBLE OR LIABLE FOR INDIRECT, SPECIAL OR CONSEQUENTIAL DAMAGES ARISING OUT OF OR IN CONNECTION WITH
THE USE OR PERFORMANCE OF THE PRODUCT OR OTHER DAMAGES WITH RESPECT TO ANY ECONOMIC LOSS, LOSS OF PROPERTY, LOSS OF REVENUE OR
PROFITS, LOSS OF ENJOYMENT OR USE, COST OF REMOVAL, INSTALLATION
OR OTHER CONSEQUENTIAL DAMAGES. SOME STATES DO NOT ALLOW THE EXCLUSION OR LIMITATION OF INCIDENTAL OR CONSEQUENTIAL DAMAGES. ACCORDINGLY, THE ABOVE LIMITATION MAY NOT APPLY TO YOU. THE WARRANTY
EXTENDED HEREUNDER IS IN LIEU OF ALL OTHER WARRANTIES AND PURE
GLOBAL BRANDS SPECIFICALLY DISCLAIMS ANY IMPLIED WARRANTY OF MERCHANTABILITY OR FITNESS FOR A PARTICULAR PURPOSE IS LIMITED IN ITS
SCOPE AND DURATION TO THE TERMS SET FORTH HEREIN. SOME STATES DO
NOT ALLOW LIMITATION ON HOW LONG AN IMPLIED WARRANTY LASTS. ACCORDINGLY, THE ABOVE LIMITATION MAY NOT APPLY TO YOU.
This warranty gives you specific legal rights. You may also have other rights, which vary from state to
state.
WARNING
CHOKING HAZARD – Small parts
NOT for children under 3 years.
Warning
While every attempt is made to ensure the highest degree of protection in all
equipment, we cannot guarantee freedom from injury. The user assumes all risks
of injury due to use. All merchandise is sold on this condition, which no
representative of the company can waive or change.
WARNING
IMPORTANT – PLEASE READ!
PRIOR TO ASSEMBLING:
Please visit: www.pureglobalbrands.com for any important product information updates
and/or additional safety warnings before assembling or using this product.
Use search word: 5255XB
WARNINGS – GENERAL SAFETY ADVICE
Please read these instructions in their entirety before use and retain for future reference.
Ensure that this product has been assembled correctly, per the instructions in the manual.
This manual is designed to help you assemble, adjust, maintain and use the product. It contains important information regarding your safety and your use of this equipment.
● ALWAYS consult a physician before beginning any exercise program. Ask your doctor to evaluate your present fitness level and determine the exercise program that is most apporopriate for your
particular age and/or physical condition.
● IF YOU EXPERIENCE any pain or tightness in your chest, irregular heartbearts, shortness of
breath, faintness, dizziness, or other unusual discomfort while exercising, STOP and immediately
consult your physician and/or obtain medical assistance.
● NEVER attempt to suddenly stop the pedals from moving, as serious injury and/or severe damage
to the unit can occur, for which Pure Global is not liable.
● NEVER unfold this unit from its storage position without fully and securely inserting the Lock Pin.
● NEVER operate this unit without the Lock Pin firmly in place.
● ALWAYS check your unit before each use, and ensure that all nuts and bolts are tight, and that
the unit is in good working condition.
● This machine is intended for indoor home use only, it is not designed for commercial use.
Before using this product, inspect your machine; make sure that all nuts, bolts and hardware are tight
and in working order, replace any worn, defective or missing parts.
● DO NOT allow children to use, climb on, or play near this product.
● NEVER allow more than one person at a time on this product.
● Ensure that the product is on level ground. If necessary, use a rubber mat under the machine to
reduce the possibility of slipping during use.
● Warm up at least 5-10 minutes before each workout and to cool down for at least 5-10 minutes
afterwards.
● NEVER hold your breath while exercising.
● Rest adequately between workouts to allow your muscles to tone and develop.
● DO NOT wear loose fitting clothing, belt buckles, or jewelry, including but not limited to rings,
chains, and pins before commencing exercise; this can be extremely dangerous.
● DO NOT stand, sit or kneel on the unit.
● ALWAYS wear the appropriate fitness footwear. DO NOT use this product barefooted or with
socks only.
● Dispose of all packaging materials safely and per local ordinance.
● Please retain this information for future reference.
5255XB EXPLODED VIEW
HARDWARE PACK
13
20
Lock Pin
Wrench
35
Washer
39
Arc Washer
21
Bolt
M10x60
24
Bolt
M8x50
42
51
Spr. Washer Lock Knob
30
Safety Nut
40
Arc Washer Large
31
Nut
5255XB PARTS LIST
NOTE: For your convenience, your X-Bike has been mostly pre-assembled. Many
of the items on this list are for troubleshooting and parts identification ONLY, and
will not be needed for assembly.
No.
1
2
3
4
5
6
7
8
10
13
14
15
17
18
19
20
21
22
24
25
26
27
28
29
30
30A
31
32
33
34
35
Description
Main frame
Front Frame
Front Stabilizer
Rear Stabilizer
Handle Bar
Seat Post
Bracket
Magnet Post
Flywheel
Lock Pin
Bearing 608Z
Bearing 6004Z
Spring
Spring 2
Washer
Wrench
Bolt M10x60
Bolt M10x110
Bolt M8x35
Bolt M6x20
Bolt M5x10
Bolt M4x20
Bolt M3x10
Bolt M8x35
Safety Nut
Nut M6
Nut M8
Nut M10
Washer
Washer 7.9
Washer 8.5
Qty
1
1
1
1
1
1
1
1
1
1
2
2
1
1
2
1
4
1
2
1
1
10
2
2
5
1
6
1
2
2
3
No.
36
37
38
38A
39
40
41
42
43
44
45
50
51
52
53
54
55
56L
56R
57
57A
58
59
60
61
62
63
64
65
66
67
Description
Washer 5.2
Washer 10.3
Washer 8.3
Washer 4.5
Arc Washer 8.3
Arc Washer 10.3
Spring Washer M10
Spring Washer M8
Crank
P.P. Part
Bolt
Nut M22
Knob M12
Wheel
Chain Cover
Belt
Belt Wheel
Pedal (L)
Pedal (R)
End Cap
End Cap
End Cap
Bushing
Thread Plug
PVC Plug
Monitor
Foam
Magnet
Seat
Control Loading Knob
Shelf Frame
Qty
1
3
2
5
2
4
4
3
1
1
1
1
1
2
2
1
1
1
1
2
2
2
1
1
1
1
2
5
1
1
1
ASSEMBLY INSTRUCTIONS
Step 1.
Detach the X-Bike from the Shipping Frame.
Remove 2x Nuts securing the bike base to the
shipping frame. Detach the Bike Main Frame (1). Set
aside the Shipping Frame (67) until after assembly is
complete. Do not discard.
Insert the Lock Pin (13) to the lower front leg of the
Bike Main Frame (1) as shown.
NEVER operate the bike without the Lock Pin
securely in place. Only remove this part when folding
the bike for storage, and keep it in a safe place.
Keep the Lock Pin in place during assembly to
prevent accidental folding of the X-bike.
Step 2.
Install the Front and Rear Stabilizers.
Attach the Rear Stabilizer (3) (without wheels) to the
Bike Main Frame (1), using 2x Bolt M10x60 (21), 2x
Arc Washers Large (40), 2x Spring Washers (41),
and 2x Safety Nuts (30). Make sure to insert the bolts
without any washers through the holes in the bottom
of the stabilizer, then attach 1st washer: Arc Washer,
2nd Washer: Spring Washer, and finish with the
Safety Nut.
Repeat the above steps for the Front Stabilzer (with
wheels).
Step 3.
Attach Seat and Seat Post to the Bike Main
Frame.
Attach the Seat (65) to the Seat Post (6) with 3x
Washers (35) and 3x Nuts (31).
Insert the Seat Post into the Bike Main Frame (1).
Make sure the adjustment holes in the Seat Post are
facing the rear of the bike. Line up the holes and secure the seat with the Lock Knob (51).
ASSEMBLY INSTRUCTIONS
Step 4.
Attach the Handle Bars and Bike Pedals.
Affix the Handle Bars (5) to the Bike Main Frame (1)
using 2x Bolt M8x35, 2x Spring Washers (42), and 2x
Arc Washers (39). Make sure that the Spring washers are closest to the Bolt head, and the Arc Washers
are contacting the Handle Bar frame.
Next, attach the Pedals (56L & 56R) to the Bike Main
Frame. Make sure to install the Pedal marked (L) on
the Left side of the Bike and the Pedal marked (R) on
the Right side of the Bike as if you were sitting on the
seat.
Step 5.
Attach the Monitor to the Handle Bars.
Affix the Monitor (62) to the Handle Bars (5). Ensure
the Monitor Wire is protruding from the gap at the rear
of the Main Frame (1), and then connect the Upper
Monitor Wire. Plug the Pulse Wire into the hole at the
rear of the Monitor.
Folding and Unfolding Instructions:
When folding your X-bike for Storage, remove the
Lock Pin (13) as shown, and fold the bike for storage.
NEVER unfold or operate the X-bike without securely
fastening the Lock Pin to the frame. Failure to do so
may result in injury and/or damage to the product, for
which Pure Global Brands is not liable.
Whenever opening your X-bike from the storage
position, always fully and securely insert the Lock Pin
(13).
METER INSTRUCTIONS
FUNCTION BUTTONS:
MODE: This button cycles through the available Displays and turns the unit ON. Press and hold this
button for 3-4 seconds to reset the data values of the monitor.
NOTE: When the batteries are replaced, ALL values will reset to ZERO automatically.
FUNCTIONS & OPERATIONS
1.Battery Installation:
This meter takes 2 x AA 1.5V batteries. Install batteries under the cover in the rear of the meter.
Note: Replacing the batteries will reset ALL values on the meter to ZERO.
2.Auto On/Off:
The system turns on when the MODE key is pressed or when you begin to pedal the bike.
The system turns off automatically approximately 4 minutes after you have stopped using the unit.
Display Specifications
1.
SPD-------------------------0~99.9 (Speed travelled)
2.
CAL---------------- 0~99.99 (Calories burned)
3.
DST---------------- 0~99.99 (Distance traveled)
4.
SCAN------------------------3 SEC (Displays data (rotating) from all modes)
5.
TMR----------------------- 0:00~99:59 (Duration of exercise)
6.
PUL-------------------- Heart rate (BPM)
Note:
1.If the computer displays data abnormally, please remove the batteries and try again.
2.Battery Spec: 1.5V AA (2PCS).
3.The batteries must be removed from the unit before it is discarded and disposed of safely in
accordance with local ordinances.
USING YOUR MAGNETIC X-BIKE
ALWAYS consult a physician before beginning any exercise program. Ask your doctor to evaluate
your present fitness level and determine the exercise program that is most apporopriate for your particular age and/or physical condition.
TO USE THE X-BIKE:
Sit on the unit, making sure that each foot is securely positioned on each Pedal. Do not use this
machine barefoot or with socks only. Firmly grasp the handlebars and begin to pedal. Start off at the
setting with the least resistance, and slowly increase it as you become accustomed to pedaling on
this bike.
NEVER attempt to suddenly stop the pedals from moving as serious injury and/or severe damage to
the unit can occur, for which Pure Global is not liable.
TO DETERMINE YOUR PULSE READOUT:
Grasp the handlebar so that your palms are in contact with the Pulse Sensor Pads. You should keep
a firm, steady contact with the Pulse Sensors for 10-20 seconds to get an accurate reading.
TO INCREASE THE RESISTANCE ON YOUR X-BIKE:
Use the Tension Control Knob to adjust the resistance on the X-Bike. Turn the knob towards the "+" to
increase the resistance and "-" to decrease the resistance.
EXERCISES
Warm-up
Before every training you should warm-up for 5~10 minutes. Here you can do some stretching and
training with low resistance.
Cool down
To introduce an effective cool-down of the muscles and the metabolism, the intensity should be
drastically decreased during the last 5~10 minutes, but a prolonged exercise session should not be
suddenly and completely stopped. Stretching is also helpful for the prevention of muscle aches.
Training session
During the actual training a rate of 70%~85% of the maximum pulse rate should be chosen. The timelength of your training session can be calculated with the following rule of thumb:
Daily training session: approx. 10 min. per unit
2-3 x per week:
approx. 30 min. per unit
1-2 x per week:
approx. 60 min. per unit
EXERCISES (CONT.)
INTENSITY/PULSE READINGS
Keep in mind that the the Pulse Calculations contained in this manual are for individuals of a normal,
healthy physical condition and do not take into consideration any cardiovascular, pulmonary, blood,
heart, or other health conditions. If you have had a history of any of these, or have any other health
conditions, you MUST consult with your physician before beginning use of this machine.
The pulse sensor should only be used as a workout guide, and is not a medical device.
To achieve maximum results the right exercise intensity should be determined beforehand. The target
heart rate is used as guideline. To determine your target/maximum heart rate, the following formula is
commonly used:
Maximum pulse rate=220-Age
While exercising, the pulse rate should always be between 60%~85% of the maximum pulse rate.
When beginning an exercise, you should keep your rate at 60% of your maximum pulse rate
during the first couple of weeks. As your fitness improves, the pulse rate should be slowly increased
to 85%. DO NOT exceed 85% of your Maximum Pulse Rate for any extended period of time.
FAT BURNING
The body starts to burn fat at approx. 60% of the maximum pulse rate. To reach an optimum at burning rate, it is advisable to keep the pulse rate between 60%~70% of the maximum pulse rate. The
optimum training amount consists of three workouts per week 30 minutes each.
Example: You are 52 years of age and would like to start exercising.
Minimum pulse rate=168x 0.6=101 pulse/min
Highest pulse rate=168x0.7=117 pulse/min
Maximum pulse rate=220-52(age) =168 pulse/min (NEVER EXCEED)
During the first week it is advisable to start with a pulse rate of 101, afterwards increase it to 117.
With increasing improvement of fitness the training intensity should be increased to 70%~85% of your
maximum pulse rate. This can be done by increasing the resistance, a higher frequency or longer
training period.
To improve your stamina, strength and improve your health, medical methods determining the most
efficient amount of training specifically for your age, weight, height, and physical condition should
always be followed.
If you experience any pain or tightness in your chest, irregular heartbeats, shortness of breath, faintness, dizziness or other unusual discomfort while exercising, stop and consult your physician before
continuing.
WARM UP/COOL DOWN EXERCISES
WARM UP EXERCISES
A successful exercise program consists of a warm-up, aerobic exercise, and a cooldown. Do the entire program at least two and preferably three times a week, resting for
a day between workouts. After several months, you can increase your workouts to four
or five times per week.
Warming up is an important part of your workout, and should begin every session. It
prepares your body for more strenuous exercise by heating up and stretching out your
muscles, increasing your circulation and pulse rate, and delivering more oxygen to your
muscles. At the end of your workout, repeat these exercises to reduce sore muscle
problems. We suggest the following warm-up and cool-down exercises:
Inner Thigh Stretch
Sit with the soles of your feet together
with your knees pointing outward. Pull
your feet as close into your groin as
possible. Gently push your knees towards
the floor. Hold for 15 counts.
Hamstring Stretch
Sit with your right leg extended. Rest the
sole of your left foot against your right
inner thigh. Stretch toward your toe as far
as possible. Hold for 15 counts. Relax and
then repeat with left leg extended.
Head Roll
Rotate your head to the right for one
count, feeling the stretch up the left side
of your neck. Next, rotate your head back
for one count, stretching your chin to the
ceiling and letting your mouth open.
Rotate your head to the left for one count,
and finally, drop your head to your chest
for one count.
Shoulder Lift
Lift your right shoulder up toward your ear
for one count. Then lift your left shoulder
up for one count as you lower your right
shoulder.
14
WARM UP/COOL DOWN EXERCISES
WARM UP EXERCISES CONTINUED
Calf-Achilles Stretch
Lean against a wall with your left leg in
front of the right and your arms forward.
Keep your right leg straight and the left
foot on the floor; then bend the left leg
and lean forward by moving your hips
toward the wall. Hold, then repeat on the
other side for 15 counts
Toe Touch
Slowly bend forward from your waist,
letting your back and shoulders relax as
you stretch toward your toes. Reach down
as far as you can and hold for 15 counts.
Side Stretch
Open your arms to the side and continue
lifting them until they are over your head.
Reach your right arm as far upward toward
the ceiling as you can for one count. Feel
the stretch up your right side. Repeat this
action with your left arm.
15
FREQUENTLY ASKED QUESTIONS
Question: "How should I clean my Magentic X-bike?"
Answer: YOU SHOULD CLEAN THE BIKE WITH A SOLUTION OF WARM WATER AND NONCORROSIVE AND/OR NON-ABRASIVE SOAP. DAMPEN A RAG WITH THIS SOLUTION AND WIPE
COMPLETELY DRY BEFORE USING.
Question: "Is there any maintenance I need to do for my Bike?"
Answer: YOU SHOULD ALWAYS DOUBLE CHECK TO MAKE SURE ALL YOUR BOLTS ARE
TIGHT AND SECURE, THE PEDALS ARE SECURELY ATTACHED, AND THE MACHINERY IS
MOVING FREELY AND SMOOTHLY. IF YOU NOTICE ANYTHING UNUSUAL ABOUT THE OPERATION OF YOUR MACHINERY, OR FIND ANY MISSING OR DAMAGED PARTS, CEASE USE OF
THE UNIT IMMEDIATELY AND CONTACT CUSTOMER SERVICE AT:
customerservice@puregbi.com OR BY CALLING 888-498-5269.
Question: "Something was missing from the packaging," "I need to purchase a replacement part"
or "I discovered a damaged piece. What should I do?"
Answer: CONTACT CUSTOMER SERVICE AT: customerservice@puregbi.com or by calling 888498-5269. YOU MUST HAVE YOUR PROOF OF PURCHASE AND/OR ORDER CONFIRMATION
AVAILABLE TO BE CONSIDERED FOR WARRANTY REPLACEMENT. YOU MUST REPORT MISSING PIECES WITHIN 30 DAYS FROM DATE OF PURCHASE. PLEASE BE AWARE THAT UNDER
OUR LIMITED WARRANTY, FOR SOME PARTS WE REQUIRE A PICTURE OF THE DAMAGED
ITEM AND/OR RETURN OF THE ITEM TO OUR QUALITY CONTROL OFFICE FOR REVIEW.