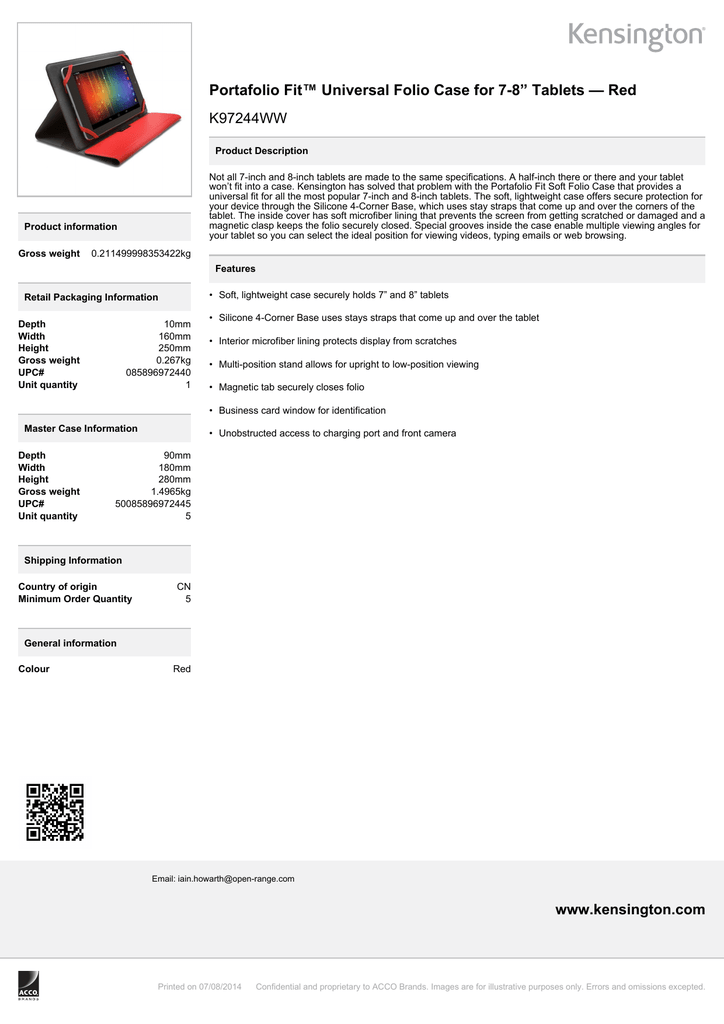 Portafolio Fit™ Universal Folio Case for 7-8" Tablets — Red
K97244WW
Product Description
Not all 7-inch and 8-inch tablets are made to the same specifications. A half-inch there or there and your tablet
won't fit into a case. Kensington has solved that problem with the Portafolio Fit Soft Folio Case that provides a
universal fit for all the most popular 7-inch and 8-inch tablets. The soft, lightweight case offers secure protection for
your device through the Silicone 4-Corner Base, which uses stay straps that come up and over the corners of the
tablet. The inside cover has soft microfiber lining that prevents the screen from getting scratched or damaged and a
magnetic clasp keeps the folio securely closed. Special grooves inside the case enable multiple viewing angles for
your tablet so you can select the ideal position for viewing videos, typing emails or web browsing.
Product information
Gross weight
0.211499998353422kg
Features
• Soft, lightweight case securely holds 7" and 8" tablets
Retail Packaging Information
Depth
Width
Height
Gross weight
UPC#
Unit quantity
10mm
160mm
250mm
0.267kg
085896972440
1
• Silicone 4-Corner Base uses stays straps that come up and over the tablet
• Interior microfiber lining protects display from scratches
• Multi-position stand allows for upright to low-position viewing
• Magnetic tab securely closes folio
• Business card window for identification
Master Case Information
Depth
Width
Height
Gross weight
UPC#
Unit quantity
• Unobstructed access to charging port and front camera
90mm
180mm
280mm
1.4965kg
50085896972445
5
Shipping Information
Country of origin
Minimum Order Quantity
CN
5
General information
Colour
Red
Email: iain.howarth@open-range.com
www.kensington.com
Printed on 07/08/2014
Confidential and proprietary to ACCO Brands. Images are for illustrative purposes only. Errors and omissions excepted.

* Your assessment is very important for improving the work of artificial intelligence, which forms the content of this project