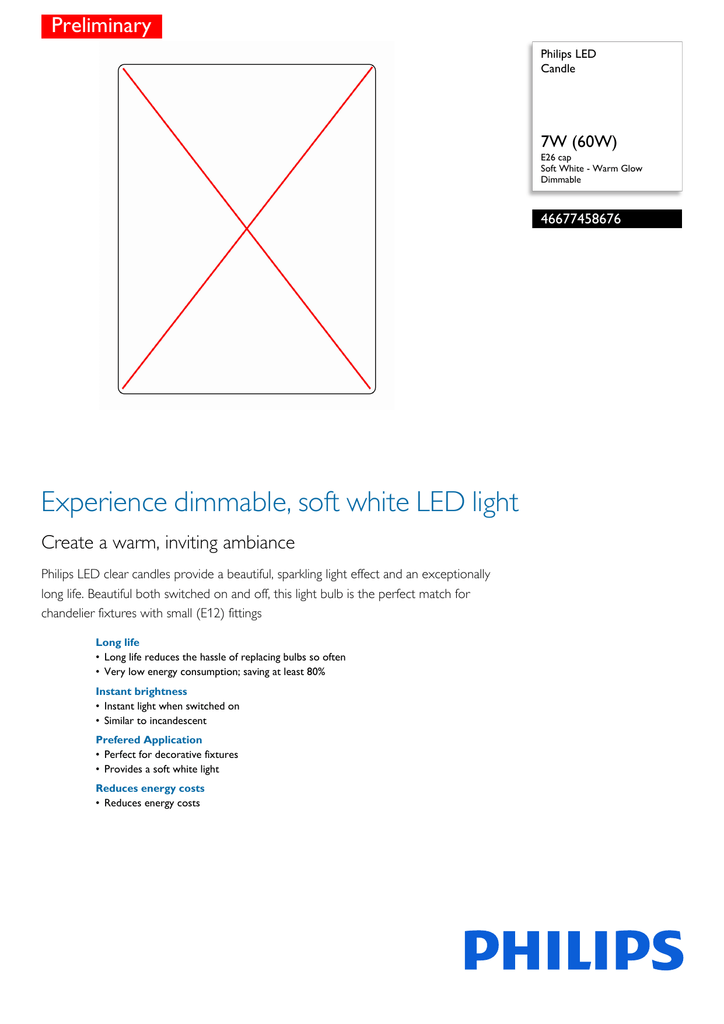 Preliminary
Philips LED
Candle
7W (60W)
E26 cap
Soft White - Warm Glow
Dimmable
46677458676
Experience dimmable, soft white LED light
Create a warm, inviting ambiance
Philips LED clear candles provide a beautiful, sparkling light effect and an exceptionally
long life. Beautiful both switched on and off, this light bulb is the perfect match for
chandelier fixtures with small (E12) fittings
Long life
• Long life reduces the hassle of replacing bulbs so often
• Very low energy consumption; saving at least 80%
Instant brightness
• Instant light when switched on
• Similar to incandescent
Prefered Application
• Perfect for decorative fixtures
• Provides a soft white light
Reduces energy costs
• Reduces energy costs
Preliminary
46677458676
Candle
7W (60W) E26 cap, Soft White - Warm Glow, Dimmable
Specifications
Bulb characteristics
•
•
•
•
•
Highlights
•
•
•
•
Cap/fitting: E12
Dimmable
Shape: Candle
Type: B12
Voltage: 120 V
Light effect/finish: Soft White/Warm Glow
Light output: 500 lumen
Color rendering index (CRI): 80
Color: Soft White/Warm Glow
Power consumption
Durability
• Average life (at 2.7 hrs/day): 22.8 year(s)
• Lifetime of lamp: 25000 hour(s)
Light characteristics
• Color temperature: 2200 - 2700 K
• Wattage: 7 W
• Wattage equivalent: 60 W
Rated values
• Rated lifetime: 25000 hour(s)
• Rated luminous flux: 500 lm
Lasts 22.8 years*
22.8 years means rated average life based on
engineering testing and probability analysis where
the bulb is used on average 3 hours/day, 7 days a
week.
Saving up to 80% [LED lamps]
When you switch to a Philips LED light bulb, you
immediately use up to 80% less energy without
sacrificing light output and quality.
Instant light when switched on
•
No need to wait: Philips LED light bulbs provide their
full level of brightness immediately upon switching
on.
Prefered Application
Philips Energy Saving LED Chandelier bulbs are to be
used for decorative fixtures. Ideal for use in
chandeliers, ceiling fans, vanity strips, and postlights.
Similar to incandescent
This LED chandelier bulb is ideal for residential use
in decorative fixtures. This bulb is the perfect
replacement for the standard incandescent candle.
Reduces energy costs
This bulb saves up to $145.75 in energy costs over
the life of the bulb when you replace a 60 watt
incandescent with this 7 watt LED bulb**.
Soft white light
This bulb dims to a deep, warm glow to create a
relaxing ambience, similar to incandescent (22002700 K), that will not fade fabrics or furnishings.***
Issue date 2016-02-12
Owner: Mellissa
Cooijman
Test leaflet, for internal use only!
© 2016 Koninklijke Philips N.V.
All Rights reserved.
Version: 1.0.1
Specifications are subject to change without notice.
Trademarks are the property of Koninklijke Philips N.V.
or their respective owners.
12 NC: 9290 011 81205
www.philips.com
* **per bulb in lifetime energy costs vs. a 60W Chandelier bulb @
$0.11/kWh. Actual savings will vary depending on cost per kWh.
* ***Light can have different colour temperatures, indicated in units
called Kelvin (K). Bulbs with a low value produce a warm, more cozy
light, while those with a high Kelvin value, create a cool, more
energizing light.

* Your assessment is very important for improving the work of artificial intelligence, which forms the content of this project