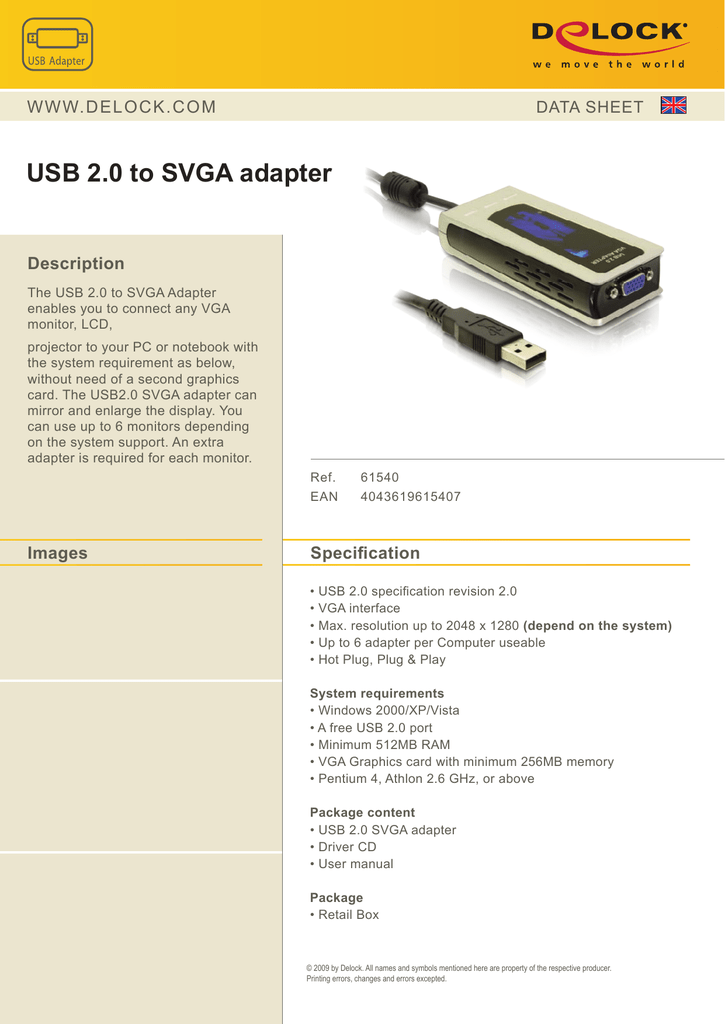 DATA SHEET
WWW. D E L O C K . C O M
USB 2.0 to SVGA adapter
Description
The USB 2.0 to SVGA Adapter
enables you to connect any VGA
monitor, LCD,
projector to your PC or notebook with
the system requirement as below,
without need of a second graphics
card. The USB2.0 SVGA adapter can
mirror and enlarge the display. You
can use up to 6 monitors depending
on the system support. An extra
adapter is required for each monitor.
Images
Ref.
61540
EAN
4043619615407
Specification
•
•
•
•
•
USB 2.0 specification revision 2.0
VGA interface
Max. resolution up to 2048 x 1280 (depend on the system)
Up to 6 adapter per Computer useable
Hot Plug, Plug & Play
System requirements
• Windows 2000/XP/Vista
• A free USB 2.0 port
• Minimum 512MB RAM
• VGA Graphics card with minimum 256MB memory
• Pentium 4, Athlon 2.6 GHz, or above
Package content
• USB 2.0 SVGA adapter
• Driver CD
• User manual
Package
• Retail Box
© 2009 by Delock. All names and symbols mentioned here are property of the respective producer.
Printing errors, changes and errors excepted.

* Your assessment is very important for improving the work of artificial intelligence, which forms the content of this project