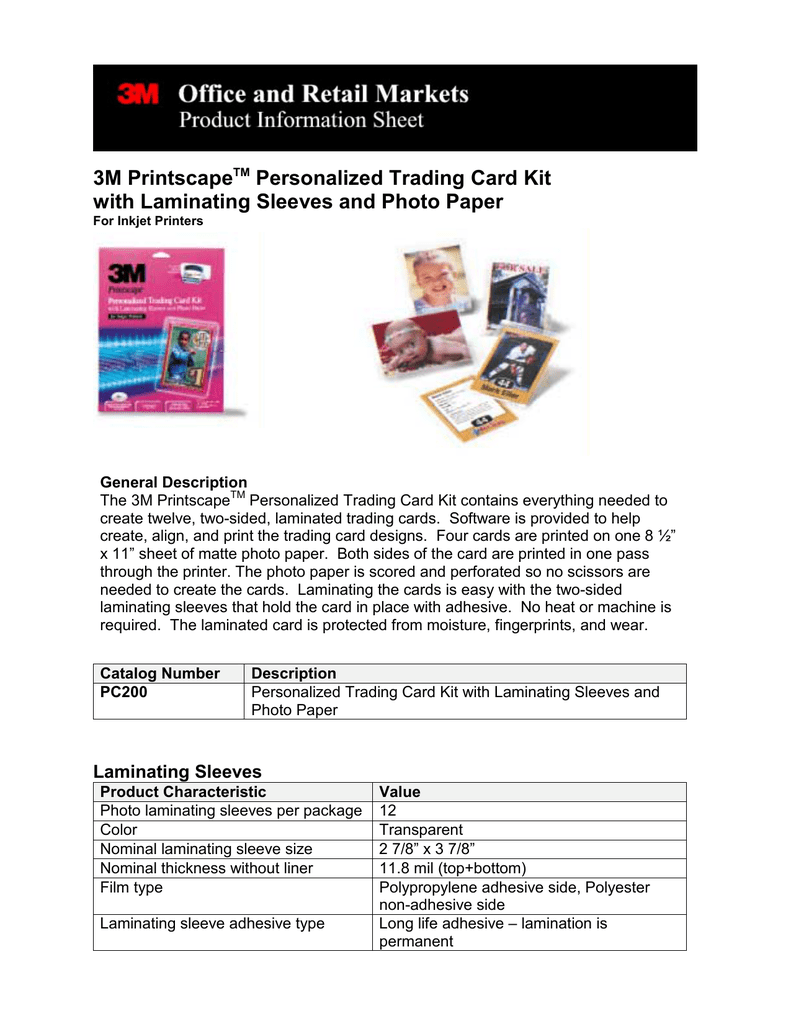 3M PrintscapeTM Personalized Trading Card Kit
with Laminating Sleeves and Photo Paper
For Inkjet Printers
General Description
The 3M PrintscapeTM Personalized Trading Card Kit contains everything needed to
create twelve, two-sided, laminated trading cards. Software is provided to help
create, align, and print the trading card designs. Four cards are printed on one 8 ½"
x 11" sheet of matte photo paper. Both sides of the card are printed in one pass
through the printer. The photo paper is scored and perforated so no scissors are
needed to create the cards. Laminating the cards is easy with the two-sided
laminating sleeves that hold the card in place with adhesive. No heat or machine is
required. The laminated card is protected from moisture, fingerprints, and wear.
Catalog Number
PC200
Description
Personalized Trading Card Kit with Laminating Sleeves and
Photo Paper
Laminating Sleeves
Product Characteristic
Photo laminating sleeves per package
Color
Nominal laminating sleeve size
Nominal thickness without liner
Film type
Laminating sleeve adhesive type
Value
12
Transparent
2 7/8" x 3 7/8"
11.8 mil (top+bottom)
Polypropylene adhesive side, Polyester
non-adhesive side
Long life adhesive – lamination is
permanent
Matte Photo Paper
Product Characteristic
Cards per package
Cards per sheet
Photo paper size
Nominal trading card size
(unlaminated)
Printable sides
Paper weight
Nominal paper thickness
Whiteness (per TP0091)
Brightness (per TP0091)
Paper characteristics
Value
12
4
8 1/2" x 11"
2 3/8" x 3 1/2"
Both sides of the paper have excellent
imaging properties. However, the paper
should be inserted into the printer as
directed to obtain the best fold.
129 gsm
6.7 mil
114 minimum
92 minimum
Matte photo paper that is scored and microperforated. The paper is coated on both
sides with an ink-receptive coating.
Software
Product Characteristic
System Requirements
Operating System
Processor
Monitor
Value
64 MB RAM
15 MB Free Hard Disk Space
CD-ROM Drive
Windows 95, 98, Me, 2000, NT
233 MHz
256 color 800x600 display
Technical Help
Software/Paper/Printer Questions
•
•
•
•
•
Tips and Frequently Asked Questions at
www.3MPrintscape.com
E-mail questions to Printscape@3M.com
Software Help Section
1-800-330-3966
Instruction sheet and translucent printer
test sheet included in every box
Recommended Storage Conditions:
Store unused photo paper flat in original package in a cool, dry place.
Date Last Edited: 3/15/2001
Features/Advantages Benefits:
Matte Photo Paper:
Feature
(HAS)
Advantage
(WHICH MEANS)
Benefit
(SO THAT)
The package contains
everything you need to
create your laminated
trading cards.
Ability to print photoquality images.
Image quality is
excellent in most inkjet
printers.
No scissors are needed
to create a trading card.
The image fills the entire
perforated area.
•
Fast dry time
(Exact dry time is dependent on
printer model.)
The printed card can be
handled shortly after
printing.
•
Waterfast
Ink does not run when in
contact with water.
•
Kit
Special inkjet receptive coating
Compatible with all popular inkjet
printer platforms
Micro- perforated and scored
Print-to-edge
•
•
•
•
Saves time - no
searching for materials
or going back to the
store.
Can personalize with
vibrant images.
Assured that user's
printer can produce high
quality trading cards.
Edges are straight every
time.
Professional and
authentic looking trading
cards.
No waiting - able to
laminate the card soon
after printing without
damaging the image.
Image less likely to be
damaged.
3M Photo Laminating Sheets:
Feature
(HAS)
The card is sandwiched in between
the clear top sheet and bottom
adhesive sheet
Ultra clear film
Clear adhesive holds photo in
place while clear layer protects
other side.
No heat or machines
Permanent application
Date Last Edited: 3/15/2001
Advantage
(WHICH MEANS)
The card is protected
from moisture,
fingerprints, and wear.
Important information
shows through without
distortion.
Easy assembly.
No waiting for warm-up.
No outlets/cords needed
No power consumption.
No heat is involved that
could destroy photos.
Reliable protection for as
long as needed.
Benefit
(SO THAT)
•
Keep trading card
looking new longer.
•
•
•
•
•
•
•
•
•
•
Text is clearly legible.
Images look
professional.
Quick.
Hassle-free.
Error-proof assembly.
No bubbles.
User friendly.
Saves time and money.
Safe to use.
Use anywhere, anytime.
•
Durable.
3M PrintscapeTM Software:
Feature
(HAS)
Advantage
(WHICH MEANS)
SmartDesigns
Pre-designed templates
provide design ideas and get
users started quickly.
Design Templates for all 3M
Printscape™ Products
Easy placement of images on
the photo paper so that they
print in the correct spot.
Quickly receive answers to
your questions and learn about
the many software features.
Easier to learn the software.
Extensive searchable Help
file with step-by-step
Tutorials and Ideas for Use
Easy to navigate – uses
commands common to other
software programs
Scanner interface
Software supports JPG,
BMP, PCX, PNG, WMF, and
TIF file types.
Image editing capabilities
Text Effects
More than 1600 images, clip
art, pre-designed
backgrounds, and photos
Benefit
(SO THAT)
•
•
•
•
•
•
•
•
Can scan directly into design
without saving images.
•
•
Scanned photos, downloaded
images from the internet or
digital camera, clip art, etc.
can be imported into the
software.
Clip art, borders, and text
addition; text and image
rotation; ability to resize;
drawing tools; image cropping:
creation of photo objects.
Use pre-designed text effects
or create original text effects
with different shapes, colors,
fonts, shadows, outlines, and
backgrounds.
Images and backgrounds are
available for any occasion.
•
Users feel a sense of
accomplishment after
quickly creating
professional looking
results.
Inspires creativity!
User friendly.
Quick.
Easy to get amazing,
personalized results.
Inspires creativity!
Easy to get great results.
Applicable for all ages
and skill levels.
Use less hard disk space.
Easily and quickly import
scanned images.
Make quality
reproductions and
personalize favorite
photographs or images.
•
Personalize and enhance
photos or images.
•
Easy to create
professional looking,
personalized results.
•
No additional software or
photos are needed to
create great looking
results.
Inspires creativity!
•
APPLICATIONS:
Personalized sports team trading cards, wallet photos, emergency numbers, ID cards, luggage tags,
dates to remember, name/ visitor badges, event passes, and anything you can imagine.
TECHNICAL NOTES:
1. 3M Laminating Sheets may deform when exposed to temperatures greater than 150°F. Avoid
storage of laminating sheets in an automobile during hot weather.
2. Adhesive properties of the laminating sheet will diminish as temperatures approach freezing (32°F).
When exposed to temperatures below 40°F, allow 3M Laminating Sheets to warm up to room
temperature before using. Then the adhesive properties will return to their full performance level.
Once laminated, the cards can be stored down to –40°F without problems.
Date Last Edited: 3/15/2001
"Printscape" is a trademark of 3M.
3M Office and Retail Markets
3M Center, Building 223-3S
St. Paul, MN 55144-1000
Date Last Edited: 3/15/2001
Limitation of Liability: Except for personal injury, 3M and seller shall not be liable for direct, indirect,
special, incidental or consequential damages based upon breach of warranty, breach of contract, strict
liability or any other legal theory.