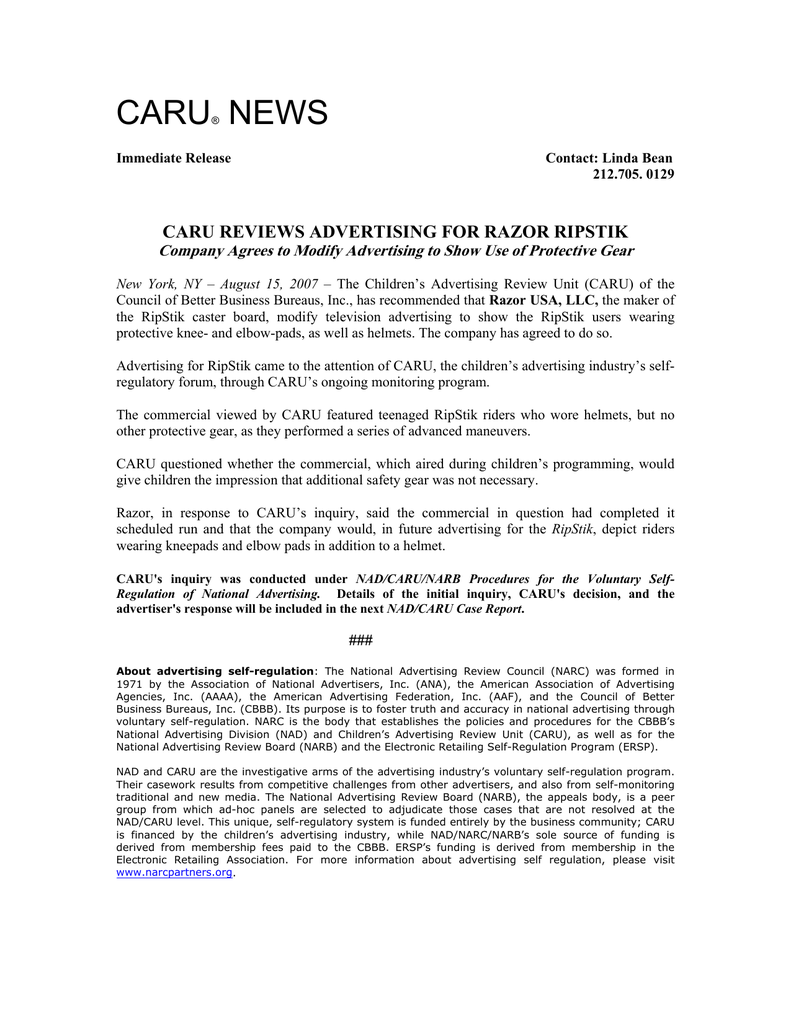 CARU NEWS
®
Immediate Release
Contact: Linda Bean
212.705. 0129
CARU REVIEWS ADVERTISING FOR RAZOR RIPSTIK
Company Agrees to Modify Advertising to Show Use of Protective Gear
New York, NY – August 15, 2007 – The Children's Advertising Review Unit (CARU) of the
Council of Better Business Bureaus, Inc., has recommended that Razor USA, LLC, the maker of
the RipStik caster board, modify television advertising to show the RipStik users wearing
protective knee- and elbow-pads, as well as helmets. The company has agreed to do so.
Advertising for RipStik came to the attention of CARU, the children's advertising industry's selfregulatory forum, through CARU's ongoing monitoring program.
The commercial viewed by CARU featured teenaged RipStik riders who wore helmets, but no
other protective gear, as they performed a series of advanced maneuvers.
CARU questioned whether the commercial, which aired during children's programming, would
give children the impression that additional safety gear was not necessary.
Razor, in response to CARU's inquiry, said the commercial in question had completed it
scheduled run and that the company would, in future advertising for the RipStik, depict riders
wearing kneepads and elbow pads in addition to a helmet.
CARU's inquiry was conducted under NAD/CARU/NARB Procedures for the Voluntary SelfRegulation of National Advertising. Details of the initial inquiry, CARU's decision, and the
advertiser's response will be included in the next NAD/CARU Case Report.
###
About advertising self-regulation: The National Advertising Review Council (NARC) was formed in
1971 by the Association of National Advertisers, Inc. (ANA), the American Association of Advertising
Agencies, Inc. (AAAA), the American Advertising Federation, Inc. (AAF), and the Council of Better
Business Bureaus, Inc. (CBBB). Its purpose is to foster truth and accuracy in national advertising through
voluntary self-regulation. NARC is the body that establishes the policies and procedures for the CBBB's
National Advertising Division (NAD) and Children's Advertising Review Unit (CARU), as well as for the
National Advertising Review Board (NARB) and the Electronic Retailing Self-Regulation Program (ERSP).
NAD and CARU are the investigative arms of the advertising industry's voluntary self-regulation program.
Their casework results from competitive challenges from other advertisers, and also from self-monitoring
traditional and new media. The National Advertising Review Board (NARB), the appeals body, is a peer
group from which ad-hoc panels are selected to adjudicate those cases that are not resolved at the
NAD/CARU level. This unique, self-regulatory system is funded entirely by the business community; CARU
is financed by the children's advertising industry, while NAD/NARC/NARB's sole source of funding is
derived from membership fees paid to the CBBB. ERSP's funding is derived from membership in the
Electronic Retailing Association. For more information about advertising self regulation, please visit
www.narcpartners.org.

* Your assessment is very important for improving the work of artificial intelligence, which forms the content of this project