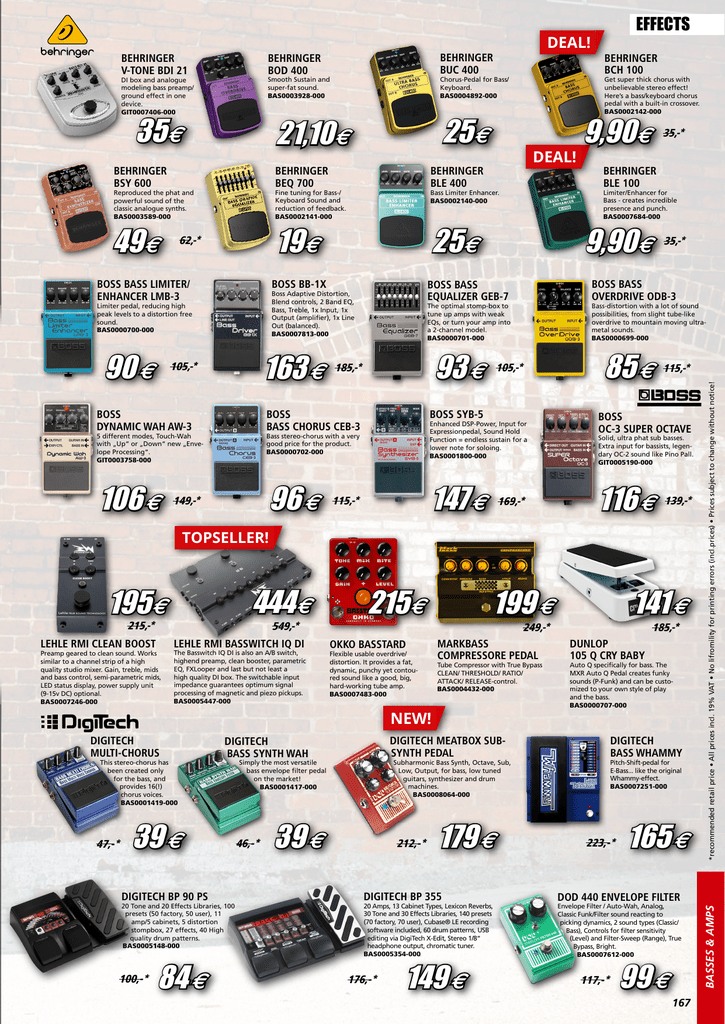 BEHRINGER
BLE 400
19€
25€
Fine tuning for Bass-/
Keyboard Sound and
reduction of feedback.
BAS0002141-000
Reproduced the phat and
powerful sound of the
classic analogue synths.
BAS0003589-000
62,-*
163 €
105,-*
BOSS
DYNAMIC WAH AW-3
93 €
5 different modes, Touch-Wah
with "Up" or "Down" new "Envelope Processing".
GIT0003758-000
96 €
149,-*
Bass-distortion with a lot of sound
possibilities, from slight tube-like
overdrive to mountain moving ultrametal sounds.
BAS0000699-000
105,-*
Enhanced DSP-Power, Input for
Expressionpedal, Sound Hold
Function = endless sustain for a
lower note for soloing.
BAS0001800-000
Bass stereo-chorus with a very
good price for the product.
BAS0000702-000
147 €
115,-*
35,-*
BOSS BASS
OVERDRIVE ODB-3
BOSS SYB-5
BOSS
BASS CHORUS CEB-3
BEHRINGER
BLE 100
9,90€
The optimal stomp-box to
tune up amps with weak
EQs, or turn your amp into
a 2-channel model.
BAS0000701-000
185,-*
35,-*
Limiter/Enhancer for
Bass - creates incredible
presence and punch.
BAS0007684-000
BOSS BASS
EQUALIZER GEB-7
Boss Adaptive Distortion,
Blend controls, 2 Band EQ,
Bass, Treble, 1x Input, 1x
Output (amplifier), 1x Line
Out (balanced).
BAS0007813-000
Limiter pedal, reducing high
peak levels to a distortion free
sound.
BAS0000700-000
DEAL!
Bass Limiter Enhancer.
BAS0002140-000
BOSS BB-1X
BOSS BASS LIMITER/
ENHANCER LMB-3
106 €
BEHRINGER
BEQ 700
9,90€
169,-*
85 €
115,-*
BOSS
OC-3 SUPER OCTAVE
Solid, ultra phat sub basses.
Extra input for bassists, legendary OC-2 sound like Pino Pall.
GIT0005190-000
116 €
139,-*
TOPSELLER!
444€
195€
215,-*
LEHLE RMI CLEAN BOOST
Preamp geared to clean sound. Works
similar to a channel strip of a high
quality studio mixer. Gain, treble, mids
and bass control, semi-parametric mids,
LED status display, power supply unit
(9-15v DC) optional.
BAS0007246-000
549,-*
LEHLE RMI BASSWITCH IQ DI
The Basswitch IQ DI is also an A/B switch,
highend preamp, clean booster, parametric
EQ, FXLooper and last but not least a
high quality DI box. The switchable input
impedance guarantees optimum signal
processing of magnetic and piezo pickups.
BAS0005447-000
215€
OKKO BASSTARD
Flexible usable overdrive/
distortion. It provides a fat,
dynamic, punchy yet contoured sound like a good, big,
hard-working tube amp.
BAS0007483-000
199 €
MARKBASS
COMPRESSORE PEDAL
Tube Compressor with True Bypass
CLEAN/ THRESHOLD/ RATIO/
ATTACK/ RELEASE-control.
BAS0004432-000
NEW!
DIGITECH
MULTI-CHORUS
This stereo-chorus has
been created only
for the bass, and
provides 16(!)
chorus voices.
BAS0001419-000
47,-*
DIGITECH BP 90 PS
20 Tone and 20 Effects Libraries, 100
presets (50 factory, 50 user), 11
amp/5 cabinets, 5 distortion
stompbox, 27 effects, 40 High
quality drum patterns.
BAS0005148-000
100,-*
84 €
DUNLOP
105 Q CRY BABY
Auto Q specifically for bass. The
MXR Auto Q Pedal creates funky
sounds (P-Funk) and can be customized to your own style of play
and the bass.
BAS0000707-000
DIGITECH
BASS WHAMMY
Pitch-Shift-pedal for
E-Bass... like the original
Whammy-effect.
BAS0007251-000
Subharmonic Bass Synth, Octave, Sub,
Low, Output, for bass, low tuned
guitars, synthesizer and drum
machines.
BAS0008064-000
Simply the most versatile
bass envelope filter pedal
on the market!
BAS0001417-000
46,-*
185,-*
DIGITECH MEATBOX SUBSYNTH PEDAL
DIGITECH
BASS SYNTH WAH
39 €
141 €
249,-*
39 €
212,-*
179 €
DIGITECH BP 355
20 Amps, 13 Cabinet Types, Lexicon Reverbs,
30 Tone and 30 Effects Libraries, 140 presets
(70 factory, 70 user), Cubase® LE recording
software included, 60 drum patterns, USB
editing via DigiTech X-Edit, Stereo 1/8"
headphone output, chromatic tuner.
BAS0005354-000
176,-*
149 €
223,-*
165 €
*recommended retail price • All prices incl. 19% VAT • No lifromility for printing errors (incl.prices) • Prices subject to change without notice!
BEHRINGER
BSY 600
BEHRINGER
BCH 100
Get super thick chorus with
unbelievable stereo effect!
Here's a bass/keyboard chorus
pedal with a built-in crossover.
BAS0002142-000
25€
21,10€
EFFECTS
DOD 440 ENVELOPE FILTER
Envelope Filter / Auto-Wah, Analog,
Classic Funk/Filter sound reacting to
picking dynamics, 2 sound types (Classic/
Bass), Controls for filter sensitivity
(Level) and Filter-Sweep (Range), True
Bypass, Bright.
BAS0007612-000
117,-*
99 €
167
BASSES & AMPS
35€
90 €
Chorus-Pedal for Bass/
Keyboard.
BAS0004892-000
Smooth Sustain and
super-fat sound.
BAS0003928-000
DI box and analogue
modeling bass preamp/
ground effect in one
device.
GIT0007406-000
49€
BEHRINGER
BUC 400
BEHRINGER
BOD 400
BEHRINGER
V-TONE BDI 21
DEAL!