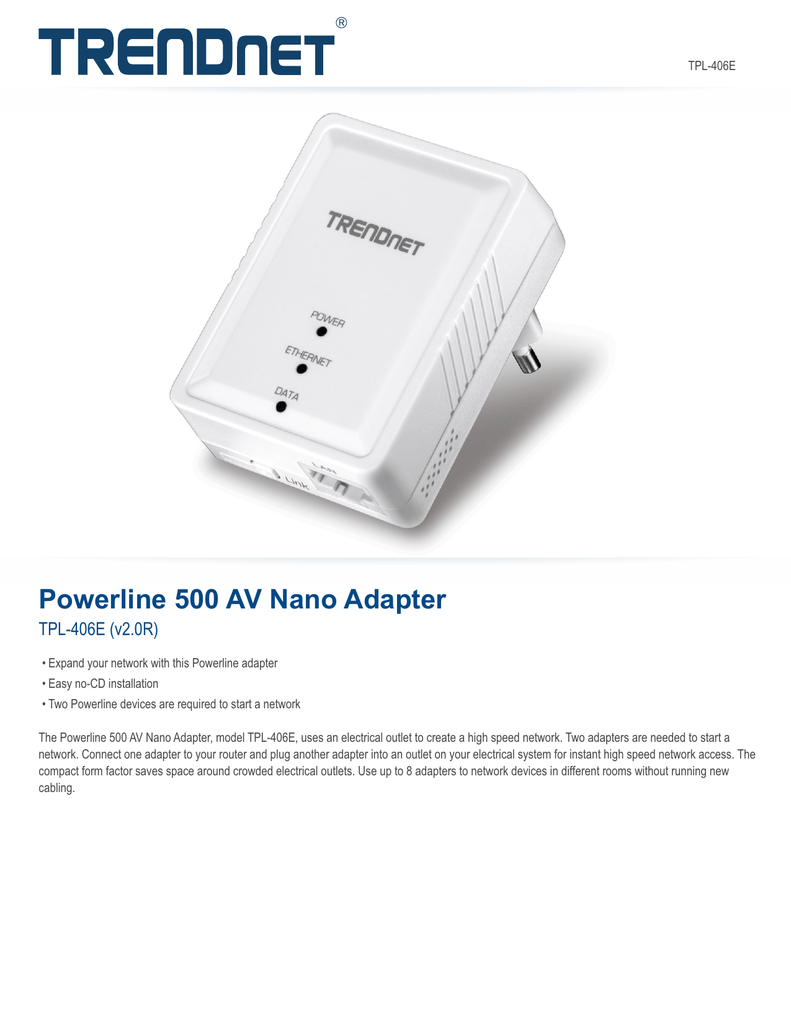 TPL-406E
Powerline 500 AV Nano Adapter
TPL-406E (v2.0R)
• Expand your network with this Powerline adapter
• Easy no-CD installation
• Two Powerline devices are required to start a network
The Powerline 500 AV Nano Adapter, model TPL-406E, uses an electrical outlet to create a high speed network. Two adapters are needed to start a
network. Connect one adapter to your router and plug another adapter into an outlet on your electrical system for instant high speed network access. The
compact form factor saves space around crowded electrical outlets. Use up to 8 adapters to network devices in different rooms without running new
cabling.
TPL-406E
Powerline
Link Button
Press the Link button to change existing Powerline
encryption keys
Ethernet Port
Convenient Ethernet port to hardwire computer, smart
TV, or other network enabled device
Pre-Encrypted
For your security the Powerline signal is pre-encrypted
Cross Compatible
Backward compatible with all Powerline 600, 500, and
200 adapters
Powerline 500
High speed Powerline networking over existing
electrical lines
Quick Setup
Get up and running in minutes with the intuitive guided
setup
Plug In Install
Simply plug in TRENDnet adapters! The
encrypted Powerline signal auto-connects over
an existing electrical system.
Networking Solution
No Clutter
The compact form factor stays off the ground
by plugging directly into an outlet.
Ethernet Port
Ethernet port extends high performance wired
connections.
TPL-406E
Specifications
Standards
• IEEE 802.3
• IEEE 802.3u
• IEEE 802.3x
• IEEE 1901
Overlapping Powerline Networks
• Up to 4 (per electrical system)
Device Interfaces
• Ethernet port
• Link / reset button
• Status LEDs
• Power plug
◦ A: North America Type B (NEMA 5–15)
◦ EU: Euro Type C (CEE 7/16)
◦ UK: United Kingdom Type G (BS 1363)
Operating Temperature
• 0 – 40 °C (32 – 104 °F)
Power
• Input: 100 – 240 V AC, 50/60 Hz
• Consumption: Active mode: 2.7 Watts (max.); Standby mode: 0.34 Watts (max.)
Operating Humidity
• Max. 90% non-condensing
Certifications
• CE
• FCC
Dimensions
• 68 x 55 x 28 mm (2.7 x 2.2 x 1.1 in.)
Frequency Band
• 2 – 68 MHz
Weight
• A: 64 g (2.2 oz.)
• EU: 68 g (2.4 oz.)
• UK: 68 g (2.4 oz.)
Data PHY Rate
• Ethernet: Up to 200 Mbps (full-duplex)
Networking Distance
• Up to 300 m (980 ft.) linear distance over electrical power lines
Warranty
• 3 year limited
Security
• 128-Bit AES (Advanced Encryption Standard)
Package Contents
• TPL-406E
• Quick Installation Guide
• Network cable (1.5 m / 5 ft.)
Optional Utility: OS Compatibility
• Windows® 10, 8.1, 8, 7, Vista, XP
Nodes
• Up to 8 (max.)
* 500 Mbps is the maximum physical Powerline data rate. Data throughput may vary by circuit wire condition. Maximum of 8 adapters (nodes) recommended for streaming video across your network.
** Powerline networking is limited to the same electrical system. Power strips, GFCI outlets, and AFCI circuit breakers may degrade Powerline signals.
20675 Manhattan Place
•
Torrance
•
CA 90501
•
USA
•
T: 1-888-326-6061
•
F: 1-310-961-5511
•
intlsales@trendnet.com
•
www.TRENDnet.com
TRENDnet is a registered trademark. Other Brands and product names are trademarks of their respective holders. Information provided in this document pertain to TRENDnet products and is subject to change at any time, without notice. For the most
Updated: 8/17/2016
recent product information please visit http://www.trendnet.com. Copyright © TRENDnet. All Rights Reserved.

* Your assessment is very important for improving the work of artificial intelligence, which forms the content of this project