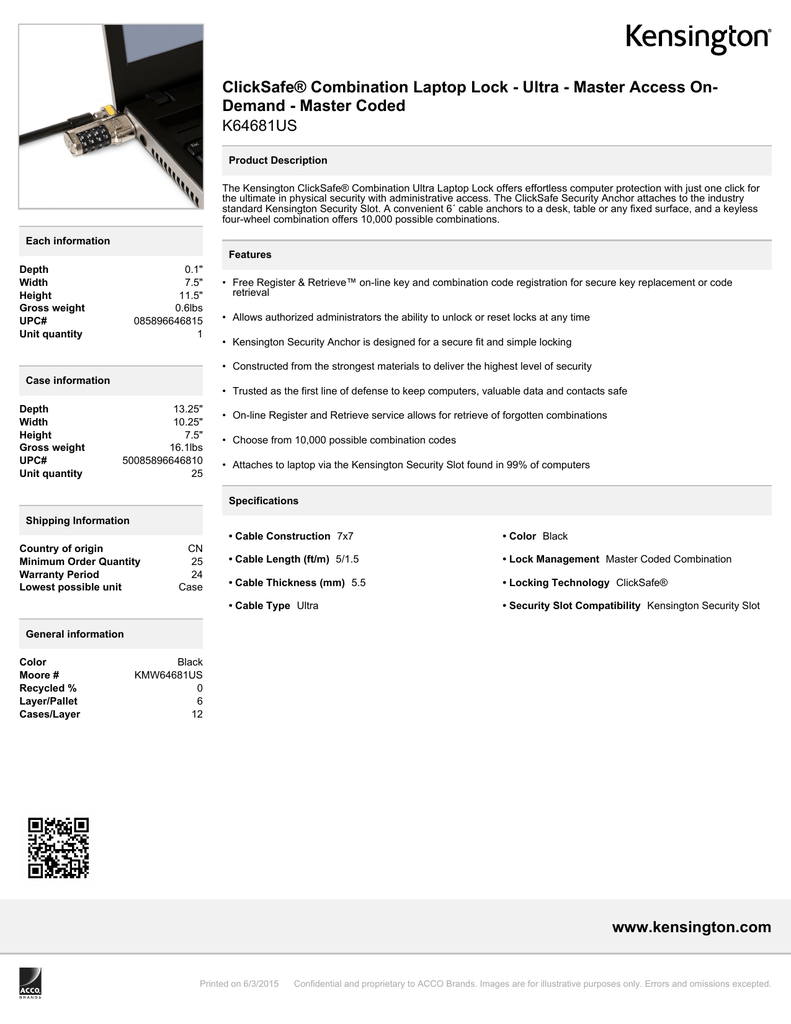 ClickSafe® Combination Laptop Lock - Ultra - Master Access OnDemand - Master Coded
K64681US
Product Description
The Kensington ClickSafe® Combination Ultra Laptop Lock offers effortless computer protection with just one click for
the ultimate in physical security with administrative access. The ClickSafe Security Anchor attaches to the industry
standard Kensington Security Slot. A convenient 6´ cable anchors to a desk, table or any fixed surface, and a keyless
four-wheel combination offers 10,000 possible combinations.
Each information
Features
Depth
Width
Height
Gross weight
UPC#
Unit quantity
0.1"
7.5"
11.5"
0.6lbs
085896646815
1
• Free Register & Retrieve™ on-line key and combination code registration for secure key replacement or code
retrieval
• Allows authorized administrators the ability to unlock or reset locks at any time
• Kensington Security Anchor is designed for a secure fit and simple locking
• Constructed from the strongest materials to deliver the highest level of security
Case information
• Trusted as the first line of defense to keep computers, valuable data and contacts safe
Depth
Width
Height
Gross weight
UPC#
Unit quantity
13.25"
10.25"
7.5"
16.1lbs
50085896646810
25
• On-line Register and Retrieve service allows for retrieve of forgotten combinations
• Choose from 10,000 possible combination codes
• Attaches to laptop via the Kensington Security Slot found in 99% of computers
Specifications
Shipping Information
Country of origin
Minimum Order Quantity
Warranty Period
Lowest possible unit
CN
25
24
Case
• Cable Construction 7x7
• Color Black
• Cable Length (ft/m) 5/1.5
• Lock Management Master Coded Combination
• Cable Thickness (mm) 5.5
• Locking Technology ClickSafe®
• Cable Type Ultra
• Security Slot Compatibility Kensington Security Slot
General information
Color
Moore #
Recycled %
Layer/Pallet
Cases/Layer
Black
KMW64681US
0
6
12
www.kensington.com
Printed on 6/3/2015
Confidential and proprietary to ACCO Brands. Images are for illustrative purposes only. Errors and omissions excepted.

* Your assessment is very important for improving the work of artificial intelligence, which forms the content of this project