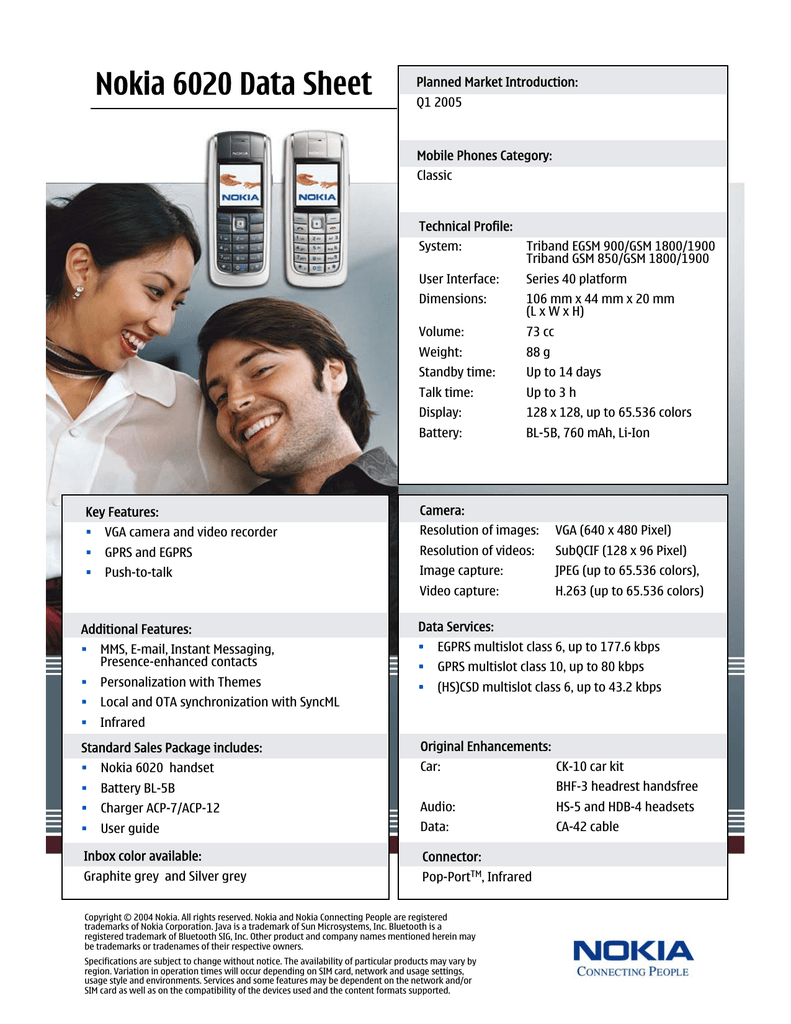 Nokia 6020 Data Sheet
Planned Market Introduction:
Q1 2005
Mobile Phones Category:
Classic
Technical Profile:
Key Features:
System:
Triband EGSM 900/GSM 1800/1900
Triband GSM 850/GSM 1800/1900
User Interface:
Series 40 platform
Dimensions:
106 mm x 44 mm x 20 mm
(L x W x H)
Volume:
73 cc
Weight:
88 g
Standby time:
Up to 14 days
Talk time:
Up to 3 h
Display:
128 x 128, up to 65.536 colors
Battery:
BL-5B, 760 mAh, Li-Ion
Camera:
ƒ
VGA camera and video recorder
Resolution of images:
VGA (640 x 480 Pixel)
ƒ
GPRS and EGPRS
Resolution of videos:
SubQCIF (128 x 96 Pixel)
ƒ
Push-to-talk
Image capture:
JPEG (up to 65.536 colors),
Video capture:
H.263 (up to 65.536 colors)
Additional Features:
ƒ
MMS, E-mail, Instant Messaging,
Presence-enhanced contacts
ƒ
Personalization with Themes
ƒ
Local and OTA synchronization with SyncML
ƒ
Infrared
Standard Sales Package includes:
Data Services:
ƒ
EGPRS multislot class 6, up to 177.6 kbps
ƒ
GPRS multislot class 10, up to 80 kbps
ƒ
(HS)CSD multislot class 6, up to 43.2 kbps
Original Enhancements:
Car:
CK-10 car kit
ƒ
Nokia 6020 handset
ƒ
Battery BL-5B
ƒ
Charger ACP-7/ACP-12
Audio:
HS-5 and HDB-4 headsets
User guide
Data:
CA-42 cable
ƒ
BHF-3 headrest handsfree
Inbox color available:
Connector:
Graphite grey and Silver grey
Pop-PortTM, Infrared
Copyright © 2004 Nokia. All rights reserved. Nokia and Nokia Connecting People are registered
trademarks of Nokia Corporation. Java is a trademark of Sun Microsystems, Inc. Bluetooth is a
registered trademark of Bluetooth SIG, Inc. Other product and company names mentioned herein may
be trademarks or tradenames of their respective owners.
Specifications are subject to change without notice. The availability of particular products may vary by
region. Variation in operation times will occur depending on SIM card, network and usage settings,
usage style and environments. Services and some features may be dependent on the network and/or
SIM card as well as on the compatibility of the devices used and the content formats supported.

* Your assessment is very important for improving the work of artificial intelligence, which forms the content of this project